New Multnomah County commissioner sworn in to office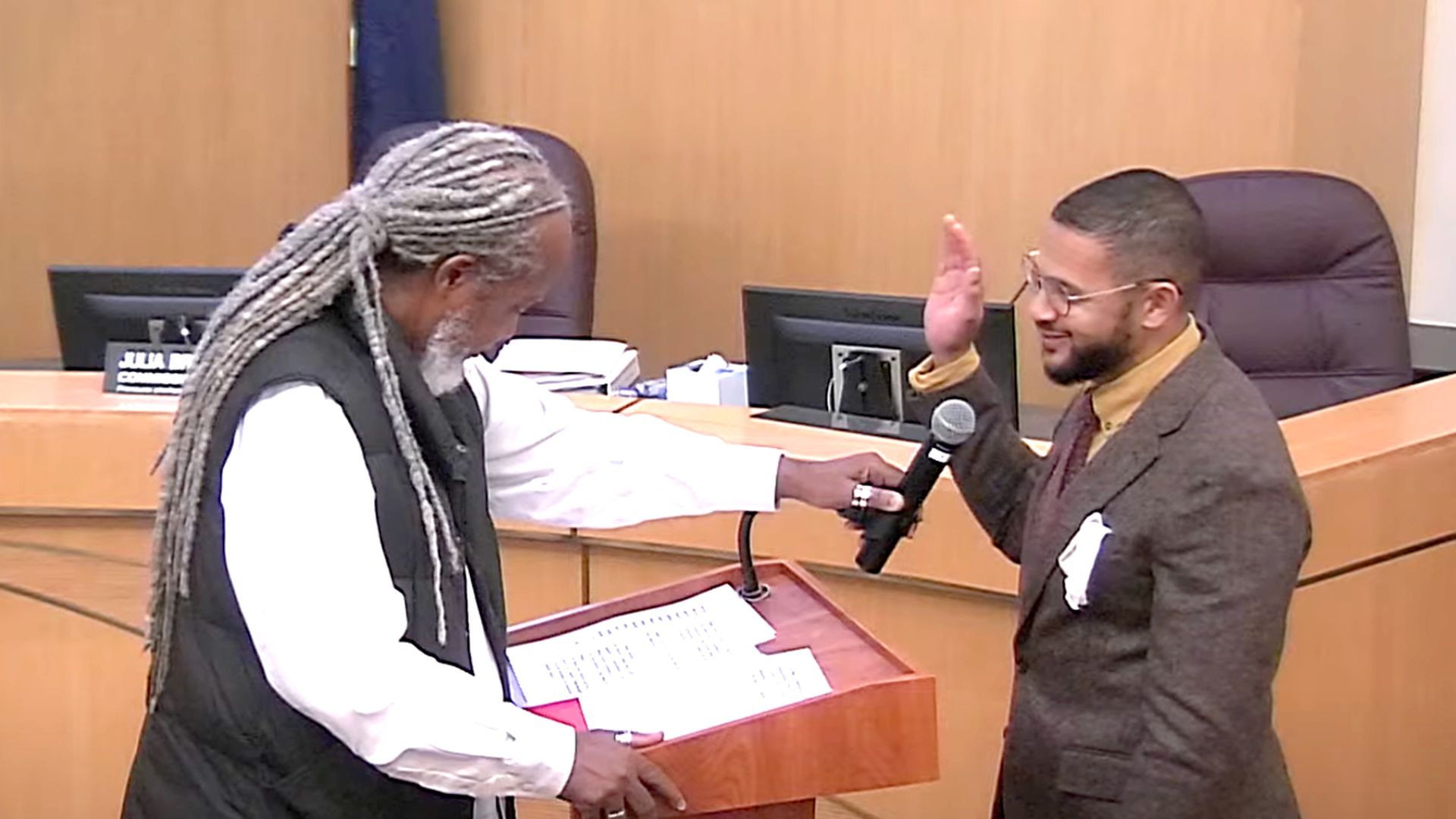 New Multnomah County Commissioner Jesse Beason — formally sworn in Thursday — isn't planning to run for the office when his appointment as a hand-picked fill-in ends.
But while he has the job, he wants to improve the sustainability of the many nonprofits the county hires to carry out its programs.
Driving the news: Susheela Jayapal resigned her commissioner seat to run for Congress and Beason, as the alternate she selected, now holds the job until the next election on May 21.
Why it matters: Beason, representing north and much of northeast Multnomah County, will vote on budget matters as well as the multitude of services the county handles, such as public health and homelessness.
What's happening: Beason wrote a "kind of long" note to his constituents, acknowledging the "quirky" way he came to power — unusual compared to other local governments — and outlining some of his new responsibilities.
He'll also stay on part-time as president and CEO of the Northwest Health Foundation.
Meanwhile, we hopped on a video call for a short conversation — edited here for length and clarity.
🥈 What interested you in being an alternate commissioner?
"I had really come to admire Commissioner Jayapal over many years of interacting and felt like we shared many of the same values and had many of the same approaches."
🏠 Could you tell us one thing you think only the county is doing well in terms of homeless individuals, and one thing that you would like it to do better?
"I think that we have a great network for delivering short-term rental assistance, and that system has gotten more refined over the years. And I think we have spent too long treating the nonprofits that do work on behalf of the county as contractors, not as partners."
🧠 What about behavioral health?
"I can't yet say anything particular about the county. I think structurally this country since the 1980s has divested [in that system]. And when you ignore something, whether it's a bridge or a mental health system for 50 years, you can't expect, on a dime, to rebuild it."
🎙️What you are excited to bring attention to?
"The work that we're doing at Northwest Health Foundation around Oregon's Nonprofit Modernization Act has a lot of parallels for the work I hope to do here at the county, which is to dig in deep on structurally, how do we address wages and benefits in the nonprofit delivery system? How do we address the health of that sector?"
☕ Beason's favorite breakfast spot right now is Fuel Cafe, with "delicious" salmon Benedict.
🎨 His favorite cultural happening is Black Artists of Oregon at the Portland Art Museum, which he calls "incredible."
🐝 He's an amateur beekeeper — and sees a lot of meaning in the way bees work together.
"The complexity of how there is both a single [bee] in charge and no single [bee] in charge — that the hive exists to see its society continue — that's a collective responsibility," he told Axios.
More Portland stories
No stories could be found
Get a free daily digest of the most important news in your backyard with Axios Portland.