Apartment construction in Portland area slows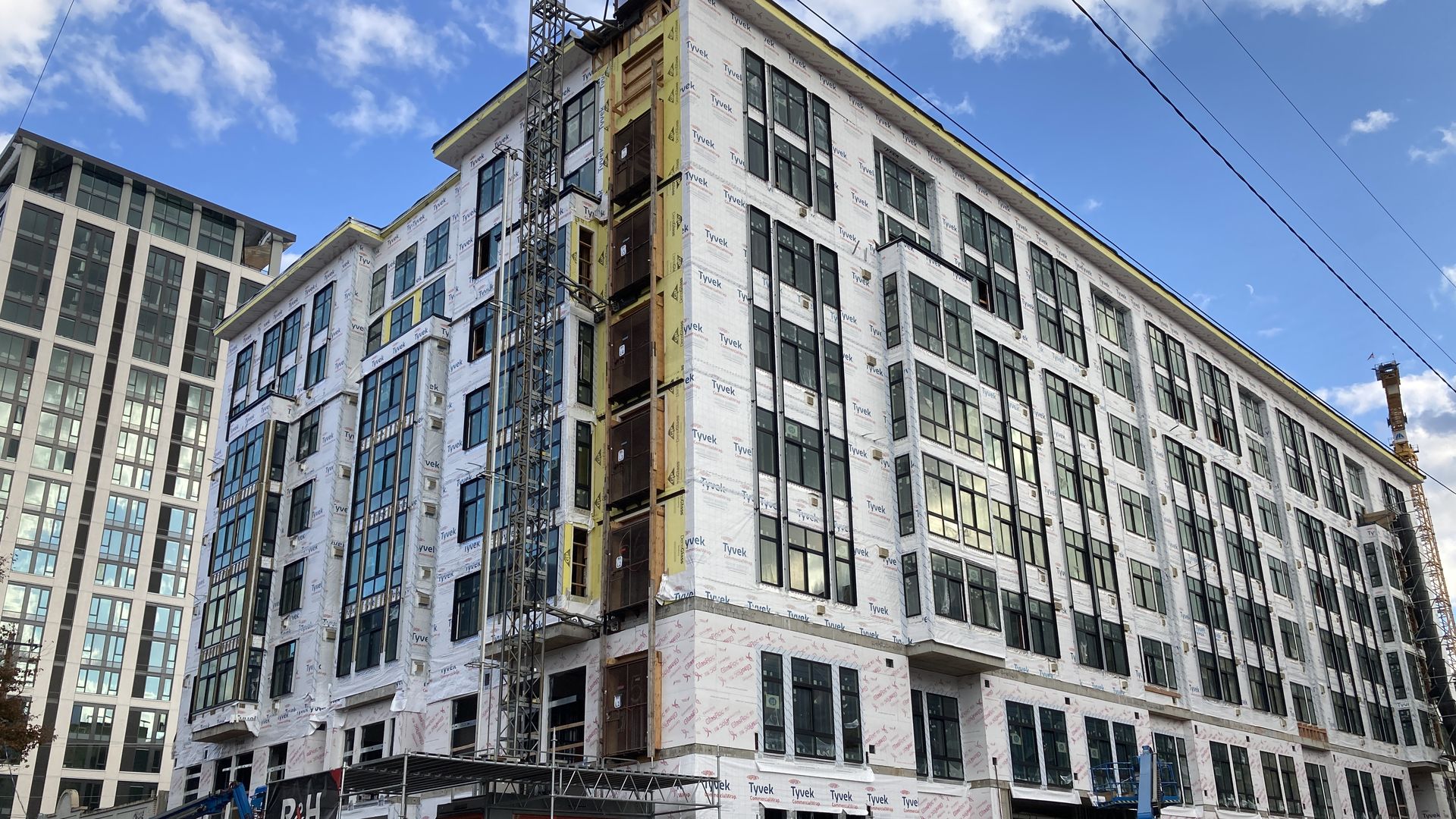 While multiplex housing starts across the Portland area are falling overall, as with many real estate trends, the details depend on one thing: location.
CoStar data shows construction starts within Portland's city limits of buildings with five units or more are almost exactly on par with the first half of last year.
There's also been an overall upward trend in Portland proper since the second quarter of 2020, when COVID-19 stopped nearly all construction.
Yes, but: The highest that upward trend has hit so far still trails the quarter just before COVID by 487 starts.
It falls 1,328 short of the strongest quarter of the past decade for multiplex housing starts, which was the second quarter of 2018.
Context: John Gillem, CoStar's Portland analyst, attributes that big 2018 spike in apartment construction to Portland's inclusionary housing policy, which took effect in 2017 and requires new buildings of 20 units or more to rent some apartments at affordable rates.
"A lot of developers and other stakeholders rushed to get their units permitted and grandfathered into the current code at the time, so they wouldn't have to adhere to the new policy. And that is a big reason why we see that spike," Gillem said.
Zoom in: In addition to the costs of labor and financing that are affecting projects in all major West Coast cities, Portland's limited land, infrastructure requirements and complex permitting process have an impact, according to Gillem.
What they're saying: City Commissioner Carmen Rubio, who oversees development and housing, told a council work session last month that housing production is "among the most important issues facing Portland today."
"We all know that we're in the midst of a housing crisis," Rubio said at the session. "We just simply don't have enough homes in Portland for the people who want and need them."
Of note: A bill to expand the amount of buildable land failed to pass the Legislature this session, and Portland's permitting process currently has Rubio and Commissioner Mingus Mapps competing over ways to improve it.
Zoom out: Across the Columbia, Clark County, Washington, saw huge growth in apartment construction starts last year, partially driven by Vancouver's waterfront makeover.
Clark County apartment starts in 2022 beat 2019, its next highest year of the past ten, by more than 700 projects.
But this year, Clark County construction starts are down significantly, driving much of the region's drop overall.
The bottom line: The regional slowdown in apartment construction could keep rents high and add to the complexity of solving Portland's housing crisis.
More Portland stories
No stories could be found
Get a free daily digest of the most important news in your backyard with Axios Portland.