Nike's reputation bounces back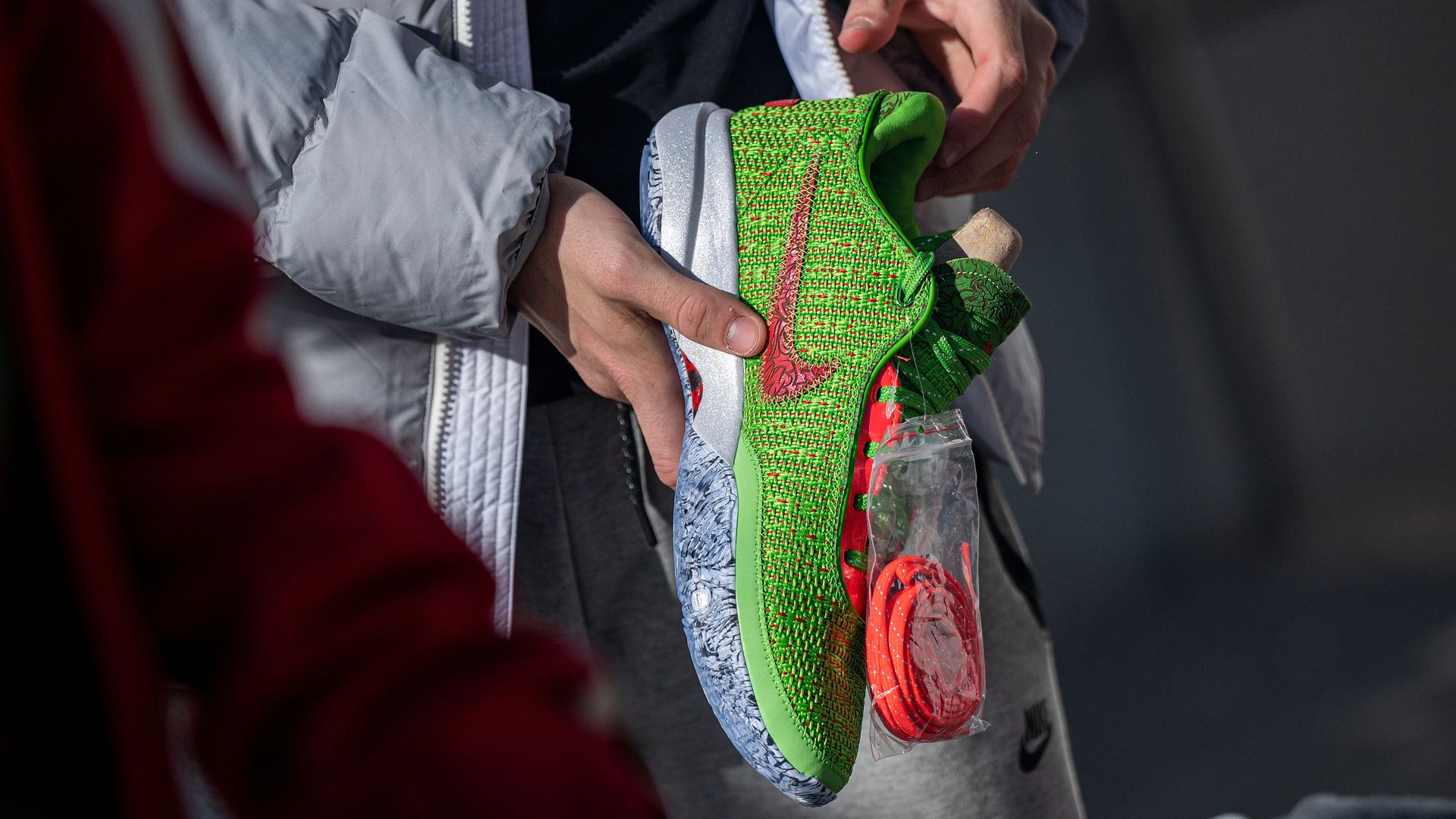 Nike scored a "very good" in this year's Axios Harris Poll ranking of corporate reputations, moving up significantly and landing in the top 25 of 100 highly visible brands.
Why it matters: Among all the companies, Nike made the biggest positive change in rank compared to last year, climbing 35 places from No. 56 and a "good" rating to No. 21 overall.
By the numbers: Companies were rated in nine subcategories, and within those Nike had wild swings. For example, the company landed at No. 9 for product, but No. 66 on ethics.
What they're saying: The previous few years "were not very good years for Nike," Matt Powell, a well-known analyst with decades of experience in the sneaker industry, told Axios.
He cited extensive coverage of the ongoing discrimination lawsuit, originally filed in 2018, alleging sex-based harassment and pay discrepancies at the company.
He also mentioned track star Allyson Felix's 2019 disclosure that she was offered less sponsorship money from Nike after she became pregnant.
"In the last six months or so there really haven't been any sort of major new headlines about Nike misbehaving as a corporation," Powell said. "That may explain why Nike has a big jump in the rankings here."
Details: Nike didn't respond to our requests for comment about their jump in the reputation ranking or their responses to allegations of discrimination. But the company changed its pregnant athlete policy shortly after Felix came forward and shook up management soon after the discrimination lawsuit was filed.
Last year, unsealed court documents detailed the plaintiffs' claims of a hostile environment.
Then in March, during this rankings research period, a judge ruled in favor of Nike, denying the four plaintiffs' motion to make the case a class-action lawsuit.
Separately, sneaker industry and culture watcher Chris Burns told Axios that as the father of a young female athlete, his personal view of the company was affected by the gender discrimination allegations.
"Now that I'm a girl dad, I'm like, wait a minute. There are a lot of conflicts with this company," he told Axios.
Nonetheless, he said, Nike's key to success has been marketing. "If you want to be cool, you have to wear Nike," he said — noting that he was wearing Merrell shoes, but his walls are covered with posters of Nike-backed sports stars.
Reality check: Social reputation aside, Nike dominates in athletic footwear because of acquisitions, marketing and product, says a new analysis of its company strategy. And sneakerheads keep coming back for the swoosh.
Of note: The Axios Harris Poll ranking uses a two-step process.
Researchers first asked a nationally representative sample of more than 16,000 Americans what companies they view as excelling or faltering.
Respondents then rank the most visible on specific aspects, such as citizenship, trajectory and product.
The research was done March 13–28.
More Portland stories
No stories could be found
Get a free daily digest of the most important news in your backyard with Axios Portland.