Between inflation and home prices, Phoenix is no longer a retiree mecca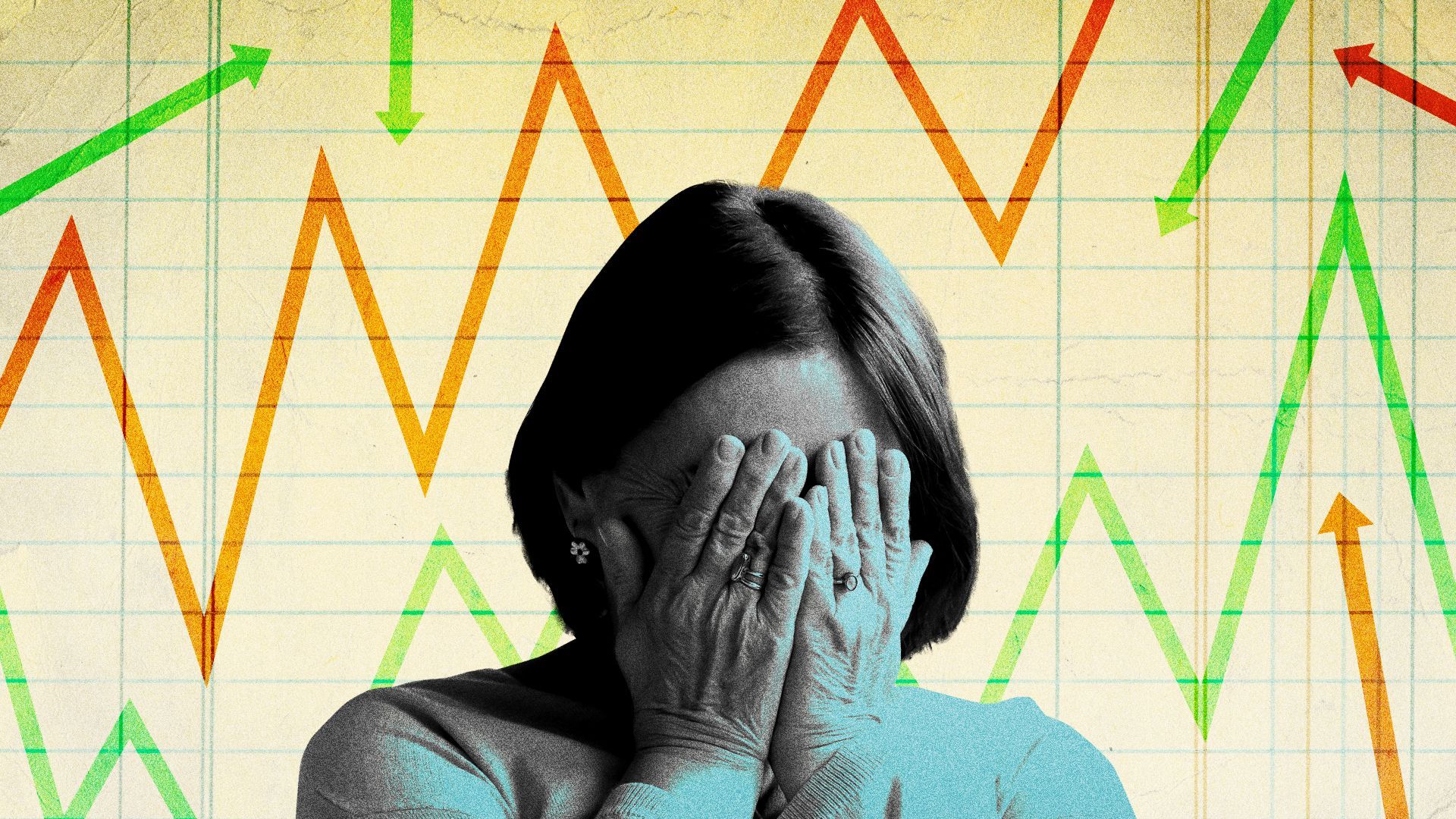 Metro Phoenix's affordable prices and climate once made the region one of the most popular places for retirees to spend their golden years.
Why it matters: Many Americans who haven't yet retired say they're unprepared to do so and unsure how to prepare, according to a new Axios-Ipsos poll.
And Arizona's sudden cost-of-living increase has moved the goalposts for people who thought they had saved enough to maintain their pre-retirement lifestyles.
What's happening: The generation retiring now is the first to have to rely on private savings instead of the more secure pension plans their parents and grandparents had to navigate retirement.
People without hearty 401(k)s or IRAs are likely relying entirely on Social Security — about $18,000 a year for the average 65+ family, per AARP — which is not enough to afford basic living expenses in now-pricey Phoenix.
Threat level: This has resulted in senior citizens becoming the fastest-growing unhoused population in cities across the country, including Phoenix.
What they're saying: "To me, that's absolutely heartbreaking. As a nation, we should not accept that as OK," AARP state director Dana Kennedy tells Axios Phoenix
The intrigue: About 49% of Arizona private sector workers ages 18 to 64 in 2020 worked for companies that did not offer any type of retirement plan, according to an AARP survey.
Kennedy says workers are more likely to participate in a savings plan if their contribution is automatically deducted from their paychecks.
Flashback: AARP pushed a bill in 2022 that would have created a statewide "Work and Save Program," making it easier for employers to offer payroll-deduction retirement plans to employees.
The bill faced pushback from interest groups representing financial advisers and life insurers and was revised to instead establish a committee to study options to increase retirement savings.
The committee has not yet shared its findings, per AARP.
What we're watching: Kennedy tells us AARP is working to get young Arizonans saving sooner, but there's an impending obstacle that will make that a harder ask for many: the resumption of student loan payments.
Zoom in: Everyone's retirement experience is different. Some of our readers shared how they're living out their golden years.
John Patillo, 67
Patillo and his wife experienced homelessness in Flagstaff, Texas and Tennessee before he qualified for a military benefit that provided him with enough funds to secure a lease at a Bullhead City apartment complex about three years ago.
Flashback: He spent most of his career in construction without a pension or 401(k) plan and retired at age 64 for health reasons.
He made modest pay and his wife worked outside the home only early in her life; they make $1,400 per month in Social Security.
In 2020, a social worker at the VA helped him sign up for a $1,000 monthly Army pension.
Between the lines: Even though they found housing to fit their budget, Patillo and his wife still feel the squeeze between medical and prescription costs and rising food prices.
What they're saying: "I can't afford to move. I pretty much drain my account each month. I'm one of the few lucky ones (in our complex) that has a month's rent in his bank account," Patillo says.
Craig Agneberg, 68
Scottsdale resident Agneberg, who turns 69 this month, plans to retire from his career in education software next September.
Flashback: Agneberg's retirement will be funded by a 401(k) he's invested in since he was about 22 years old, he said. Though he pulled money out of the account on a few occasions when he was younger.
Between the lines: He tells Axios Phoenix he feels anxious but optimistic that he's saved enough to maintain his lifestyle in retirement. He started making his own financial spreadsheets recently after his company's HR department provided limited resources for retirement planning.
What they're saying: "Retirement snuck up on me. I've been planning for it my whole life, but just last year it hit me: I really need to plan this out," Agneberg said.
Howard Rosen, 72
Rosen tells us he loves retirement. He and his wife are using their Social Security benefits, IRAs and private investments to travel and use their new free time to volunteer.
Flashback: Rosen retired from his career as a CPA and moved to Phoenix seven years ago. The toughest part was realizing it was OK to dip into his savings, he says.
What they're saying: "I knew we were fine financially. But after a career of saving, I had difficulty pivoting to the 'spend mode,'" Rosen says.
More Phoenix stories
No stories could be found
Get a free daily digest of the most important news in your backyard with Axios Phoenix.