The 401(k) generation enters a retirement minefield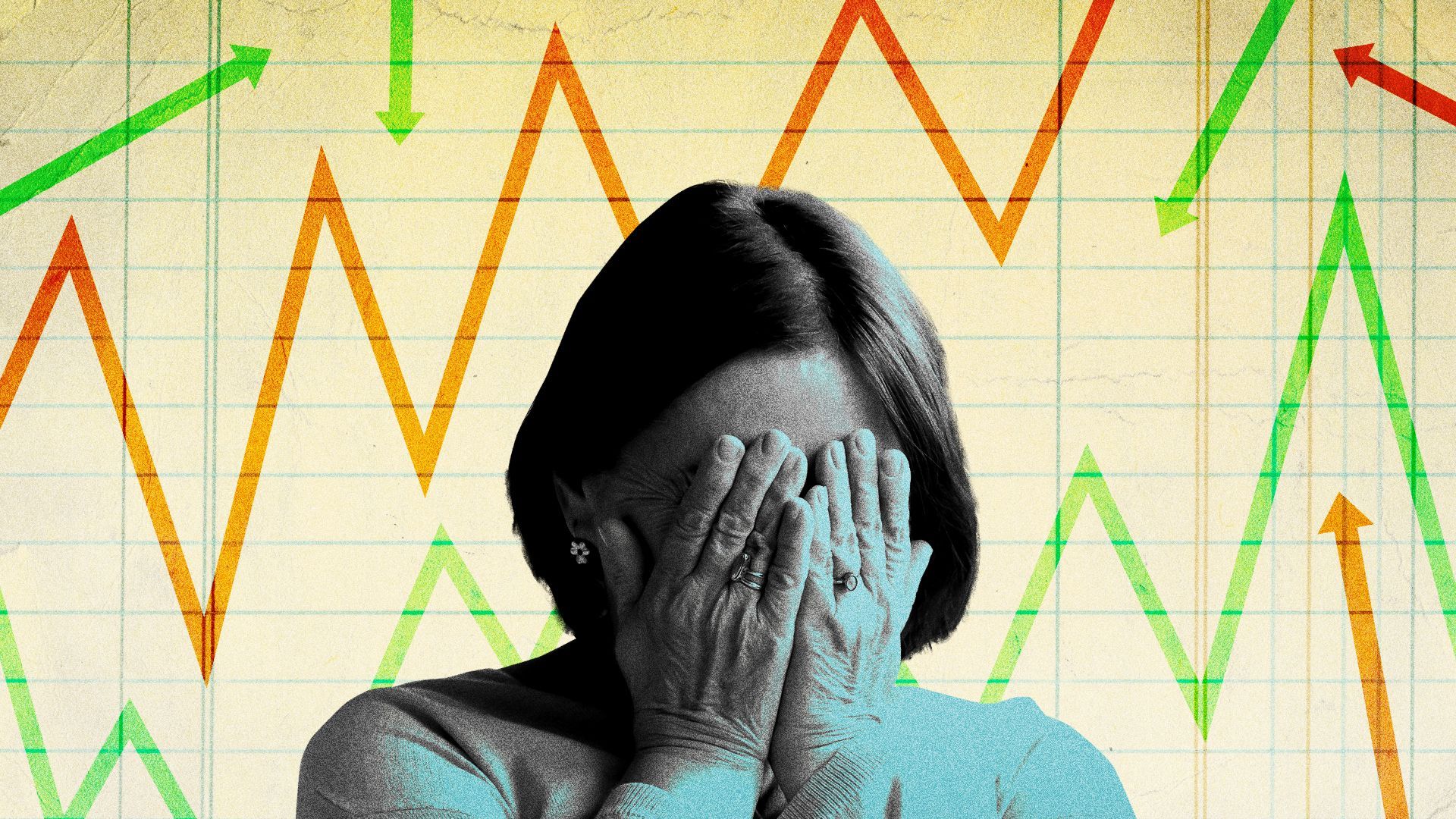 Americans retiring now are going it alone: They're the first generation to rely on private savings instead of pensions to navigate the financial vortex of retirement.
Why it matters: 401(k) plans and IRAs don't generate steady and predictable income like pensions or social security. The result is a feeling of perpetual insecurity, even among those who've amassed substantial savings.
Catch up quick: When your retirement relies on a fixed pool of money like a 401(k), it becomes almost impossible to answer a simple question: How much income do you have?
The individual retiree, rather than any fund administrator, ultimately decides how much money to withdraw each month.
And a paycheck isn't just income — it also serves as a simple way of setting a monthly budget.
The big picture: When paychecks go away, retirees with savings find it very difficult to know how much money it's safe to spend every month — especially since none of us know how many months we have left to live.
Resurgent inflation makes such calculations even harder, since none of us know how much more expensive our spending habits will become.
Zoom in: For most retired Americans, many of whom retired as long ago as the last century, guaranteed income still covers more than half of their total monthly spending.
Today's retirees find themselves in a much more uncertain situation, with a host of spending needs — some foreseeable, some coming out of the blue — all needing to be funded out of a volatile and unpredictable retirement portfolio.
By the numbers: In a recent Goldman Sachs survey, 51% of retirees reported living on less than half the income they enjoyed pre-retirement.
Between the lines: 45% of current retirees, including 54% of female current retirees, said they found entering retirement to be somewhat or very stressful in terms of financial anxiety.
The number one unexpected financial challenge in retirement is already "understanding what my income will be," while the most important feature of retirement income is that it be "consistent and stable month over month."
What's next: Those numbers are certain to rise as guaranteed incomes make up an ever-smaller proportion of retirement income.
Are you recently retired or planning to retire soon? If so, Axios wants to hear about your experience with retirement.
Share your thoughts on this form if you're willing to talk to one of our reporters. Some responses may be featured in future Axios newsletters and on Axios.com
Go deeper