Meet Philadelphia Dem mayoral candidates: Rebecca Rhynhart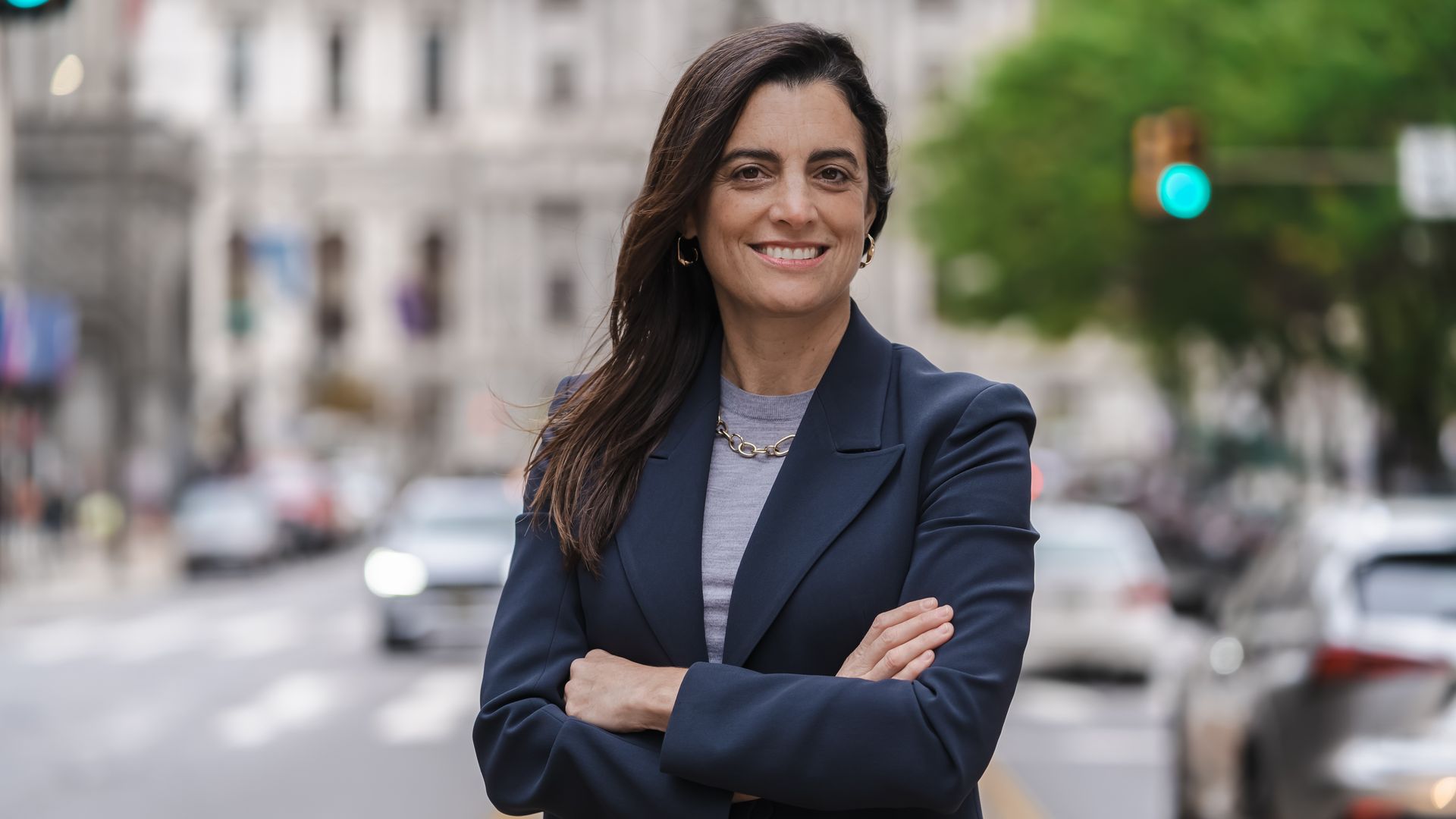 Rebecca Rhynhart is one of nine candidates running in the Democrats' mayoral primary on May 16. (Read all our candidate questionnaires here.)
The candidate: Rhynhart was elected twice as city controller, Philly's independent fiscal watchdog.
Before that, she held top city positions as city treasurer and budget director.
🏡 What neighborhoods have you lived in? Center City, Gayborhood, Queen Village.
What are your past jobs? Managing director at Bear Stearns.
🍽️ Favorite Philly restaurant: Vernick.
🏢 Favorite downtown building: City Hall.
📺 Favorite Philadelphia TV show: "Fresh Prince."
💰How much did your property taxes go up last year? 20%.
🏈 Favorite Philly athlete (past or present) and why? Jalen Hurts, because he has shown incredible resolve during his tenure with the Eagles; no matter the criticism or the attack, he focused on being the best team leader and football player he could be.
🚗 Savesies: Pro/con? I understand the sentiment of wanting to save a parking space, especially after a snowstorm, but far too many incidents have escalated into violence due to this practice and therefore I am against it.
🏙 How would you enhance the vibrancy of Center City in the post-pandemic era? First, we must make our city safer from violence and crimes and clean our streets to let the beauty of our city shine through.
We need to make it easier for our businesses to thrive throughout Philadelphia, not just in Center City, but in all of our neighborhoods so that our growth is shared and communities are vibrant, whether helping existing businesses thrive through common sense solutions like streeteries or cutting the red tape to make starting a new business easier.
What's the one moment in your life that most shaped you? Mayor Michael Nutter hired me to join his administration in 2008. I'm passionate about public service and he gave me the opportunity to start that journey so that I can make change in a meaningful way.
🐕 What is one fun thing voters don't know about you? I have a rescue hound dog named Banjo.
Sum up the state of the city in five words or less. Crossroads, fixable issues, incredible city.
And, of course, why do you want to be mayor? I love Philadelphia and I want to use my experience and knowledge of the city budget and city operations to make government truly work for our residents and to make Philadelphia safer and cleaner.
I am the candidate with the courage to change the status quo and make this a city where all of us can thrive.
On the issues
Would you increase (⬆️), keep level (⏸️), or decrease (⬇️) the police department's budget?
What's one big idea you have to address the ongoing gun violence crisis?
The first step in my public safety plan is to activate the city's emergency operations center to address the gun violence crisis immediately after my inauguration. By declaring a citywide emergency, my administration can better coordinate resources and tactics across departments to immediately reduce violence in the 14 ZIP codes experiencing the highest rates of shootings.
As city controller, I put forth thoughtful solutions on what works in other cities, a combination of Group Violence Intervention and cognitive behavioral therapy and as Mayor I will implement them.
Do you support the 76ers proposal to build a new arena in Center City? Yes (✅) or no (❌)
Rhynhart did not respond by deadline.
Explain your answer, in 1 sentence.
Rhynhart did not respond by deadline.
Do you support installing permanent public bathrooms in the city? Yes (✅) or no (❌)
How many would you look to install and in what neighborhoods? (1 sentence or less.)
I would support studying an expansion of the pilot into high-traffic areas throughout our neighborhoods.
💡 What's 1 big idea that would be a game-changer for Philly? (2 sentences or less)
I'll bring about a paradigm shift in how we deploy the resources of the Philadelphia Police Department, reflecting a true community policing model to build trust between officers and residents, improve the recruitment of new officers, and increase witness cooperation.
We will go community by community and meet with residents, small business owners, and faith leaders to hear firsthand what people in each community want from their police force and then determine the best way to deploy police department resources based on these priorities.
🪓 What law, tax or program would you scrap immediately, and why? (2 sentences or less)
Rather than focusing on one policy to eliminate, voters know this race is about electing a strong leader with a comprehensive vision who'll make changes across the board.
When I'm mayor, that'll mean managing, making the city work better for our residents, using data to make decisions and leading with compassion.
Read Axios Philadelphia's other candidate questionnaires.
Editor's note: This q&a will be updated as primary season continues.
More Philadelphia stories
No stories could be found
Get a free daily digest of the most important news in your backyard with Axios Philadelphia.