Meet Philadelphia Dem mayoral candidates: Helen Gym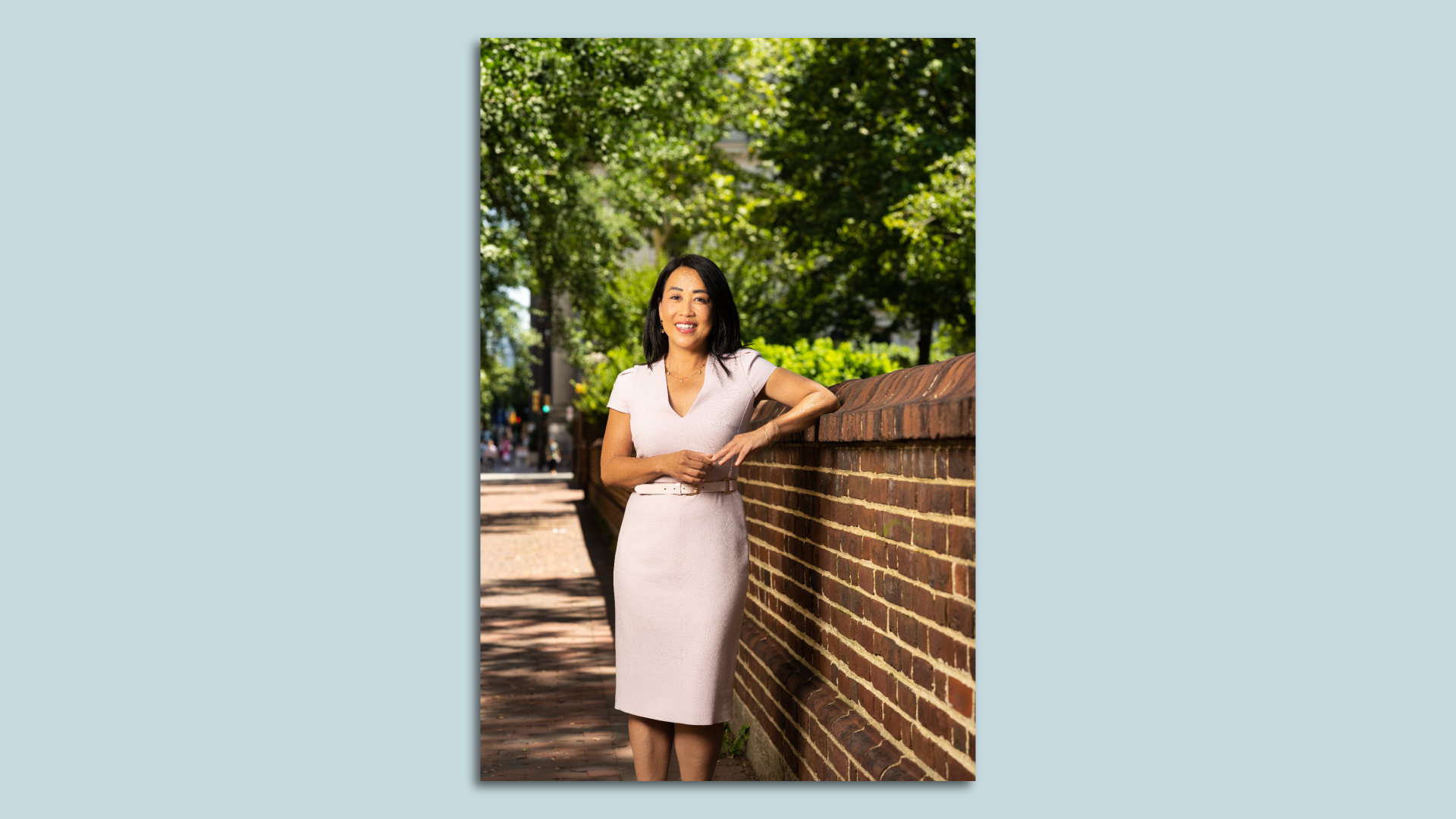 Helen Gym is one of nine candidates running in the Democrats' mayoral primary on May 16. (Read all our candidate questionnaires here.)
The candidate: Gym served as an at-large member of City Council for seven years before resigning last year to run for mayor.
🏡 What neighborhoods have you lived in? Logan Square, West Philadelphia.
💼 What are your past jobs? Teacher, community organizer.
🍽️ Favorite Philly restaurant: South Philly Barbacoa.
🏢 Favorite downtown building: Arch Street United Methodist Church.
📺 Favorite Philadelphia TV show: "Abbott Elementary."
💰How much did your property taxes go up last year? 25%.
🏀 Favorite Philly athlete (past or present) and why? Dawn Staley: She's the heartbeat of women's basketball, she always shows up for her athletes, and she's a public school graduate who always reps Philly!
🚗 Savesies: Pro/con? Con: Our blocks belong to all of us.
🏙 How would you enhance the vibrancy of Center City in the post-pandemic era? Creating a thriving downtown means investing in a safe, walkable, diverse, vibrant and creative space that keeps residents and families here and attracts new visitors as well.
It's why I'm focused on the things that make our city the most livable and most desirable in the country: reliable and clean public transportation, safe and accessible streets, world-class and well-maintained public spaces, frequent trash pickup, robust arts and culture programming, and unique, diverse small businesses.
What's the one moment in your life that most shaped you? I taught 5th grade on the top floor of a 100-year-old school building in Olney called Lowell Elementary School and met children and families with dreams as big as anyone could imagine.
I wanted this city to do everything in its power to help them fulfill those dreams.
🥊 What is one fun thing voters don't know about you? I love MMA (mixed martial arts) and talking to random people on social media about it.
Sum up the state of the city in five words or less. We must dream bigger.
And, of course, why do you want to be mayor? I'm running for mayor to finish a job I started 30 years ago, when I was a teacher and a tough Philly mom who refused to accept broken systems, took on tough challenges and organized alongside communities for change.
We all love Philadelphia, and I'm transforming Philadelphia into a city that loves us back.
On the issues
Would you increase (⬆️), keep level (⏸️), or decrease (⬇️) the police department's budget?
What's one big idea you have to address the ongoing gun violence crisis?
I've pledged to fix our response times: under my administration, 911 calls will be answered immediately. I'll divert calls related to mental health emergencies, addiction, homelessness and other crises where police are not required to mobile crisis response units, which send out trained specialists, rather than police officers.
As mayor, I will ensure that we have these crisis response units available 24/7 citywide so that police officers can respond to and solve incidents of violent crime.
Do you support the 76ers proposal to build a new arena in Center City? Yes (✅) or no (❌)
Explain your answer, in 1 sentence.
Of note: The Sixers and its development arm did not respond to requests asking them to confirm or deny that the team donated to a group backing candidate Jeff Brown, per the Inquirer.
Do you support installing permanent public bathrooms in the city? Yes (✅) or no (❌)
How many would you look to install and in what neighborhoods? (1 sentence or less.)
Every recreation center should be rebuilt or better staffed to have a functional, accessible, clean public bathroom, which will in turn make these vital neighborhood spaces better equipped to host regular youth and community programs — and we should explore expanding standalone public bathrooms in corridors where rec center facilities are less accessible.
💡 What's 1 big idea that would be a game-changer for Philly? (2 sentences or less)
I'll kick off a Green New Deal for Philadelphia schools to modernize all school facilities in an era of climate change; place Philadelphia public school students into a pipeline of family-sustaining, union jobs; engage the entire city in a real facilities planning process; and provide children and educators with the schools they deserve.
Quality school buildings establish positive school climates, retain teachers, improve students' physical health and development, and they show our children that they matter.
🪓 What law, tax or program would you scrap immediately, and why? (2 sentences or less)
End the courtesy tow madness: Thousands of Philadelphia drivers have lost time, money, and even risked arrest as a result of an absurd system where the city authorizes cars to be moved to accommodate repair work and events without providing any way for owners to locate their vehicles.
This will end and the city will ensure the location of any vehicle subject to courtesy towing is centrally tracked.
Read Axios Philadelphia's other candidate questionnaires.
Editor's note: This q&a will be updated as primary season continues.
More Philadelphia stories
No stories could be found
Get a free daily digest of the most important news in your backyard with Axios Philadelphia.