Arkansas' Gov. Sanders sets the tone with executive orders on day 1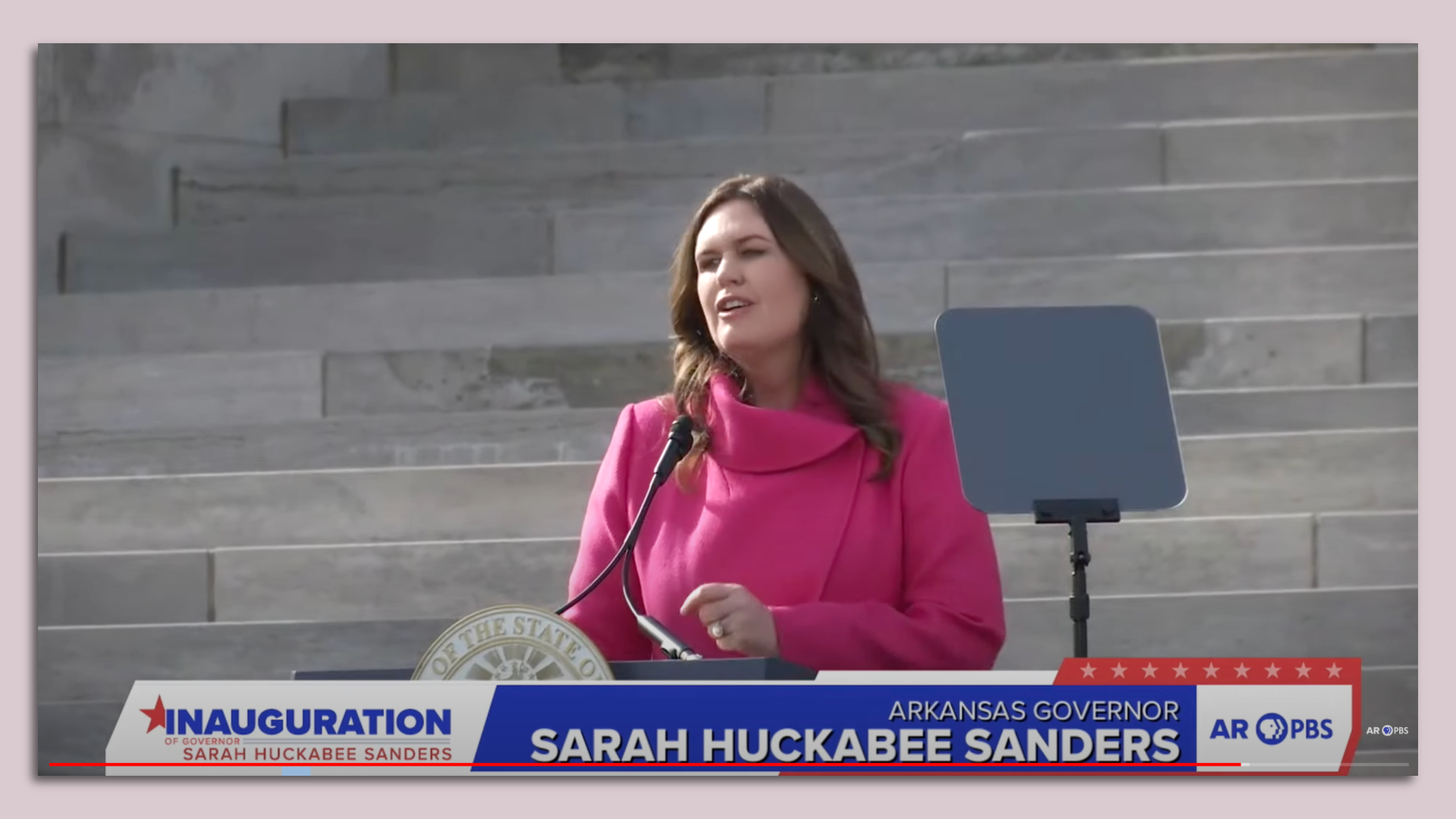 Gov. Sarah Huckabee Sanders proved to Arkansans on Tuesday that she's a person of decisive action.
What happened: Within hours of being sworn in as the state's first woman governor, Sanders signed seven executive orders focused on the budget, government and schools.
Why it matters: She's "the highest-profile Trump administration official" currently in elected office — and, at age 40, the youngest governor in the country. She's also the first daughter of a former governor (Mike Huckabee) to be elected governor of that same state.
She has been immersed in politics her entire career, but she's never served in elected office.
Driving the news: Sanders set the stage for her first term with a collection of executive orders, including:
An immediate freeze on hiring and promotions across all state government positions;
An order seeking to reduce fraud and waste by putting several reviews of applicants in place at the Commerce Department. The U.S. Department of Labor estimates Arkansas spent $53 million over three years on unemployment benefits to ineligible applicants.
For the Office of State Procurement to perform a cybersecurity due-diligence report and subsequently try to protect the state's information from adversarial foreign governments;
Requiring state departments to get approval from the governor before submitting changes to any rule-making procedure to the Arkansas Legislature;
Limiting government overreach through an inspector general review of all previously issued executive orders to determine any conflicts;
Requiring state offices, departments and agencies to revise written materials by replacing "Latinx" and its variants with "Hispanic" or "Latino/Latina" and their variants;
Prohibiting "indoctrination and critical race theory in schools."
Between the lines: The last order gives the state's new education secretary, Jacob Oliva, power to review and amend the department's rules, materials and communications to ensure "employees, contractors, guest speakers, and lecturers are in compliance with Title IV and Title VI of the Civil Rights Act of 1964." "Indoctrination" is defined as compelling a person to adopt an idea in violation of the act.
The order also instructs Oliva to "review and enhance policies that prevent prohibited indoctrination, including CRT."
He's also to ensure "that no school employee or student shall be required" to participate in training based on critical race theory.
Reality check: CRT is an academic framework developed in the 1970s by legal scholars, writes Axios race and justice reporter Russell Contreras. It suggests that white supremacy maintains power through the law and other legal systems.
There's no indication that the college-level course is taught in any Arkansas public school.
Sanders' order states that teaching CRT amounts to discrimination based on race, but then seems to contradict itself by stating it does not "prohibit the discussion of ideas and history of the concepts" outlined under its definition of "prohibited indoctrination."
The big picture: Before her address on the Capitol steps, Sanders briefly spoke to the 94th General Assembly and outlined immediate priorities for her administration:
Cutting "wasteful spending," making it possible to completely phase out individual income tax;
Expanding prekindergarten, improving literacy, providing skills-based education and allowing parents to choose where children attend school;
Reducing crime.
What they're saying: "I don't care about getting the credit; I only care about getting results," Sanders told lawmakers.
"If you send me legislation promoting adoption or improving foster care, I will sign it," she continued.
"And if you send me a bill defending the right to free speech or the right to keep and bear arms, I will sign it.
What we're watching: Sanders set the tone on day one, but we'll have to see how lawmakers respond during the general session over the next few weeks.
More NW Arkansas stories
No stories could be found
Get a free daily digest of the most important news in your backyard with Axios NW Arkansas.