After a pandemic-induced hiatus, tomorrow marks the return of Broadway at Walton Arts Center.
The 2021–2022 Broadway series kicks off with "Come From Away." It's a musical about the 7,000 air passengers stranded in the tight-knit community of Newfoundland, Canada after the 9/11 terrorist attacks.
The selection: "To a large extent it's about balance, and it's about variety," the Walton Arts Center's vice president of programming, Scott Galbraith, tells Axios.
Generally, the curators try to have one show audiences are familiar with ("Fiddler on the Roof"), a family show ("Charlie and the Chocolate Factory") and something contemporary ("Mean Girls").
Flashback: COVID-19 interrupted the Broadway series in spring 2020 during the "Anastasia" run. Since then, the center has hosted its smaller-scale productions but did not have its usual Broadway series during the 2020–2021 season.
Most of the shows this year were rescheduled from the past two years.
The series schedule is:
Come From Away — Oct. 26–31
Roald Dahl's Charlie and the Chocolate Factory — Nov. 30–Dec. 5
Mean Girls — Dec. 14–19
An Officer and a Gentleman — Jan.4–9, 2022
Hamilton — March 22–April 3, 2022
Fiddler on the Roof — May 10–15, 2022
What they're saying: Whenever there's a phenomenon like "Hamilton," everyone asks, "How soon can you get it?" Galbraith says. People want it, and now it's here.
Of note: The Walton Arts Center is requiring masks and proof of COVID-19 vaccination or proof of a negative test taken within 72 hours prior to showtime at least through October. Stay tuned for policy updates.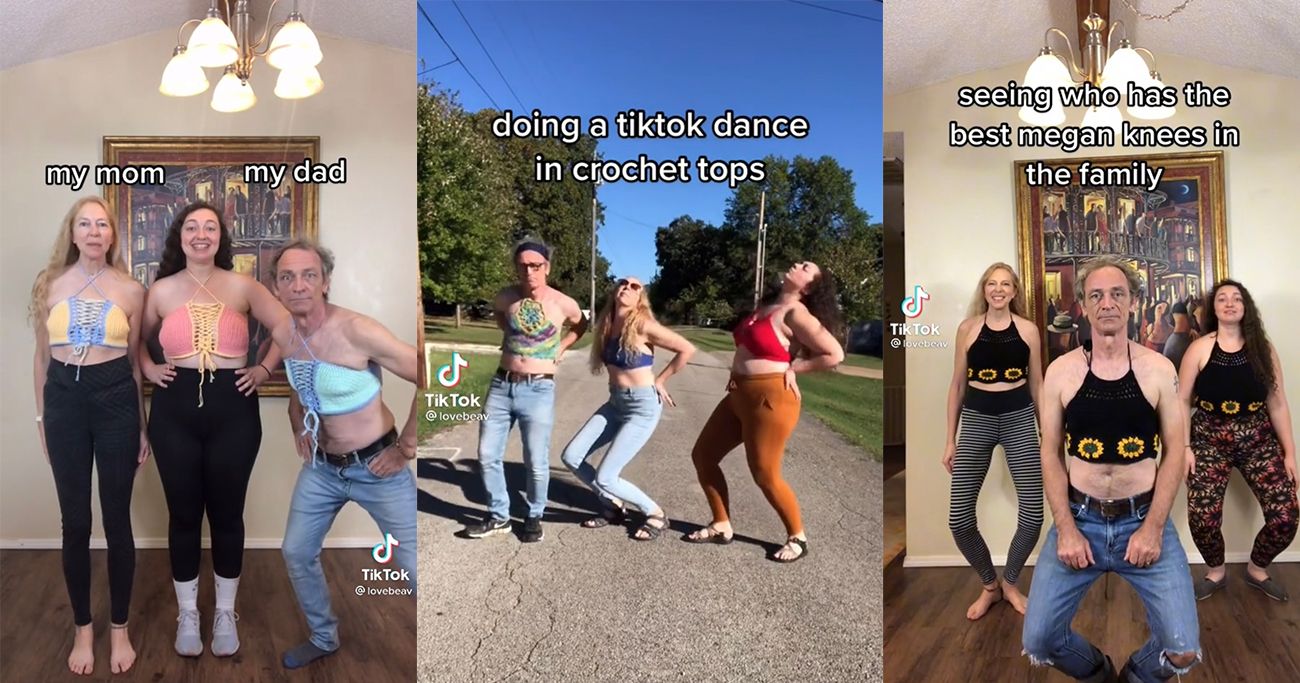 For those out of the TikTok loop, we must alert you to Fayetteville's very own TikTok sensation: Emily Beaver, 27, and her parents, Jeff and Amy Beaver.
For starters, check out this TikTok with over 19 million views of the family twerking — wearing Emily's crocheted tops.
State of play: Emily started crocheting six years ago, but she tells Axios she never imagined her business would boom after her parents persuaded her to get on TikTok.
Several haunted houses are up and running and are here to scare you through Halloween weekend.
About: This year's theme is "Back from the Dead." Proceeds go to the Bentonville Breakfast Lions Club.
Details: 3706 NW Frontage Road in Bentonville. Open this Friday and Saturday, Oct. 22–23 and Oct. 29–31. Tickets are $20–$30
About: The staff says this mortuary-turned-haunted house is too scary for kids under 13 most nights, but it's a little less scary and more "little goblin"-friendly Halloween night and the night before.
Details: 136 E. Main St. in Gentry. Open this Friday and Saturday, Oct. 22-23 and Oct. 29–31. Tickets are $7–$25.
About: Family night is Oct. 28, and this one might be too scary to bring little kids any other night.
Details: 210 N. Main St. in Cave Springs. Open this Friday and Saturday, Oct. 22–23 and Oct. 28–31. Tickets are $20–$50.
About: New addition this year — carriage rides with ghost stories.
Details: 17023 Chamber Springs Road in Siloam Springs. Open this Friday and Saturday, Oct. 22–23 and Oct. 29–31. Tickets are $20. Buy them onsite or here under the date you want to attend.
About: On the outside, you see Lokomotion Family Fun Park. On the inside, you can enter a haunted house.
Details: 4520 N College Ave. in Fayetteville. Open this Friday through Sunday, Oct. 22–24 and Oct. 29–31. Tickets are $13. You can get them inside Lokomotion.
Do you know something we don't know? Email us at [email protected] and tell us if we missed a haunted house in Benton or Washington counties.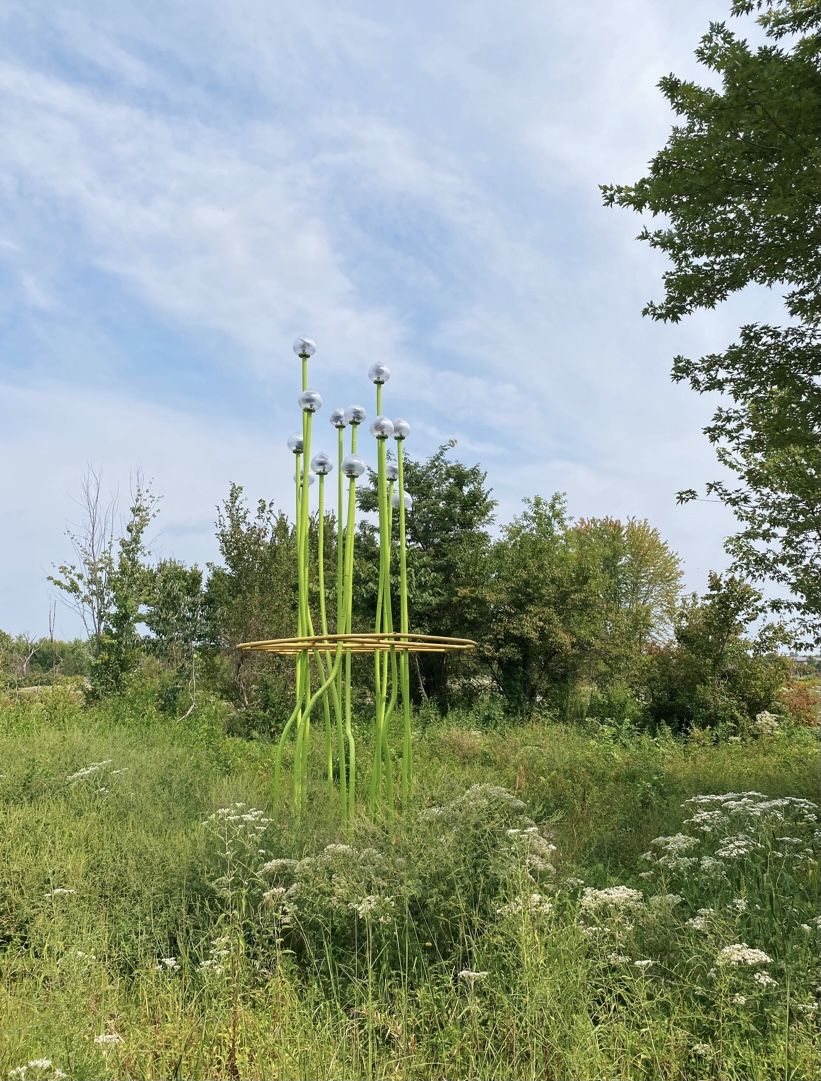 Oz Art NWA has wrapped up installing six pieces of public art at Osage Park, which quietly opened in May, off of Southwest 16th Street in Bentonville.
How it happened: Oz Art is working to create a dynamic public art scene, curator Chad Alligood told Axios. Alligood wanted to choose pieces from a diverse group of artists and images "that activate something in the viewer," he says.
Osage Park is a collaboration between Oz, the city of Bentonville and the Peel Compton Foundation. Public art was always part of the plan, Alligood says.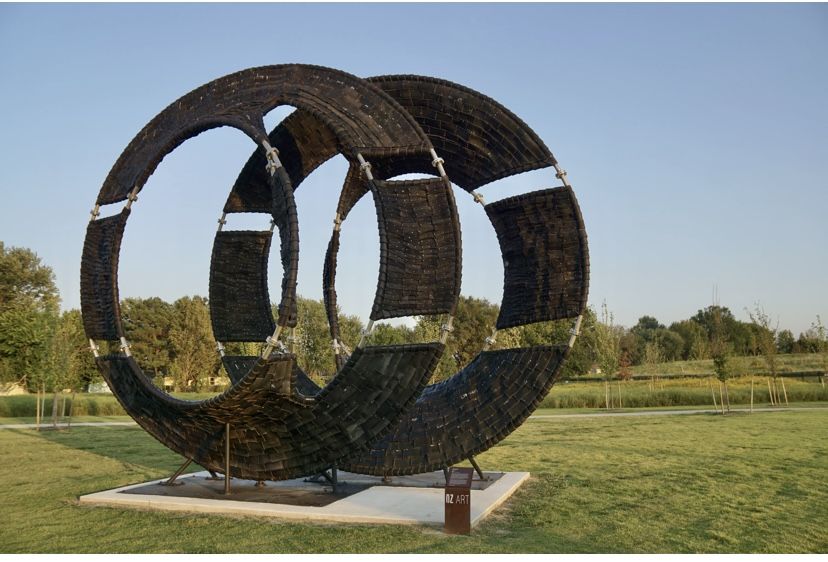 Details: Each work of art is related to one of three themes.
Nature: Tall Grass by Asia Ward and Garden Boats by Jennifer Torres
Aviation: Launch Intention by Griffin Loop and Flight by Bob Doster
Osage Park's evolution from an unused wetland: Déjá Vu by Chakaia Booker and Fluttering Quilts by Greely Myatt
What they're saying: "I wanted to make something that made me feel like I was a wetland creature looking up through the water at the tall grass," Ward says of her sculpture.
1 weekend thing: A free event to celebrate the new park, A Day at Osage Park, will take place 10am – 4pm on Saturday. Expect live music, art walks, wetland tours and food trucks.
Some recent podcasts recs by and for Northwest Arkansans:
🏨 "Look What I Did" interviews Sean Fitzgibbon, author of a graphic novel about the Crescent Hotel in Eureka Springs, parts of which are allegedly haunted.
🚵‍♀️ Randy Wilburn of "I am Northwest Arkansas" talks with Michael LaSalata, who recently relocated his business, Hellion Bikes, from Seattle to NWA.
🍽 Kim Bryden, CEO of Cureate and host of "The Tidbit," learns about Ozark cuisine from chef Erin Rowe, who runs Ozark Culinary Tours.
👩‍🍳 Bryden also sat down recently with the hosts of "Startup Junkie" to talk about how her company can help Northwest Arkansas' entrepreneurs in the food and beverage industry.
🏀 Are you enjoying football but also ready for basketball season? You can hear Au'Diese Toney's road to recovery story on "The Hog Pod with Bo Mattingly."
Get ready to see a more choreographed approach to engage NWA residents in dance.
Driving the news: Dance artist Karen Castleman used a grant from the Walton Family Foundation to study the state of the NWA dance community. She presented her findings to the public this week along with fellow dancer Heather Hartley.
The Momentary will host its first-ever music festival next weekend. That's after the pandemic caused the event to be postponed twice within a year.
What's happening: FreshGrass, a two-day bluegrass festival, will feature recognizable national names, like Old Crow Medicine Show. The festival will also highlight local artists, including the Ozark Highballers. (See a full lineup.)
You could feel the change in the air — and in peoples' attitudes — this week as the annual clock struck autumn.
Eyes lifted toward the trees to start calculating the best time for outings.
Driving the news: The next six weeks are big for lovers of the autumnal turn of leaves.
The travel brand smokymountains.com recently published its 2021 fall foliage map. It shows most of Arkansas going from no change next week to patchy to peak color to past peak about the first week of November.
Why it matters: Fall colors are a tourist attraction. This weekend marks the kickoff of a season filled with motorcycle rallies, group bike rides, tailgating, long hikes and camping throughout the Natural State. All bring out-of-state dollars.
Though the pandemic may cause a slowdown, many of these activities are outdoors and aren't dependent on large groups.
Details: If you want to catch all the glory, you can chase fall colors in a clockwise circle from Northwest Arkansas (peak about Oct. 11) to Northeast Arkansas (near peak about Oct. 25) then south and back west (peak about Nov. 1).
Sign up for Arkansas' fall color update.
Here's how quickly it'll change:
Oct. 11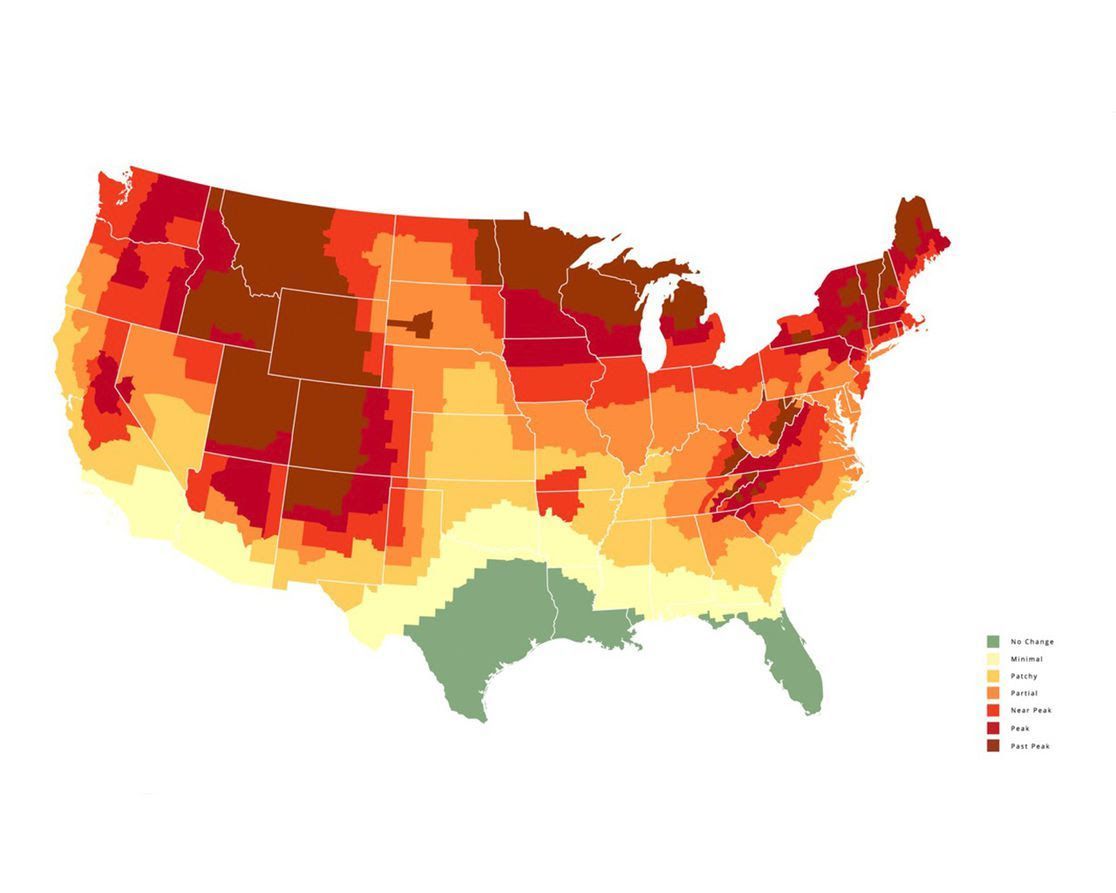 Oct. 25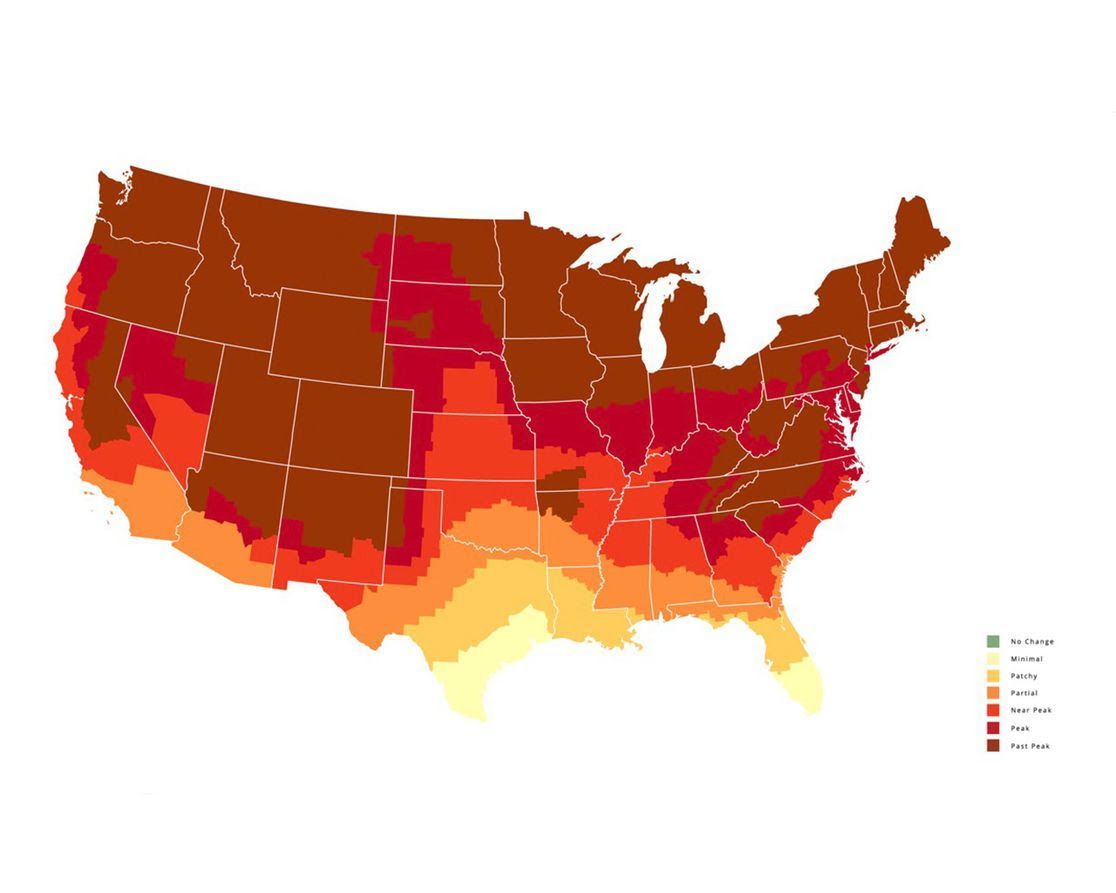 Get a free daily digest of the most important news in your backyard with Axios NW Arkansas.