After largely taking a year off, angels are back in Arkansas. Angel investors.
What's happening: Venture capital invested in Arkansas companies through the third quarter was valued at an estimated $89.7 million. That's up 151% from $35.7 million for all of 2020.
The numbers, shared with Axios, are from PitchBook, a private equity database company.
Why it matters: Private investment gives startups and young companies resources to grow more rapidly, often before sales can catch up with the need to expand.
Since the investment usually comes with both risk and potential, investors stand to make a higher return.
By the numbers: An estimated 77% of the statewide total was invested in Northwest Arkansas companies in the first three quarters of the year.
Companies in the Little Rock metro, which includes North Little Rock and Conway, received the rest.
The number of deals in Arkansas remains low with only 18 so far this year in NWA and 5 in the Little Rock metro.
Still, the value of deals for 2021 is at an all-time high and will end well over the $71 million reported in 2019.
Zoom out: While investments in Arkansas slowed during 2020, they didn't miss a beat at the national level.
Total deal value in the U.S. through the third quarter of this year is estimated to be $54.7 billion, up about 24% from $44.2 billion in 2020.
Venture capital deals in Austin, Texas — a metro many like to compare with NWA — were valued at $3.78 billion so far this year.
Zoom in: The leader in NWA is Fayetteville's AcreTrader, a company that helps consumers invest in shares of farmland. The company has received about $18 million in venture capital this year, which is below PitchBook's estimate of $22 million.
AcreTrader's investor relations team told Axios the anomaly is probably due to how some of the company's investments (on behalf of its consumers) get reported in the news and then are inadvertently added to data used by PitchBook.
💭 Worth's thought bubble: Economists, entrepreneurs and those who consult entrepreneurs have told us there aren't enough investments made in NWA companies.
Given the disparity between values, our region has a long way to go to be competitive with economies at high-tech hubs across the country.
As temperatures cool, and savvy shoppers turn their thoughts toward the holidays, Walmart is laying groundwork for what it hopes will be a successful sales season.
What's happening: The retailer has made announcements to assure consumers the products they want will be convenient to shop for and in stock.
Why it matters: Walmart fell behind Amazon in sales for the first time this year. The pandemic drove consumers' desire to have more household items delivered — a habit that may stick.
Walmart will be looking to retain and win back customers during the holiday sales cycle.
Context: Despite rising prices, supply chain issues and raw material shortages, national retail sales were up for the second month in a row.
Total retail sales grew 0.7% in September from the prior month, despite consensus estimates for a decline of 0.2%.
Worthy of your time: Three initiatives WMT has announced ahead of the holiday season:
Supply chain — Walmart said in a recent post it is working with vendors to source products early. The company also chartered its own ships in some cases and is diverting some of those to less congested ports. Walmart has hired more than 3,000 truck drivers this year, and it plans to hire 20,000 in permanent supply chain roles.
Text-to-shop pilot — Walmart is forever trying to make the shopping experience easier. Technology will allow shoppers to add items to their Walmart app by voice or text. A beta test of text-to-shop has started. Consumers using Android can enroll in the beta now, and those using Apple will be able to soon. The company has at least eight open positions for what it calls "conversational commerce."
Black Friday — To avoid near-riots in some of its stores, last year Walmart spread its Black Friday deals over several days. It will do so again this year, designating Event 1 as Nov. 3 online and Nov. 5 in stores; Event 2 as Nov. 10 online and in stores Nov. 12; and Event 3 at dates to be determined. Walmart+ members will qualify for early access and special deals.
Of note: Outdoor equipment and lifestyle retailer, Moosejaw, which is owned by Walmart, will open a 6,000 square-foot store tomorrow — only its 12th physical location — at 111 S. Main St. in Bentonville.
Editor's note: Reporter Worth Sparkman is a Walmart shareholder.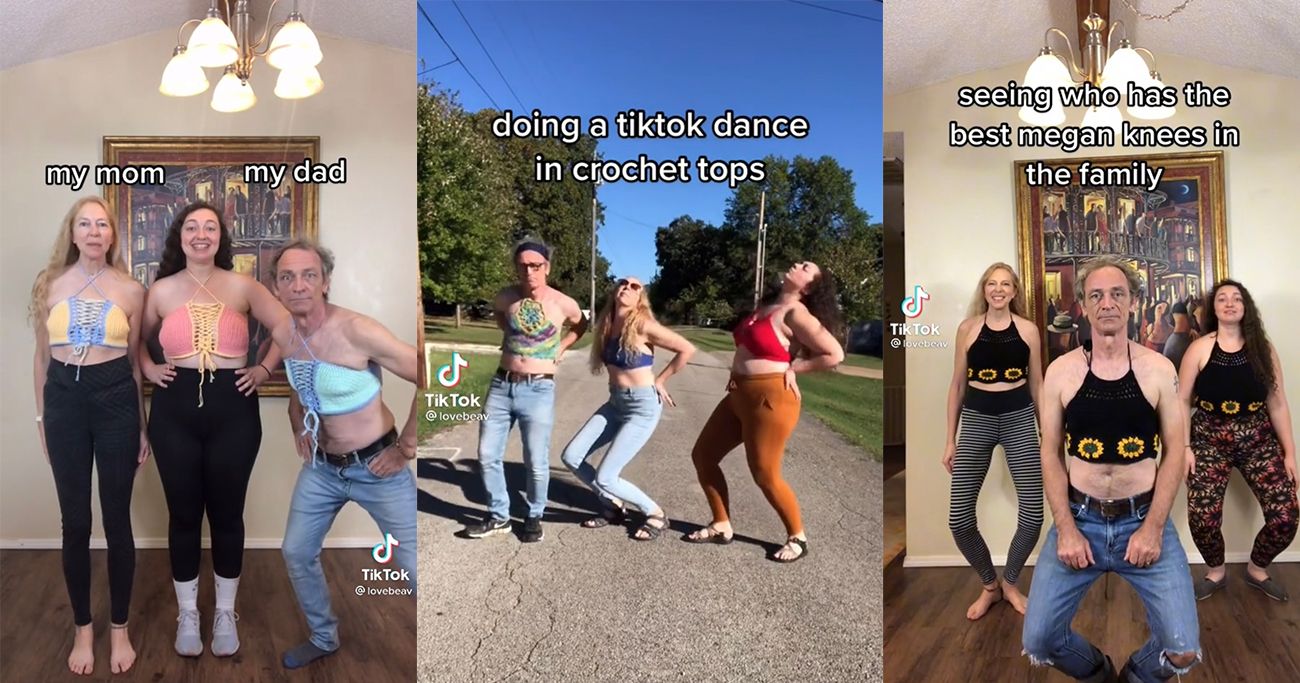 For those out of the TikTok loop, we must alert you to Fayetteville's very own TikTok sensation: Emily Beaver, 27, and her parents, Jeff and Amy Beaver.
For starters, check out this TikTok with over 19 million views of the family twerking — wearing Emily's crocheted tops.
State of play: Emily started crocheting six years ago, but she tells Axios she never imagined her business would boom after her parents persuaded her to get on TikTok.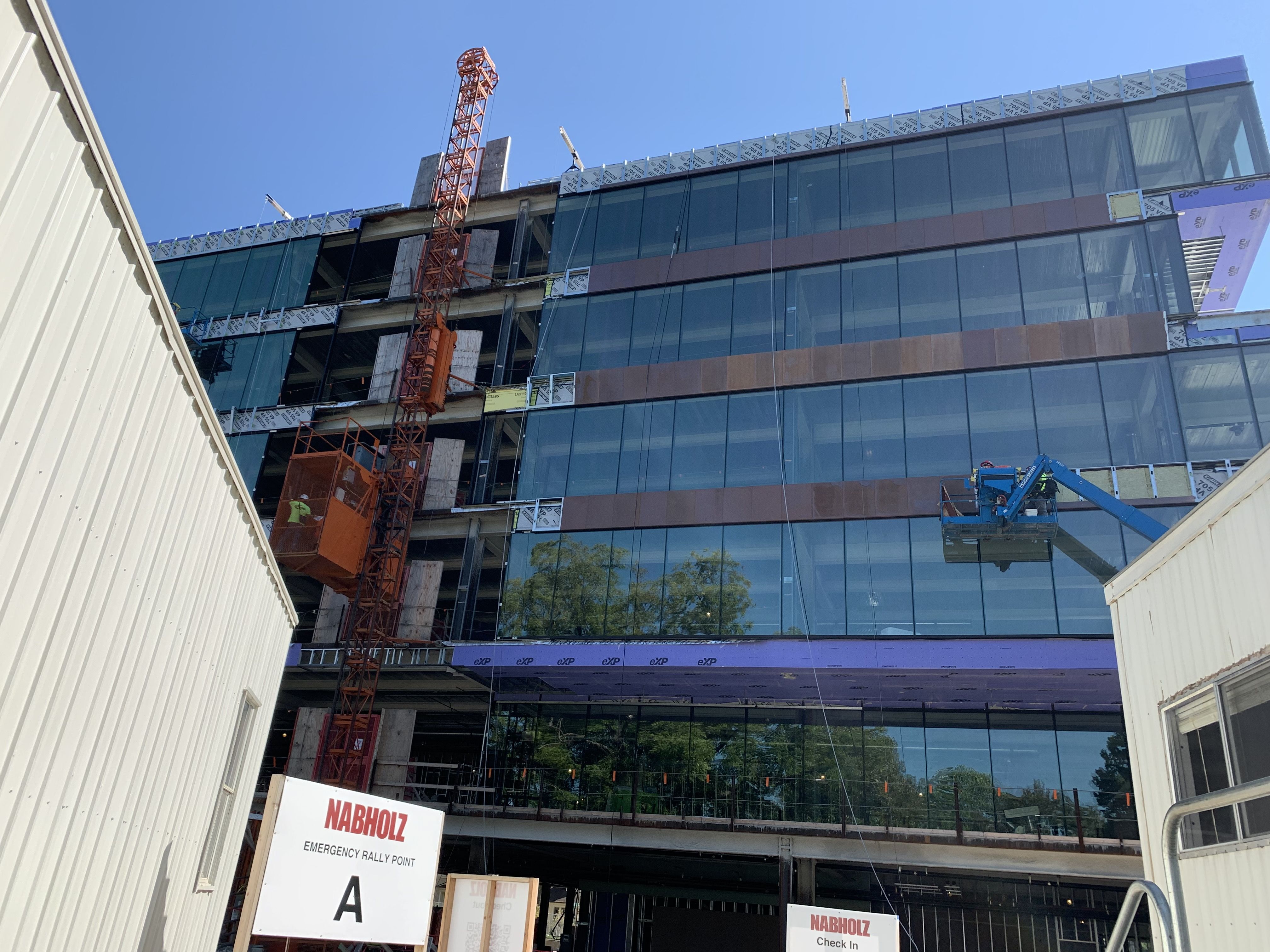 I put on a hard hat and took a tour of the under-construction Ledger in downtown Bentonville on Friday. Now I'm ready to tell you all about the massive project that's impossible to miss.
Why it matters: The flexible coworking space was planned before the pandemic, but it couldn't come at a better time given changes in working habits. Mary Best, who's on the operations and community team for the Ledger, called it the "evolution of the coffee shop worker."
It'll be a place that startups can use while getting their businesses off the ground, where self-employed and remote workers can rent office space, and where business people from out of town can get some work done.
Coworking space exists in Benton County, but not on this scale.
1 cool thing: Perhaps the most glaringly unique part of this building is that you can ride your bicycle up to any floor — including its in-building coffee shop.
If Bentonville is going to proudly be the "mountain biking capital of the world," then a workspace like this should celebrate the bike community, Best and developer Josh Kyles tell Axios.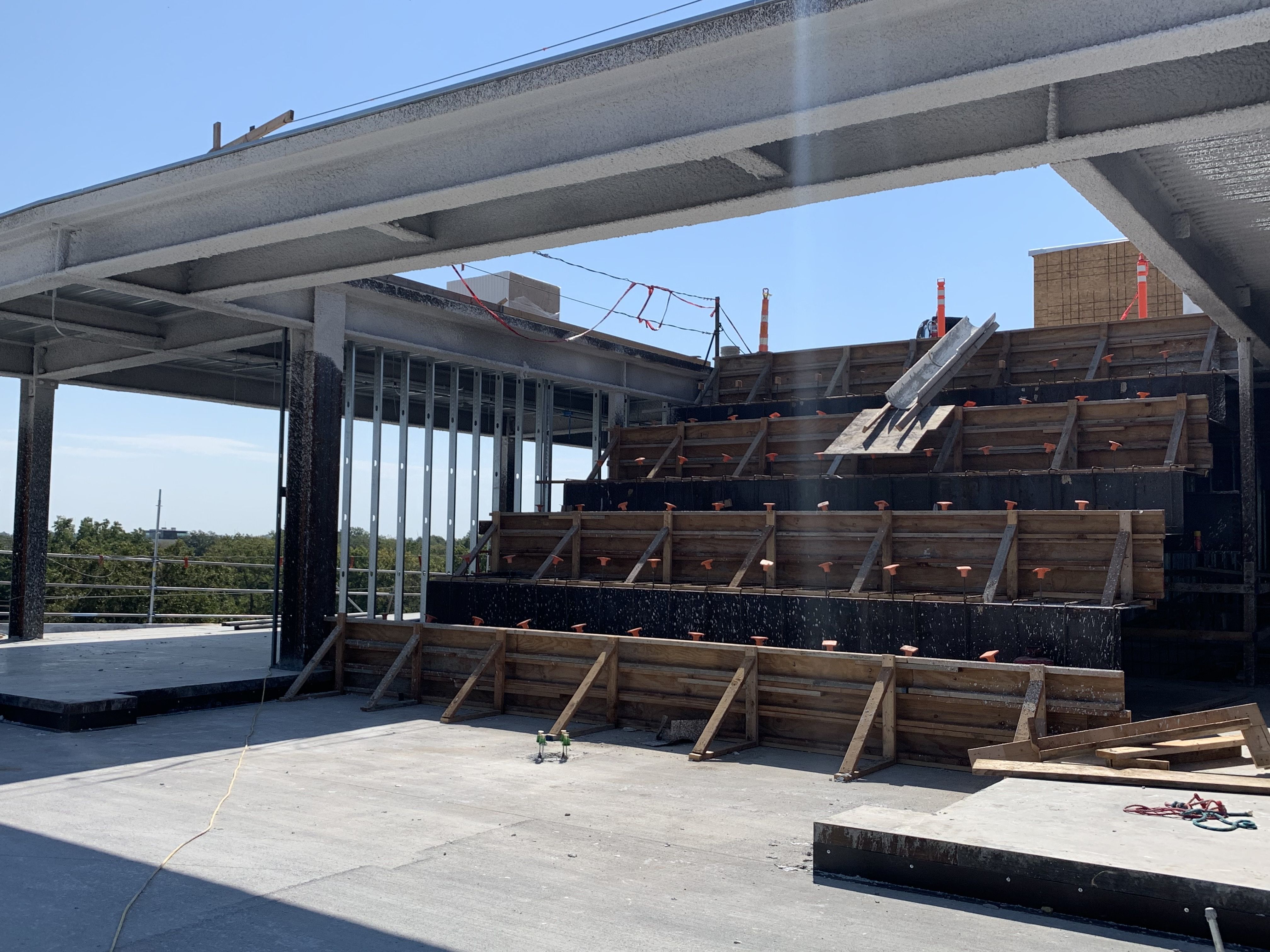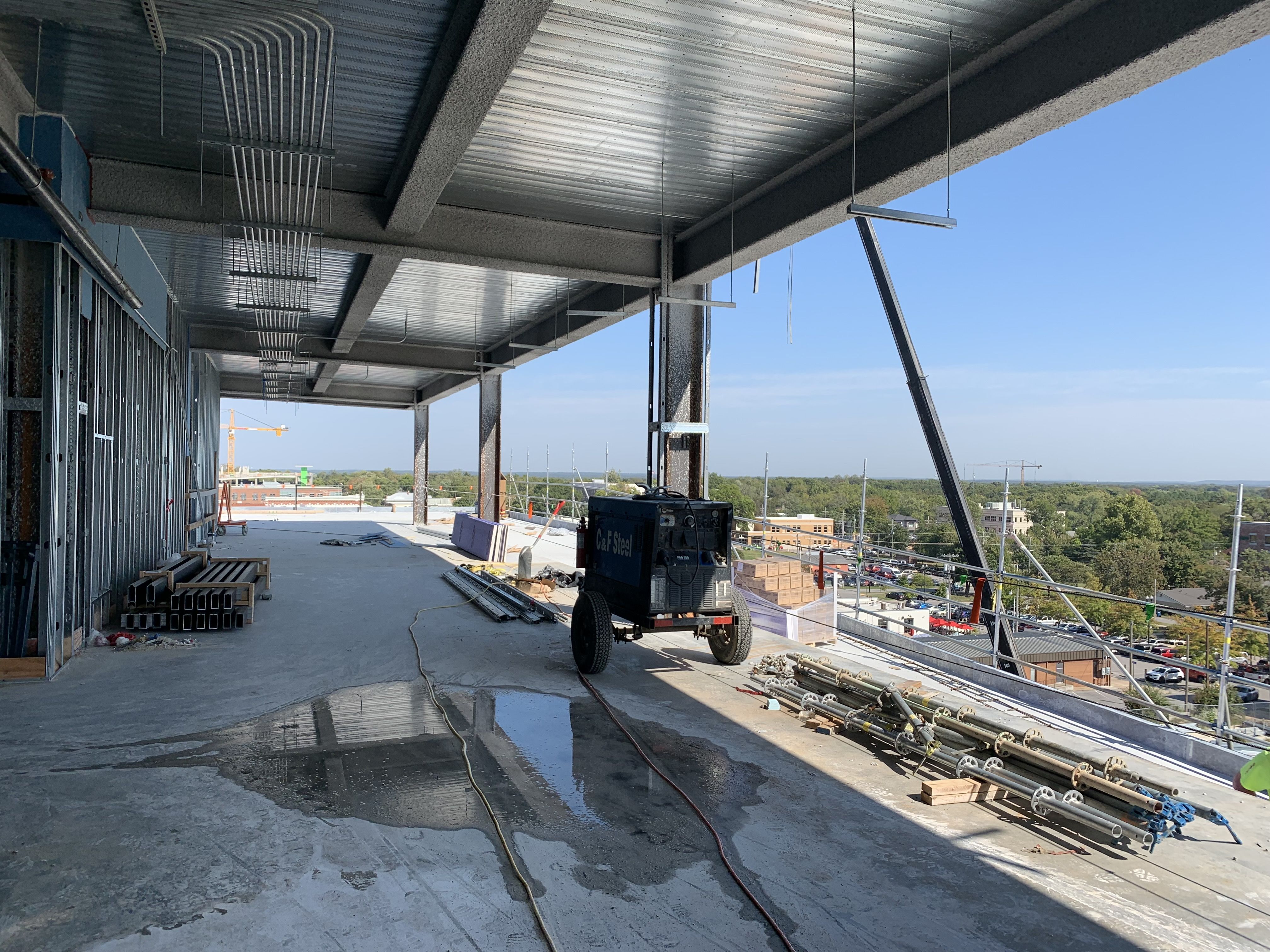 Details: The Ledger will be six stories and 230,000-square-feet with a bar and retail space. It will be able to accommodate about 1,500 workers at full capacity.
It will include a variety of offices, such as coworking space and private offices of different sizes.
Workers will not commit to leases. Instead, the building will be membership-based, allowing people to pay for day or month passes, Kyles says.
Unlike most office spaces only open to the people who work there, the Ledger will be community-oriented, Best says.
The space will be open to some ticketed events.
And the adjacent parking garage, a joint project between the Ledger and the city, will have an 80-foot mural painted on the side. (No, they wouldn't tell me what it'll be yet.)
Flashback: This was originally supposed to be a joint project between Kyles and WeWork, but WeWork is no longer involved.
What's next: The Ledger is expected to open summer 2022. It will at first only be open to a limited number of people to work out any kinks, Best says.
Also, I'm told there are a few more features up the Ledger's sleeve that the developers aren't ready to share. Stay tuned.
Some recent podcasts recs by and for Northwest Arkansans:
🏨 "Look What I Did" interviews Sean Fitzgibbon, author of a graphic novel about the Crescent Hotel in Eureka Springs, parts of which are allegedly haunted.
🚵‍♀️ Randy Wilburn of "I am Northwest Arkansas" talks with Michael LaSalata, who recently relocated his business, Hellion Bikes, from Seattle to NWA.
🍽 Kim Bryden, CEO of Cureate and host of "The Tidbit," learns about Ozark cuisine from chef Erin Rowe, who runs Ozark Culinary Tours.
👩‍🍳 Bryden also sat down recently with the hosts of "Startup Junkie" to talk about how her company can help Northwest Arkansas' entrepreneurs in the food and beverage industry.
🏀 Are you enjoying football but also ready for basketball season? You can hear Au'Diese Toney's road to recovery story on "The Hog Pod with Bo Mattingly."
Cristian Bolton likes to see the world upside down, if only for seconds at a time.
The big picture: Bolton is a test pilot and salesman at Game Composites, maker of aerobatic airplanes, which took off in the U.K. in 2013 and landed in NWA three years later.
Now the company is doubling the size of its production facility by the end of the year and expanding its team from about 70 to 150, Bolton says.
Why it matters: Airplane manufacturing is a highly technical industry requiring skilled labor and engineering know-how. The success of one maker could attract others to start up new companies or relocate to the area, creating an innovation hub for aerospace and further driving diversification in our economy.
Details: The company's product, the GameBird 1 (also GB1), is a two-seater that's lightweight yet powerful enough to do stunts in the air.
The GB1 has more range than similar planes — up to 1,000 miles. It fills a narrow but unmatched niche for flight enthusiasts who perform acrobatics and also want to fly themselves for weekend jaunts.
The plane and its components are made almost entirely in the U.S. and are hand-built from tip to tail in Bentonville.
A base GB1 starts at $425,000. Customized paint and electronics are available.
The company's growth means instead of making one plane a month, Game Composites will soon be able to produce two.
The intrigue: The GB1's fuselage, wings and the trusses that give the wings rigid structure are made entirely of carbon fiber composites. Most aircraft of this type are made of aluminum and have structural trusses that take up precious room.
Its top speed is about 270 mph, and it has a cruising speed of about 230 mph.
It can hold 81 gallons of fuel, giving it the 1,000-mile range, but is rated to handle only 33 pounds of luggage. The trunk is tiny, so no golf bags.
The GB1 is FAA-certified, meaning it meets high criteria for safety and can be used for flight instruction.
It's also certified in Europe, where Bolton says many buyers live. Unlike similar planes, the GB1 has two wings, making it easier to ship and reassemble.
Flashback: The company was founded by ​​Steuart Walton and Philipp Steinbach, who also serves as the chief designer.
It relocated to Bentonville in 2016 because airspace above and around NWA isn't crowded, making it great for aerobatics and test flights, Bolton tells Axios.
The company has built 35 GB1s so far but plans to complete No. 41 by the end of 2021.
What they're saying: Edan Shalev, chief technical officer for a medical database company, flew aerobatic planes competitively when he was younger. He uses his GB1 to fly between California and Idaho, and to do stunts for fun.
He waited about a year for his GB1, traveling to Bentonville three times during the process.
The 1,000-mile range, its being made in the U.S. and testimony from a friend who owns four GameBirds were tipping points for Shalev to make the purchase.
Plus, "I feel safer in this plane than in any other plane," he says.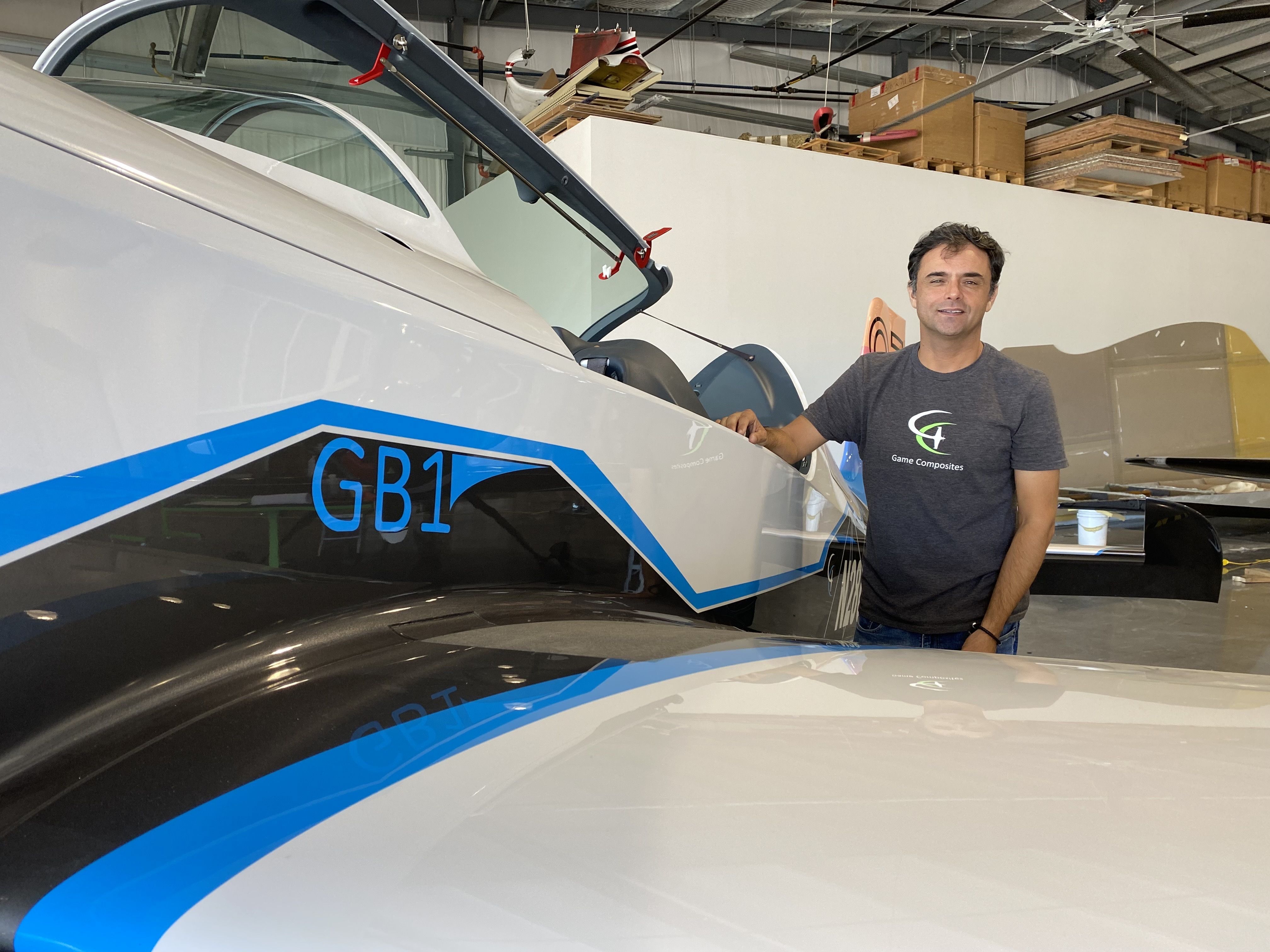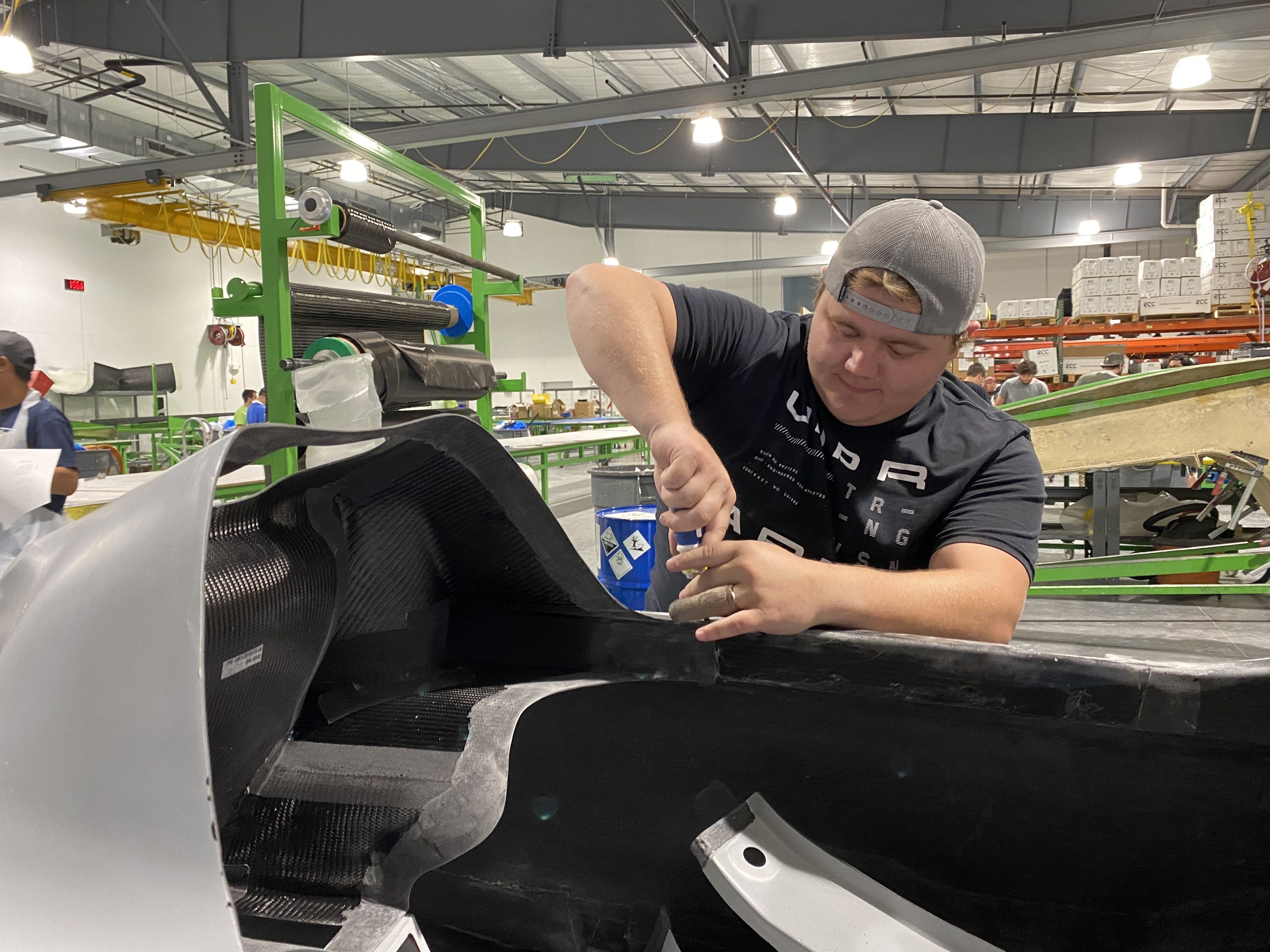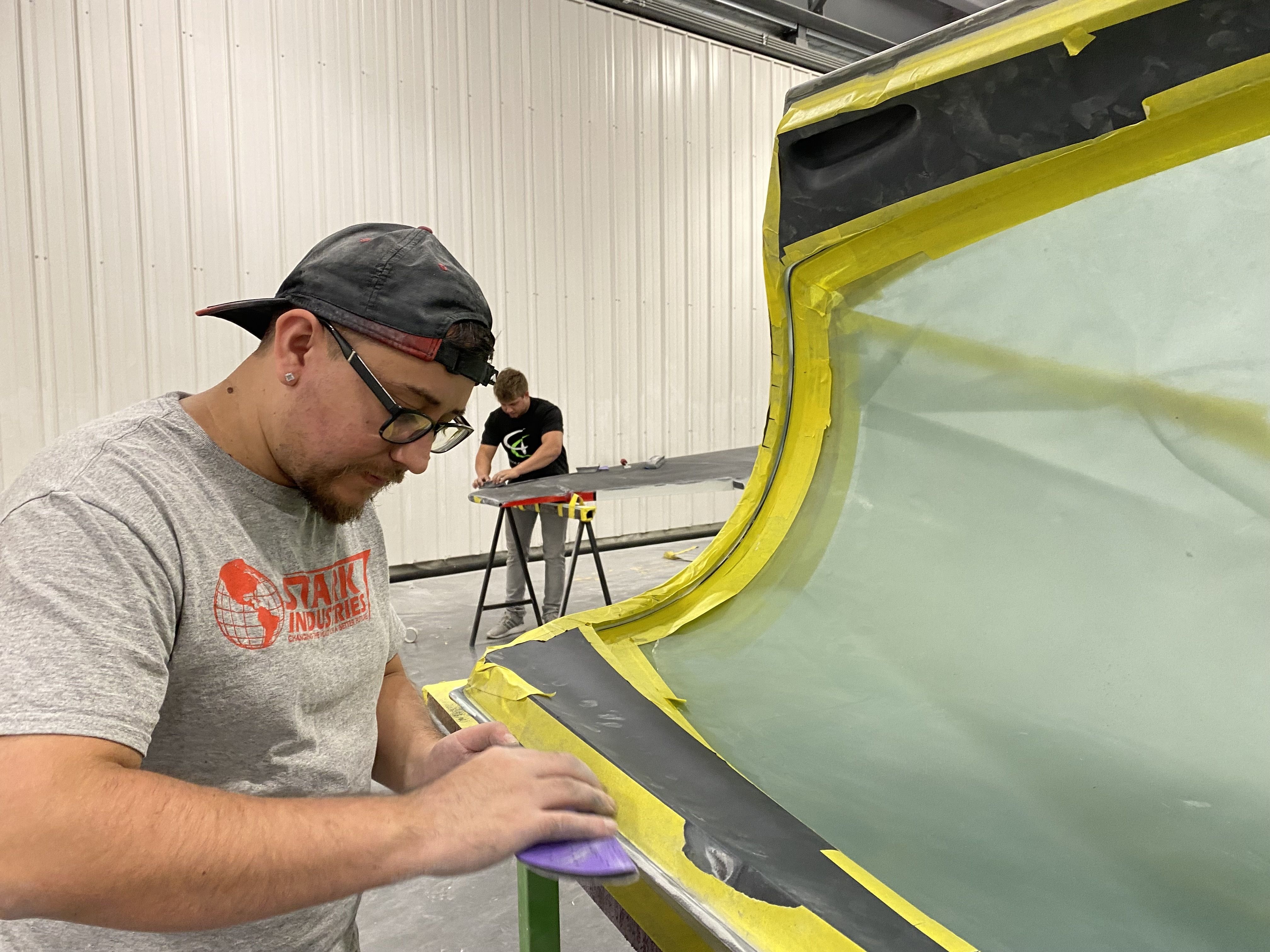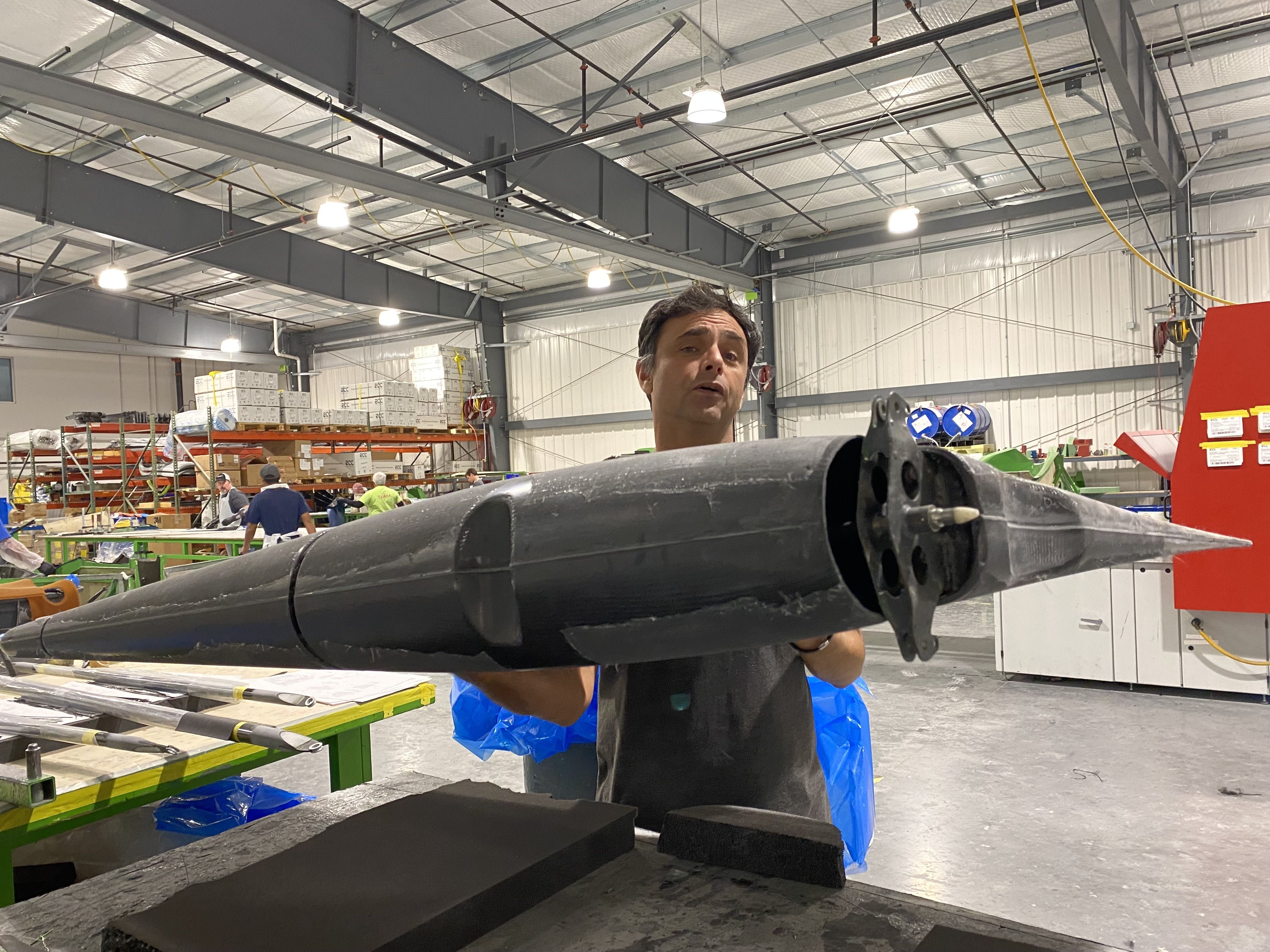 Last week, we asked about your work-from-home opinions, given work looks a lot different for many of us than it did two years ago — and it might stay that way.
Big thanks to the 135 people who responded!
State of play: Only 6% of respondents said they want to go back to working in person, while 42% said they want to work remotely.
But the slight majority — 52% — said they simply want the option of going into the office or working from home when they want.
Why it matters: NWA employers may want to take note workers' priorities are changing. Some companies have already pivoted and don't plan to require employees to spend their days away from home.
The intrigue: One theme that prevailed in most responses was flexibility. People want to go for a walk when they feel like it, work wherever they're most productive and pick their kids up from school.
Other than less exposure to COVID-19, the top reasons why people want to work at home or remotely include saving time and money on commuting, the ability to wear comfortable clothes (yoga pants for the win), and the ability to work out, nap or take breaks when they want.
Of note: About 42% of respondents have the option to work in person or remotely, while 35% work solely remotely. About 16% work solely in person, and 6% have a split arrangement.
University of Arkansas engineering researchers will operate a new silicon carbide research and fabrication facility, the university announced Monday.
Huh? We'll explain: Silicon carbide is a semiconductor of power that works well in higher temperatures.
Get a free daily digest of the most important news in your backyard with Axios NW Arkansas.