Sarah Huckabee Sanders selects 13 for first cabinet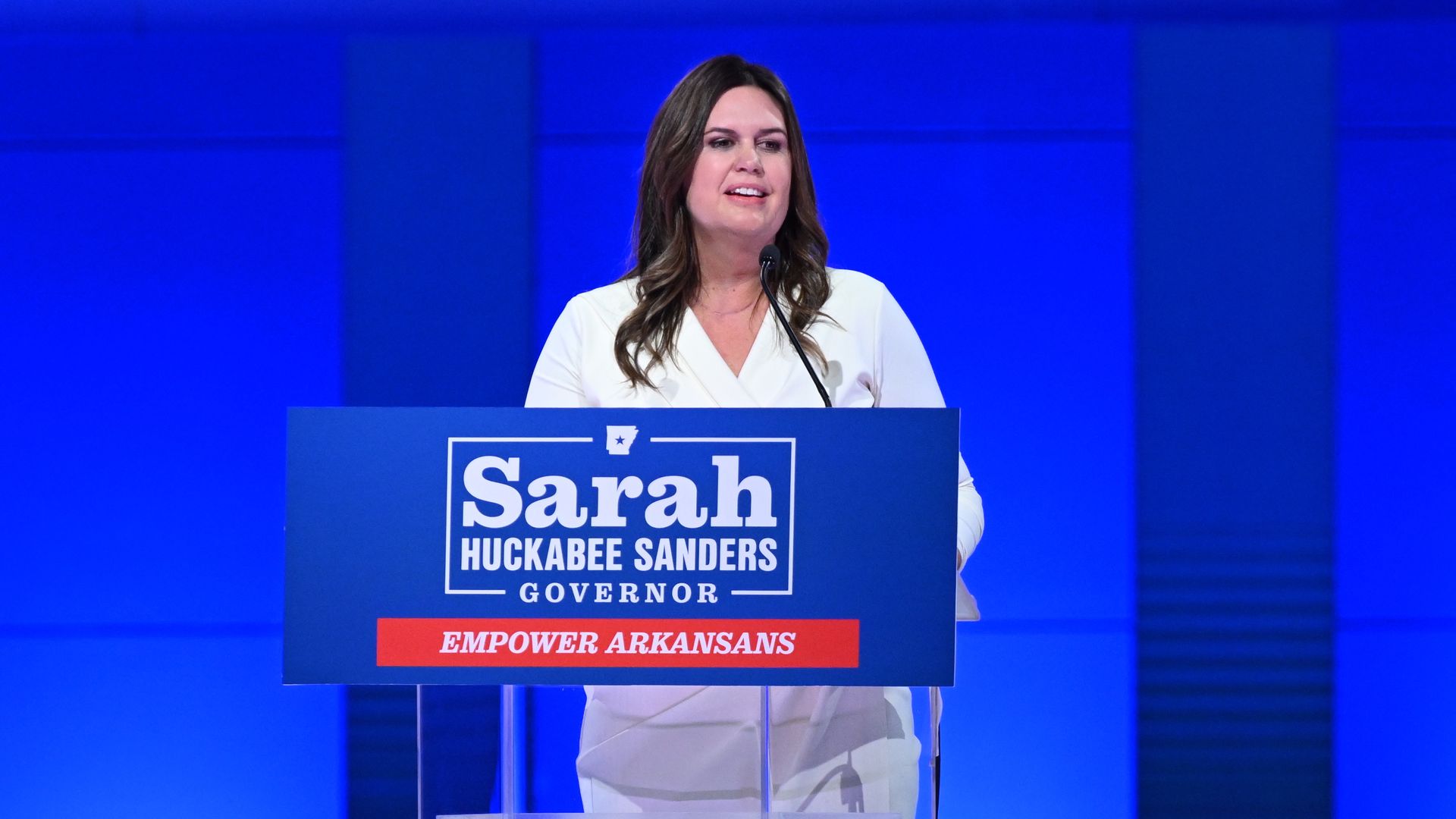 Arkansas Gov.-elect Sarah Huckabee Sanders has announced her intentions to nominate 13 of 15 state-level secretaries, starting her first term with a mostly clean slate.
The list includes three reappointments and four out-of-staters, along with six current state government staffers and business leaders.
Two appointees come from posts in conservative administrations in Florida and Arizona.
Catch up quick: Cabinet members advise Sanders, whose inauguration ceremony is set for Tuesday, Jan. 10, on various state government departments, while leading their respective offices.
The 94th General Assembly kicks off Monday morning and Sanders' inauguration ceremony is scheduled for next Tuesday.
Details: Sanders' team has announced intended secretary nominations one at a time since mid-December.
Here's a recap of the various department heads in their respective order of public reveal:
Public Safety — Mike Hagar, a state police troop commander, will be secretary of the department and director of the state police. The current secretary, A.J. Gary, will continue to direct the Division of Emergency Management;
Parks, Heritage and Tourism — Mike Mills, founder of Buffalo Outdoor Center;
Agriculture — Wes Ward will be reappointed after serving in the role since 2015, when he was appointed by Gov. Asa Hutchinson;
Energy and Environment — Shane Khoury, the department's current chief counsel;
Commerce — Hugh McDonald, retired president and CEO of Entergy Arkansas;
Human Services — Kristi Putnam, former chief people officer for Kentucky tech startup AppHarvest, is to replace Mark White, who will become chief of staff;
Finance and Administration — Larry Walther is getting reappointed. He was named as chief fiscal officer and director of the department in 2015;
Education — Jacob Olivia, senior chancellor at Florida's Department of Education;
Transformation and Shared Services — Washington County Judge Joseph Wood;
Corrections — Joe Profiri, deputy director of Arizona's Department of Corrections;
Military — Brig. Gen. Jon Stubbs, deputy director for Operations, Readiness and Mobilization with the U.S. Army, is to replace Maj. Gen. Kendall Penn. Stubbs currently works at the Pentagon but has served with the Arkansas National Guard for 27 years. He will also become adjutant general of the Arkansas National Guard;
Veterans Affairs — Penn is to replace Nate Todd;
Labor and Licensing — Daryl Bassett is being reappointed.
Of note: Sanders hasn't yet announced her plans for the departments of inspector general or health.
Context: Fifteen cabinet-level positions were created in 2019 when Hutchinson streamlined state government.
What's next: According to Arkansas law, within 30 days of the General Assembly convening for its regular session, the governor must submit appointees' names to the state Senate for confirmation.
Appointees can immediately serve while awaiting approval.
More NW Arkansas stories
No stories could be found
Get a free daily digest of the most important news in your backyard with Axios NW Arkansas.