New Orleans ties for hottest day on record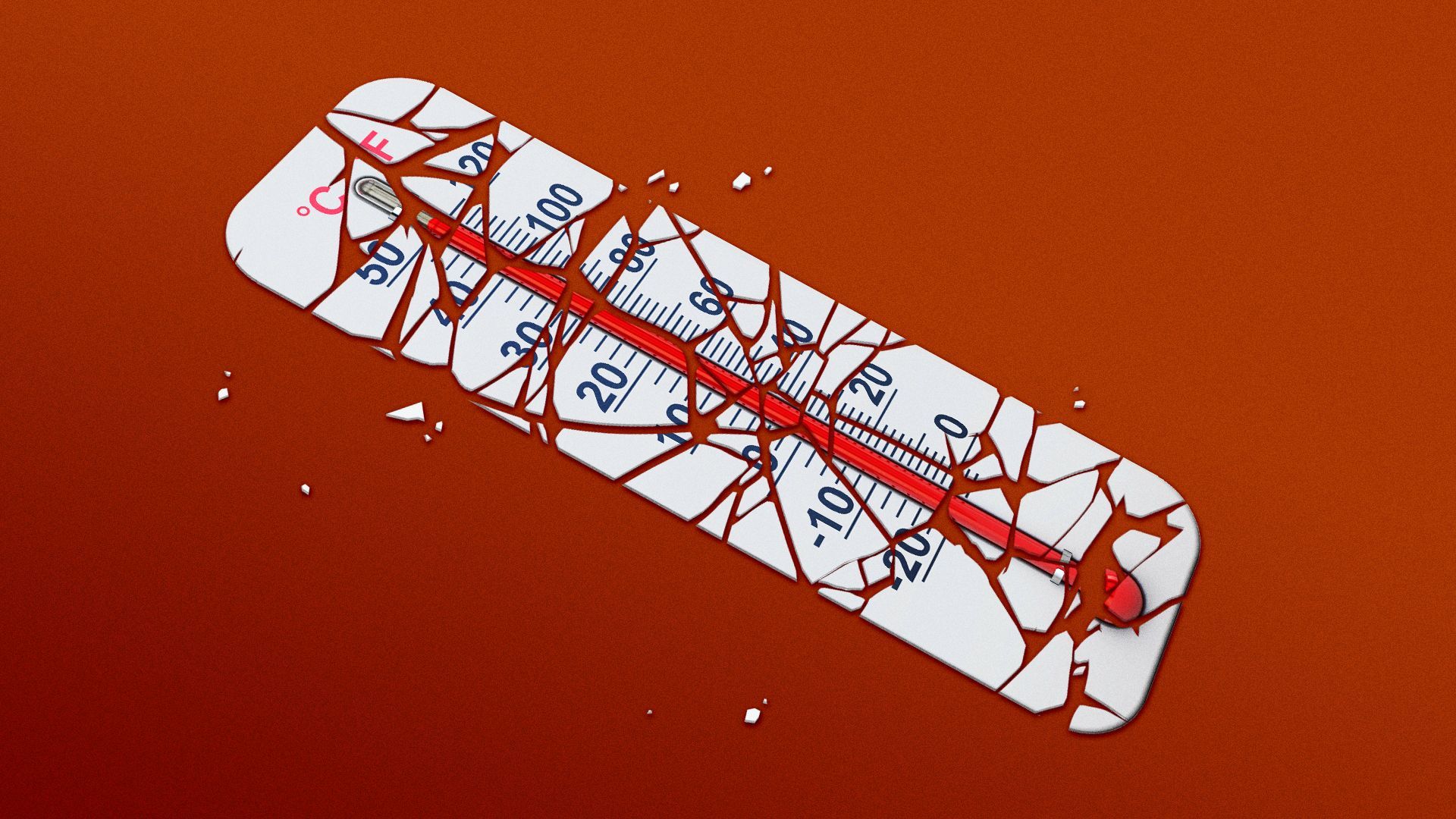 New Orleans on Wednesday tied for the hottest day ever recorded in the city, marking yet another milestone during the dangerous heat wave that forecasters say could stick around into September.
Slidell broke its all-time record, according to the National Weather Service.
Why it matters: 25 people have died in Louisiana this summer due to heat-related causes, the state Department of Health says.
There have been more than 4,700 heat-related emergency visits to hospitals across the state since April, officials said Tuesday.
Driving the news: The high temperature was 102°F at Louis Armstrong New Orleans International Airport at 4:34pm. It tied the record that was set on Aug. 22, 1980.
When the actual temperature was combined with humidity, the "feels like" temperature Wednesday was 114°F, according to Brigette Lim, a meteorologist at the National Weather Service in Slidell.
Slidell broke its all-time record with a high of 104°F. The previous record of 103°F was set June 4, 2011.
Baton Rouge hit 105°F and the Lakefront Airport hit 101°F, breaking the daily records at those stations, NWS said.
Threat level: The extreme heat is even more concerning during the height of the Atlantic hurricane season.
Any storm-related power outage would be more dangerous because of the oppressive heat, officials say, and evacuations will be a higher priority if the city is threatened.
Mayor LaToya Cantrell issued an emergency declaration Aug. 8 related to the heat, citing the threat of tropical weather as why it will be in effect until Oct. 1. The state later followed, unlocking more government resources.
Context: This has been the summer of breaking heat records in New Orleans, reflecting a global pattern.
"Generally heat waves come and go but this has been a summer-long thing and doesn't look to subside for at least the next 7-10 days," the National Weather Service in Slidell said Tuesday.
22 record highs have been tied or broken so far at Louis Armstrong New Orleans International Airport, which is where NWS has its official monitoring station. Records have been kept there since 1947.
This year also has has the most 100°F days: 13. The previous record of five was set in 1980. And, about two-thirds of the last 72 days have had "feels like" temps greater than 108°F, NWS said Tuesday.
By June, New Orleans had more excessive heat warnings issued than all of 2022. Another one is in effect Thursday.
Zoom out: July was the Earth's hottest month on record and this month is on track for the hottest August in history, writes Axios' Andrew Freedman.
As of Wednesday morning, 126 million people were under extreme heat alerts, from Chicago to New Orleans.
In the continental U.S., at least 100 heat records are being set or tied per day this week, with that blistering pace expected to continue into the weekend.
The backdrop: Climate change is causing heat waves to be more intense, longer-lasting and more frequent. Studies in recent years have shown that some extreme heat events were virtually impossible without human-caused climate change.
Zoom in: Cooling centers are open to the public in New Orleans.
What to do: Follow these heat safety tips from NOLA Ready when extreme heat is forecast.
Stay indoors in air conditioning during the hottest parts of the day.
Drink water.
Do not swim in the Mississippi River. The Coast Guard and Harbor Patrol will treat you as a "person overboard."
NORD's pools are open, along with day-pass options at these hotel pools.
More New Orleans stories
No stories could be found
Get a free daily digest of the most important news in your backyard with Axios New Orleans.