"Brutal" heat wave brings triple-digit temperatures from Chicago to New Orleans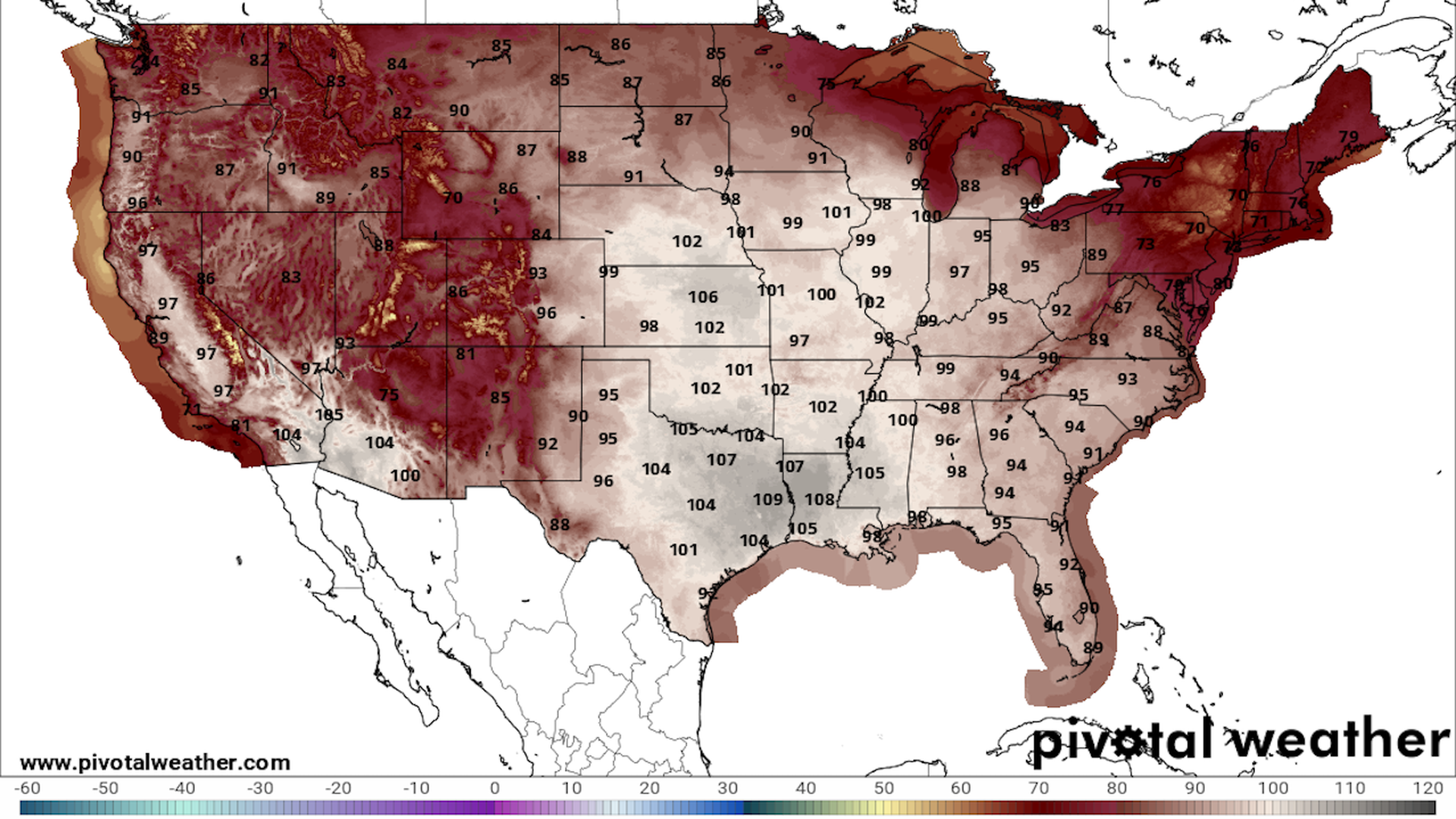 In a summer featuring countless heat domes and record-high temperatures and heat indices, the season appears to have saved the worst for last.
The big picture: A sweltering, stagnant air mass is draped across the Central U.S., resulting in "dangerous," "searing" and "brutal" heat. Meanwhile, southern Europe is also seeing another bout of extreme heat.
State of play: Heat relief will begin to move into portions of the Midwest between Thursday and Friday, as the heat dome begins retreating southward.
However, relief is expected to be slow in arriving from Missouri southward to the Gulf Coast, including Texas.
New Orleans, for example, is forecast to see highs in the low-100's°F through Sunday. The NWS reported Tuesday that about two-thirds of the last 72 days this summer have had heat indices greater than 108°F.
By the numbers: As of Thursday morning, about 143 million people were under extreme heat alerts, from Chicago to New Orleans — which tied for its all-time hottest day on record on Wednesday.
In Chicago, the heat index reached 116°F, tying for the second-highest such reading on record. The last time this occurred was in a deadly 1995 heat wave.
Eye-popping stat: In the continental U.S., at least 100 heat records are being set or tied per day this week, with that blistering pace expected to continue into the weekend.
Threat level: Extreme heat is the top weather-related killer in the U.S. during a typical year, the National Weather Service has found.
"This heat wave will pose a greater health risk than usual, and be potentially deadly, due to multiple consecutive days of extreme heat, the intensity of the heat, and lack of overnight cooling associated with record warm overnight lows," the NWS warns.
Zoom in: In Des Moines this week, city schools moved outdoor activities to the morning and evening hours, and emergency cooling centers are open to help people escape the dangerous conditions, Axios Des Moines' Linh Ta reported.
In the Twin Cities, parks departments canceled outdoor fitness classes, and a horse racing track pushed its evening start time back by 90 minutes.
In Minneapolis, temperatures are expected to hit the high 90s with heat index values soaring above 110. As a result, forecasters have warned that roads could buckle.
In Indianapolis, where Thursday's forecast high temp of 98°F would tie the record-high set for Aug. 24 in 1936, residents were told to limit their time outdoors; park facilities have become cooling centers.
For the record: In Oklahoma on Monday, one observing site in the northeastern part of the state recorded a heat index record of 127°F.
In Sioux Falls, S.D., the overnight minimum temperature of 81°F early Tuesday tied the record for the hottest such temperature on record, per the NWS.
And in Lawrence, Kan., the heat index hit 134°F Sunday after the air temperature reached 102°F.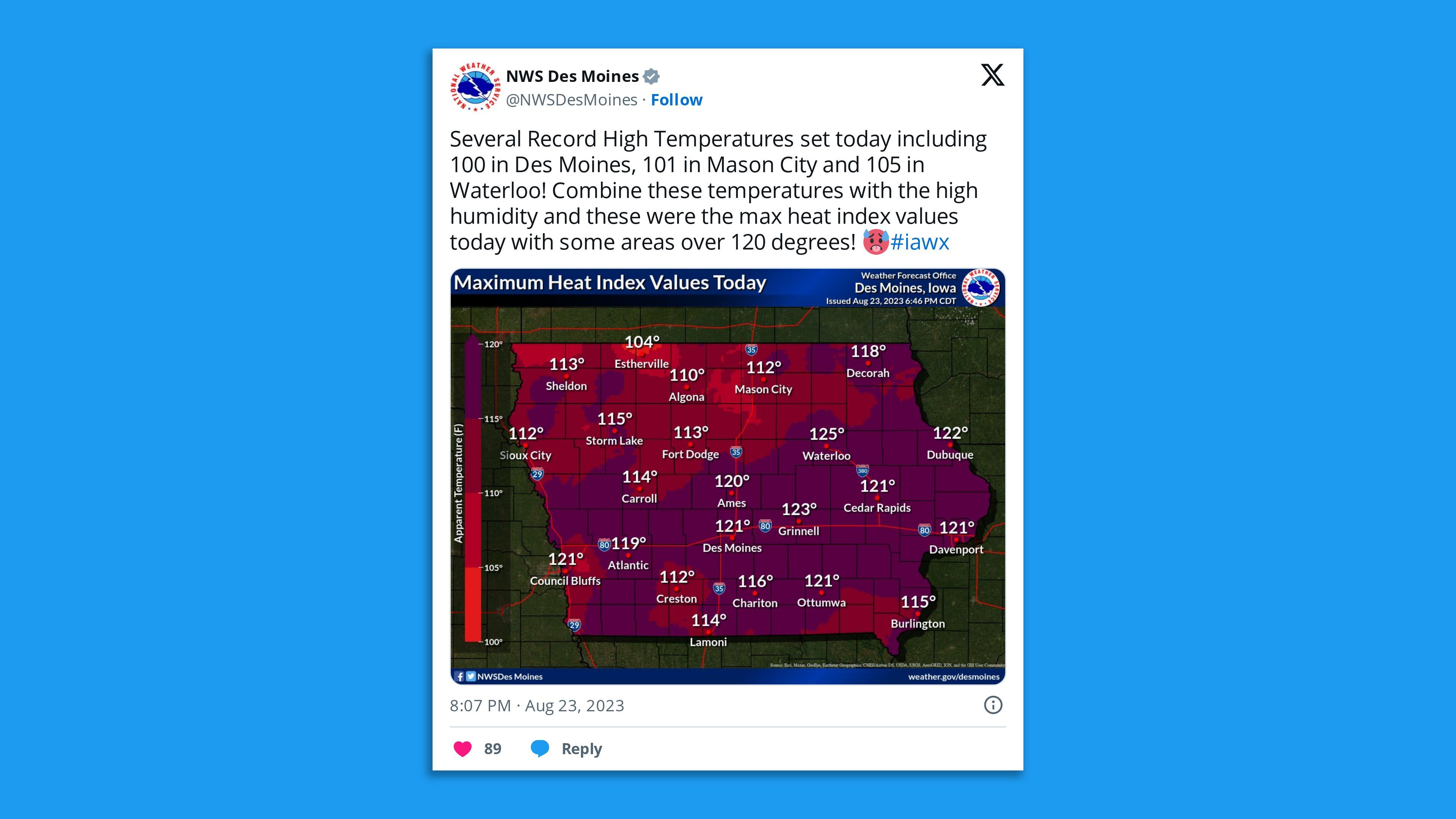 Zoom out: In France, where red heat alerts are in effect this week, a preliminary record was set for the country's hottest temperature recorded in August, with 111.5°F (44.2°C) in Siran.
Meanwhile, Greece's civil protection minister said the country is experiencing "the worst summer for fires since records began" after over 350 wildfires ignited over the past five days amid extreme heat, per the New York Times.
Context: The burning of fossil fuels is causing heat waves in the U.S., Europe and other areas to become hotter, longer-lasting and more likely.
"The reality is 20 years from now a summer like this one will feel like a relatively mild summer," said UCLA climate scientist Daniel Swain in an online briefing Monday. It is "only going to get worse as the climate continues to warm."
Editor's note: This story has been updated with the latest forecast information.
Go deeper