Record-setting U.S. heat dome places 126 million under alerts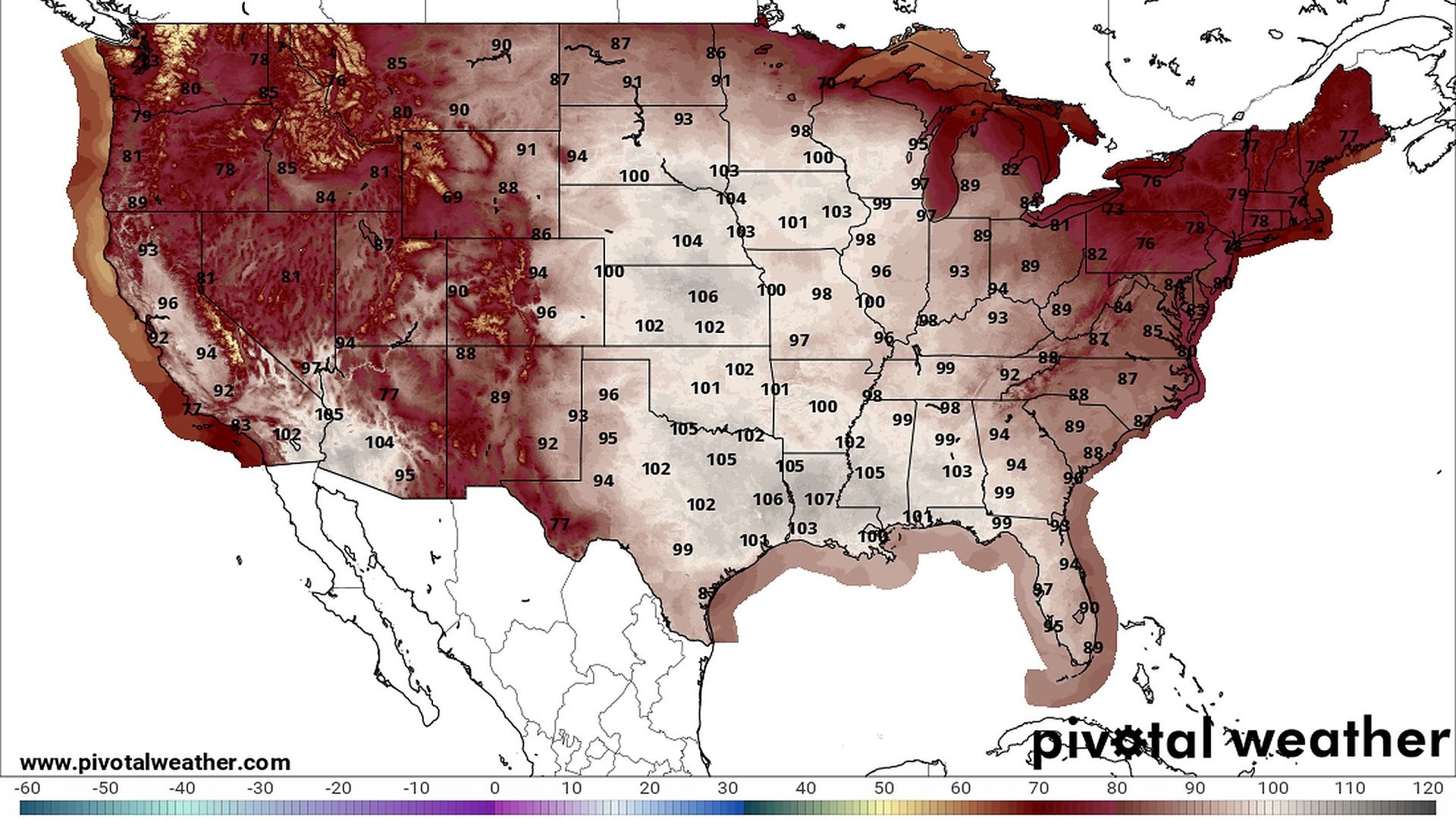 Editor's note: Read the latest on this record heat wave here.
About 126 million people were under heat alerts Wednesday, as an "extremely dangerous" heat dome lingers over a major swath of the Midwest, South and Southwest.
The big picture: The heat dome's intensity is setting records dating back to at least 1950.
State of play: The "searing" heat that saw over 100 new records set or tied on Monday alone "will persist across a widespread region spanning from the Central to Southeast U.S. this week," per a National Weather Service (NWS) forecast discussion Wednesday morning.
By the numbers: Iowa's Sioux City set a new heat index record on Monday afternoon when it hit 122°F. It broke a 109-year-old record by one degree on Tuesday after the temperature hit 101°F.
In Oklahoma, one observing site in the northeastern part of the state recorded an all-time highest heat index record of 127°F on Monday.
And in Lawrence, Kansas, the heat index hit 134°F Sunday after the air temperature reached 102°F.
St. Louis, Missouri, saw a heat index of 115°F on Sunday, which has only happened 14 times before, according to the NWS.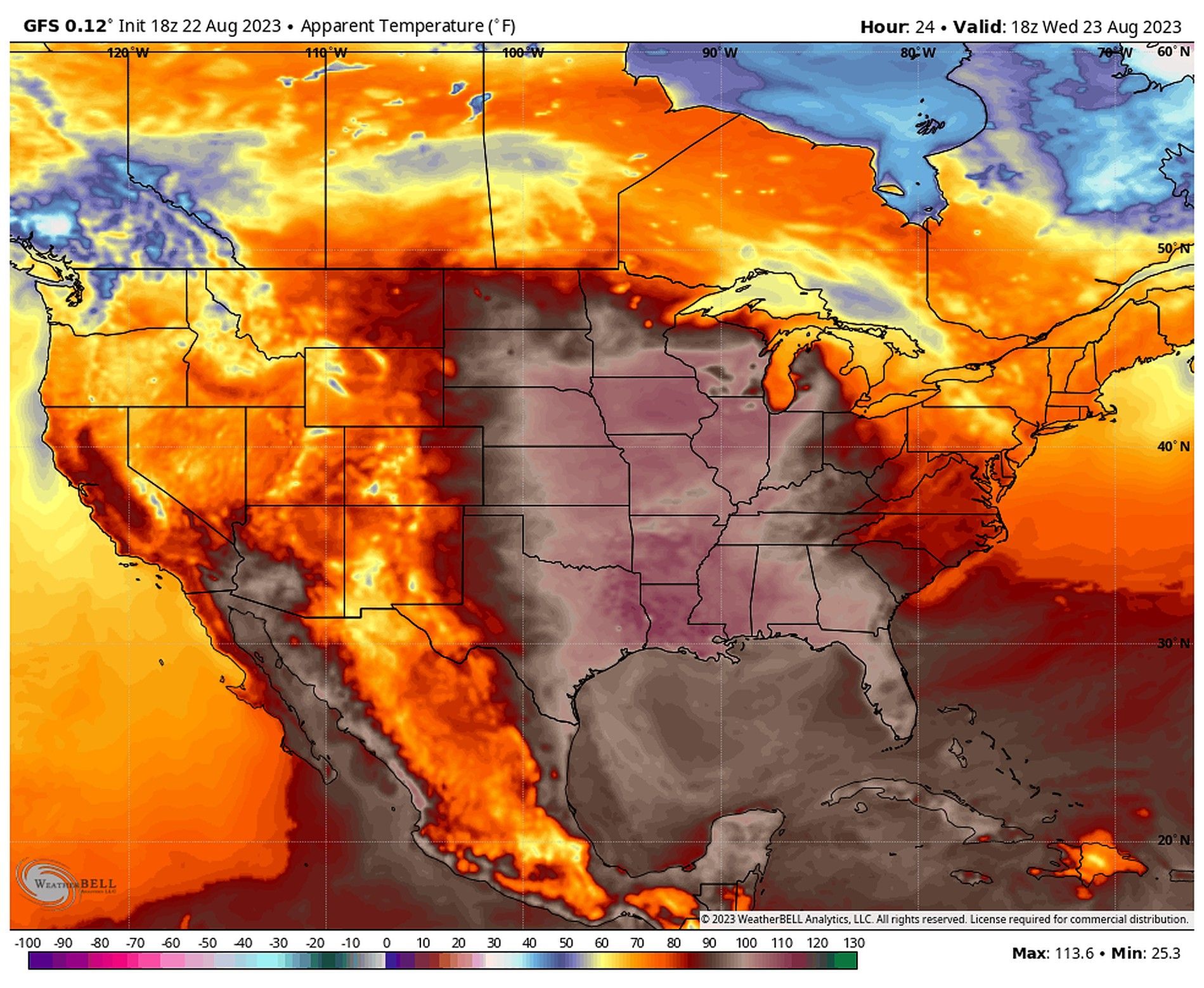 Of note: Overnight minimum temperatures have been staying unusually high in many areas, preventing people from getting some relief.
In Sioux Falls, South Dakota, for example, the overnight minimum temperature of 81°F early Tuesday tied the record for the hottest such temperature on record, per the NWS.
Threat level: The NWS said in a Wednesday morning forecast discussion that the "searing" heat wave would continue this week "underneath a potent, potentially record breaking upper-level ridge anchored over the Mid-Mississippi Valley, which will drive oppressive heat from the Central to Southeast U.S."
High temperatures throughout these areas were forecast to hit the "upper 90s and low 100s each day" through the end of the work week.
Yes, but: "When factoring in brutal humidity levels, maximum heat indices could approach 120 degrees," the NWS noted.
"While it is not uncommon for August to feature dangerous heat, these temperatures are extremely anomalous and likely to break numerous daily and potentially monthly records."
Meanwhile, "very warm overnight temperatures only dropping into the upper 70s and low 80s will compound the impacts associated with this potentially deadly heat wave."
Zoom in: Though its toll is often not immediately apparent, extreme heat is the deadliest weather-related hazard, and it's becoming more common and severe from human-caused climate change.
It tests the limits of power infrastructure nationwide as people turn to air conditioning for cooling, triggering energy demand spikes that raise the potential of brownouts, rolling blackouts or total blackouts.
Zoom out: Over the past 14 days in the U.S. there were at least 3,836 EMS activations in response to heat-related illnesses, including 11 that involved a heat-related death, according to a new federal system for tracking heat sickness.
The top jurisdictions with the highest rate of heat-EMS activations within that period were Florida, Alabama, Arkansas, the District of Columbia, Oregon, New Mexico, Texas, Nevada and North Carolina, respectively.
Go deeper: This summer's extreme weather may be just a preview
Editor's note: This article has been updated with new details throughout.
Go deeper