The U.S. just had its hottest summer, tying with "Dust Bowl" year of 1936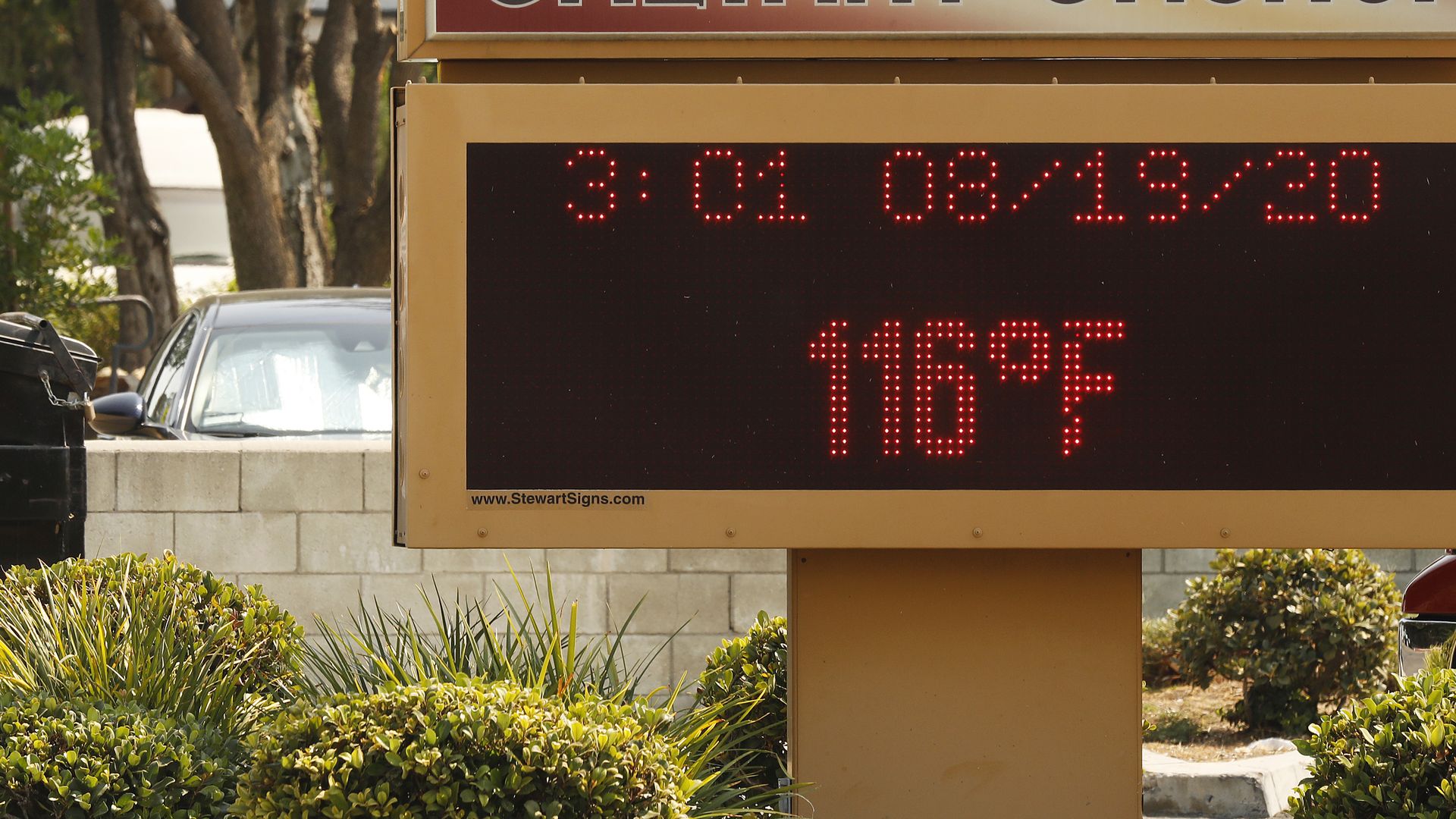 The past three months of disaster-filled weather across the lower 48 states ranks in a statistical dead heat with the Dust Bowl year of 1936 as the hottest summer on record, the National Oceanic and Atmospheric Administration (NOAA) reported Thursday.
Why it matters: A record 18.4% of the contiguous U.S. experienced record-warm temperatures this summer, while five states — California, Idaho, Nevada, Oregon and Utah — reported their hottest summers on record.
Sixteen additional states had a top-five warmest summer on record. No state ranked below average for the summer season.
By the numbers: The the average temperature for the Lower 48 was 1.8°C, or 2.6°F, above the 20th century average in June through August.
2021 technically beat the extreme heat of the Dust Bowl in 1936 as the hottest summer on record, but the difference was extremely small — less than 0.01°F, NOAA said.
The season was also wetter than normal, contributing to deadly and expensive flooding and other water-related disasters.
The average national precipitation total this summer was 9.48 inches — 1.16 inches above average — making it the eighth-wettest summer in the historical record.
Thought bubble, via Axios' Andrew Freedman: What's remarkable about this year's summer temperature record is that a significant portion of the country was warmer than average but not in the top five warmest years, and yet the U.S. still managed to tie with the infamous Dust Bowl era for the hottest summer title.
Climate change is causing extreme heat events to be more common and severe, and these played out repeatedly, sometimes with deadly results, across the West, amid a deepening drought.
The big picture: This August was the deadliest month for flooding across the U.S. since 2017 with at least 35 deaths accounted for, NOAA said (the flooding associated with Hurricane Ida occurred in early September).
Flooding last month killed at least 22 people in Tennessee.
Large wildfires have burned nearly 3 million acres so far this season, according to National Interagency Fire Center estimates from Thursday.
The blistering summer and a climate change-caused megadrought have pushed certain U.S. reservoirs to historically low levels. The federal government formally declared the first-ever water shortage at Lake Mead, the nation's largest reservoir by volume, last month.
Go deeper ... UN: Weather disasters more common, costly but less deadly than in the past
Go deeper