Covenant School families plead for Tennessee lawmakers to act during special session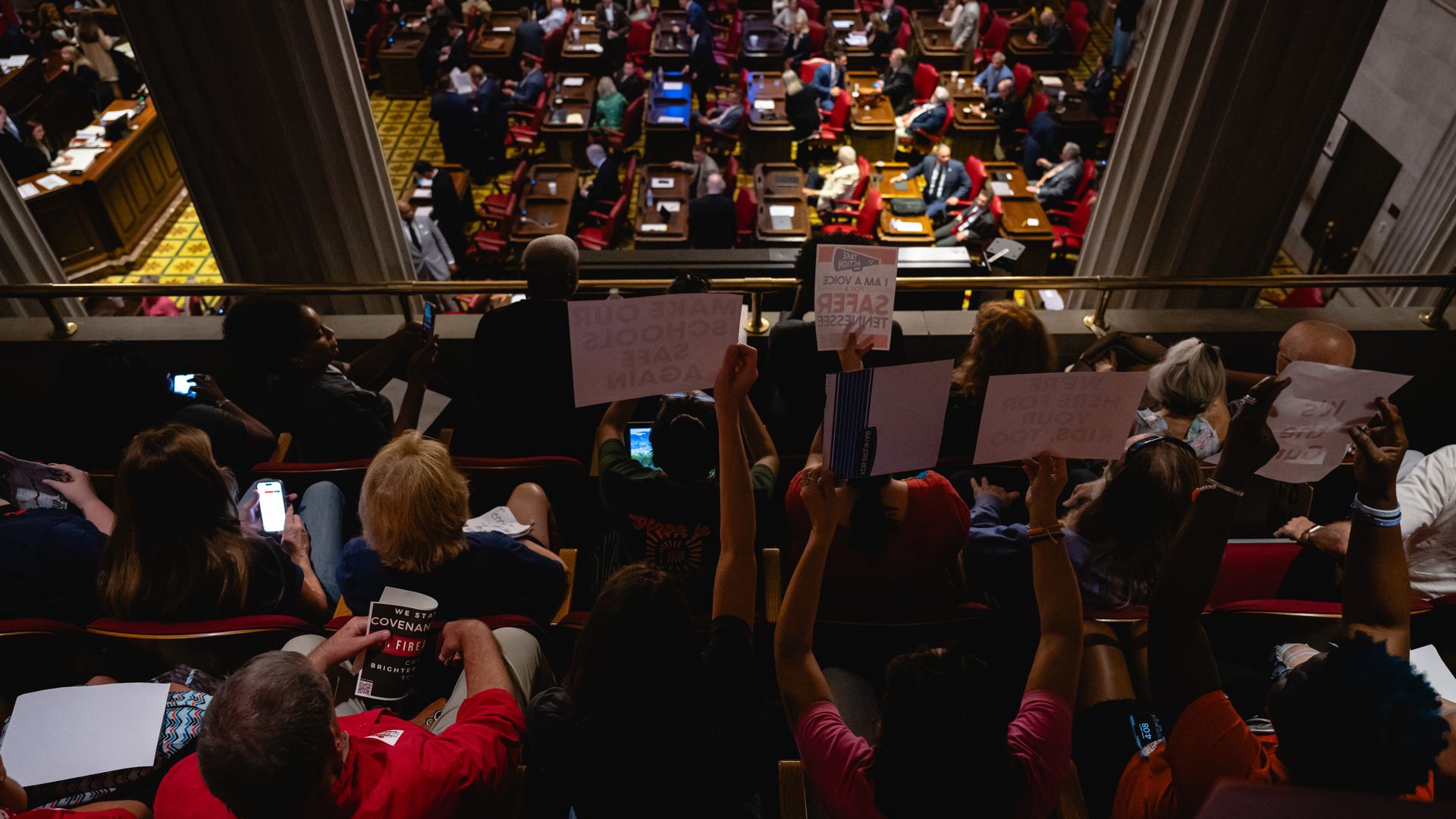 Covenant School parents are urging Tennessee lawmakers to rally around a series of bills as the special session on public safety heads toward a second week.
State of play: Lawmakers remain divided on the path forward.
More than 100 pieces of legislation have been filed. The Senate set almost all of them aside, approving only four bills.
Meanwhile, the House has spent hours debating and voting on additional bills that will languish without Senate buy-in.
What they're saying: "To see the House and Senate at an impasse is frustrating and upsetting, especially when there are so many good bills on the table," Covenant parent and nonprofit co-founder Melissa Alexander said during a news conference.
The coalition of parents wants the Senate to reconsider some tabled bills, including one that seeks to improve mental health offerings in schools and another that would require schools to develop new response plans for fire alarms activated during a shooting.
What's next: The Senate and House have adjourned until Monday. The two chambers must agree to end the session, and it's possible senators will reconsider some bills in order to reach an agreement.
Of note: Both Republican-controlled chambers remain staunchly against gun restrictions. Conservative lawmakers have scuttled multiple variations of Gov. Bill Lee's proposal to keep dangerous people away from guns.
The big picture: Sarah Shoop Neumann said she and other Covenant parents would "keep showing up" at the statehouse to push for more progress.
"It is obvious that the measures that have progressed in this session are not enough. The House has passed rules stifling debate and limiting the rights of parents and other concerned Tennesseans to express themselves."
"The Senate stonewalled real progress as gun industry lobbyists watched from the gallery while we fought to have a seat."
Mary Joyce spoke to the trauma motivating the Covenant parents to continue their fight for policy changes. Her daughter was 9 years old during the shooting.
"She's lost 50% hearing in her left ear because that was the side closest to the door where she was being shot at," Joyce said.
"You can't see it, but these kids are really struggling, and it's hard for them to talk about it," said Joyce. "They look like normal kids, and to everyone else, you've moved on."
"To us, we're in the thick of it," Joyce said. "We're still in the trenches of this trauma."
More Nashville stories
No stories could be found
Get a free daily digest of the most important news in your backyard with Axios Nashville.