Chicago's Drunk Cubs Fan shares her best day ever in the city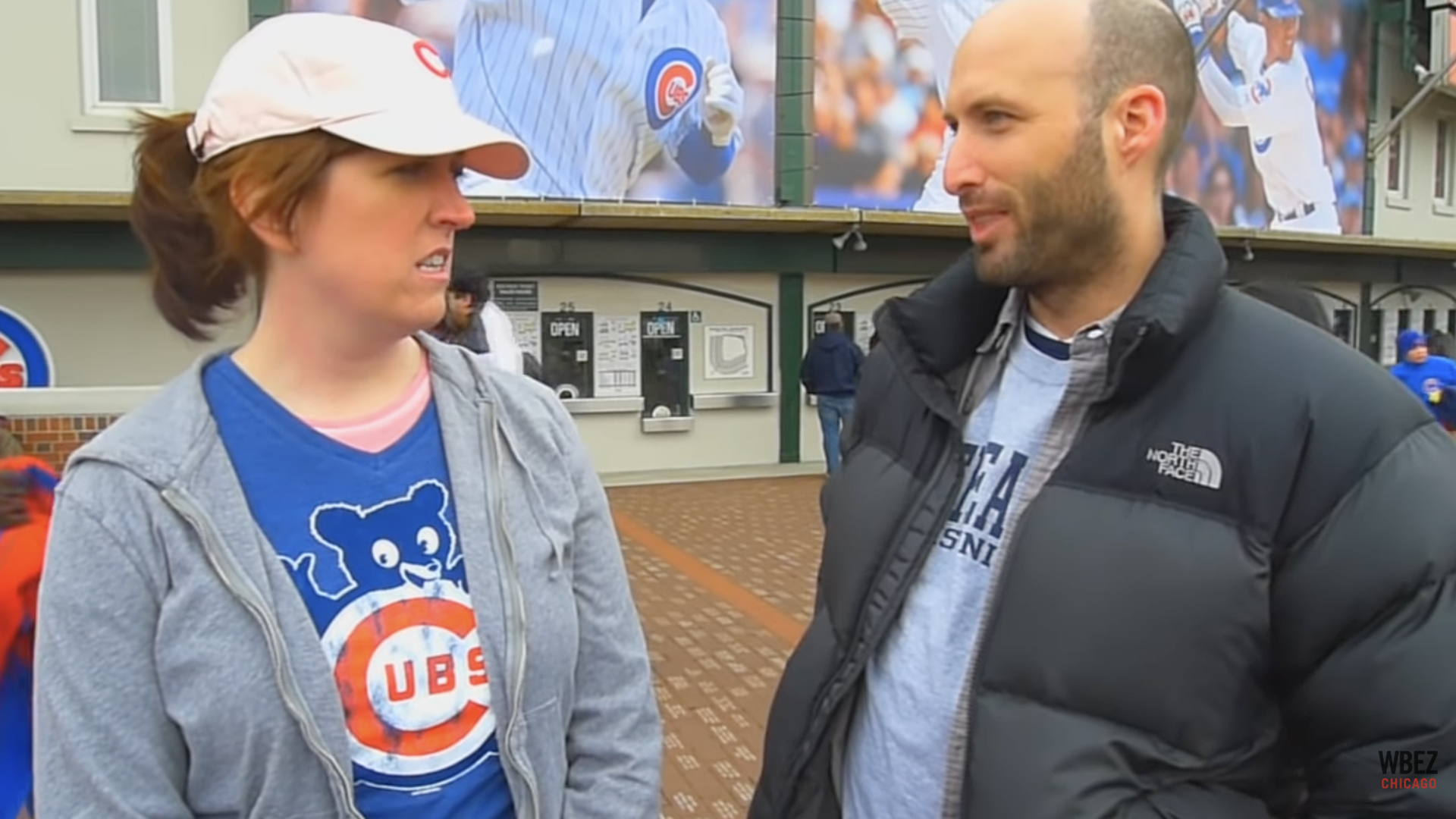 This weekend, comedy writers Kate James ("Work in Progress") and Steve Waltien ("The Late Show with Stephen Colbert") are coming back to Chicago to do two improv shows in the suburbs.
What's happening: The shows at Lyons Township High School and LaGrange Country Club are both fundraisers for Winning With Wyatt, an organization that raises money for pediatric brain cancer research.
Context: Both comedians lived here for years. Waltien graced the main stage at The Second City, while James co-founded a little known comedy group called Schadenfreude. (Editor's note: with me!)
The intrigue: James is a Chicago icon, and I'm not just saying that because we shared hundreds of stages. (Well, maybe I am.)
She is so skilled at playing hilarious characters, including her viral video "Drunk Cubs Fan," which still elicits emails asking, "Is this real?"
Reality check: It's not real. And neither is this Best Day Ever, featuring Colleen Henneman, aka Drunk Cubs Fan.
🌮 Breakfast: "First, Hi. I'm Colleen but my friends just call me Henneman. H-e-n-n-e-m, you get it. And breakfast? Nah, no thanks. If I do, it's not until 1pm, because I eat my last meal at 3am at that Taco Bell on Addison. So that helps me with my intermittent fasting."
"I only go to the fancy Taco Bells. It's a cantina! Which is Spanish for day drinking. Do you remember mexi-melts? God, those were soooooooo good."
👙 Morning activity: "First thing I do is go get my tan. I work at California Tan, which is different from LA Tan. It's a startup by my friend Jen on California near Montrose. She lets me bake for free on my days off. Look at this mole; does it look weird to you?"
🍗 Lunch: "I do my patented lunch crawl from 3-6pm. It's all wings. Maybe a mozz stick, but mostly wings. And a ton of guaaaaac. I love guaaaaaaaaaaaaaaaac."
🏟 Afternoon activity: "If the Cubs are playing, I'm there. If they aren't, I'm also there? Just catching the vibe."
🍣 Dinner: "I've been trying to get a reservation at that sushi place in the St. Regis, but I've been banned from Open Table for drunk reserving and then not showing up. So, I usually just get sushi from the gas station."
🍻 Evening activity: "Wrigleyville, baby! I'll stand in line at High Tops. I'll stand in line at Mullens. I'll stand in line at Houndstooth. I'll stand in line at Irish Oak. I'll pee behind Red Ivy. Then I'll pet a cop horse and take a selfie with it. And then I'll go stand in line at Bar Louie."
(Editor's note: All of those places are long gone.)
Henneman: "WHAAAAA? They arrrrrre? Then what have I been standing in line for?"
"OK, I gotta go stand in line at Taco Bell and repeat this whole day again. Cantina time!!! Do you have a car? Which way are you heading? Can I get a ride?"
Editor's note: Colleen Henneman, again, is not real.
More Chicago stories
No stories could be found
Get a free daily digest of the most important news in your backyard with Axios Chicago.