Chance the Rapper crowned the best Chicago hip-hop artist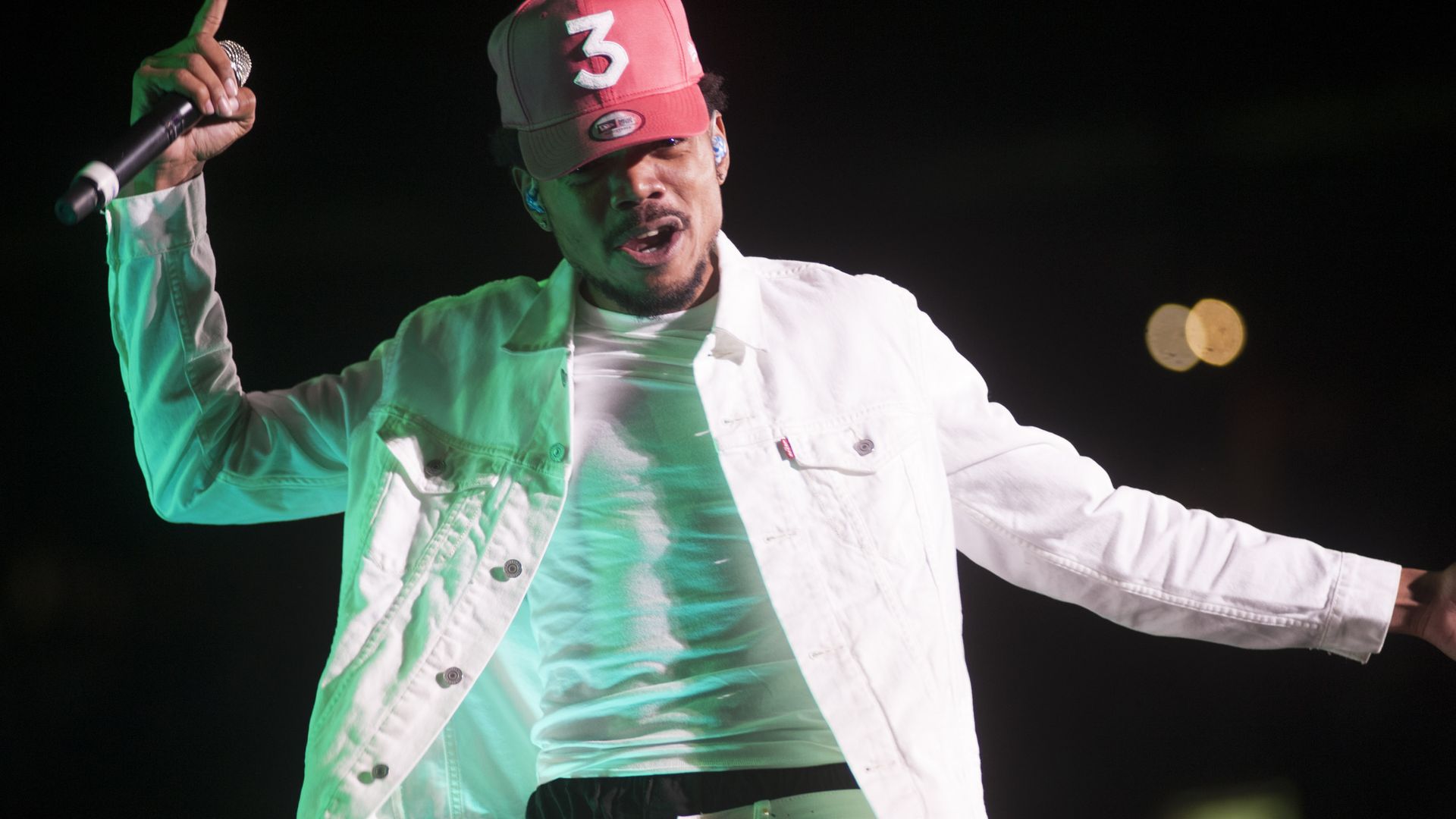 The whole country (especially LL Cool J) is celebrating the 50th anniversary of hip-hop, and Chicago will host several shows and events in coming weeks.
Why it matters: The art form and the culture may have been conceived in New York, but Chicago has put its significant stamp on the music genre.
Whether it's innovative beats, backpack rap or the Drill sound, our hip-hop community is world renowned. Now, which artist is the best? That's what we asked you to decide.
What happened: Hundreds of readers voted in this month's tournament to decide who is the best-ever Chicago hip-hop artist.
The winner: Chance the Rapper!
The young emcee has put Chicago in his music and Axios readers returned the favor. It was close, with Chance beating Common by only 36 votes.
You can look back at all the rounds and sample some of the artists' music below:
The championship
Thursday's matchup was down to the final two in the search for the best hip-hop artist in Chicago.
What happened: Common defeated Lupe Fiasco, while Chance the Rapper dispatched Kanye West.
This set up a monster championship round between two Chicago hip-hop megastars.
Common vs. Chance the Rapper
Common (formerly Common Sense) burst on the scene with his first album in 1992, a year before Chance the Rapper was born.
Common's signature style didn't materialize until a few years later, when he released albums including "Like Water for Chocolate" and "Be." The latter was produced by Kanye West and is widely considered one of the best hip-hop albums in Chicago history with songs like "They Say" and "The Food."
Since then, Common has gone global, pursuing acting, starring in shows like Netflix's "Never Have I Ever" and Apple TV's "Silo."
Chance the Rapper's ascent to stardom came a lot faster thanks to his mixtape "Acid Rap."
Chance's album "Coloring Book" was a huge success and is widely known among younger fans. The album features huge hits like "No Problem" and "Same Drugs."
Chance is no stranger to television either, starring in this year's season of "The Voice" as well as hosting "Saturday Night Live."
Final 4
We started with 16, and were down to four Wednesday after:
Common easily dispatched Da Brat.
Lupe also had little problem with Rhymefest.
Chance the Rapper was the clear winner over Noname.
Yes, but: Kanye West narrowly defeated Twista — by just 15 votes. Now it gets real.
Common vs. Lupe Fiasco pits two great musicians with strong social justice connections against each other.
Common is getting closer to EGOT territory with his success in film and television, but Lupe has had more radio play.
Chance the Rapper vs. Kanye West is like a Shakespeare play.
Kanye, who's been dropped by many organizations over his erratic behavior and antisemitic comments, will try to fend off his prodigal son Chance the Rapper, who has spent much of his music and career idolizing Ye.
Elite 8
The first round in our quest to crown the best hip-hop artist in the city wrapped up Tuesday.
Biggest win: Common pulled in an astounding 95% of the vote in his matchup with Psalm One.
Closest: Rhymefest eked out a 13-vote win over Juice WRLD.
Most surprising: All the drill artists lost in the first round. Maybe Axios Chicago readers are backpack rap fans.
What's next: It doesn't get any easier in the second round, as the matchups feature the titans of Chicago rap, including Kanye, Common and Chance.
Sweet 16
We chose 16 top acts to feature, which was way harder than we'd expected.
How it works: We ask readers to vote each day and on Friday, we crown the champion.
The bottom line: Go with your gut. Which artist's music moves you? Who has stood the test of time? Who represents Chicago best?
Editor's note: This story has been updated with the latest tournament rounds.
More Chicago stories
No stories could be found
Get a free daily digest of the most important news in your backyard with Axios Chicago.