Top soft serve ice cream spots in the Chicago area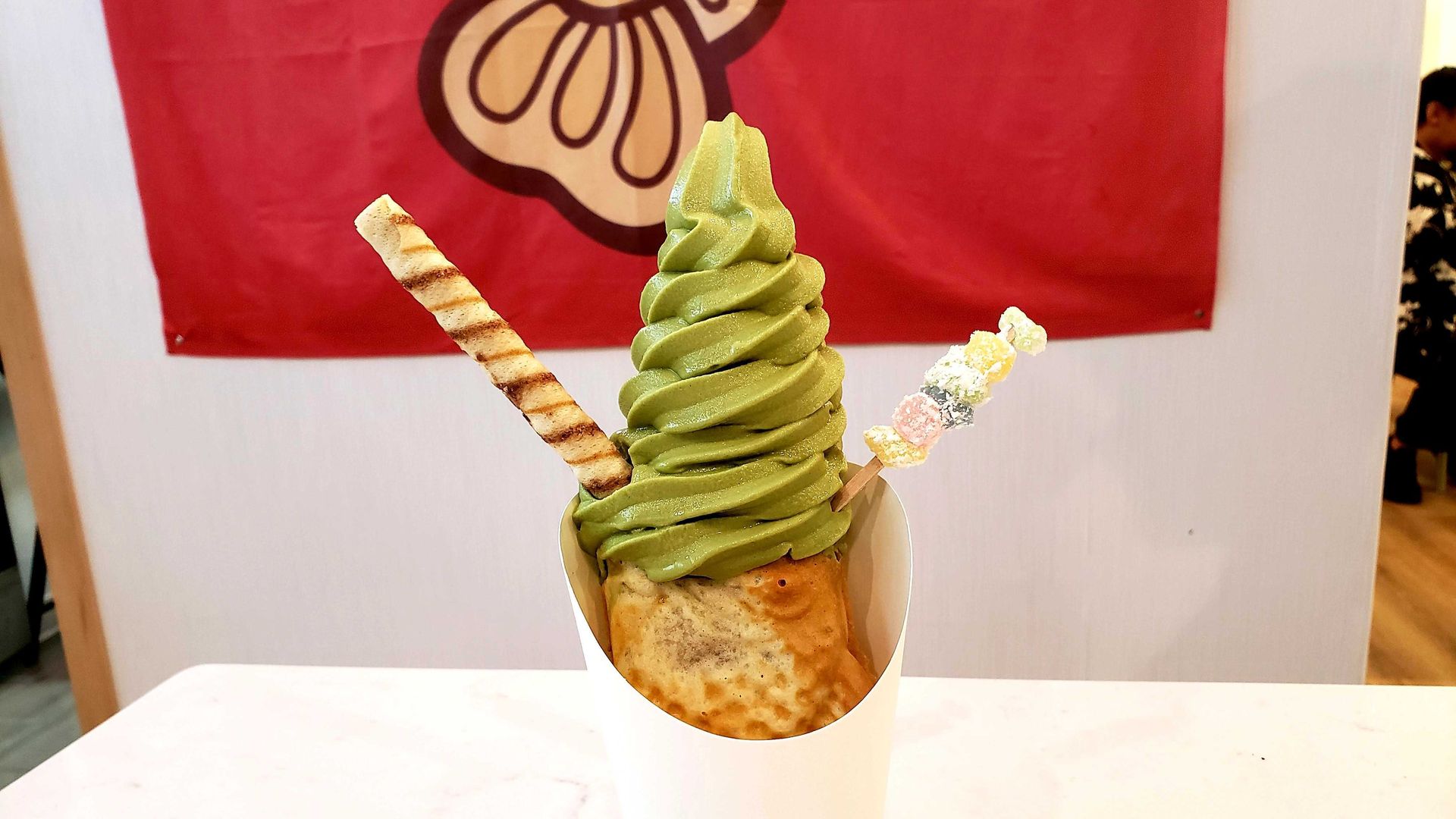 Even with all the fancy gelato and premium ice cream out there, for some of us, summer isn't complete without swirly soft serve.
Whether you're looking to relive the Dairy Queen or Tastee Freeze memories of your youth or going with the hipster new stuff, Chicago's got soft serve for you.
2468 N Clark St. — Lincoln Park
Monica's pick: Matcha soft serve piped into the mouth of a waffle fish half-filled with sweet red adzuki beans at Taiyaki Chicago ($8.76).
I skipped the chocolate, caramel or condensed milk sauces for an adorable skewer of chewy rainbow mochi balls and a wafer straw.
Yes it's pricey — and TBH, the ice cream doesn't taste much like matcha — but how often can you slurp ice cream from a fish waffle?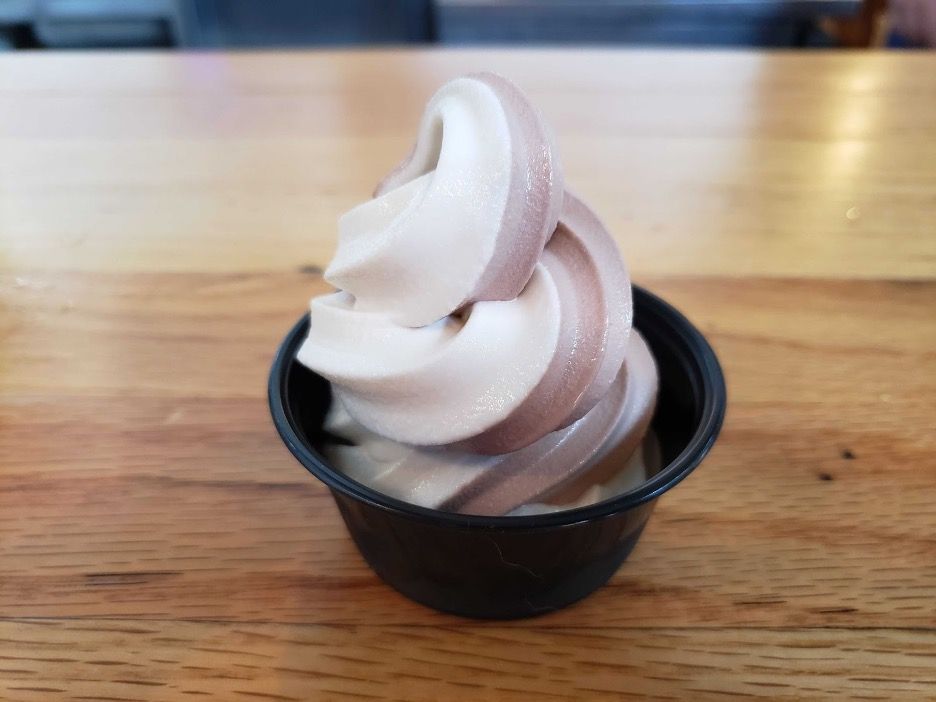 6613 Roosevelt Rd. — Berwyn
Monica's honorable mention: I loved the dish of creamy combo swirled soft serve she got during the American Music Festival next door to this hot west suburban joint.
1659 N Ashland Ave. — Wicker Park
Carrie's pick: Old school all the way for me so I'm in for any place that has a picture of the cone withand the yummy vanilla swirls mounted on top, I'm in! But a special shout out to Chopper's on Ashland and Wabansia. They don't have cones but it's a heaping cup of the good stuff ($1.70).
I like straight vanilla but a little chocolate syrup is a nice touch. It has to start melting as soon as they hand it to you. That's how you know it's creamy, not icy.
3901 N Cicero Ave. — Portage Park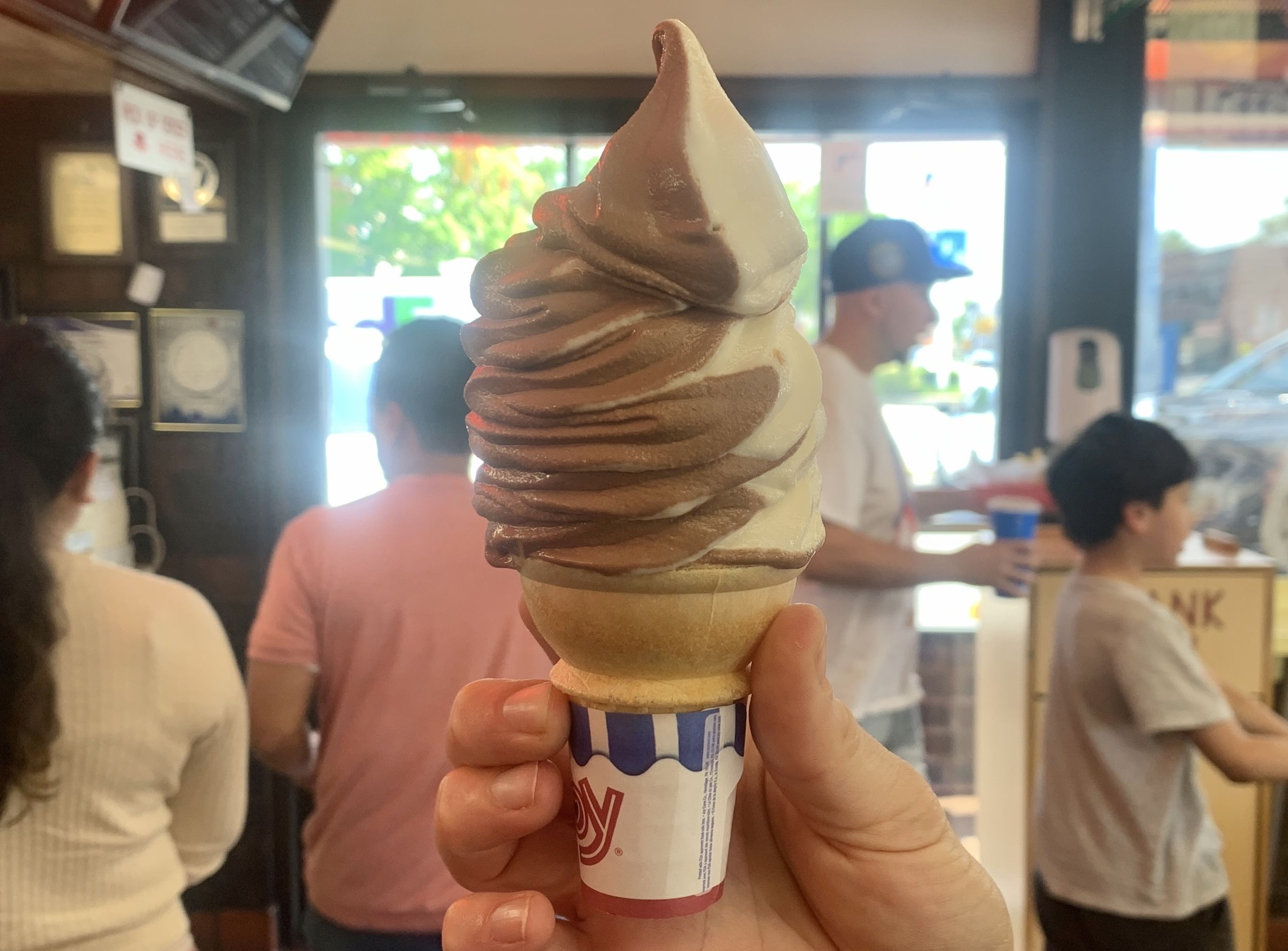 Carrie's honorable mention: I definitely forget that the neighborhood hot dog joint also has soft serve, usually for milkshakes. Jeff's Red Hots in Portage Park has the classic chocolate-vanilla swirl ($1.69 — cash only!).
1159 W Taylor St. — Near UIC
1632 W Division St. — Wicker Park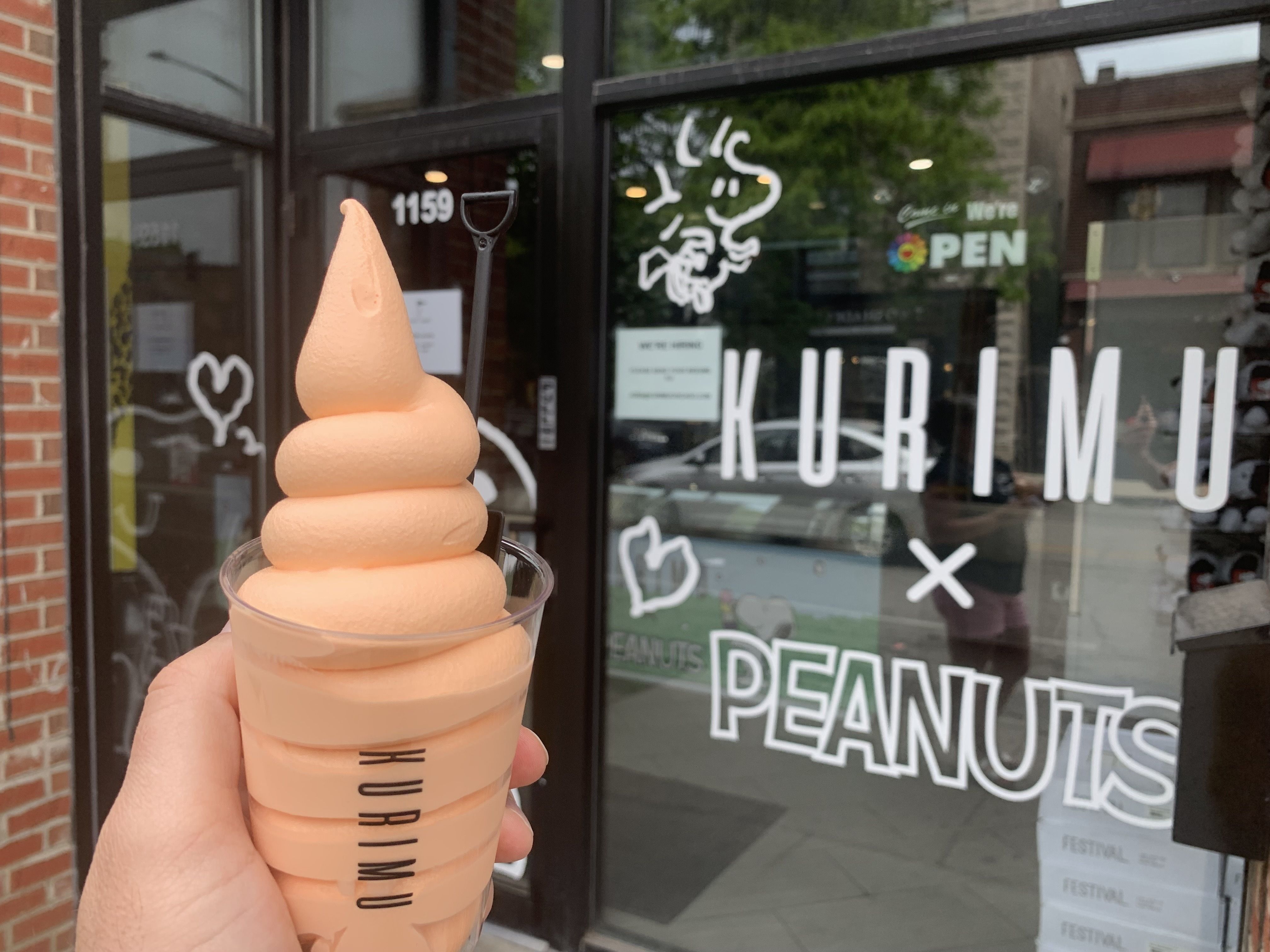 Justin's pick: Soft serve stirs up deep nostalgia in me, thanks to growing up with the cones at Bobby Jo's in Wonder Lake.
Yes, but: I can't ignore the offerings at Kurimu on Taylor Street.
The Japanese-inspired ice cream dazzles your taste buds with unique flavors like Butterfly Pea Vanilla, Watermelon Delight and Mandarin Orange (pictured above).
They change the flavors regularly, so you just have to go with it ($6.95 for a swirl cone).
Of note: They have another location on Division Street in Wicker Park and one in the Woodfield Mall area in Schaumburg.
6056 N. Broadway Ave. — Edgewater
7000 N. Western Ave. — Rogers Park
Reader Hanna K. enthusiastically recommended this spot, which has locations in Edgewater and West Ridge.
3472 W Devon Ave. — Lincolnwood
Mike C. touts the toppings at this Lincolnwood ice cream shop.
Paul F. notes that "they even provide a hose in the back to wash your hands after indulging in the sweet treats."
2324 W Giddings St. — Lincoln Square
1436 W Blackhawk St. — Wicker Park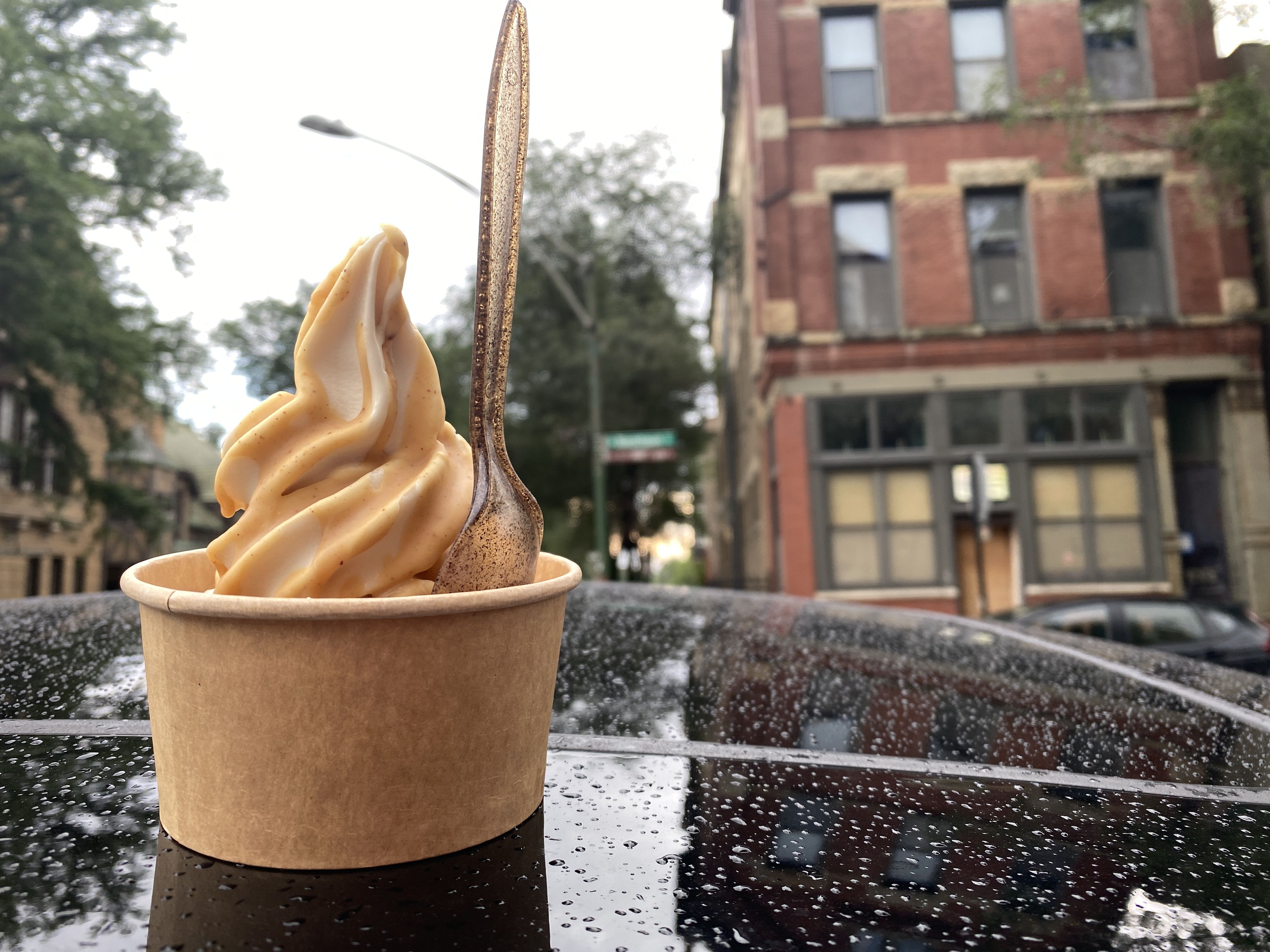 This vegan spot was a favorite of a few readers.
"All of their ice cream is plant-based, but it's beloved by all," Devon B. says. "They have seasonal monthly flavors and fun sundaes and shakes."
7901 Cermak Rd. — North Riverside
Connie B. says go for old-school swirl cone dipped in chocolate but stay for "delicious variations on cones, blitzes, and sundaes."
Honorable mentions
Hole in the Wall Custard Shoppe: Barbara W. says in addition to having great ice cream, this Oak Park spot "serves up a swirl of [childhood] memories, too."
Glenview Dairy Bar: Timothy P.'s fave is a large vanilla/chocolate swirl cone with crunch coat!
Sugar Shack: Loreal R. says this Armour Square spot has great soft serve, and even funnel cake sundaes and fried Oreos!
Jarling's Custard Cup: This Champaign shop serves fresh soft serve daily, according to reader Mark M. He loves the grasshopper snowstorm.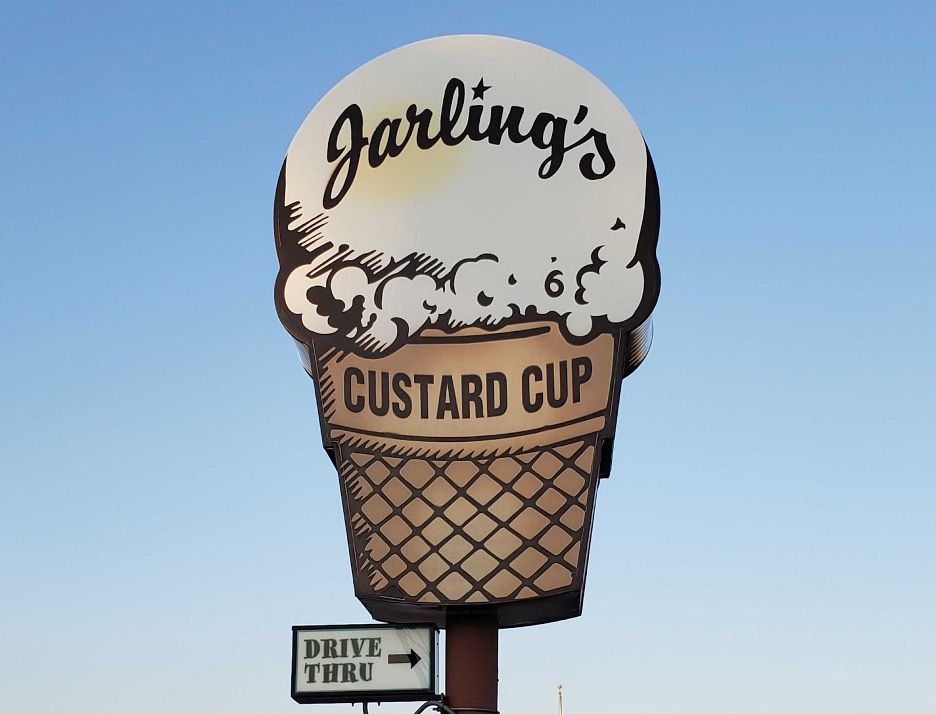 More Chicago stories
No stories could be found
Get a free daily digest of the most important news in your backyard with Axios Chicago.