Chicagoans give a hoot about owls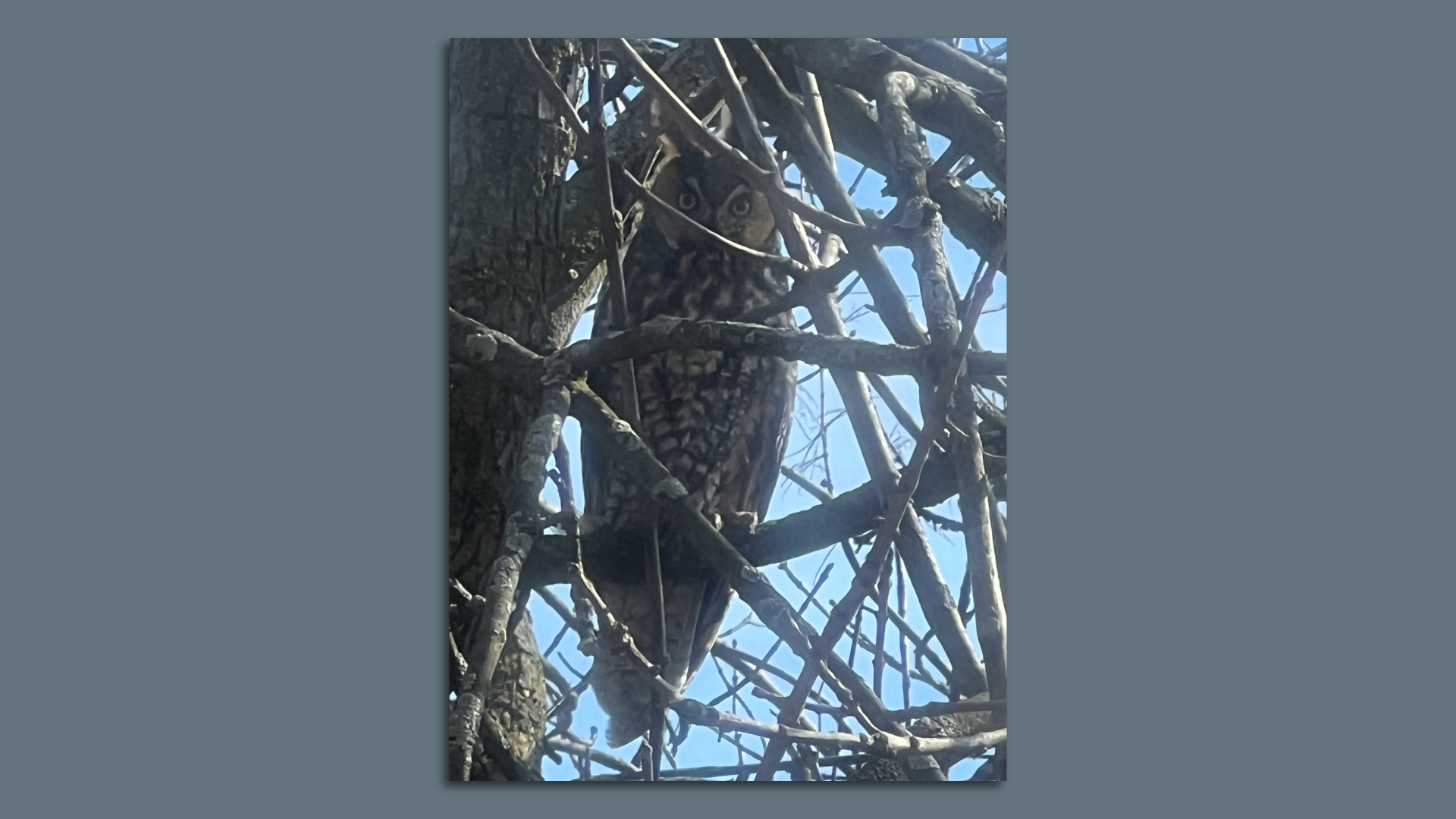 This past week, I wrote about my new neighbor, the owl, and asked Axios Chicago readers for their thoughts on what I should do. I got a resounding answer: Nothing.
By the numbers: Almost 80% of the more than 200 readers who participated in our informal survey said the best course of action was to let the owl be.
I was happy to see that almost 10% thought I should try to make money off the bird of prey frequenting my front yard.
The rest told me to call animal control.
Be smart: I reached out to the Chicago Ornithological Society, the Chicago Audubon Society and the Peggy Notebaert Nature Museum to better understand the wants and needs of my new feathery friend.
The answer: Surprisingly, most of them didn't respond. But the Nature Museum sent me a nice video, which mostly explained owls' physique. For instance:
Owls have huge eyes with eight times more "rods and cones" than humans. They could read a book 100 yards away. (Wait, owls can read?)
They have very strong grips. They can hold up to 100 pounds. Yikes!
The bottom line: As usual, I learn more about what I'm writing about from you, the best-informed readers in newsletter land.
Kelly H.: "Owls usually have an eating spot that is different from the sleeping spot. It's awfully hard on wild animals finding good space in the city."
Phil V.: "If you have a front yard, it's already some critter's bathroom. Possibly multiple critters. Welcome to nature."
Patti M.: "I am an animal lover, but I appreciate your wanting a clean yard. Maybe, if you call animal control they can safely move it to a more forested spot where it won't matter about the 'droppings.'"
Barbara M.: "You are SO lucky to have an owl in your yard!! I've been waiting for 35 years for one in mine with no luck! It won't go after the leashed dogs. It's more interested in the rodents in the neighborhood, and that's a good thing, right? Good luck, and enjoy your beautiful bird."
Steph AB.: "How cool that an owl is making its home with you! They are such special birds! Please don't hurt or disturb it. It's actually illegal to disturb nesting birds, and interfering with wildlife is generally not good."
Barbara B.: "How often in a city do you see such a magnificent wild creature? Nature by its nature is messy. It's humans being irritated by messes (whatever they be) that has contributed to the destruction of nature. Besides, owls sound really neat when they hoot."
Lindsay I.: "I'd count your lucky stars you've got something to actually deal with rodent control in your neighborhood and leave him be."
Diane J.: "Please send the owl to my yard! I would love to have an owl watching over my native plant garden."
Paul B.: "Many bird lovers would kill to have an owl roosting in the backyard. Plus, the pellets (undigested parts of their meals) are sterile and quite cool. I highly recommend leaving it alone and enjoying the spectacle."
Thulasi S.: "Please keep an entire section of this newsletter devoted to the owl for the rest of the spring/summer. Subscription rates will spike. (This is not sarcastic I'm very invested.)"
That's a great idea, Thulasi!
The latest: Since I wrote about it on Tuesday, the owl has not returned (to my knowledge). But we swear on calm nights, you can hear the faint hoots around dusk.
Or maybe that's just car honks from the nearby expressway.
More Chicago stories
No stories could be found
Get a free daily digest of the most important news in your backyard with Axios Chicago.