8 great hiking spots in and around Chicago
When the weather permits, Chicagoans come out of hibernation to enjoy hikes along the lakefront, through parks and along nature trails.
Why it matters: Hikes are among the cheapest and healthiest ways to enjoy nature, friends and family.
So Axios compiled this handy list of great spots to keep in the back pocket of your hiking pants.
Of note: Some of these havens require a drive; others are tucked within the city limits.
OK, it's no secret that Axios Chicago's Monica Eng recently took her first hiking trip to Starved Rock State Park, in Oglesby, Illinois — about 95 minutes southwest of the city.
She was blown away by the breathtaking vistas, waterfalls, caves and quaint nearby amenities.
If you like hills, Axios Chicago's Justin Kaufmann can do you one better: Stairs!
The Swallow Cliff Stairs in Palos Park are a popular destination for winter sledding, but also a great place to see some wildlife while you get your spring workout in.
Reader Lynn A. tells Axios: "I feel like many people are unaware of the North Park Nature Center, located near Pulaski and Peterson on the NW side."
"No matter the season, the trails are a welcome escape from the city and offer a variety of terrain and surroundings. This natural area is a gift to residents and Park District tax dollars well spent. Bonus: you can drop off recycling at the on-site recycling center and maybe even spot deer."
Pro tip: Just outside the North Park Nature Center you can find a duck pond fed by a waterfall with rock bridges and paths (photo below) as well as Walking Stick Woods with natural play spaces.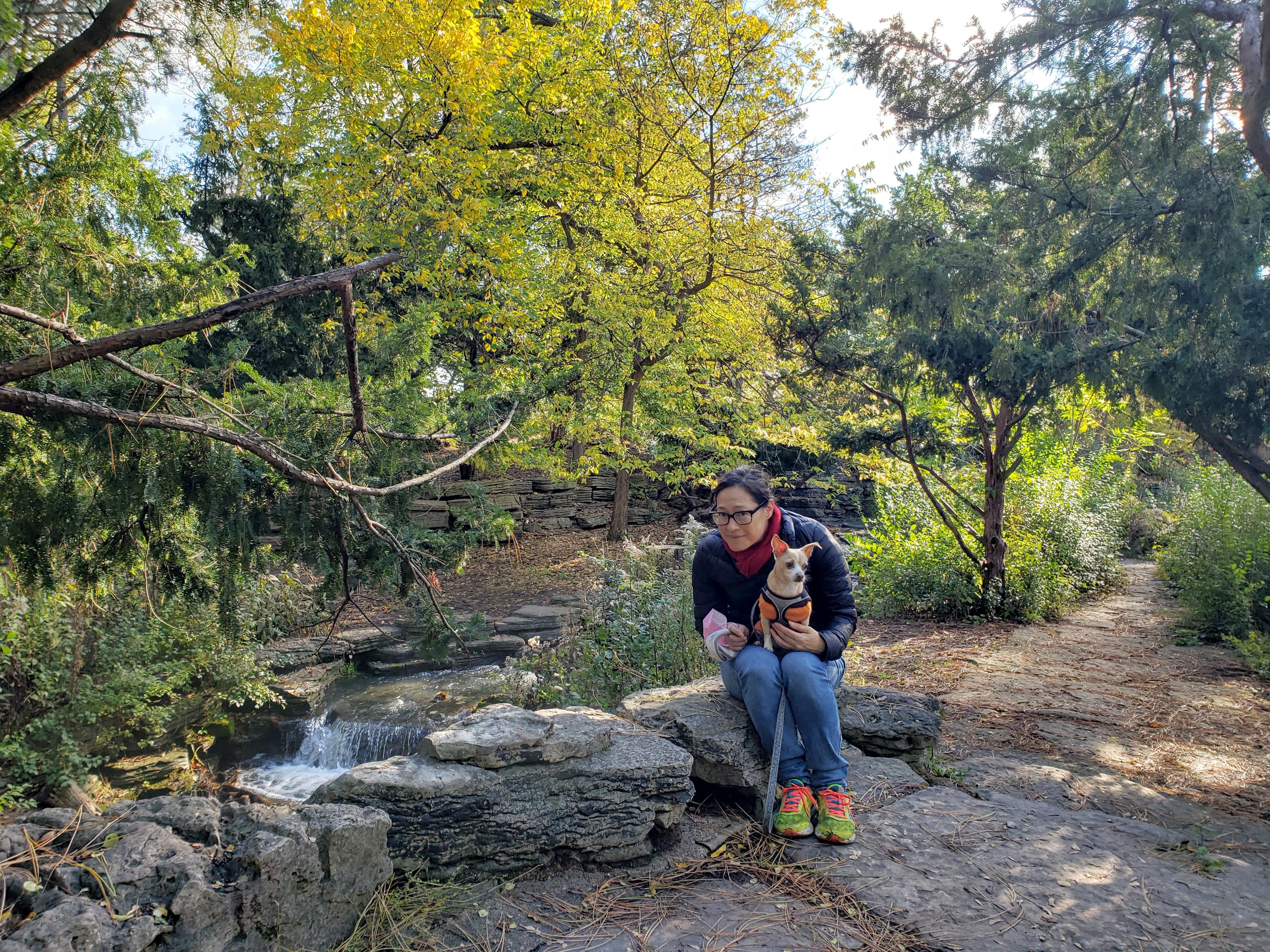 Reader Sharon B. says: "The Cowles Bog Trail at the Indiana Dunes National Park, where you can see cypress trees, walk through the woods, come out at the lake, then climb a dune on your return. There's even a spot where you can put your phone to take a photo that adds to a time lapse of the bog over the seasons."
Monica H.: "The 26 miles of shore path on Lake Geneva, Wisconsin, weaves in and out of wooded areas, gets you up close to some fantastic homes, and can be done in segments. All that and the best post-hike refreshments at local establishments."
Connie B.: "So many great places around Chicago for nature walks, but my favorite is a forest preserve on Graue Mill in Hinsdale that's absolutely beautiful. It's officially called fullersburg woods."
Bonus: Connie B. also recommends Lake Katherine in Palos Heights, which she says is "a lovely place for a nature walk."
Paul T.: "Blackwell Forest Preserve in Warrenville. Beautiful setting. Gorgeous lake, boat rentals, bike and walking paths. And a huge hill to walk or run up! A few treks up the hill and your hammies, quads, and glutes will be screaming at you."
More Chicago stories
No stories could be found
Get a free daily digest of the most important news in your backyard with Axios Chicago.