How to fake it: Bulls face Raptors in play-in tournament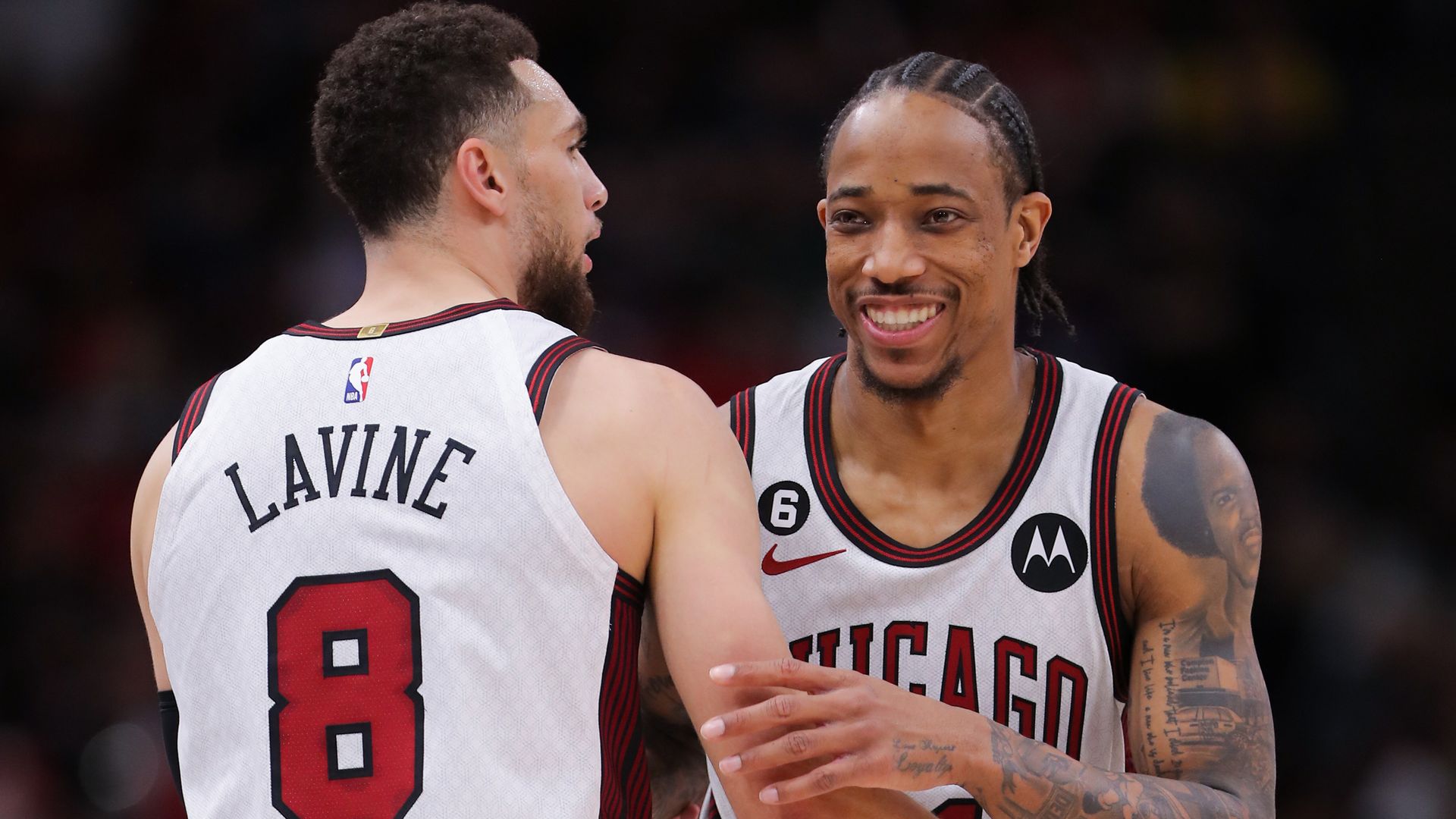 It's not the 1995/96 Bulls, nor even the 2010/11 Bulls, but tonight we'll cheer on a sub-.500 basketball team that barely made the playoffs.
What's happening: The Bulls face off against the Toronto Raptors in the NBA Play-In Tournament starting at 6pm.
Why it matters: If the Bulls lose, they go home. If they win, they get to travel to Miami for yet another do-or-die game to advance in the playoffs.
State of play: You may find yourself at a party watching this pivotal matchup but uncertain about what to say.
So let me arm you with some quips and fun facts if the conversation flows your way.
The basics: The last time a Bulls team with a losing record made the postseason was 1985/1986.
Throw out some factoids like, "Didn't Jordan score 63 points against the Celtics in those playoffs?"
The party now respects you.
Star talk: The biggest storyline for this game is DeMar DeRozan. The Bulls forward used to be a star for the Raptors.
"Anyone can be loved in Toronto. They're so nice in Canada." Could get you a quick chuckle.
The new guy: Patrick Beverley is the newest addition to this Bulls team. Since he joined last month, the Bulls have looked slightly better. He's a Chicago product and infectious on the court. He's also prone to dirty plays.
Hit em with a, "It feels like a 10-point, two-technical night for Pat Bev," and the party will know that you belong.
Big finish: Finally, there's a good chance this could be the end for our 2022-23 Bulls.
If that's the case, go with, "I'm going to go home and delete all my Drake tracks. Who am I kidding? I don't have any Drake tracks!" The party goes wild.
If they don't lose: Say, "Let's win Friday in Miami so we can get swept by the Bucks! Go Bulls!"
Thought bubble: For real, the Bulls are out-sized in this matchup. So expect the Bulls to run in transition. It's gotta be a huge night for Zach if the Bulls want to escape Toronto with a win.
More Chicago stories
No stories could be found
Get a free daily digest of the most important news in your backyard with Axios Chicago.