Food Fight: The best matzo ball soup in Chicago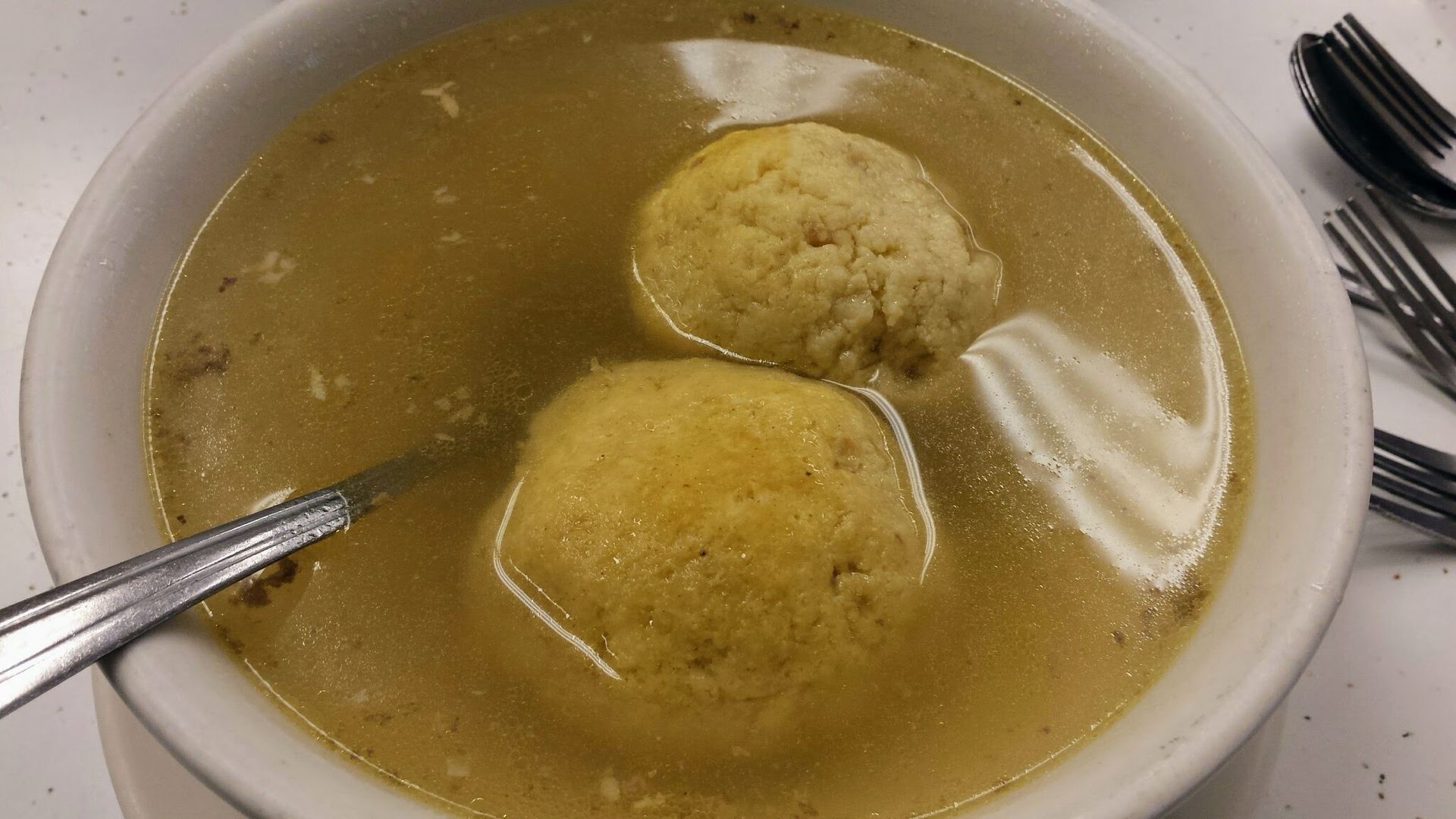 This week brought the start of Passover, when observers abstain from leavened breads and often turn to dishes with unleavened matzo crackers.
Between that and Monica's mass consumption of chicken broth, we thought it would be a good time to fight about our favorite matzo ball soups in the area.
Monica's pick: I know it's cliché, especially around election season, but I vote for the rich broth and tender spheres that make up the matzo ball soup ($4.95) at Manny's Cafeteria and Delicatessen.
The slight seasoning in these sinkers makes them as tasty as the broth they bathe in.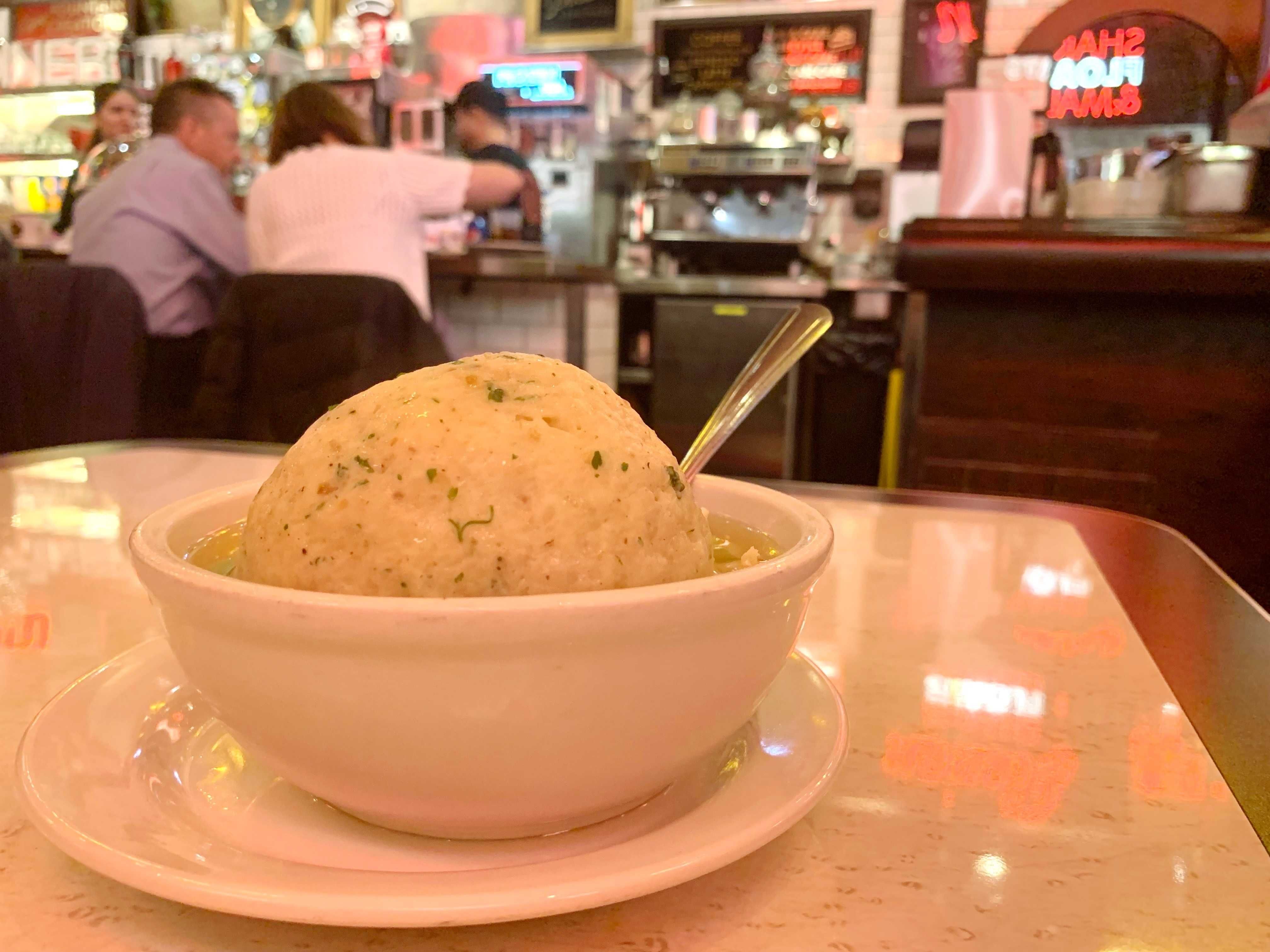 Justin's pick: I'm going with Eleven City Diner in the South Loop. The hunking ball of chewy matzo melts into the hot broth featuring celery and carrots.
I enjoyed mine with chicken ($9.99).
A disclaimer: I don't really like matzo ball soup. Eleven City's offering is great, but I'd much rather scarf down a pastrami on rye or a plate of latkes.
Axios readers shared a big bowlful of their own favorites that we can't wait to try.
Best ball: Several people, including Rachel L. wrote in to kvell over the soup at The Bagel on Broadway in Lakeview.
Carrie G.: "My mom, who died at age 90 a few years ago, was a transplanted New Yorker who loved the matzo ball soup at the Bagel on Broadway … She generally felt everything in NYC was superior to Chicago, so this was a ringing endorsement!"
Larry G.: "Just the right consistency, and the size makes it a meal on its own."
Irwin B. recommends The Bagel's Mish Mosh soup, also featuring "fantastic kreplach, rice noodles and kasha."
Linda B.: "JB's Deli in Gordono's Pharmacy in Andersonville. Laced with chicken, carrots and celery in a golden broth, with a baseball matzo ball. I introduced a suburban friend to Gordono's, and she polished off a quart for lunch!"
MJ. C.: "An odd spot with great Jewish Deli favorites … along with your prescriptions! It's a neighborhood secret, but I will share it with you — you won't tell anyone right?"
Joanne D.: "Max and Benny's in Northbrook. … Gotta give the suburbs fair play!!"
Connie B.: "Foodstuffs in Evanston — huge, light, fluffy, flavorful matzo balls supported by a warm, comforting, delicious broth — not too salty and full of flavor."
Richard L.: "Once Upon A Bagel in Winnetka is tops as the yummy broth includes finely chopped carrots, celery and onions. It's like getting two soups in one! And it comes with the bagel of your choice."
Meghan P.: "The matzo ball soup at Steingold's on Southport really hits the spot for me when I'm in the mood for something comforting. The broth takes it to the next level with some herbaceous seasoning that makes it a step above your average soup broth."
Stephen S.: "Manny's has the best!"
Linda S.: "The best matzo ball soup is at my friend Brenda's house."
Axios reporter Sami Sparber: "Can I submit my homemade matzo ball soup? First timer and I had to go to three grocery stores to find matzo meal in Austin, TX."
More Chicago stories
No stories could be found
Get a free daily digest of the most important news in your backyard with Axios Chicago.