Cubs wisdom from an insider ahead of his 50th Opening Day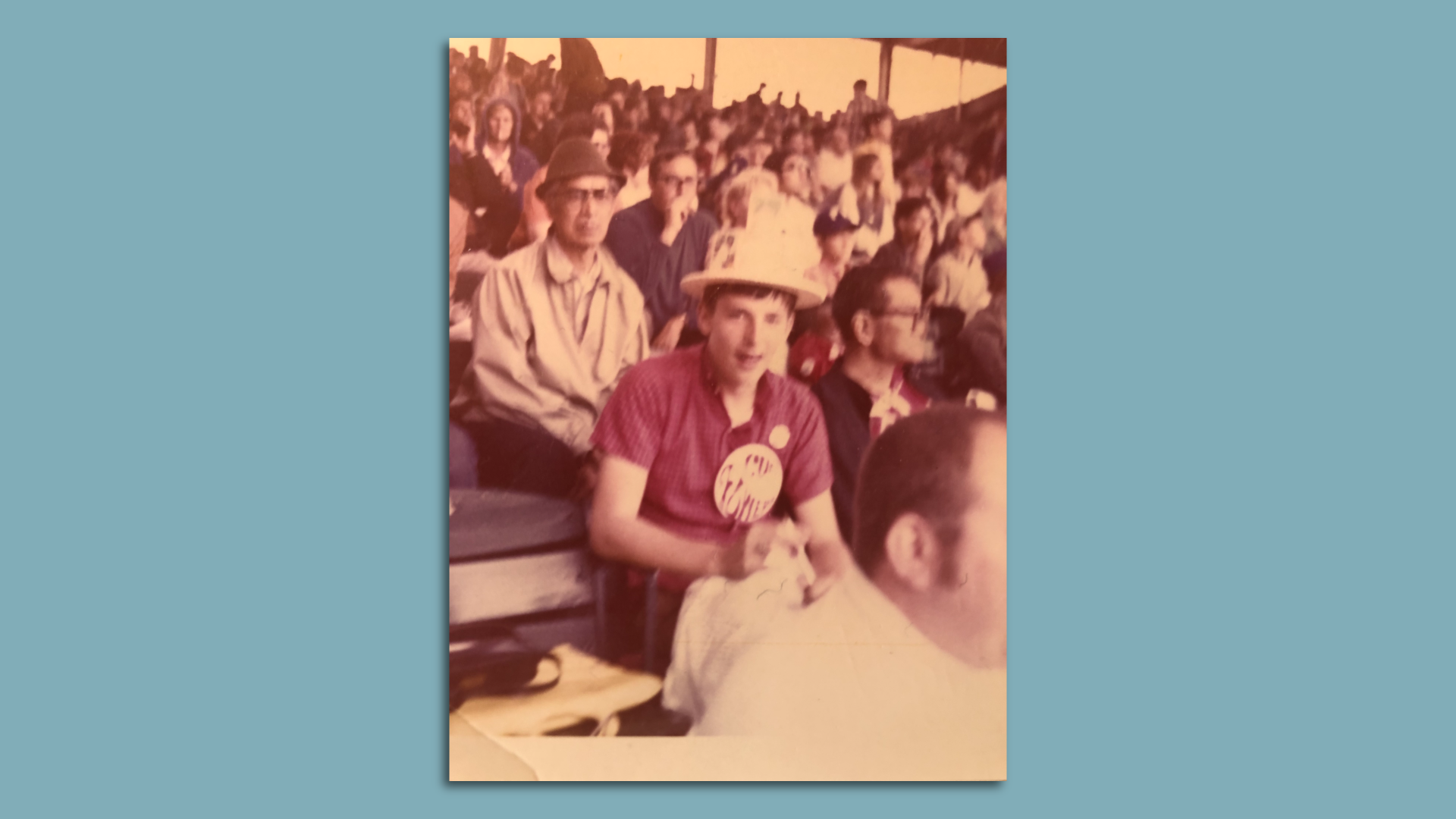 Writer Dave Hoekstra is attending his 50th Cubs opener today, and he's got the scorecards to prove it.
The big picture: Opening Day is "a circle-of-life ritual that means more to me than my birthday," Hoekstra tells Axios, noting that it's about baseball but also community.
"We've attended weddings and funerals within our community. We've seen baby carriages and we've seen wheelchairs," he said.
"We endure."
Axios asked the veteran journalist and author to share some Opening Day memories and wisdom.
Advice to newbies: "Don't drink a lot, although the Opening Day bathroom scene is better than it used to be in the '70s when cigarettes, cigars and pints of Jack Daniels clogged-up troughs, and going to the bathroom was like going to a Fellini casting call."
Where to drink: Nisei Lounge. Founded in 1951 by second-generation Japanese immigrants, "it's the last dive bar in the neighborhood and still affordable. … Visitors included Ethan Hawke and the last Nisei regular, the late Kenny Kuzuharu."
Where to eat: Golden Apple on Lincoln. "I still stop in to say hi before every Opening Day — did so during the pandemic Opening Day. I gifted them a World Series pennant, and I think it still hangs on a wall."
Where to park: "South of Belmont is good especially for night games. I enjoy walking to the ballpark from there, and it helps me get my 10,000 steps in."
Best souvenir spot: "By the ballhawks on Waveland Avenue, just behind the left field wall. Especially in the summer, there's some good DIY merchandise, jewelry made from old baseballs, stuff like that."
Best souvenir: "Ozark"-themed merch the Rickettses gave away at the park last year paying "tribute to television's Naperville-bred grifters. I have my Blue Cat Lodge baseball cap in my office."
Best seats: "In our first season ticket package in 1985, we scored nice seats about 30 rows behind home plate under the grandstand."
"Mike Royko and the adult entertainer-entrepreneur Seka were our neighbors. (Seka was hanging out with the late Cubs pitching coach Billy Connors.) But it was cold with the wind whipping into our faces. We looked down at the sun in the rightfield corner."
Other advice: "Play a happy song. Have a beer for Cubs fan Lin Brehmer."
Go deeper: In a lovely essay about the milestone on his blog, Hoekstra shares a 1973 Wrigley menu where a "hamburger sandwich" costs 50 cents and a Schlitz goes for 55 cents.
More Chicago stories
No stories could be found
Get a free daily digest of the most important news in your backyard with Axios Chicago.