Your guide to Chicago's aldermanic races in the April runoff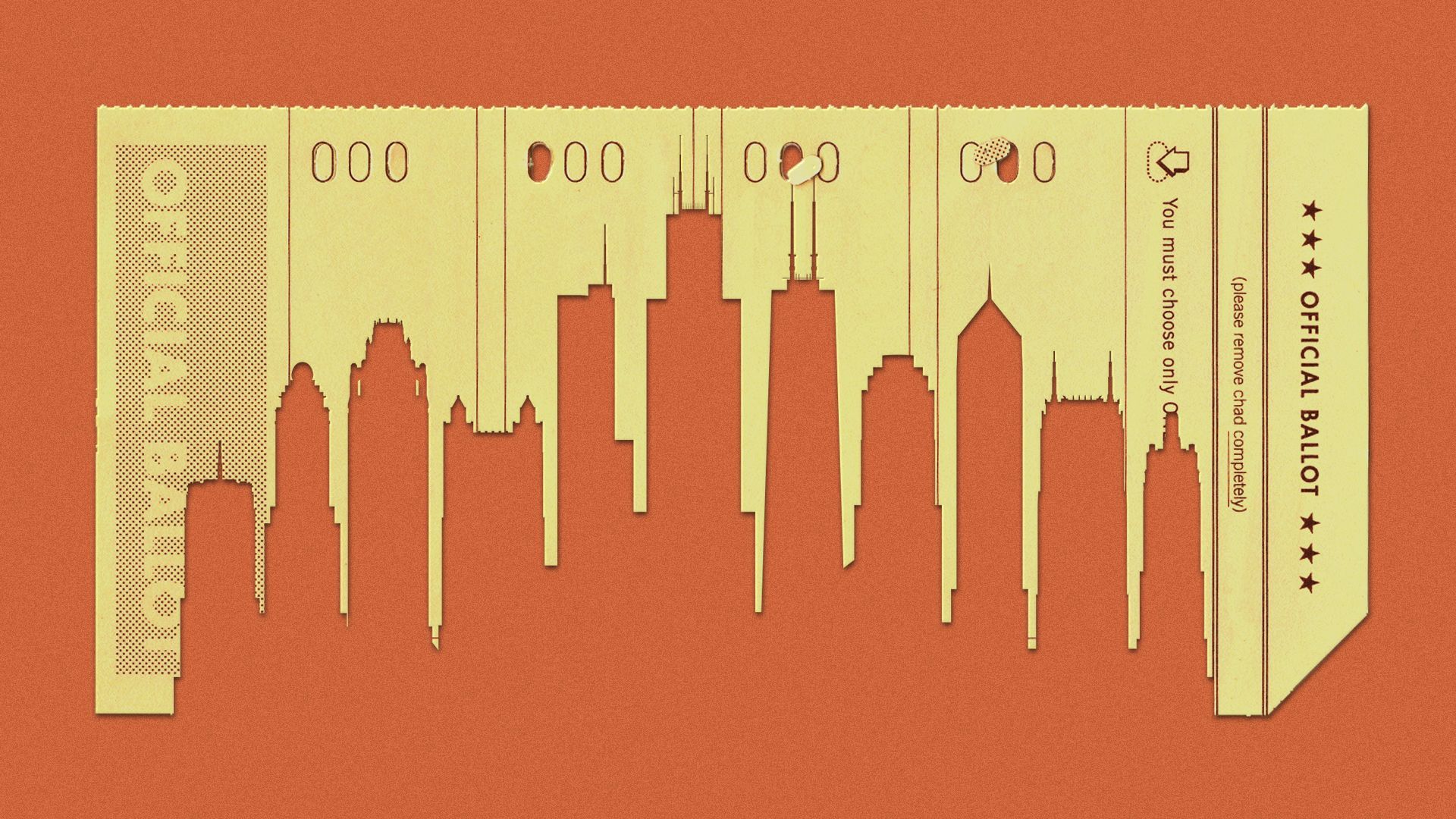 This year, 14 aldermanic races will be decided by runoffs on April 4.
Why it matters: These races will reshape City Council under a new mayor.
By the numbers: Six incumbents failed to garner more than 50% of the vote in February.
Ald. Chris Taliaferro (29th) missed winning outright by roughly two dozen votes.
Let's break down the races:
4th Ward: State Rep. Lamont Robinson was close to victory in the February election, but Prentice Butler squeaked into the runoff by just 100 votes. Butler is the chief of staff of departing Ald. Sophia King. The near South Side ward includes Bronzeville and Kenwood.
5th Ward: Desmon Yancy didn't get enough votes to avoid a runoff, but he did collect a majority of the vote totals in the ward that represents Hyde Park and South Shore. The community organizer for the Inner-City Muslim Action Network will be challenged by Tina Hone, who was a chief engagement officer in Mayor Lightfoot's administration.
6th Ward: It's the battle of two South Side pastors looking to represent the Chatham/Auburn Gresham ward. Richard Wooten (also a former police officer) and William Hall (also a field director for Rainbow Push) both secured about a quarter of the vote in the municipal election so expect another tight race.
10th Ward: The Southeast Side ward features two contrasting candidates. Peter Chico is a police officer and Ana Guajardo is a labor organizer. The ward has labor roots and environmental justice issues, but the residents voted on public safety over everything else, giving Chico 41% of the vote in the municipal election.
11th Ward: Incumbent Nicole Lee had the backing of former Mayor Richard M. Daley and the 11th Ward Democrats, but she pulled only 30% of the vote. She'll face police officer Anthony Ciaravino in the tight runoff race in the newly drawn ward that includes Chinatown and Bridgeport.
21st Ward: This South Side ward runoff is already getting testy. Cornell Dantzler is comparing Ronnie Mosley to George Santos after questions about Mosley's resume surfaced. Dantzler wants Mosley to withdraw, but Mosley (who got the higher vote total) is staying in.
24th Ward: It's Scott vs. Scott (no relation) in the race for the West Side ward. Incumbent Monique Scott is being challenged by barber and community activist Creative Scott.
29th Ward: Incumbent Chris Taliaferro just missed an outright win by 25 votes. Taliaferro was done in by the counting of the write-in ballots in the final days of the Feb. 28 vote count. He's being challenged by community organizer CB Johnson, who fell just under 1,000 votes shy of besting Taliaferro. This could be a close race.
30th Ward: Jessica Gutiérrez was hoping to avoid the runoff, but mail-in ballots didn't go her way. The daughter of famed former congressman Luis Gutiérrez had a comfortable lead, but she'll have to maintain that margin against challenger Ruth Cruz in the newly redrawn ward that still includes Belmont Cragin.
36th Ward: Incumbent Gilbert Villegas came close to winning outright, but was forced to a runoff against challenger Lori Torres Whitt in the "snake" or "noodle" ward that has been redistricted to include West Town, Ukrainian Village and West Humboldt Park.
43rd Ward: Incumbent Timmy Knudsen ran neck and neck with challenger Brian Comer, with neither candidate coming close to winning outright. This new battle for Lincoln Park is heating up, as Knudsen racks up endorsements while Comer pushes public safety and crime concerns.
45th Ward: Incumbent Jim Gardiner was within a handful of votes of winning outright on election night, but as the mail-in ballots trickled in he lost ground and was forced into a runoff. He's running against lawyer Megan Mathias, whose campaign focused on bouncing Gardiner and his baggage from the Jefferson Park/Portage Park ward.
46th Ward: This runoff battle features an established Democratic Party candidate, Kim Walz, versus an established progressive candidate, Angela Clay. Clay secured more of the Uptown/Lakeview vote in the municipal election, but Walz is bringing out Illinois Democrat endorsements while slinging attacks on Clay's stance on "defunding the police" and other progressive initiatives.
48th Ward: Outgoing Ald. Harry Osterman's pick Joe Dunne is running off against Brandon Johnson-backed progressive Leni Manaa-Hoppenworth. In the municipal election, they were separated by about 500 votes in the Edgewater ward.
More Chicago stories
No stories could be found
Get a free daily digest of the most important news in your backyard with Axios Chicago.