Your guide to Chicago's other St. Patrick's Day parades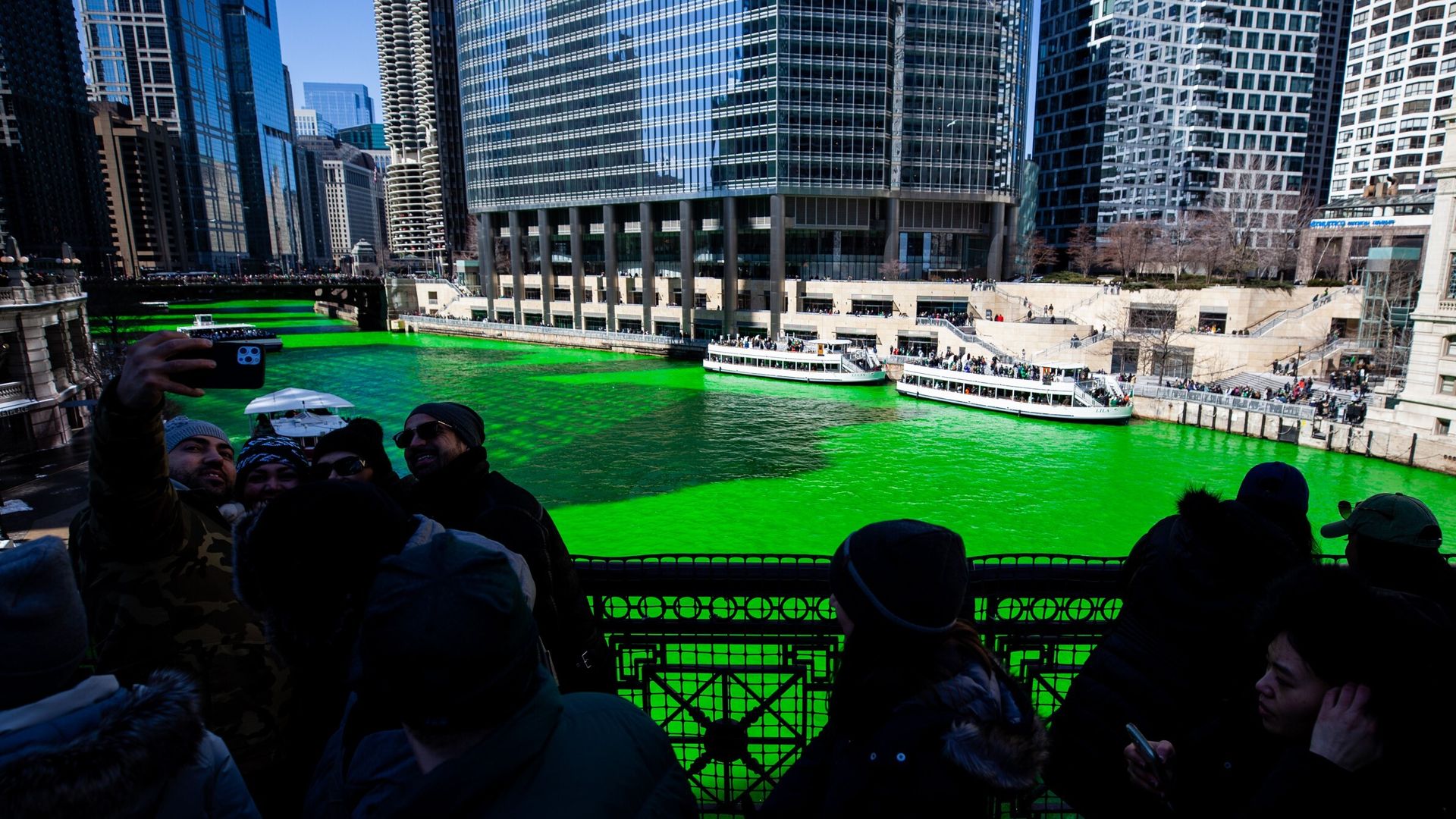 Yes, it's only March 10, but with St. Patrick's Day falling on a Friday next week, Chicago starts celebrating now.
What's happening: The city will whoop it up with dozens of events and specials at local bars, restaurants and cultural spots.
This includes tomorrow's 10 am dyeing of the river between Columbus Drive and State Street, and the 12:30pm downtown St. Patrick's Day Parade on Columbus between Balbo and Monroe.
Yes, but: If you want to skip the downtown crowds for a more traditional — and sometimes raucous — celebration of Irish culture, here are quick guides to Sunday St. Pat's observances on the far South and Northwest sides.
South Side Irish St. Patrick's Day Parade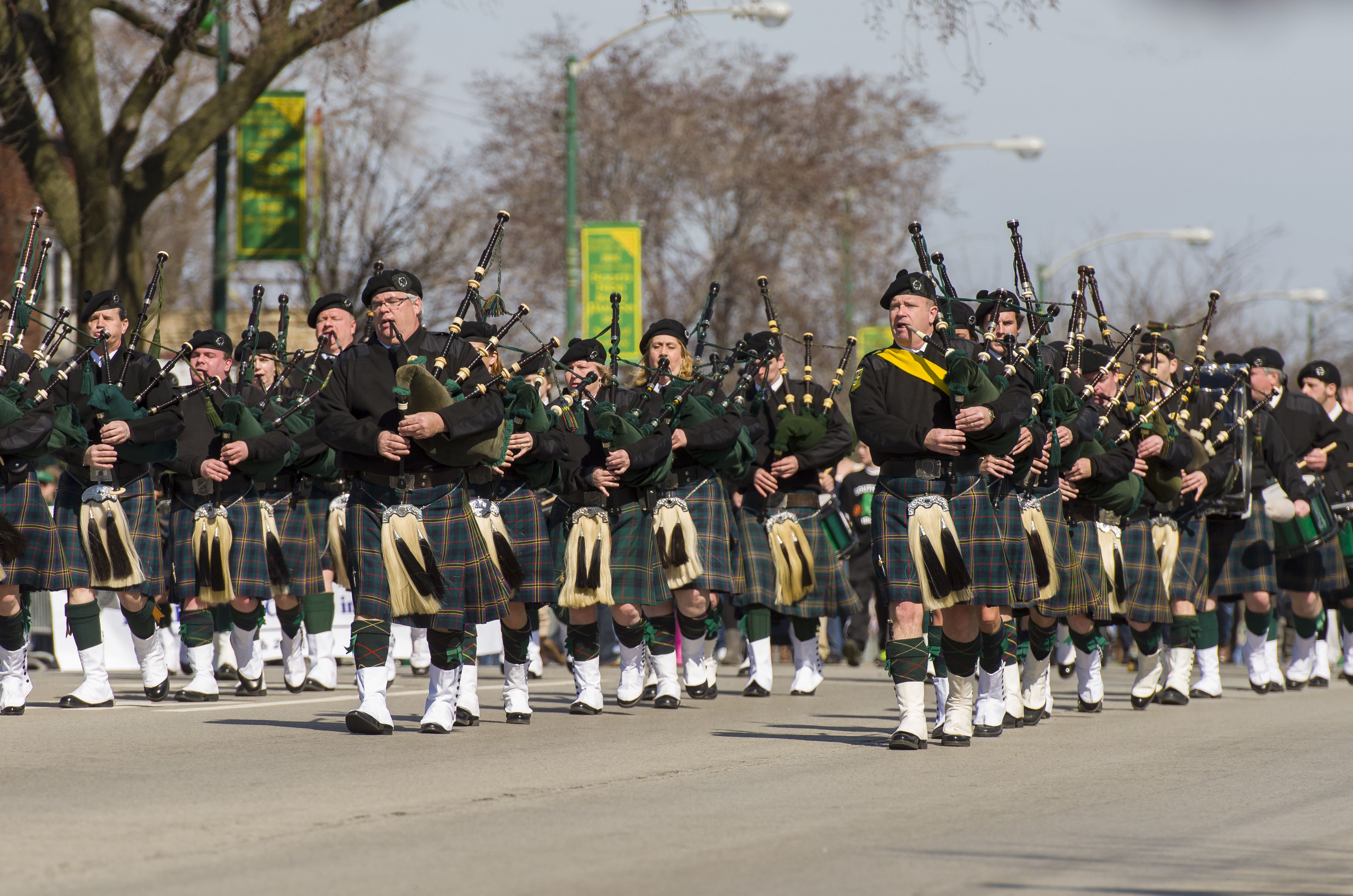 Started in 1979, this Beverly parade's organizers boast that it's the largest community-based St. Patrick's Day parade outside of Ireland.
It's also so rowdy that it had to be canceled in 2009 because revelers enjoyed the parade too much. A more subdued, family-friendly version emerged in 2012.
We turned to Ashburn Wrightwood-born parade aficionado Tony Boylan for the inside scoop on truly enjoying the parade.
The basics: It steps off at noon at 103rd and Western Avenue, marching south to 115th and Western, lasting about two hours.
When to get there: "People will start lining the parade route fairly early in the morning, but the route is big enough you don't have to arrive super-early to get a good view."
Where to park: "Don't. Take the CTA, Metra, a rideshare, walk, hitchhike or whatever it takes."
What to wear: "Seriously? Anything green."
What to watch for: "South Side folks almost universally have a child/nephew/niece/cousin in the parade who is hoping to be the next Michael Flatley. Yes, I'm sure your child/nephew/niece/cousin is the cutest."
"Also, count the number of times you hear people singing 'Danny Boy.' See if any of them can get past the first chorus."
Where to drink: "Barney Callaghan's is my go-to for the most authentically Irish bar in the area, and Cork & Kerry is the South Side Irish American staple that has been popular for generations."
Where not to drink: "McNally's. Ever!"
What not to do: "Get drunk or be obnoxious. If you witnessed the last SS Irish parade before the forced hiatus, featuring the world's largest gathering of drunken 14-year-olds, you understand why the event was rebooted and firmly established as family friendly."
Northwest Side Irish Parade
Celebrating its 20th year, this neighborhood parade has maintained its modest size while adding pre- and post-parties at Northwest Highway watering holes and local homes.
"What makes our parade special is the feeling of community and all the kids and families," parade co-founder Elizabeth Belcaster tells Axios. Her tips:
The basics: Featuring dozens of floats, the parade steps off at noon at Onahan School at 6334 W Raven St. It runs south up Neola to Northwest Highway and then north to Harlem Avenue.
When to get there: "They close down the street at 9am, but most people get there to set up around 9:30 or 10am."
Where to park: "Check on Avondale or Raven Street. … There's lots of residential parking, and we don't have permit parking around here."
What to wear: "Your best Kelly green and beads, and paint shamrocks on your cheeks."
What to watch for: "This year's grand marshal veteran Sammy Davis, who was the inspiration for Forrest Gump. … Also the St. Pat's band, the bands from Notre Dame and Taft and at least eight Irish dance troupes."
More Chicago stories
No stories could be found
Get a free daily digest of the most important news in your backyard with Axios Chicago.