Food fight: Pepper and egg sandwiches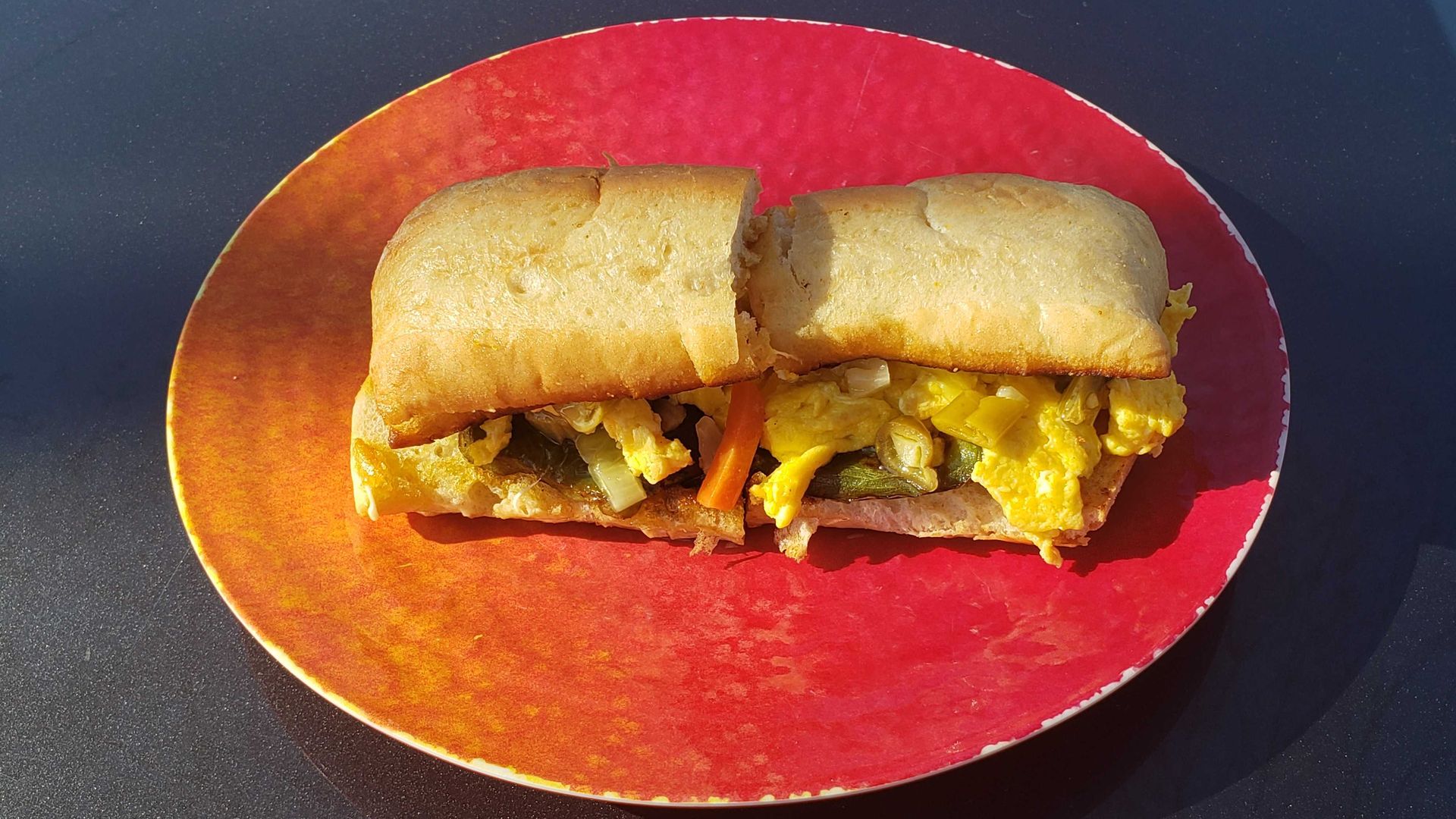 Chicagoans have eaten pepper and egg sandwiches for decades at delis, fast-food joints and Italian beef stands on Fridays or during Lent, when many Catholics abstain from meat.
Some places serve them only on Lenten Fridays, but others will whip one up anytime.
Today, we're fighting over our favorites.
Monica's pick: I used to order the pepper and egg at the Billy Goat Tavern on Navy Pier for breakfast. And it was fine.
But I recently swooned over the fluffy scrambled eggs, sweet sauteed green pepper and fresh griddled, French roll that make up the sandwich at White Palace Grill at Canal and Roosevelt. ($8.99). Yum.
Pro tip: Ask for some giardiniera on the side for extra deliciousness.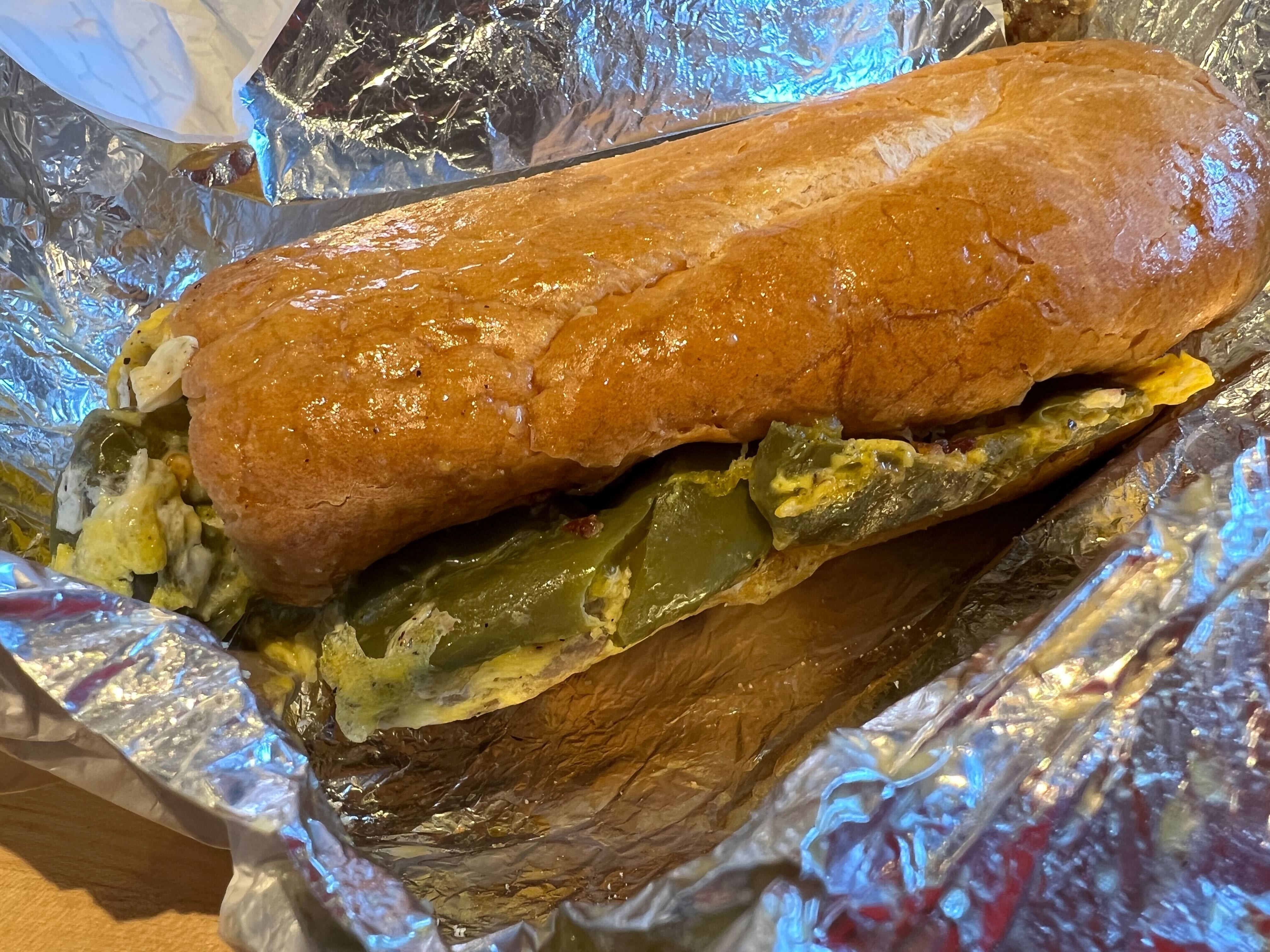 Justin's pick: I'm not religious, but I may have seen the light eating this amazing pepper and egg sandwich from Freddie's in Bridgeport.
The sandwich is huge ($7.95).
The greasy concoction features more of a fried/scrambled egg hybrid with juicy green peppers and your choice of cheese. (I opted for American.)
You can order it with sausage, too.
Verdict: I can't recommend this sandwich enough. And if you are still eating meat? Freddie's has every Chicago classic on the menu.
Readers responded with some great sammies of their own:
Bob A.: "Johnnie's in Elmwood Park has the best pepper and egg hands down. Call it a sammich or a sangwich! It's tops in the city area."
Pietro T.: "Nine out of 10 doctors recommend the juicy pepper 'n egg 'sangwiches' at Johnnie's."
Colleen M.: "For pepper and egg sandwiches and really any subs, you have to go to Tony's in Edison Park. Check out this video where they are prepping."
Joe J.: "You must try Gio's Cafe, a few blocks away from Freddie's. Their pepper & egg is substantial and delicious. They also make their own giardiniera."
Rebecca H.: "Justin, it was your mother who first introduced me to pepper and egg sandwiches at Nick's Pizza in Crystal Lake. Probably not the gourmet ones you have in Chicago, though."
Justin: "Ha! My mom is a trendsetter."
Bill H.: "Punky's in Bridgeport."
Matthew S.: "Paul's in Westchester. The thing is a full loaf of French bread, and their house made giardiniera is amazing."
Nick D.: "Jay's Beef has the best pepper and egg."
Stephen S.: "Pepper and egg is fabulous at Frangella Italian Market in Palos Park. Their Italian beef is top five in the city, too."
Top secret: You can easily make this sandwich at home with scrambled eggs and sauteed green pepper. Just use a nice fresh French roll.
Editor's note: This story has been updated to include reader recommendations.
More Chicago stories
No stories could be found
Get a free daily digest of the most important news in your backyard with Axios Chicago.