Chicago election explainer: What are Police District Councils?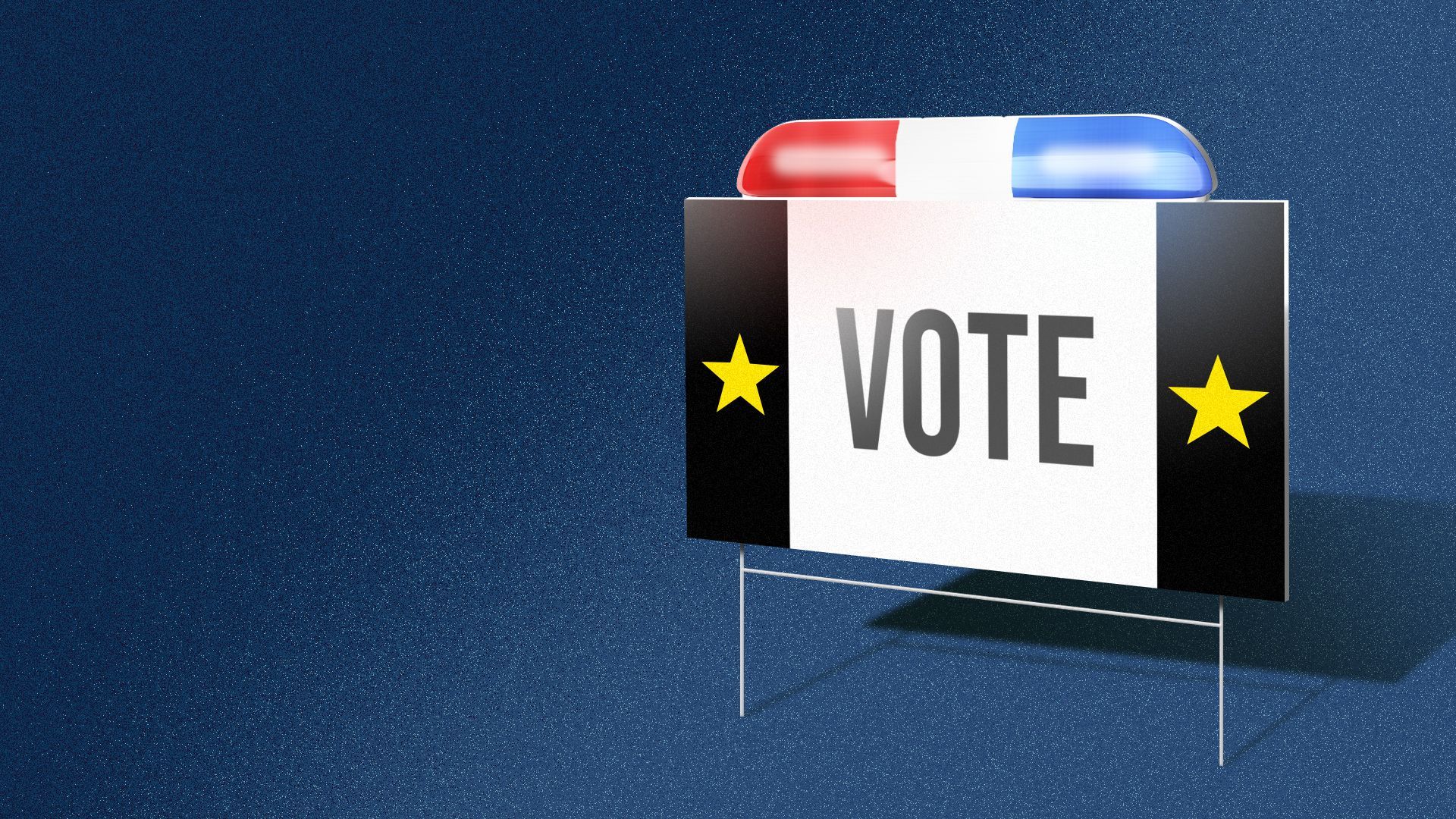 This month, Chicago voters are taking on a brand new duty: choosing Police District Councils (PDCs).
Why it matters: These new councils offer the latest hope for improving communication, cooperation and relations between citizens and the police.
How it works: Voters will choose 66 councilors — three from each of the 22 police districts — who will serve four years and get paid $500 a month.
Councils are tasked with making recommendations and holding monthly meetings to gather and relay info between citizens and the CPD.
They will also nominate candidates to a new seven-person oversight group, the Community Commission for Public Safety and Accountability (CCPSA).
Between the lines: Self-styled progressive and author of the influential Girl I Guess voter guide Stephanie Skora argues that PDCs are "largely symbolic and have no real power," except to recommend and advise.
The CCPSA, meanwhile, will have influence over CPD hiring and firing. And although candidates are nominated by the PDCs, they're ultimately selected by the mayor and City Council.
Some, like Skora, want the CCPSA to be elected by citizens.
Background: City Council approved the formation of the PDCs and the CCPSA in 2021 after calls for police reform from groups including the Grassroots Alliance for Police Accountability in the wake of the George Floyd protests and other events.
Similar initiatives already exist, but the PDCs mark the first effort involving elected positions.
The candidates: More than 120 candidates are vying for 66 seats, but some are running unopposed, because their district fielded fewer than four eligible contenders.
The Sun-Times generally broke them into two camps: cop supporters or opponents.
But when Monica moderated a forum for the 18th district, the candidates said they didn't strictly belong to either camp and aimed to both support and improve the CPD.
How to pick a candidate: Southside Weekly and The Chicago Reader collaborated on this council voter guide using questionnaires, while BallotReady gathered publicly available data for theirs, and Skora's Girl I Guess endorsed only "abolitionists."
The Tribune didn't endorse council candidates, but it did run an editorial last week urging voters to choose people who can bridge the divide between abolitionists and FOP-supported candidates.
Monica's thought bubble: This thing is so new that even the candidates I spoke to at the 18th district forum weren't sure what they could actually accomplish.
A lot depends on the next mayor, the next CPD leader (appointed by the mayor) and who wins these races. So choose wisely.
What's next: Early voting is underway in all 50 wards, and Election Day is a week away! What?
More Chicago stories
No stories could be found
Get a free daily digest of the most important news in your backyard with Axios Chicago.