Meet the (possible) mayor: Brandon Johnson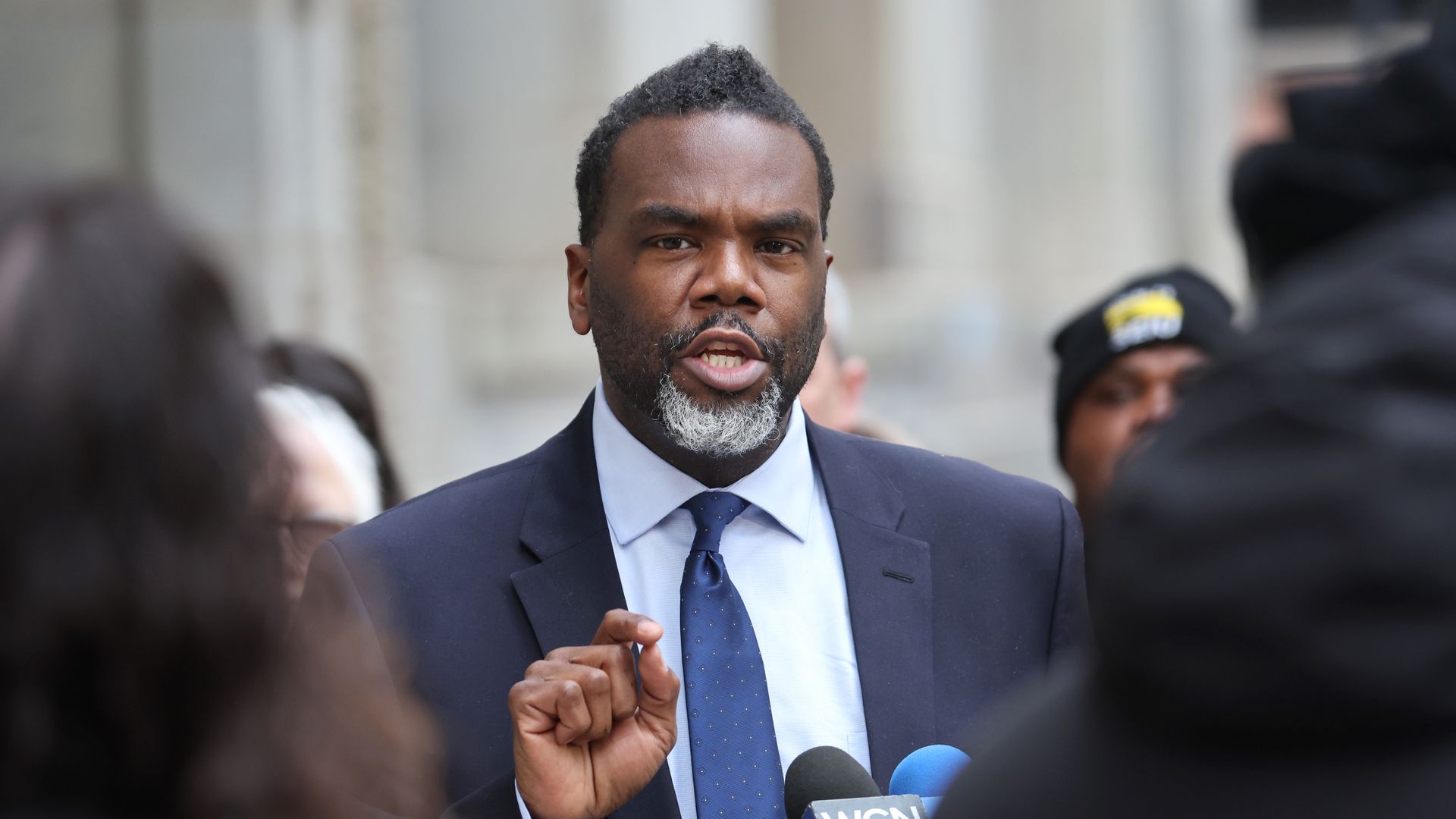 As part of our ongoing series to show a fresh side of this year's mayoral hopefuls, today we present our Q&A with Cook County Commissioner Brandon Johnson.
The candidate: Johnson represents the West Side of Chicago on the Cook County Board. The progressive candidate is the son of a pastor and one of 10 siblings.
🏡 What neighborhoods have you lived in? "Austin and Humboldt Park."
🏢 Favorite downtown building: "Harold Washington Library."
🎶 Favorite Chicago music venue: "Huntington Bank Pavilion at Northerly Island."
🪑 Dibs: Pro/con? "I have a driveway."
🌮 Favorite taco place in the city: "Super Burrito in Humboldt Park or Carbon Live Fire Mexican Grill."
📺 Favorite TV show set in Chicago: "Very tough call. 'Good Times' or 'South Side.'"
💰 How much did your property taxes go up or down in 2022? "Per my wife, we haven't received our first installment property tax bill for 2022. It will most likely arrive in February and is usually due at the beginning of March."
🏙 How would you get people back to The Loop? "Downtown Chicago will only be as healthy as the communities surrounding it. Residents need safe, improved and reliable access to public transportation traveling downtown from the far South Side, Southwest Side and other communities of color to ensure that working-class families have access to higher paying union jobs.
"Reducing or eliminating fares for some, and increasing access to transit will increase ridership and mass transit solvency, and increase employment in communities where the unemployment rates are high. ...
"We also need mental health professionals and housing advocates with resources to house the homeless and treat those with mental illness by addressing root causes, instead of criminalizing poverty and creating tension between commuters and those harmed by systemic inequity."
🏟 Do we need to do more to keep the Bears in Chicago? "I would love to keep the Bears in Chicago, but there is so much more we can do for our people and communities with $2 billion:
"Remove lead pipes, house the unhoused, fully fund our schools and parks, spark neighborhood and business development in our communities, pay down pension debt and general obligations, or meet dozens of other urgent needs."
🚦 If elected, would you get rid of the stoplight at Chicago Ave. and DuSable Lake Shore Drive? "We need to reimagine how we engage with DuSable Lake Shore Drive on a whole, and how to return the lakefront to a more natural setting and make it a safer and more usable region for pedestrians, cyclists, children and individuals using mobility aids. That is going to take vision, collaboration and a lot more than the removal of one stoplight."
🏈 '85 Bears or '96 Bulls: "'85 Bears, because that was one of one in the Super Bowl era. '96 Bulls, as great as they were, were one of six."
Finally, why do you want to be mayor? "I want a better Chicago for my family, and yours."
More Chicago stories
No stories could be found
Get a free daily digest of the most important news in your backyard with Axios Chicago.