Meet the (possible) mayor: Sophia King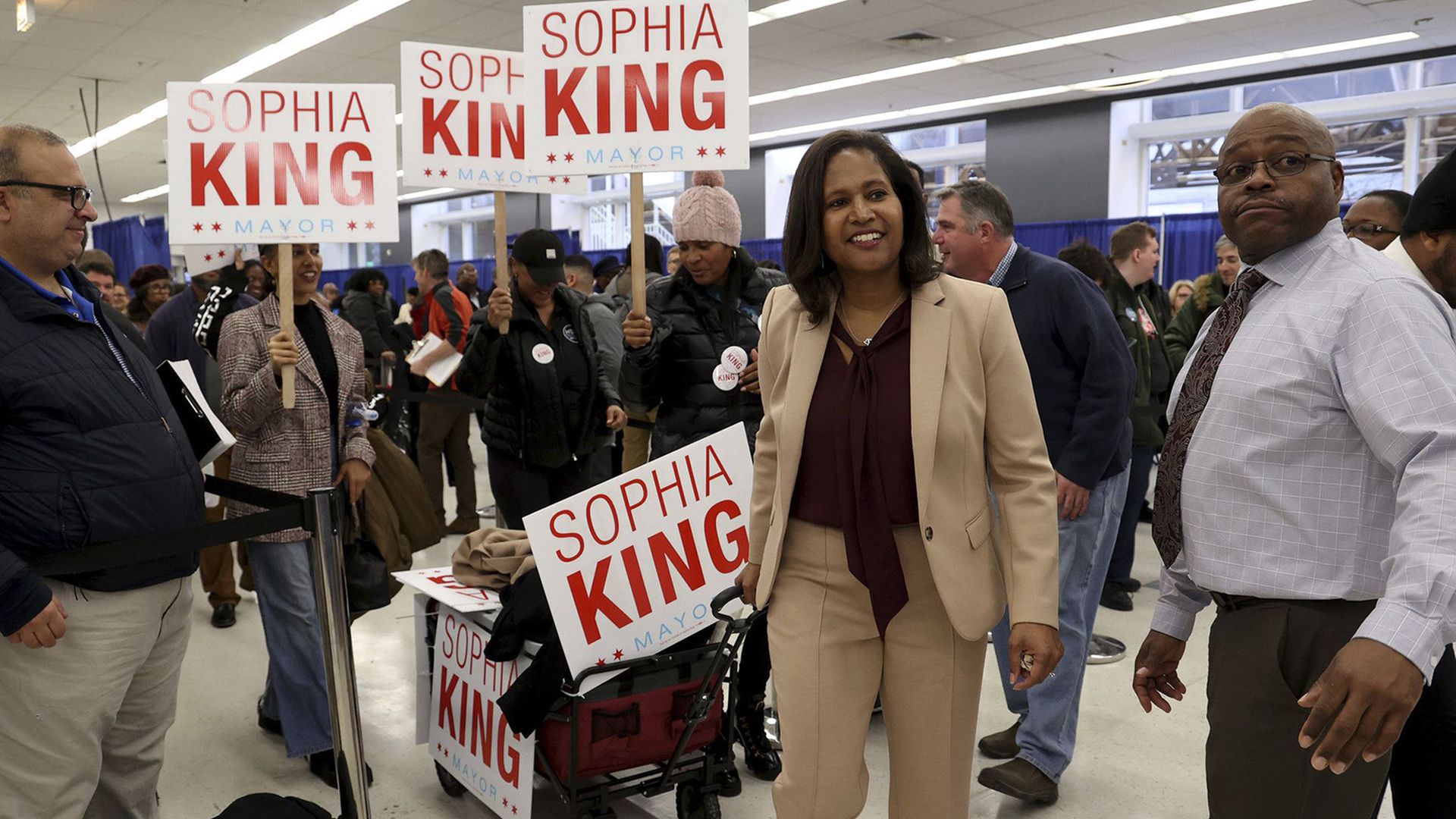 As part of our ongoing series to show a fresh side of this year's mayoral hopefuls, today we present our Q&A with Ald. Sophia King.
The candidate: King has represented the 4th Ward — which runs from the South Loop to Hyde Park — since 2016, and she chairs the City Council's Progressive Caucus.
The former Latin School of Chicago teacher co-founded Ariel Community Academy in Kenwood and served as vice-chair of Planned Parenthood Chicago.
🏡 What neighborhoods have you lived in? "Douglas and the Kenwood community for the past 35 years.
"Favorite downtown building: "The Harold Washington Library."
🚗 Dibs: Pro/con? "Pro: It's Chicago, and anyone who has cleaned their car out from under the snow for hours understands the importance of being able to come back to that spot after a long day's work.
"That being said, I would seek to implement a snow plowing system that would eliminate the need for it."
🎶 Favorite Chicago music venue: "Wherever my husband DJ Alan King is on the 1s and 2s."
🌭 Favorite taco/hot dog place in the city? "Jim's Original for hot dogs or a Polish. Home Depot actually has some good ones too. I just had some great tacos recently at a nice family owned restaurant in Little Village — Yolanda's."
📺 Favorite Chicago TV show: "'Good Times.' But I've also enjoyed more recent ones: 'The Good Wife,' 'Boss' and 'The Chi.'"
💰 How much did your property taxes go up or down by percentage? "Up by 1.2% [to] about $6,000."
🌇 How would you get people back to The Loop? "We need to pursue innovative strategies to repurpose and adjust our existing real estate to better position the city in a world dominated by remote work … and repurpose commercial spaces into mixed-use buildings with a residential and retail/corporate space combined. We need to incentivize this new model that will increase the foot traffic downtown.
"I would also lead an effort to make Chicago the Silicon Valley of the Midwest … by launching a new tech ecosystem with vocational/technical education to develop a world-class workforce that's ready for the jobs of the future."
🏟️ Do we need to do more to keep the Bears in Chicago? "Yes. Step 1 is resetting the conversation. Chicago without an NFL team makes no sense. I think we need to get back to the negotiation table as soon as we can with a collaborative approach that includes the city and the state."
🚦 If elected would you get rid of the stoplight at Chicago Ave. and the lake? "Always open for discussion to hear different perspectives, but from my standpoint the access on and off DuSable Dr. at Chicago is important."
🏈 '85 Bears or '96 Bulls 🏀: "Hard choice. I think the 'Super Bowl Shuffle' and the team effort puts the '85 Bears over the top."
🏛 Finally, why do you want to be mayor? "As 16 of my colleagues leave and we are faced with many challenges and instability, I think I can be helpful because I have a proven track record of leading with collaboration, bringing people together around difficult issues and getting things done for our city while representing a very diverse and complex ward that's a microcosm of the city."
More Chicago stories
No stories could be found
Get a free daily digest of the most important news in your backyard with Axios Chicago.