Top spots for iced coffee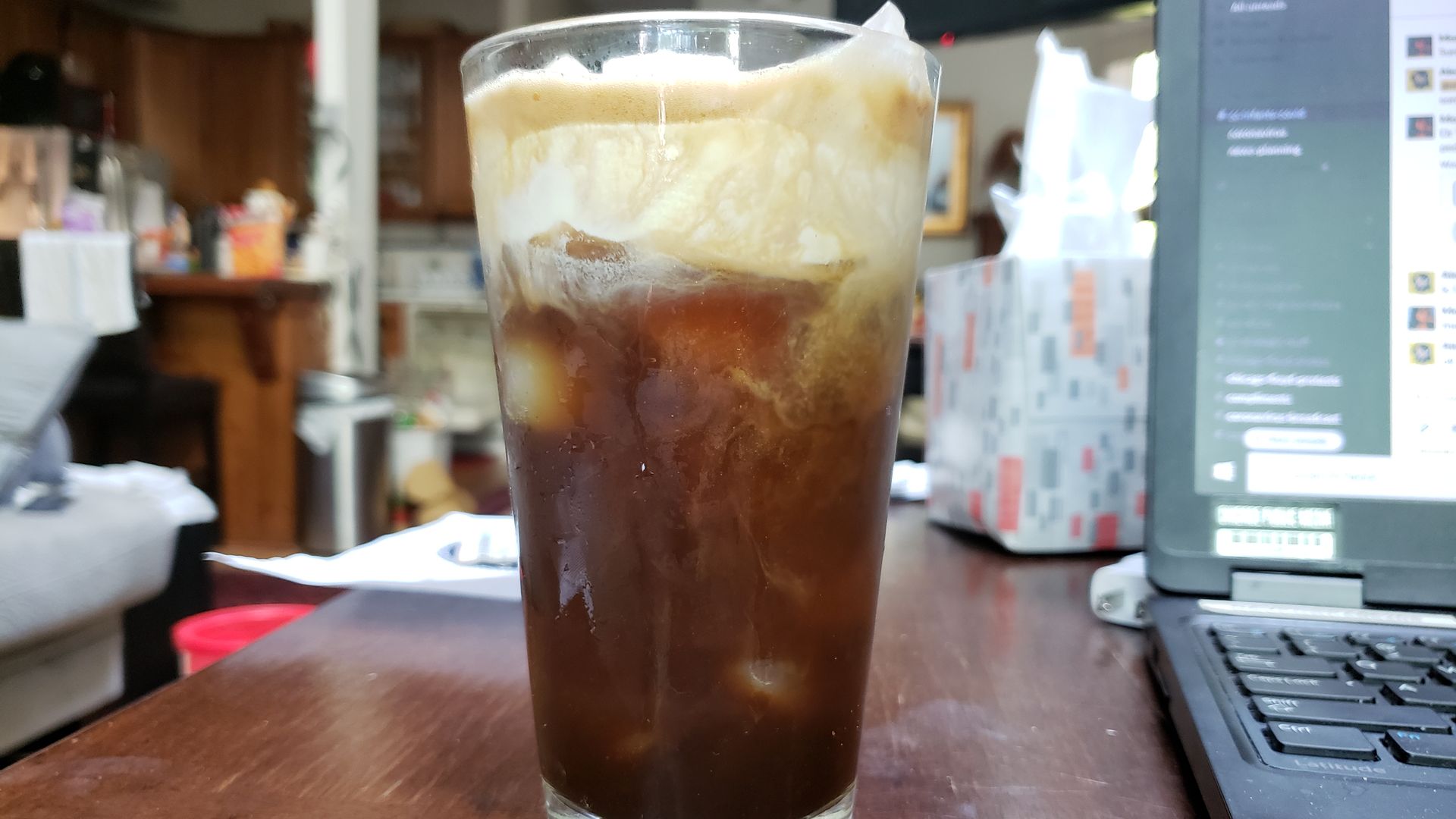 In honor of trying to finish summer strong, we're focusing on the cool elixir that powers us through the dog days — iced coffee.
Justin's pick: My favorite is the Military Latte from Sawada in the West Loop.
It's technically a matcha latte with vanilla syrup, cocoa powder and a shot of espresso ($5.95).
Swada is part of the Hogsalt empire and takes up a sliver of the Green Street Smoked Meats space across from Soho House.
Monica's pick: At home we steep big glass jars of cold brew on our counter and go through a gallon a week.
But the very best iced coffee in town comes from master brewer Justin Doggett, who crafts smooth, chocolatey Kyoto Black cold brew using a special Japanese method.
You can find it at coffee shops all over, sold in $39.95 pouches that make about a dozen cups.
As usual, our readers perked up with plenty of their own cool java favorites around town:
Monica H.: "Stroll up to the window at Charmer's Cafe near the Jarvis L stop and order an iced lavender latte and a pup cup. You'll both be so happy to sit and enjoy your treat on their lovely patio."
Margret-Ann N.: "The best iced coffee comes from Coffee Lab & Roasters in Lakeview. Conveniently located across from two daycares, the perfect stop for all the sleepy eyed parents."
Alannah S. agrees: "I just discovered the Kyoto cold brew from Coffee Lab & Roasters, and now most of my paycheck goes directly to them."
Liz S.: "Stockyard Coffeehouse in Bridgeport deserves all the praise! It is an adorable, women-owned Latinx-owned neighborhood spot. It's the only thing I miss about living in Bridgeport. The horchata cold brew and iced Mexican mochas are my favorites. But classic cold brew is excellent too!"
Carlos B.: "Iced coffee from Bridgeport Coffee is 👍."
Jennifer K: "My favorite iced coffee in Chicago is Dark Matter's Chocolate City on draft. It makes my brain sparkle."
Meghan P: "Dark Matter was the first place that wasn't a chain for me to realize what REAL iced coffee could be."
Meg M: "My favorite iced coffee is either at Botanical Cafe on Lincoln (a great locally owned plant shop/cafe where sometimes the owners' baby will be behind the counter!) or the unique cold brews at Colectivo. Last summer they had a drink that was blackberry syrup, espresso, and sparkling water!"
Sheila S.: "Star's Iced Coffee Deluxe from Star of Siam on Grand. I learned to make this at home after trying it at my favorite place for Thai food, and it's not quite the same."
More Chicago stories
No stories could be found
Get a free daily digest of the most important news in your backyard with Axios Chicago.