New tourism slogan is flush with potential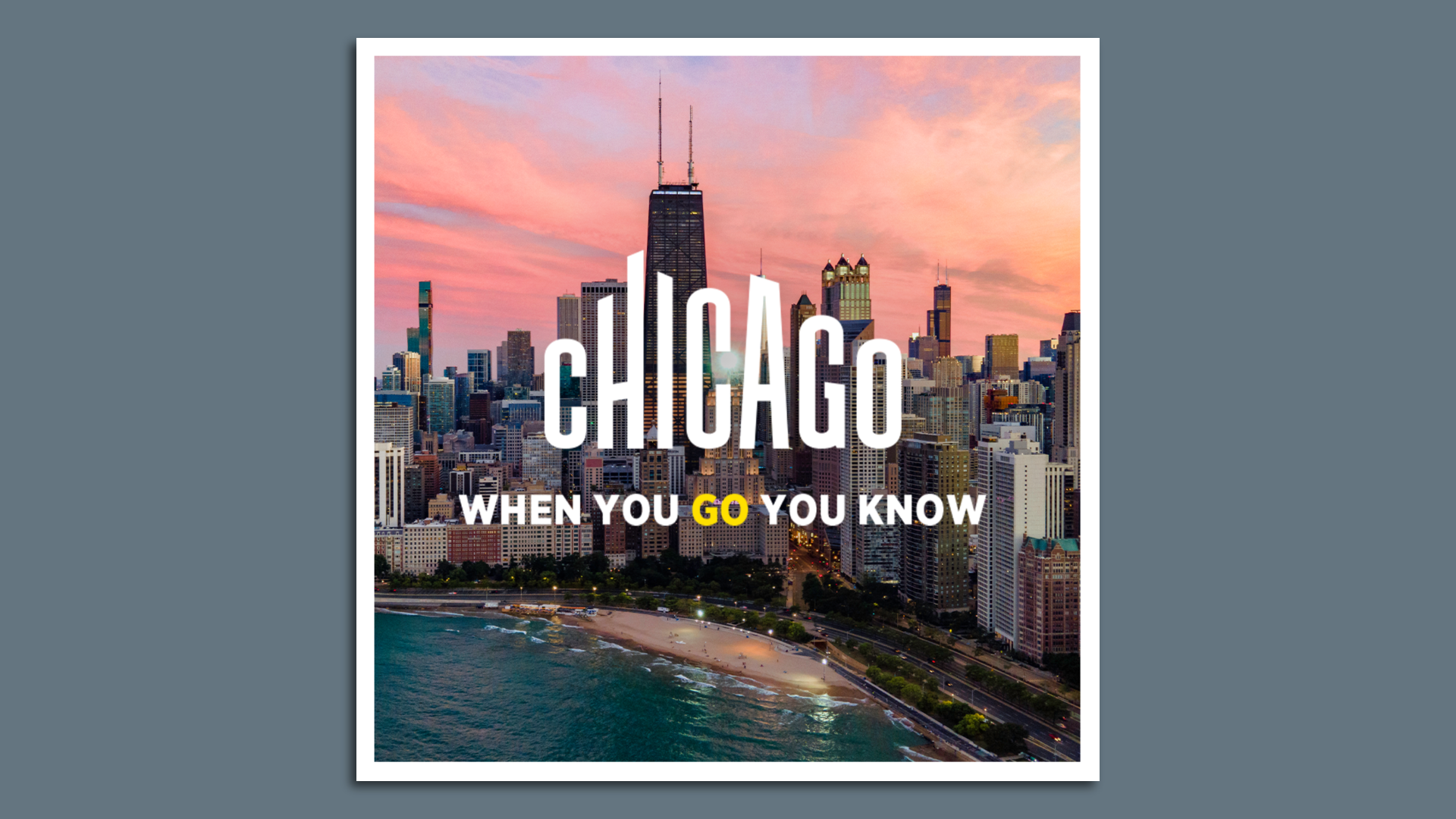 If tourism officials wanted to get people talking about their new slogan, "When You Go You Know," they have succeeded brilliantly.
The intrigue: Most of the response — at least on our social media — is focused on what seems like a bathroom joke, with the yellow-tinted "GO" hovering above Lake Michigan.
What they're saying: "With the campaign, we are illustrating the emotional and transformative impact our city can have on visitors," the CEO of Choose Chicago told the Tribune.
As for the urine implication, a spokesperson said it was not intentional but that tourism officials have seen the jokes. "We appreciate everyone's good humor ... there's a reason why Chicago has such a great comedy scene."
Of note: The city recently announced some seriously good tourism news.
We hosted 30.7 million visitors in 2021, an 86% increase over 2020.
Tourism-related employment returned to 60% of pre-pandemic levels, generating $1.3 billion in 2021 tax revenue.
Local hotel tax revenue reached $127.2 million, a 163% increase over 2020, and the average occupancy rate was 43%, a 63% increase.
Quick takes: Here's what our social media followers have to say about the new slogan:
Shane M.: "No. 1? I thought we were the No. 2 city."
Erika C.: "It should be, 'When you know, you GO.'"
Tom M.: "Chicago: When ya gotta go, ya gotta go."
Kevin W.: "The agency was certainly a whiz at slogans."
Jean I.: "The typography used for 'Chicago' is interesting. But the slogan is a wee bit bland."
JW4Progress: "You know urine Chicago when urine an 'L' train."
Brian C.: "Chicago: When You Need to Do No. 1."
Russ K.: "'Poop in the Loop' is sure to follow."
J.B.: "Oh no, why would they choose yellow :("
Mary R.: "I'm not a fan of the campaign at all. I want to know how much $$$ was spent on this. It's better than the 'Chicago Not in Chicago' — but barely. Come on, Chicago leaders. This is juvenile."
Ti-Jah: "Dear Dave Matthews Band, how do we begin?"
Mark L.: "Urine for a treat when you visit."
William H.: "Chicago may be an American city, but they sound more like European."
Mike P.: "How about, 'Enjoy the Go!'"
More Chicago stories
No stories could be found
Get a free daily digest of the most important news in your backyard with Axios Chicago.