Great Escape: Saugatuck for LGBTQ art & history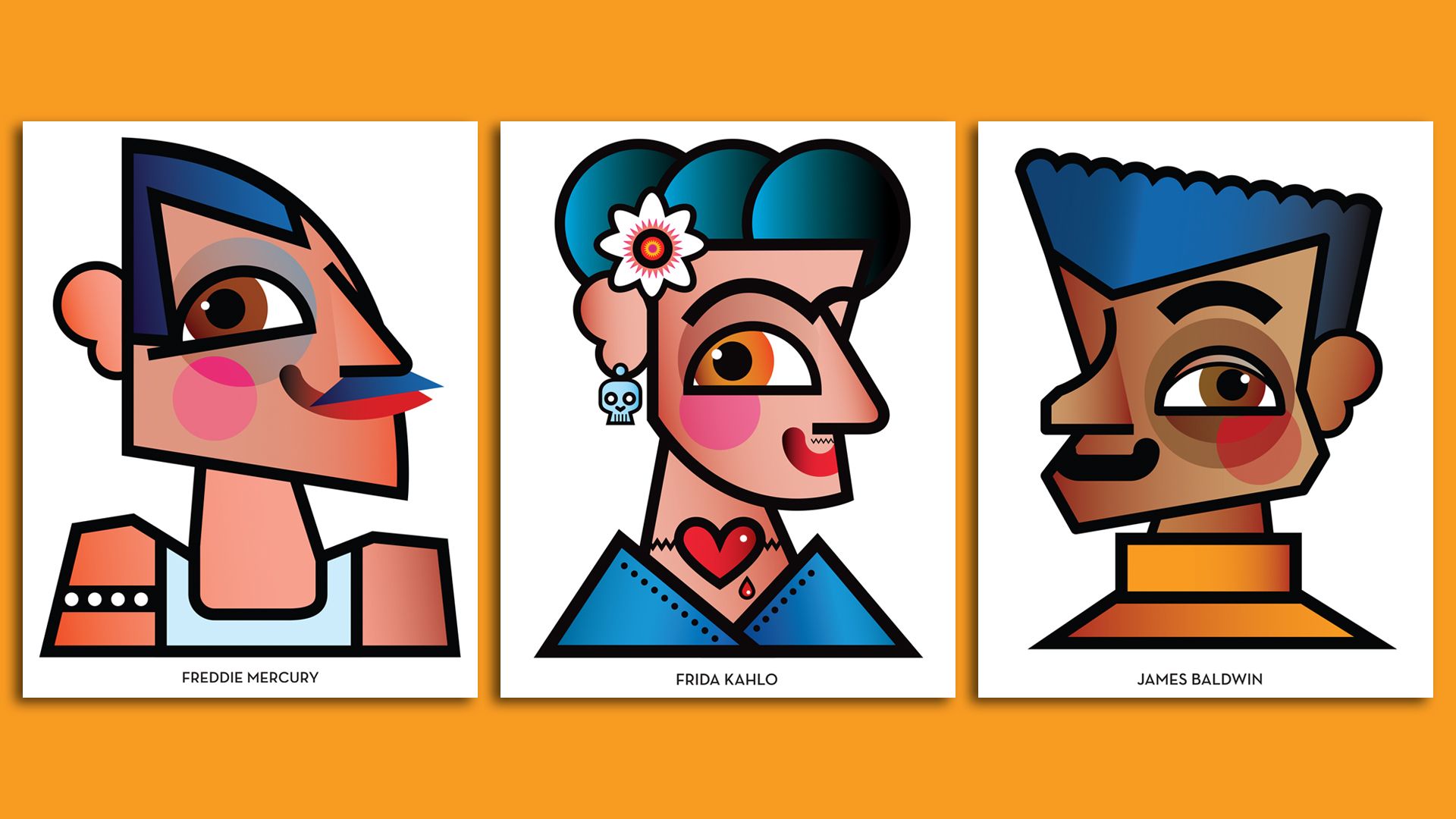 There are lots of reasons to visit the lakeside resort of Saugatuck Michigan — about a 2.5-hour drive from Chicago. But right now, one of the best is to catch "History Book: LGBTQ Portraits," an enlightening and delightful art exhibit by two Chicagoans.
The Chicagoans: Artist David Lee Csicsko (best known for his mosaics on the Belmont El) and LGBTQ historian Owen Keehnen.
The works: 28 portraits and bios of LGBTQ writers, artists, musicians and entertainers chosen for their contribution to art.
Subjects include: Frida Kahlo, Freddy Mercury, James Baldwin, Keith Haring, Josephine Baker, Gertrude Stein and Alice B. Toklas.
Csicsko's approach: "I tried to get a sense of their personality and make the viewer think, 'I wish I knew that person,'" he tells Axios. "One of my friends said that my portraits are like being at a cocktail party ... you want to talk to them."
Why it's presented in an old school house: "It's an ideal venue to discover more about some remarkable LGBTQ men and women whose lives are often edited or removed from traditional school curriculums," Keehnen says.
Csicsko's takeaways: "That the world is full of amazing people... who lived big lives ... some we have forgotten or not known about... we have to celebrate their history and our history."
Details: The exhibit runs through October 31.
As a bonus, Csicsko's picks for fun times in Saugatuck include:
Coffee: Uncommon Coffee Roasters
Gourmet takeaway: "Isabel's Market ... I drew her portrait in the exhibit — really interesting woman with Chicago Public School history."
Fried chicken: "The Southerner [has] great fried chicken ... but you will be lucky if they are open."
Sand: "Oval Beach is a beauty of a beach, ... it's amazing in winter...and Saugatuck Dunes State Park."
Milk shakes: Dairy Dayz
Fishing in Lake Michigan: Best Chance Too Charters. Coffee: Uncommon Coffee Roasters.
More Chicago stories
No stories could be found
Get a free daily digest of the most important news in your backyard with Axios Chicago.