Is it time for a new Atlanta Way? Yes, "Cop City" opponents say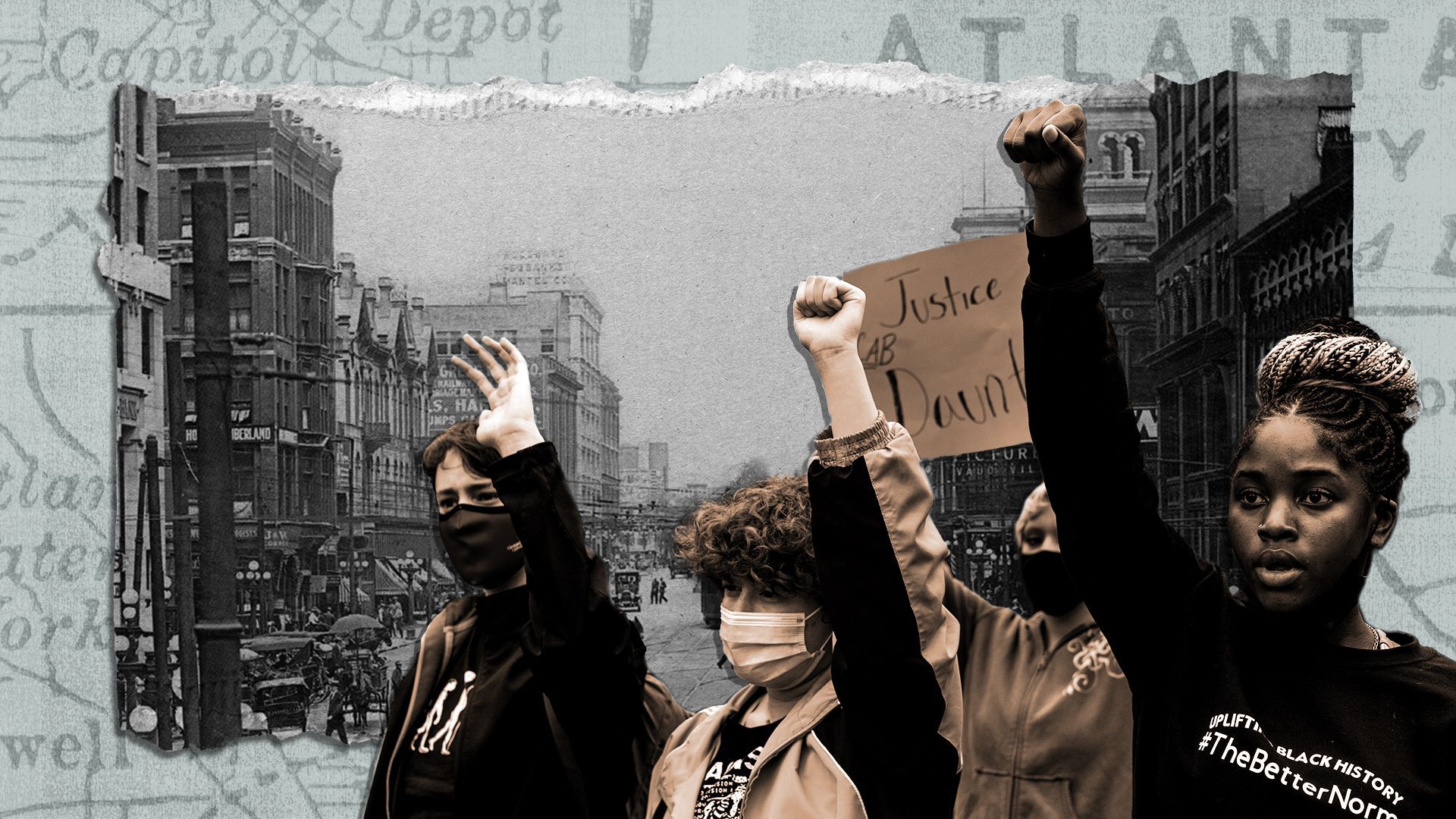 Opposition to a new public safety training center in the South River Forest is proving to be a test case of whether the Atlanta Way, which has long been viewed as what sets the city apart from other Southern cities, can — or should — continue in the 21st century.
Why it matters: The Atlanta Way is a more than 100-year-old, informal partnership between Black political officials and community leaders and white business and civic members to hash out deals for the good of the city. Its proponents say it has improved the quality of life for Black Atlantans.
The big picture: This approach to race relations was used "to keep the city on a straight-and-narrow path when it comes to its brand" and reputation, said King Williams, a local journalist whose upcoming "The Atlanta Way" documentary explores gentrification.
However, the new generation of activists leading the movement against the training center "have revolted, or just bypassed that system of governance altogether," Williams told Axios.
State of play: Those activists have expressed outrage that the city's majority-Black elected officials approved a project they say will militarize a police force that unfairly targets Black communities.
One activist was shot and killed in January during a "clearing operation" by a state trooper, another trooper was wounded, and dozens have been arrested on charges ranging from domestic terrorism to money laundering in what's become a national movement.
Some demonstrations have turned confrontational, and hundreds of opponents have shown up to City Council meetings with speeches, signs, chants such as "Stop Cop City" and "Viva, viva Tortuguita" and jeers of elected officials.
What they're saying: Kamau Franklin of Community Movement Builders, who is opposed to the training center, told Axios that members of the movement are no longer satisfied with representation simply through Black elected officials. They want representatives who also share their values.
"What we all have built is a new left politic, a new mass movement politic that's no longer going to be kowtow or subdued by the Atlanta Way," he said.
"There's this belief that you need to be a Black moderate in order to be successful in a place like Atlanta," said Nse Ufot, founder of the New South Super PAC.
"The [new] Atlanta Way is bolder, progressive, [and] leaps forward in the face [of] what seems like impossible odds," she said.
Yes, and: Micah Herskind, another opponent of the training center, said the Atlanta Way is "crumbling because people are organized and passionate."
What is the Atlanta Way?
The Atlanta Way started as a civic booster term. It dates to the 19th century, Timothy Crimmins, a Georgia State University urban history professor and director of the school's Center for Neighborhood and Metropolitan Studies, told Axios.
It was initially used by the business community to promote the city and to raise money to bring the 1895 Cotton States and International Exposition, designed to showcase post-Civil War economic progress in the South, to Atlanta.
Of note: The exposition is also where Booker T. Washington gave what was later coined "The Atlanta Compromise" speech.
Context: In the early and mid-20th century, the Atlanta Way meant white elected officials lobbying Black civil rights leaders and ministers to support candidates or ballot questions — though that relationship was imbalanced.
For example, in exchange for the Black community's support of an infrastructure bond to fix the city's white schools, white leaders agreed to include funding for the city's first Black high school, Crimmins told Axios.
"There was that history of little things [for Black folks] being provided … so white folks could get big things done," Crimmins said.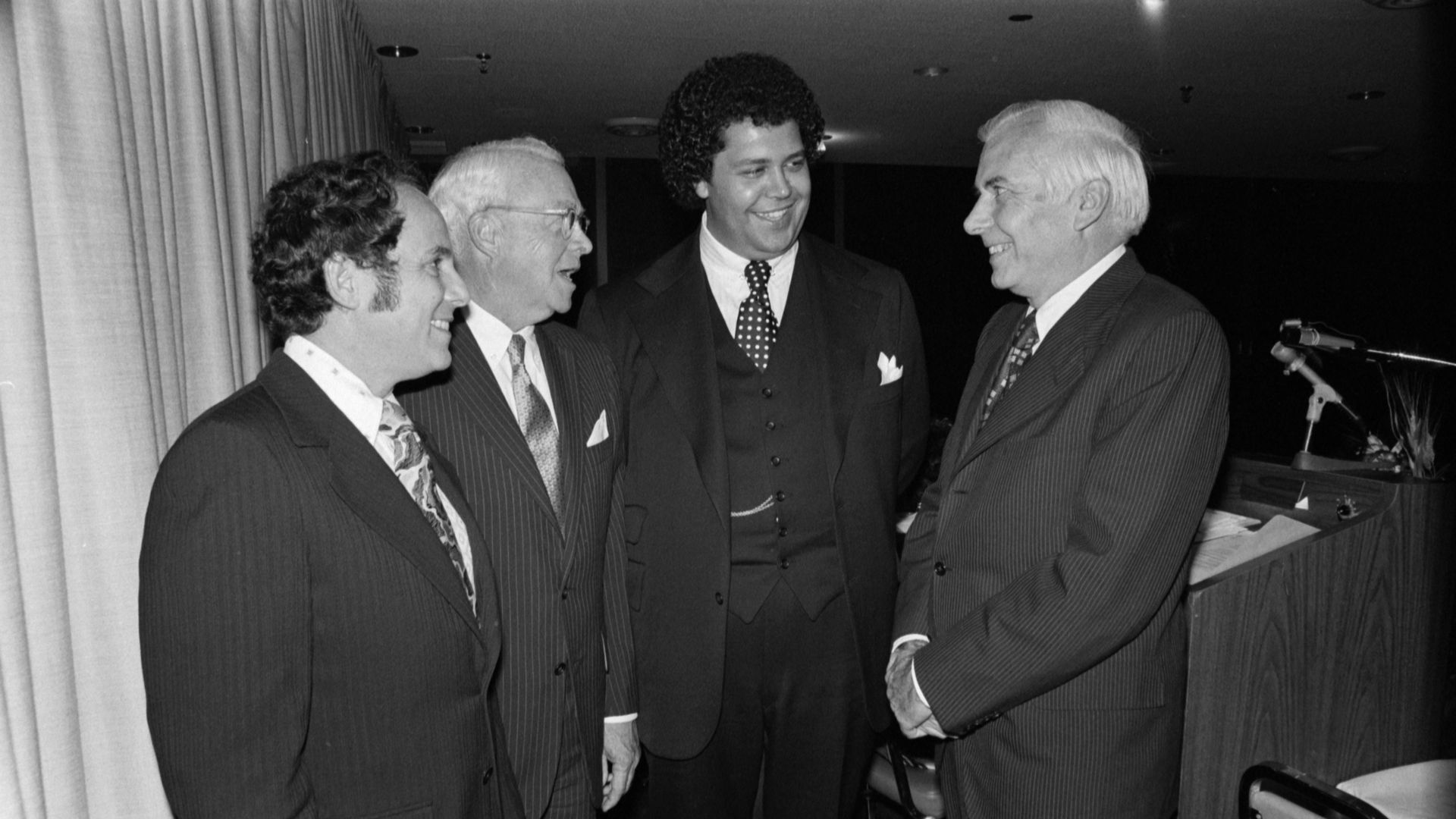 Over time, the concept also came to refer to a way of sharing your perspective with someone who may have the opposite view "and coming to some mutual agreement that's mutually beneficial," council member Michael Julian Bond told Axios.
Activists in the 1960s Atlanta Student Movement sought an audience with the restaurant and business owners they planned to protest, Bond said. That way, everyone was on the same page about the issues at play.
Bond said in more recent times, the Atlanta Way "has taken hold and has resulted in progress … generally for everyone in the city."
Threat level: That disappeared with the debate over "Cop City," Bond said, where "there's been no real communication," Bond told Axios.
"They just kind of show up, and they expect you to know, presumably, from the comments that they make, everything about their issue and that's not always the case," said Bond.
Bond, whose father Julian Bond was a prominent civil rights leader and served in the Georgia House and Senate, faced the harshest criticism from activists during last week's Council meeting.
Can the Atlanta Way survive?
Former Atlanta Mayor Shirley Franklin told Axios that the Atlanta Way has always included navigating protests and divisions among the city's business community, civic leaders and elected officials.
For example, not everybody was on board with school desegregation, the Atlanta Student Movement and the election of Maynard Jackson Jr. as the first Black mayor.
Atlanta is no longer the city it was 30 years ago due to its growth since the 1996 Olympics "so it's impossible for whatever structures were in place to continue to work in the 21st century," the former mayor said.
"We have to recreate how we communicate and how we work together or oppose each other and debate each other," she told Axios. "When there are complex issues, you cannot expect the general public to automatically trust that you know what you're talking about."
The bottom line: King Williams said adherents to the Atlanta Way have to understand that the younger generation "isn't caring about your table if your table isn't serving their needs."
The Atlanta Way can only survive if the establishment is willing to bring in people with different ideas — and ensure they don't walk away with their political capital, King told Axios.
"Change is hard for a lot of people, but if they don't, then they run the risk of being the old institution … and really putting themselves in the position where they are on the defensive," he said.
More Atlanta stories
No stories could be found
Get a free daily digest of the most important news in your backyard with Axios Atlanta.