Autopsy report reveals "Cop City" activist had 57 gunshot wounds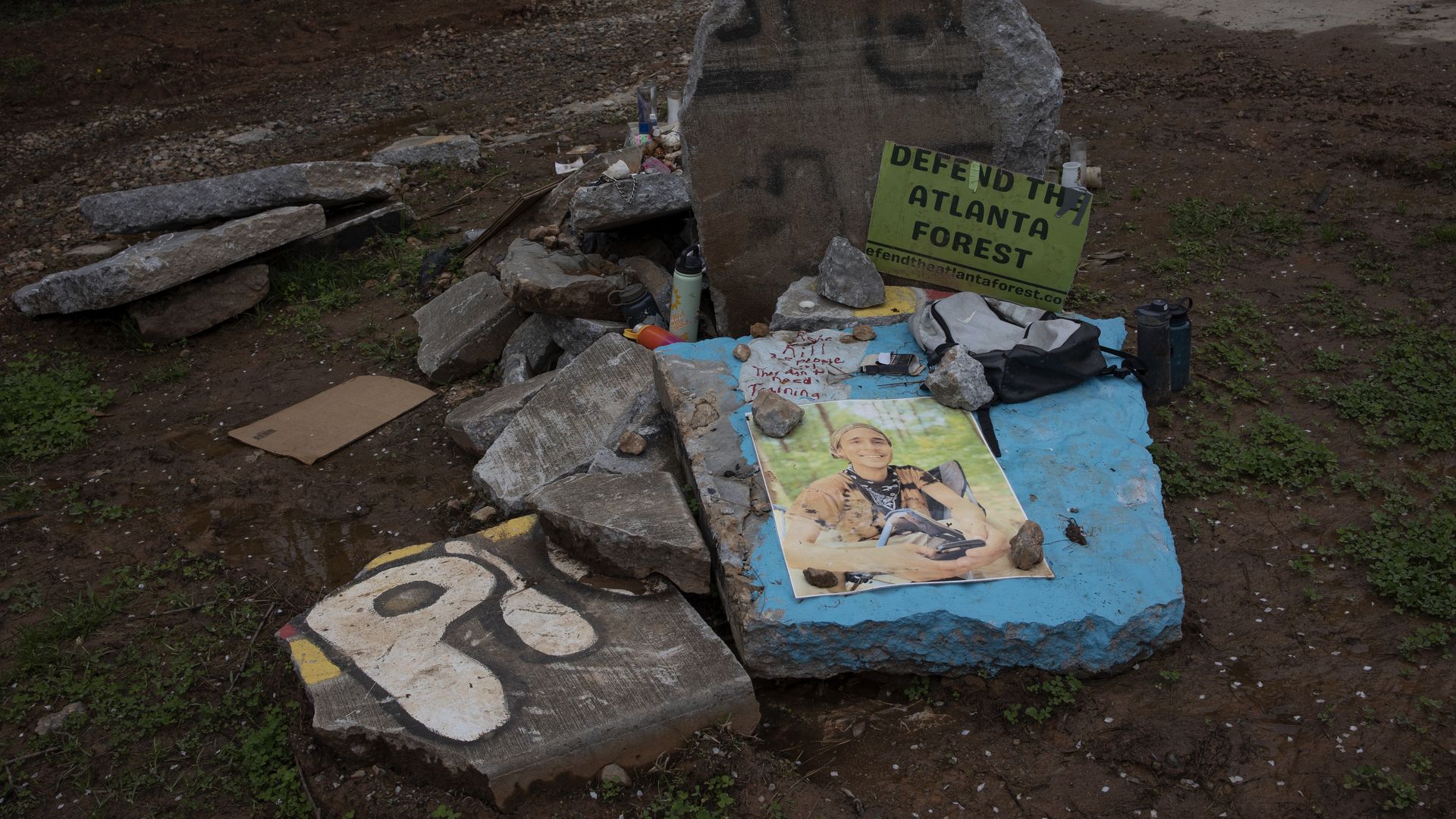 The protester killed in January by Georgia state troopers at the site of Atlanta's planned public safety training center died from at least 57 gunshot wounds, according to a newly released autopsy report.
The DeKalb County medical examiner's autopsy of Manuel Paez Terán, which Axios obtained through an open records request, differs from an independent autopsy performed at the request of the activist's family.
Why it matters: The Terán family has demanded the release of the DeKalb autopsy report along with additional evidence. Officers say the 26-year-old activist shot and wounded a trooper before law enforcement returned fire, killing them during a Jan. 18 "clearing operation" at the site, which has been dubbed "Cop City" by activists.
Terán's death has become a rallying cry for opponents of the center, even as construction continues moving forward.
Details: The report indicates dozens of bullets entered Terán's right eye, chest, stomach, arms and legs and notably, says any attempts to place the deceased "in any particular position at a specific point in time is fraught with potential inaccuracies."
"There are too many variables with respect to movement of the decedent and the shooters to draw definitive conclusions" about the positioning of Terán's body, the report reads.
The medical examiner did not see gunpowder residue on the activist's hands, the report says.
Yes, but: The family's autopsy released earlier this year contends Terán was most likely in a seated position and most likely had their hands up when officers shot them.
It suggests Terán was shot at least 13 times by different firearms, but it was impossible to determine whether Terán was holding a gun.
The DeKalb report says it's unlikely a gunshot wound to the activist's head was the first inflicted, and none of the other gunshots "would have caused him to become immediately unconscious or incapacitated."
Of note: Officers who shot at Terán were not wearing body cameras at the time of the shooting, the Georgia Bureau of Investigation says.
What we're watching: Terán's family filed a lawsuit last month for further records and documentation about the shooting. The state had declined to release them citing a pending investigation.
What's next: Activists plan to honor Teran's birthday this weekend with several events around the city.
Axios is awaiting comment from Terán's family, the GBI and medical experts.
Go deeper