Georgia senators criticize damage at "Cop City" protests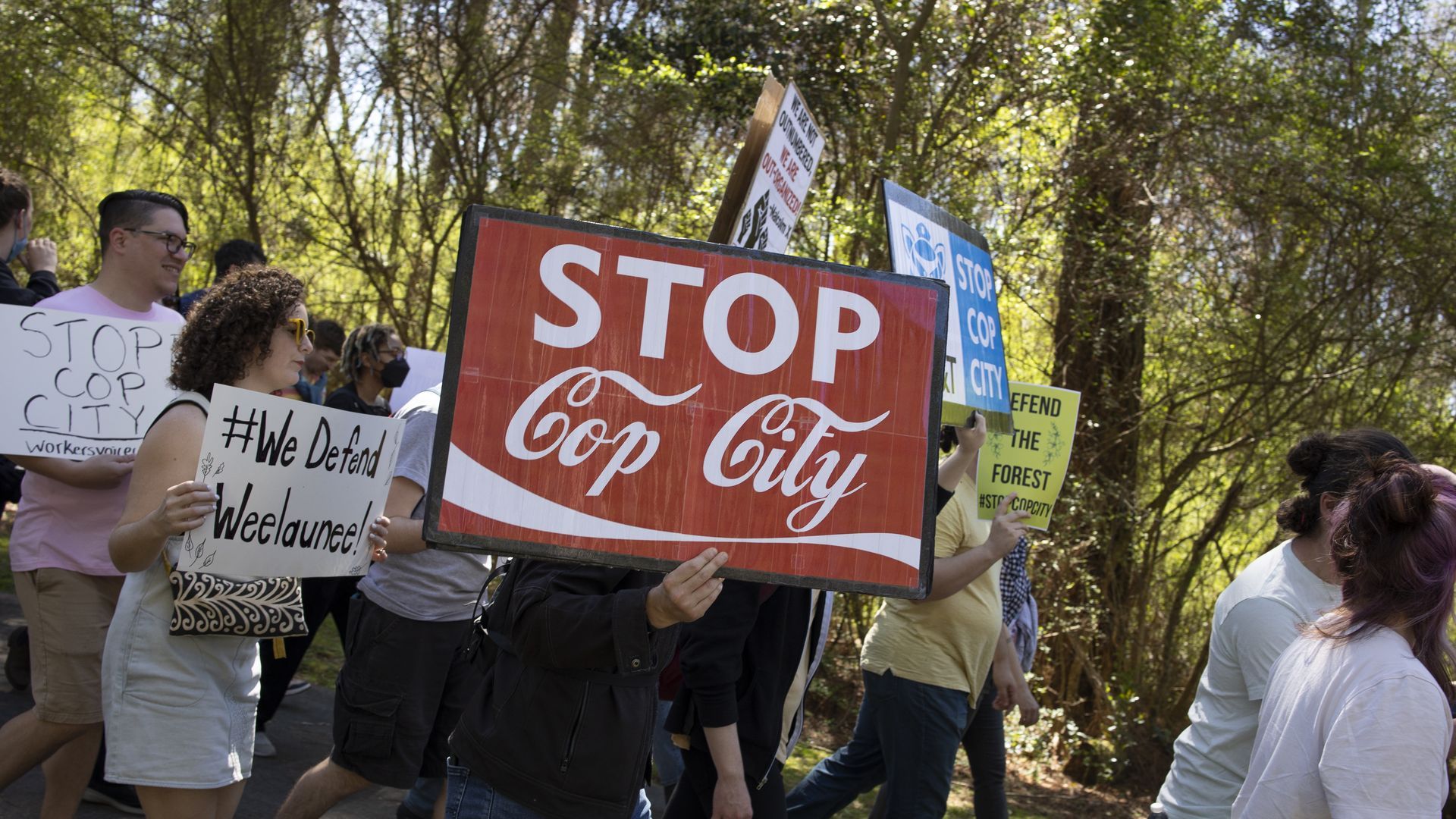 The fight over an Atlanta police training site is putting Georgia Democrats — including its two U.S. senators — in the hot seat over a complicated mix of policing and land-use issues.
Why it matters: At a time when Democrats are being tested by climate and equity trade-offs, they're finding a fresh conflict: how law enforcement handles environmental activists.
🗣 What they're saying: Georgia's two Democratic senators, Jon Ossoff and Raphael Warnock, had said little publicly about the situation until Axios approached them in the Senate basement.
Both stopped short of taking a side over the training facility itself while splitting the difference on the activists.
"Peaceful protest and the expression of opposition or support to a land-use plan or the siting of a specific facility somewhere is a sacred constitutional right," Ossoff said. "What is not constitutionally protected speech is Molotov cocktails."
Warnock said that "protesting in the best of the American democratic tradition needs to be non-violent," emphasizing his view that "local officials there in Atlanta have to work with the citizens of Atlanta" to find a peaceful way forward.
This is in line with what local officials have said, but it's a more cautious approach than the one taken by Nikema Williams, the House Democrat who represents the contested site.
Williams recently maintained she'll "always stand on the side of protesters," according to the Atlanta Journal-Constitution, and that she doesn't "buy the whole notion that you have to choose one or the other, between standing up for our law enforcement and standing with protestors."
Catch up quick: The nation is watching as protests in a wooded area southwest of downtown Atlanta turn to chaos over local officials' approval of a police training complex dubbed "Cop City."
Activists have cited a number of concerns, from environmental protection to confronting police power. They contend the project will jeopardize the South River Forest, which is surrounded by mainly Black and Hispanic communities.
Many activists have been peaceful. But some have attracted media attention and several dozen have been arrested for damaging buildings and cop cars to convey their opposition to the project.
One activist, Manuel Esteban Paez "Tortuguita" Terán, was shot and killed by a state trooper after Terán allegedly shot an officer in the forest earlier this year.
What's happening: The Georgia Bureau of Investigation is reviewing the Terán incident. Some progressive Democrats like Cori Bush and Rashida Tlaib have publicly called for something more independent.
Asked whether he agreed with progressives' calls for an independent probe, Ossoff said: "I believe there is an ongoing independent investigation."
An Ossoff aide said the senator was referring to the ongoing GBI investigation and that he "won't judge that investigation until it's complete."
Meanwhile, Warnock didn't respond to the question as he entered an elevator.
Between the lines: This approach is not what activists on the ground wanted to hear from Ossoff and Warnock, two lawmakers who've fought hard to address historic injustices and environmental protection.
But the fight over the forest is more complex than merely an environmental justice issue: Atlanta has a serious need for new first-responder training facilities, and 300 acres of the 385 at issue would be preserved as a city park.
Activists themselves have cited a number of reasons for opposing the facility, from environmental protection to police abolition.
Axios spoke to Sierra Club's Georgia chapter, which is against the facility and has previously focused on pressuring local officials to cancel its lease.
Now, representatives of the chapter also want federal lawmakers to weigh in on the situation, call for an independent probe of the shooting and rail against terrorism charges brought against activists.
"Taking a position [on a probe] would be helpful," said Ricky Leroux, the chapter's policy coordinator.
What's (not) next: Asked whether he'll do or say anything in the future on the situation unfolding around the project, Ossoff deflected.
"Georgians who have concerns about the proposed land use and the siting of this facility should take those concerns to the DeKalb County Commission and the Atlanta City Council," he said.
If you liked these insights, consider subscribing to Axios Pro: Energy Policy.
Editor's note: The charitable foundation of Cox Enterprises and its leadership have financially supported the project. Cox Enterprises owns Axios Media.
More Atlanta stories
No stories could be found
Get a free daily digest of the most important news in your backyard with Axios Atlanta.