Mike Johnson's holiday report card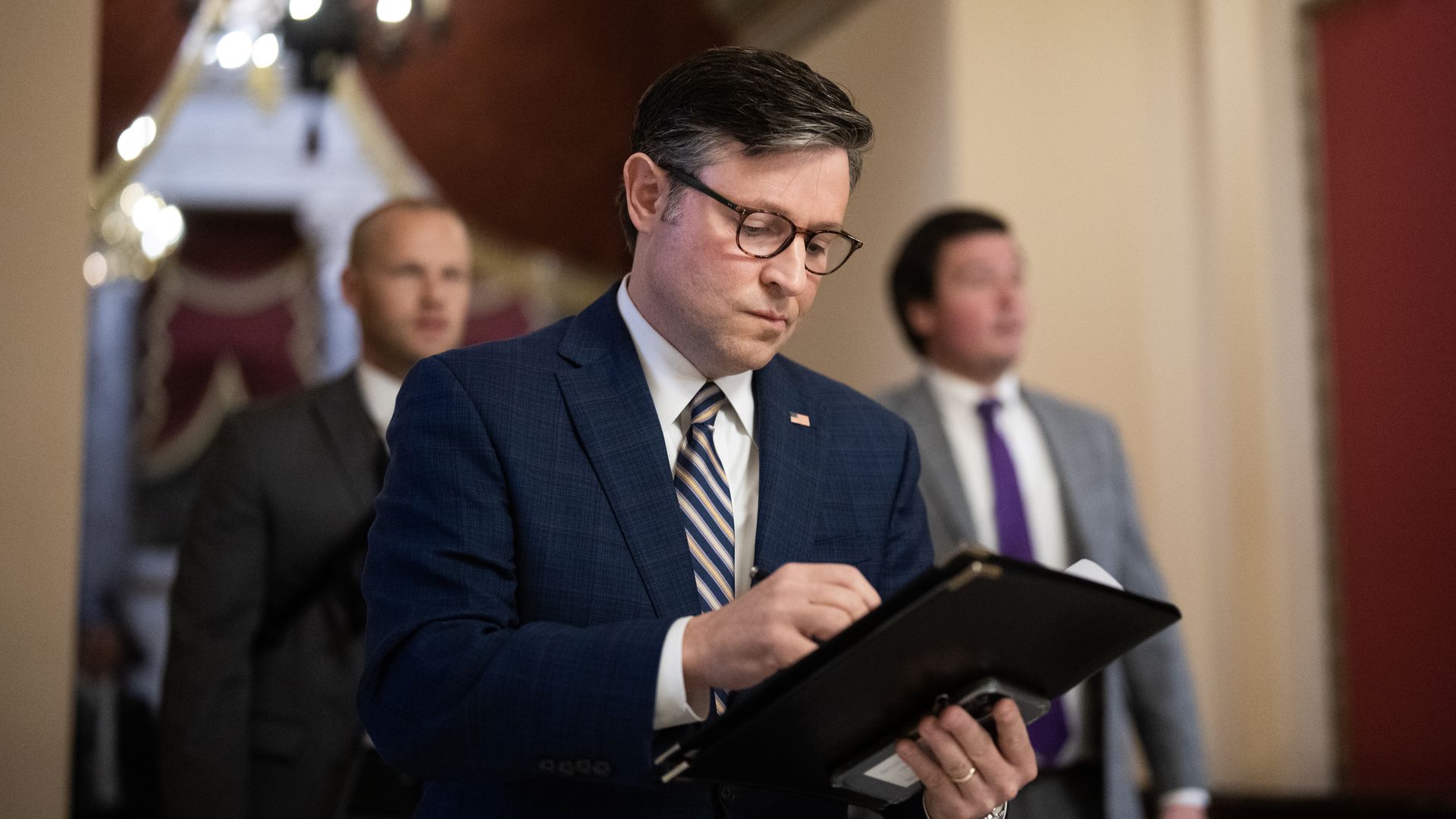 Rep. Chip Roy (R-Texas), a hardline conservative, furiously challenged his colleagues Wednesday to present "one material, meaningful, significant thing the Republican majority has done" that he can take back to his constituents.
Why it matters: House Republicans' decision to head home early for Thanksgiving recess will give Washington ample time to reflect on Speaker Mike Johnson's (R-La.) three weeks in office, which have been haunted by the same bitter GOP divisions that felled his predecessor.
Driving the news: Johnson successfully punted the next government shutdown deadline into early 2024 — but, like former Speaker Kevin McCarthy (R-Calif.), infuriated conservatives in the process by relying heavily on Democratic votes.
In retaliation, 19 GOP hardliners rebelled to defeat a procedural vote on the Commerce, Justice, Science and Related Agencies Appropriations bill — prompting Johnson to cancel remaining votes and send everyone home.
It's a strange predicament to be in for a MAGA-aligned Republican who describes himself as an "arch conservative," but one that perfectly captures the consistently ungovernable nature of the GOP conference.
The big picture: Johnson's first week was undoubtedly a successful one, as his election fueled a surge in GOP fundraising and the House passed an Israel aid package paired with cuts to IRS funding.
Since then, GOP leadership has been forced to pull three votes on appropriations bills due to threats from both the moderate and conservative wings of the party.
There's been no floor action on a bill funding the Department of Agriculture and the FDA, after moderates tanked a vote in September over language restricting access to abortion pills.
The Labor-HHS-Education appropriations bill also appears to be in limbo, with Johnson opting to regroup after Thanksgiving rather than risk another embarrassing defeat on the House floor.
What they're saying: After losing 95 Republicans on Tuesday's vote to keep the government funded, Johnson defended his leadership and insisted that his novel "two-step" stopgap approach would be a victory for conservatives.
"I've been at the job less than three weeks, right?" he said. "I can't turn an aircraft carrier overnight."
"It should be obvious to anyone who is watching that House Republicans are unable to govern on their own, period, full stop," House Minority Leader Hakeem Jeffries (D-N.Y.) countered.
What to watch: There are just 21 legislative days until the next government funding deadline on Jan. 19, and Johnson — who has vowed not to pass another short-term spending bill — is quickly burning political capital.
The bottom line: The lingering scars from the GOP's speaker vacancy have afforded Johnson additional job security, but his honeymoon period has otherwise come to a screeching halt.
Go deeper