Congressional pressure cooker explodes as personal feuds turn physical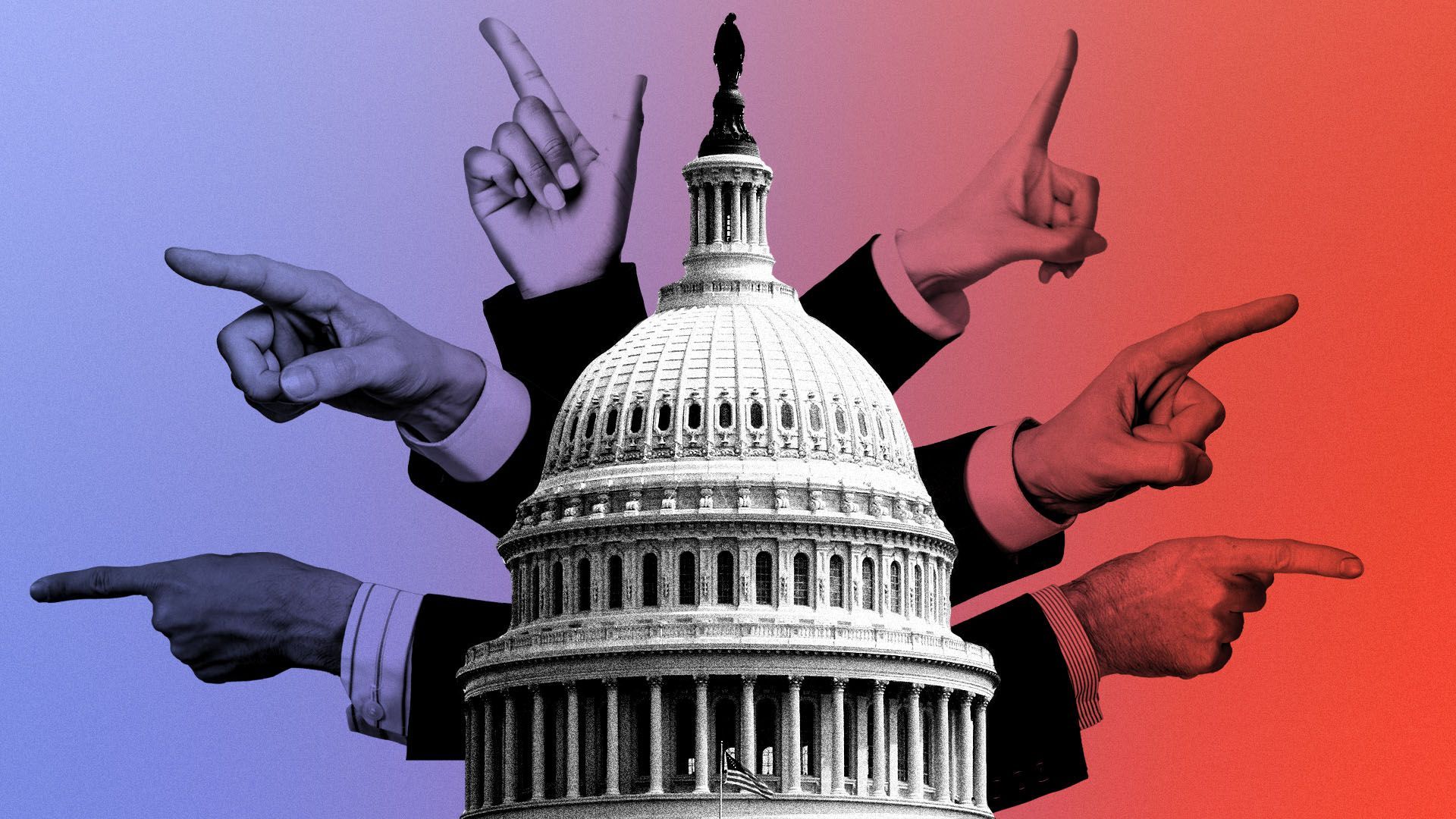 House Speaker Mike Johnson (R-La.) told reporters Tuesday that passing a short-term government funding bill would allow lawmakers to go home for Thanksgiving and "cool off" — warning that Congress was a "pressure cooker" after being in session for 10 weeks.
Why it matters: Within hours, that pressure cooker exploded — spraying childish insults, violent threats and alleged "kidney punches" all over Capitol Hill.
Driving the news: One of Congress' most bizarre days in recent memory began when Rep. Tim Burchett (R-Tenn.) — one of the eight House Republicans who voted to remove former Speaker Kevin McCarthy (R-Calif.) — accused McCarthy of elbowing him in a narrow hallway.
McCarthy denied that he intentionally elbowed Burchett and mocked the congressman for saying he was still in pain, telling reporters: "If I kidney punched him, he'd be on the ground."
Rep. Matt Gaetz (R-Fla.), the chief architect of McCarthy's ouster, filed an ethics complaint against the former speaker — citing a "substantial increase in breaches of decorum unlike anything we have seen since the pre-Civil War era."
Over in the Senate, Sen. Markwayne Mullin (R-Okla.) — a former mixed martial artist — challenged Teamsters president Sean O'Brien to a fight during a Senate Health, Education, Labor and Pensions (HELP) Committee hearing.
"You want to run your mouth. We can be two consenting adults, we can finish it here," Mullin said, standing up and calling on the labor boss to do the same.
Senate HELP chair Bernie Sanders (I-Vt.) then intervened, furiously reminding Mullin: "You're a United States senator. Sit down."
Silver lining: Not all of Tuesday's confrontations were physical.
Rep. Marjorie Taylor Greene (R-Ga.) began the morning by calling Rep. Darrell Issa (R-Calif.) a "p***y" for voting to block her impeachment resolution against Homeland Security Secretary Alejandro Mayorkas.
House Oversight chair James Comer (R-Ky.) exploded at Rep. Jared Moskowitz (D-Fla.) during an exchange over Comer's family business dealings, saying the blue-suited Democrat looked like a "Smurf."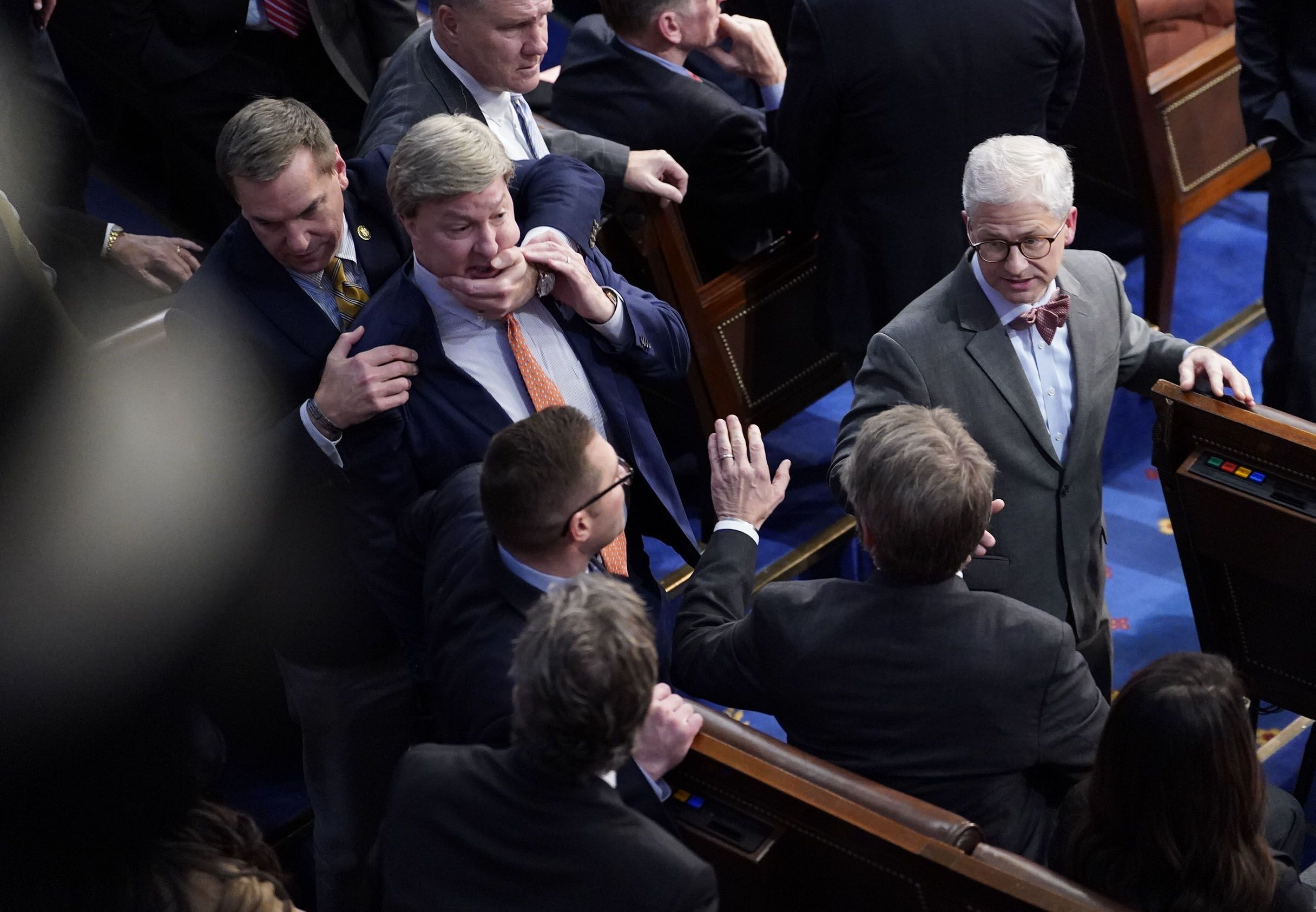 Flashback: The 118th Congress kicked off in January with a heated speaker's election, in which Rep. Mike Rogers (R-Ala.) had to be physically restrained after lunging at Gaetz on the House floor.
The bad behavior has only escalated since then: Rep. George Santos (R-N.Y.) and Sen. Bob Menendez (D-N.J.) face felony indictments, while Rep. Derrick Van Orden (R-Wis.) was condemned by congressional leaders for screaming at a group of young Senate pages in July.
Members have introduced 18 censure motions against their colleagues — many of them acts of tit-for-tat retribution, according to data compiled by Quorum.
What they're saying: "The whole thing is truly surreal," Rep. Marc Molinaro (R-N.Y.) told Axios of the McCarthy-Burchett altercation.
"It's just straight up entropy. Things fall apart, it's scientific," said Rep. Jamie Raskin (D-Md.). "We are seeing collapsing civility and increasing profanity."
"It's kind of sad, some of this sh*t," said Rep. Troy Nehls (R-Texas). "It makes us look almost adolescent in many ways. Bully in the schoolyard type stuff."
The bottom line: It's no wonder that Americans gave Congress an approval rating of 13% last month — its lowest mark since 2017.
Go deeper