Matt Gaetz calls for House Ethics investigation into Kevin McCarthy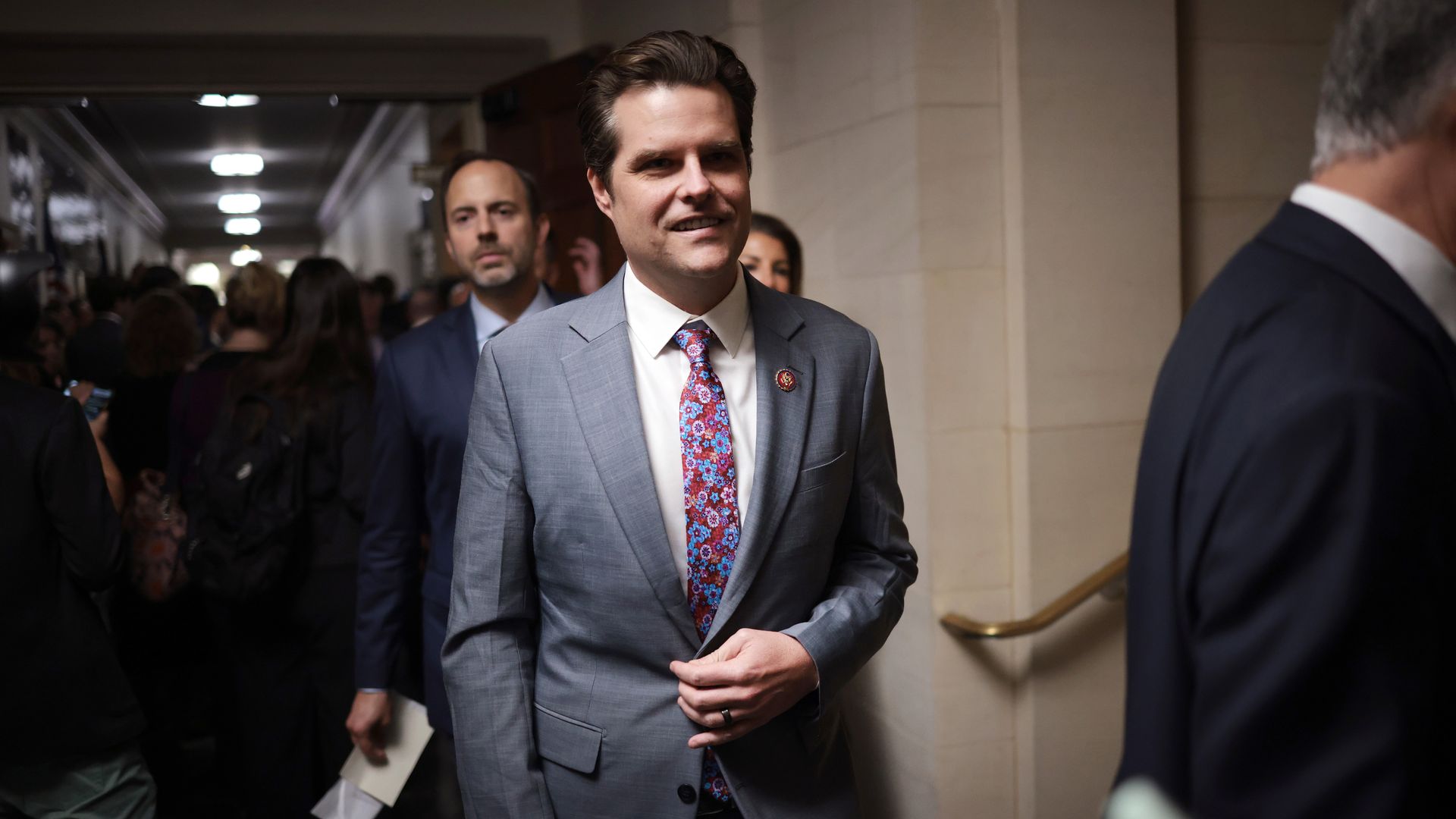 Conservative Rep. Matt Gaetz (R-Fla.) announced Tuesday he is filing an ethics complaint against former Speaker Kevin McCarthy following the California Republican's altercation with Rep. Tim Burchett (R-Tenn.).
Why it matters: Tensions between McCarthy and the eight lawmakers who voted to oust him from his leadership position have lingered since October.
Gaetz wrote a letter to House Ethics Chair Michael Guest (R-Fla.) and Ranking Member Susan Wild (D-Pa.) on Tuesday arguing that the altercation, which involved McCarthy allegedly elbowing Burchett in the back, "deserves immediate and swift investigation by the Ethics Committee."
Burchett alleged that McCarthy "sucker punched" him "in a shot to the kidney."
McCarthy denied elbowing Burchett, and said it was a crowded hallway.
What they're saying: "This Congress has seen a substantial increase in breaches of decorum unlike anything we have seen since the pre-Civil War era," Gaetz wrote.
"I myself have been a victim of outrageous conduct on the House floor as well, but nothing like an open and public assault on a Member, committed by another Member. The rot starts at the top."
Gaetz added that "while Rep. Burchett is within his rights to decline to press charges against Rep. McCarthy, your Committee does have a duty to investigate breaches of the binding Code of Official Conduct."
McCarthy previously accused Gaetz of launching his effort to oust him from leadership due to the Ethics Committee reopening an investigation into allegations of sexual misconduct and misuse of funds.
The big picture: Multiple heated incidents took place on Tuesday, with Sen. Markwayne Mullin (R-Okla.) nearly getting into a physical altercation with a witness during a hearing and multiple heated moments taking place during a fiery House Oversight Committee hearing.
Johnson described the House being in session for 10 consecutive weeks as "a pressure cooker."
Members have voiced they hope the temperature will lower after members come back from Thanksgiving recess.
Go deeper