Democrats prepare to rescue Mike Johnson's "step stool" spending bill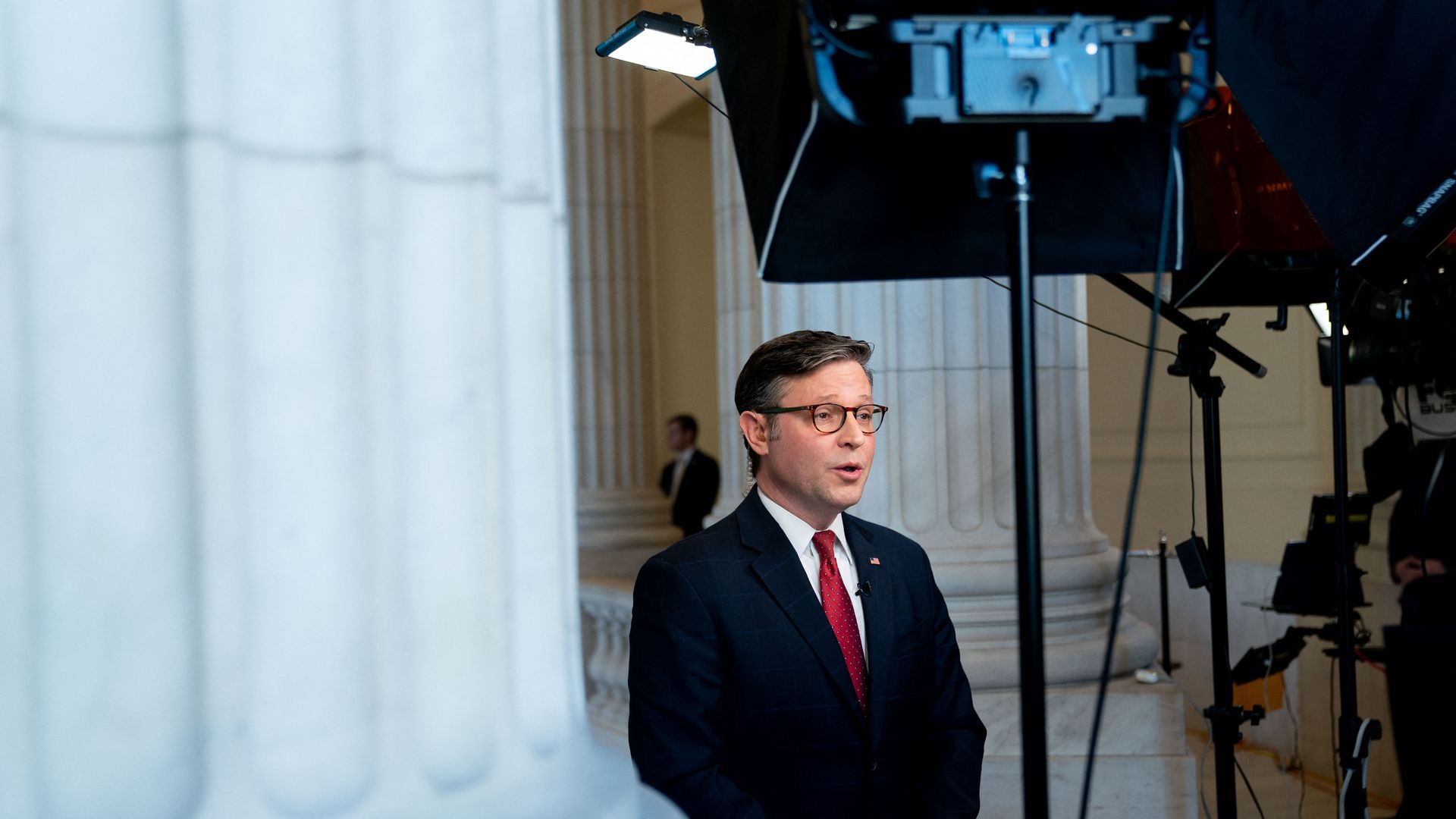 House Democrats are gearing up to vote for Speaker Mike Johnson's (R-La.) measure keeping the government funded into early 2024.
Why it matters: The Democratic votes will likely make up for a GOP shortfall due to opposition from right-wing hardliners frustrated at the lack of spending cuts in the measure.
Driving the news: Coming out of their morning caucus meeting on Tuesday, Democrats signaled broad openness towards the bill because it keeps spending steady at 2023 levels and doesn't include conservative policy riders.
"The numbers seem to be pretty good to me," said Rep. Jim McGovern (D-Mass.). "The Farm Bill is extended ... none of their bulls*** MAGA culture wars are in this bill, so when all is said and done, I'm inclined to probably vote for it."
Rep. Annie Kuster (D-N.H.), the chair of the 98-member, center-left New Democrat Coalition said she expects "there will be Democratic votes for it."
Rep. Wiley Nickel (D-N.C.) told Axios he expects "the majority of Democrats" to support the bill: "It sounds like it's a clean CR with a weird stepping stool ... If it's a clean CR, why wouldn't we support it?"
The details: The bill would fund a handful of less controversial agency budgets until Jan. 19 and the rest until Feb. 2 to give lawmakers more time to approve annual appropriations bills.
The bill is slated for a vote Tuesday afternoon and needs to be passed by Friday to avoid a government shutdown.
Republicans are moving the measure to the floor by a process known as "suspension of the rules" which requires the bill to be passed with a two-thirds majority – meaning it will need significant bipartisan support.
What they're saying: House Democratic Caucus Chair Pete Aguilar (D-Calif.) told reporters that Democratic leadership had not taken an official position as of Tuesday morning.
Aguilar said there are "concerns" about the fact the bill is bifurcated, but noted that the bill does not cross Democrats' "red lines" on spending cuts and conservatives policy riders.
"Speaker Johnson ... is bleeding votes within his conference," Aguilar added, noting it's a similar dynamic to when Congress passed a stopgap spending bill in September. "There is no prospect of him delivering the votes to achieve this."
What we're watching: Despite the similarities between this spending bill and the one that resulted in the ouster of former Speaker Kevin McCarthy (R-Calif.), Johnson is not expected to face right-wing retaliation, Axios' Juliegrace Brufke reported.
Rep. Mario Diaz-Balart (R-Fla.) told Axios he is confident Johnson won't face a removal effort because "we just elected him."
"This is not grade school, where if you don't like the results of your kickball game, you take the ball with you and go home," he said.
Go deeper