Mike Johnson takes a page out of McCarthy's spending playbook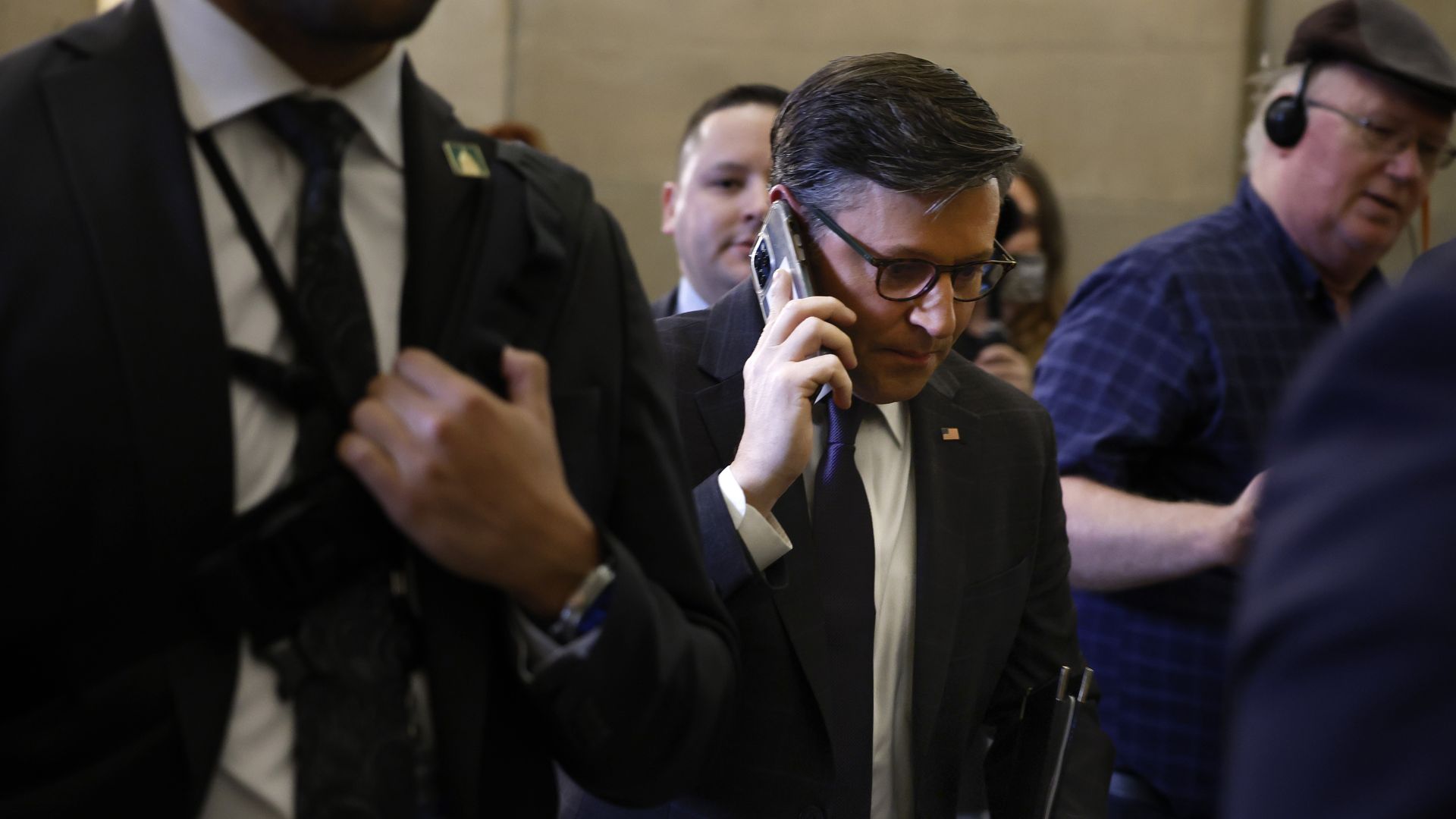 The dynamic forming around the two-tiered stopgap spending bill proposed by House Speaker Mike Johnson (R-La.) is shaping up to be a carbon copy of how Congress kept the government funded two months ago.
Why it matters: The House ultimately voted on a bipartisan basis to avert a government shutdown in September, but the conservative anger that followed led to the ouster of former Speaker Kevin McCarthy (R-Calif.).
Driving the news: House Republican hardliners are lining up against Johnson's proposal, which extends funding for some less controversial agency budgets to Jan. 19 and the rest until Feb. 2.
While the proposal does not include the supplemental foreign military aid and domestic spending requested by the White House, it also excludes the budget cuts and policy riders conservatives have pushed for.
"I will not support a status quo that fails to acknowledge fiscal irresponsibility, and changes absolutely nothing while emboldening a do-nothing Senate and a fiscally illiterate President," House Freedom Caucus Chair Scott Perry (R-Pa.) said in a post on X.
Rep. Chip Roy (R-Texas) told reporters of the so-called "clean" spending bill: "That's precisely what ... resulted in the motion to vacate against Kevin [McCarthy]."
The other side: As in September, lost conservative votes may be offset by Democratic support. House Minority Leader Hakeem Jeffries (D-N.Y.) and his leadership team said Monday they are "carefully evaluating" Johnson's proposal.
The Democratic leaders said they are "concerned" about the bifurcation of the bill and the lack of supplemental funds, but several Democrats told Axios they are inclined to support the bill. "I'm seriously weighing it," said one lawmaker. "If there are no poison pills, I have no justification for voting no."
Rep. Greg Landsman (D-Ohio) told Axios: "If there is a bipartisan path to avoid a costly government shutdown, I'm sure I will be part of it. Let's hope that's where this is headed."
Rep. Dean Phillips (D-Minn.), a moderate who has missed most House votes since launching his campaign for president, told Axios he will be in Washington to vote for the bill this week.
What we're watching: The conservative opposition means Republicans may struggle to pass what is known as a "rule" — a procedural measure to start debate on a bill that typically passes along party lines.
House Rules Committee Chair Tom Cole (R-Okla.) told reporters that GOP leadership is considering taking another page out of their September playbook by skipping the rule vote — instead using a process that requires the bill to pass with a two-thirds majority.
That maneuver, a so-called "suspension" vote, helped lead to McCarthy's removal at the hands of a small group of hardliners.
Some conservatives are already offering ominous warnings against going down that path: "It would be a very bad idea," said Roy.
Yes, but: There is internal GOP skepticism that conservatives are ready to topple another speaker so soon after the chaotic three week interregnum that led to the ascension of Johnson — himself a staunch conservative.
"They won't," one House Republican firmly predicted.
Go deeper