Dems' new question for 2024: What will Manchin do?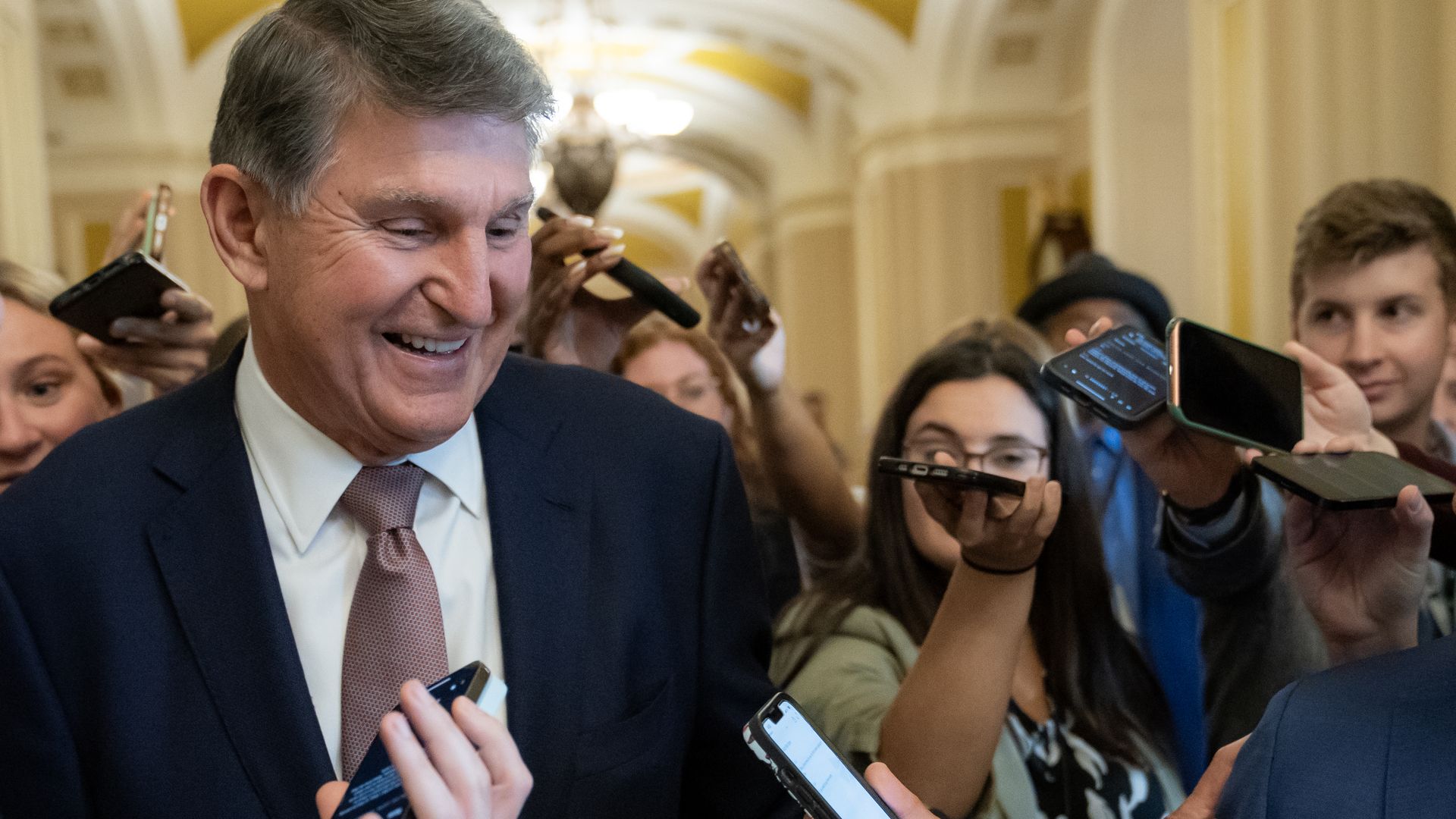 For the first two years of Joe Biden's presidency, Sen. Joe Manchin (D-W.Va) reserved the right to rewrite Biden's legislative agenda. For the next few months, Manchin is preserving his option to rewire the 2024 presidential campaign.
Why it matters: In announcing Thursday that he will not run for re-election to the Senate next year, Manchin clearly hinted at a third-party bid for the White House.
"What I will be doing is traveling the country and speaking out to see if there is an interest in creating a movement to mobilize the middle and bring Americans together," he said in a video his office released.
For Democrats, the depression of almost certainly losing a Senate seat — in a state former President Trump won by 39 points in 2020 — was followed by dread that Manchin might be serious about a third-party presidential run under the No Labels banner that could draw votes from Biden.
What we're hearing: Some Manchin confidants expect him to tour the country and flirt with a White House bid for a few months. For now, they aren't convinced he'll actually pull the trigger, according to people familiar with the matter.
But predicting Manchin's political moves during the last two years has been difficult. The wily West Virginian frequently has surprised his own party and the GOP.
Flashback: At a No Labels town hall in New Hampshire during the summer, Manchin said that if he runs for president, "I'm gonna win."
In May, he met with residents of Iowa — an early voting state in the presidential primary season — in Washington to explain how fiscally conservative he is.
What they're saying: In a statement, No Labels — a well-funded organization that's exploring a potential bipartisan presidential ticket — called Manchin a "tireless voice for America's commonsense majority and a longtime ally of the No Labels movement."
"Regarding our No Labels Unity presidential ticket, we are gathering input from our members across the country to understand the kind of leaders they would like to see in the White House," the statement said.
"I can't imagine a world in which Joe Manchin would do anything to help Donald Trump get elected," Sen. Mark Warner (D-Va.) said on CNN.
"We are sad that Joe Manchin isn't running for Senate, as he's the only one who can keep that seat out of Republican hands," said Matt Bennett, a co-founder of Third Way, a centrist organization.
Third Way has been warning about the potential for a third-party spoiler who would draw support from Biden — and pave the way for Trump, the GOP frontrunner, to be re-elected president.
"We aren't worried about (Manchin) running for president," Bennett said. "No Labels has made clear they want a Republican at the top of their ticket, and Manchin is no one's No. 2."
"We think he's going to tour the country to make the case for centrist politics, which is great as long as he doesn't suggest that he supports a spoiler running against Joe Biden," Bennett said.
The intrigue: Manchin's shock announcement comes just a few days after former Maryland Gov. Larry Hogan — a No Labels co-chair — released a glossy digital ad that laid out his approach to foreign policy.
Go deeper: The White House is closely watching the No Labels effort and has been careful not to antagonize the group's founder, Nancy Jacobson.
The hope is that Jacobson, a political operative with experience in the Democratic Party, eventually will look at the polling and decide not to back a third-party bid.
Some of No Labels' polling indicates that a Republican-led ticket might attract more votes than one led by a Democrat, but the group has been careful not to declare a preference.
Go deeper