Scoop: Manchin flirts with Iowa voters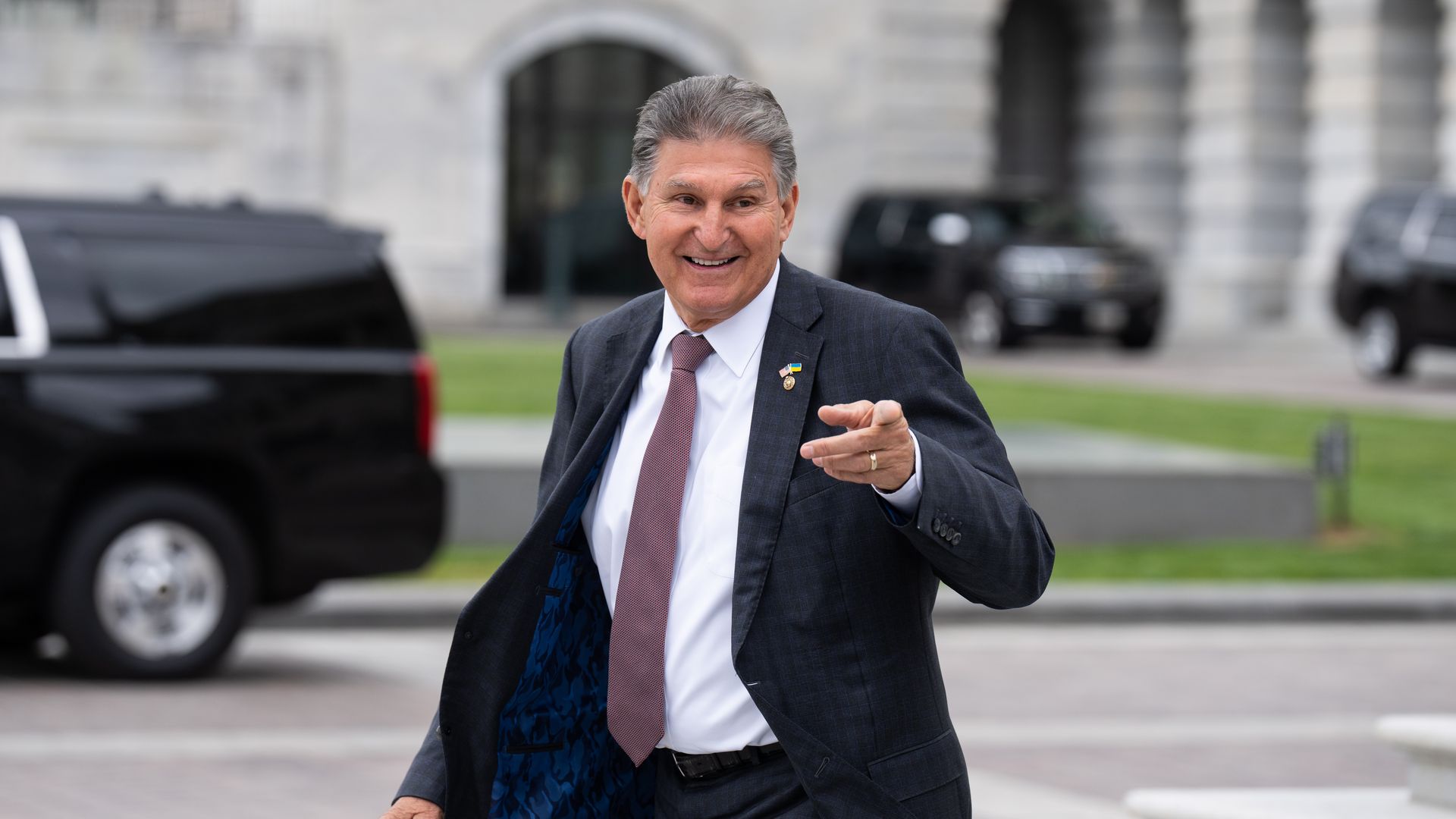 Sen. Joe Manchin (D-W.Va.) may not have announced that he's running as a third-party candidate for president. But he's acting like it.
Driving the news: Manchin took time from his busy Senate schedule to tell a gathering of Iowa business and community leaders Wednesday in D.C. that he's "fiscally responsible and socially compassionate" — another hint that he's considering a potential third-party presidential bid.
Back in the Senate, he released a statement vowing to oppose all President Biden's EPA nominees over the administration's "radical climate agenda."
Manchin's recent no-mercy campaign against Biden could be related to his potential re-election bid in deep-red West Virginia — but it's also a sign of just how far he's willing to go to blow up the president's plans.
Why it matters: Iowa Democrats are furious with their national party for stripping their first-in-the-nation status on the presidential calendar. But Iowa voters still pride themselves on their ability — if not their right — to judge candidates up close and in-person.
Manchin played to that vanity, explaining his approach to leadership and legislation.
"I believe the government should be your partner. I'm not your provider," he told approximately 170 members of the Greater Des Moines Partnership.
"When people say, 'What's your politics?' I say I'm fiscally responsible and socially compassionate, which I think most Americans are," he said in a 30-minute speech.
Between the lines: Manchin, perhaps his party's most endangered incumbent, didn't explicitly tell the assembled Iowans he was leaving his party and running for president as an independent.
Asked by Axios about his presidential ambitions, Manchin said. "Honest to God, my main concern: How do we save this nation? How do we bring people together to protect the quality of life, the values that we've had that we were raised with? That's all."
"You have got to fight for the reasonable, responsible middle and no one is doing that," he said. "There's no options."
The big picture: The country is hurtling toward a rematch between Biden and former President Trump, which polls overwhelmingly show most Americans don't want.
The group No Labels is raising money to build a presidential launchpad for a bipartisan ticket, with plans for their own nominating convention in Dallas in April 2024 and a strategy to get onto the ballot in all 50 states.
"We like to say one-ticket, one-time. This is not a third party, it's one Democrat and one Republican. Everyone will have a seat at the table," Nancy Jacobson, the founder and CEO of No Labels, told Axios. "This is an insurance policy for a unique American moment."
"Right now we know people don't want a rematch. There's a huge opening, the likes of which we have never seen," Jacobson said. "If Biden moves to the center, there may not be an opening," she added.
What we're watching: Biden's polling numbers are at his presidency lows, with public approval at 40%, according to a new Reuters/Ipsos poll.
That's higher than a weekend poll from ABC News/The Washington Post, which had Biden at 36% approval and losing to Trump.
The other side: Prominent Democrats, including the centrist group Third Way, are horrified by the prospect of a third-party candidate and insist it would throw the election to the Republican nominee — potentially Trump.
The third-party campaigns of Ralph Nader in 2000 and Jill Stein 2016 are a raw memory for many Democrats, who blame them for the victories of George W. Bush and Trump, respectively.
"No Labels is arguing that they won't act as a spoiler, but our view is that the risk is enormously high," said Matt Bennett, the co-founder of Third Way. "And that's the only impact they can have on the race because they can't possibly win."
"We would hope and urge that Manchin makes it clear that he's not interested in this third-party bid because it has absolutely no chance of success," he said. "The sooner he makes that clear, the better."
Zoom in: No Labels has a close relationship with Manchin and frequently invites him onto their conference calls with donors to expound on the issues of the day.
Last week, he sounded like a candidate on a No Labels call, according to Puck News, which obtained a recording of the conversation.
Manchin did not rule out joining a No Labels ticket on "Meet the Press" last month — but stressed he "would never intend to be a spoiler of anything."
Go deeper