D.C. centrists go to war over 2024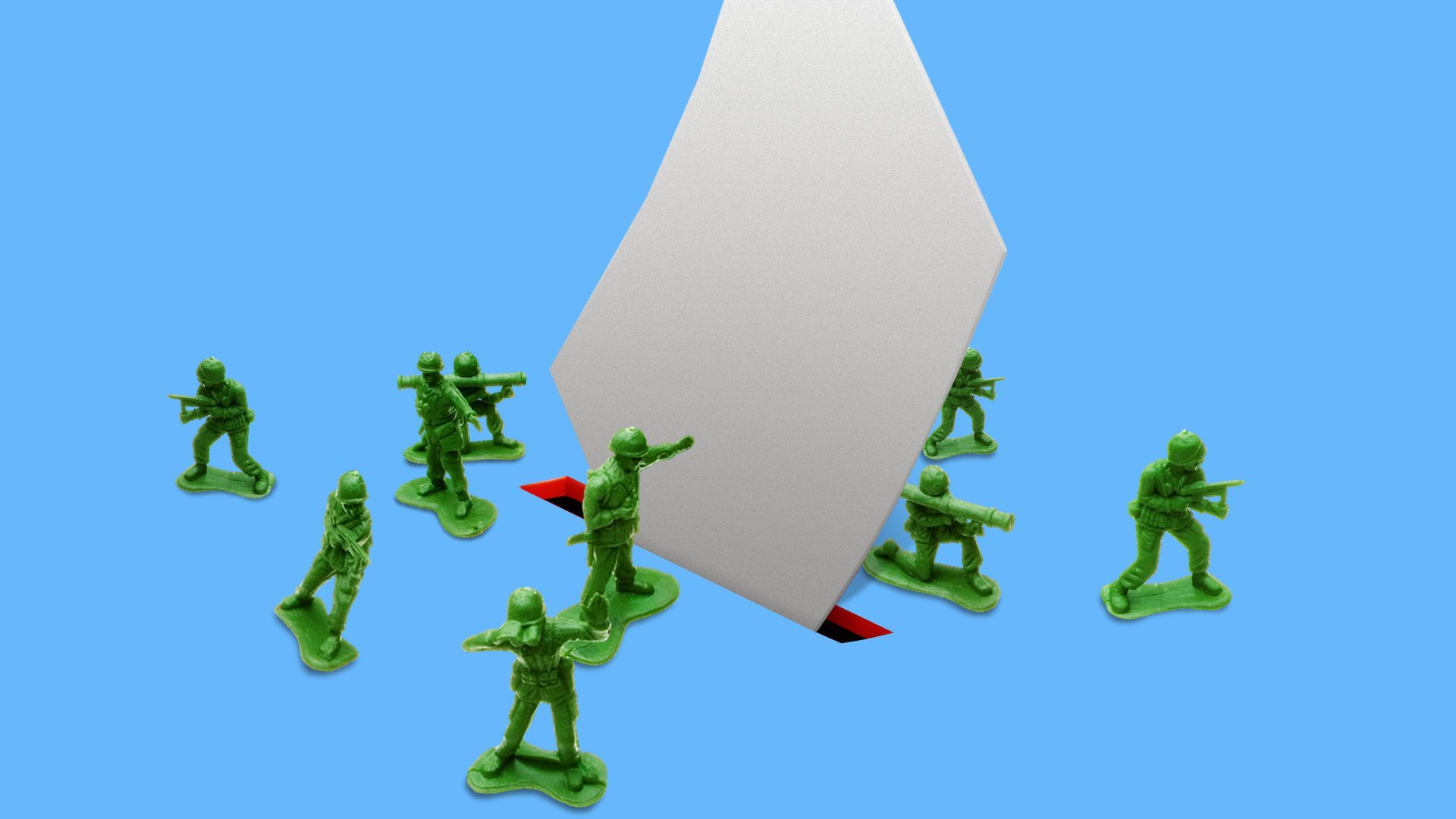 Two heavyweight centrist groups are aggressively feuding over whether a third-party ticket could win in 2024 if there's a rematch between President Biden and former President Trump.
Why it matters: The bipartisan group No Labels has serious cash to launch an independent campaign no matter what critics say — but the center-left think tank Third Way (and other Democrats across the country) are going to the mat to prevent a $70-million effort it is convinced will help the GOP.
Catch up quick: No Labels co-founder and leader Nancy Jacobson has called the group's project "an insurance policy in the event both major parties put forth presidential candidates the vast majority of Americans don't support."
She also said the organization won't nominate a ticket "if our rigorously gathered data and polling suggests an independent unity ticket can't win."
A hypothetical No Labels electoral map suggests that its "unity ticket" winning 37% of the popular vote would get 286 electoral votes from "solid moderate independent states." (Ross Perot, the candidate it uses as its model, did not win more than 30% in a single state in his 1992 run.)
Zoom in: After picking apart No Labels' political strategy, Third Way is now scrutinizing its internal polling it used to build that hypothetical map — claiming the group's own data undermines its theory.
"History makes clear that the No Labels candidate is unlikely to win even a single state. But if we suspend disbelief to explore their argument that they can pull this off, it would have to start with them winning ALL of the closely contested 2020 battleground states" decided by three points or less, Third Way wrote in its fault-finding memo published Monday.
On Tuesday, No Labels blasted out a scathing rebuttal plainly accusing Third Way of "conveniently" and "intentionally" misrepresenting its data by leaving out the 18% of undecided voters surveyed who are open (but not committed) to voting for a moderate independent ticket.
"Third Way's half-baked analysis of No Labels' polling is especially galling because all of it is public and widely available," it wrote.
What they're saying:
Third Way executive VP for public affairs Matt Bennett told Axios: "The No Labels memo about us is either embarrassingly amateurish or intentionally deceptive. Their big 'gotcha' here is about a graphic design choice: that we didn't include undecideds in our chart, despite the fact that it's blindingly obvious that the remaining 18% of the electorate is undecided and that doesn't change anything about our analysis."
No Labels chief strategist Ryan Clancy shot back: "One easy way to twist data to say anything you want is to just leave out the parts you don't like. When Third Way's numbers literally do not add up, that's not a graphic design choice. That's doctoring the data, which, as The Atlantic reported, Third Way has done in the past."
The big picture: Last month, one of No Labels' founders, William Galston, severed ties with the group and wrote a WSJ op-ed arguing its 2024 effort will help elect Trump.
"The major independent and third-party candidates ... from Theodore Roosevelt in 1912 to Ross Perot in 1992, have something important in common: None came close to winning," Galston wrote.
No Labels' stated mission is to champion bipartisanship, but some have said its campaigns and parts of its donor network have become increasingly partisan since 2014.
It's been criticized for receiving mega donations from Harlan Crow, the Texas billionaire who's been privately giving expensive gifts to Supreme Court Justice Clarence Thomas.
What to watch: No Labels has reportedly been courting Sen. Joe Manchin (D-W.Va.) who faces a challenging re-election for his Senate seat and who refuses to say that he's not running on top of that ticket.
Manchin, 75, has been mysterious about his plans. "No Labels has been moving and pushing very hard, the centrist middle. Making common-sense decisions," he told Sharon Bream on "Fox News Sunday."
He went on to say that "you better have that Plan B ready and available to go" if Plan A shows that "we're going to the far reaches of both sides" in the two parties' nominees.
What's next: No Labels plans to host a nominating convention in Dallas on April 14-15, 2024, where its bipartisan ticket would materialize.
It's already earned ballot access in Arizona, Alaska, Colorado and Oregon, and it's working to have ballot access across the country.
Go deeper