GOP debate scenes: Tim Scott's girlfriend, Ramaswamy fallout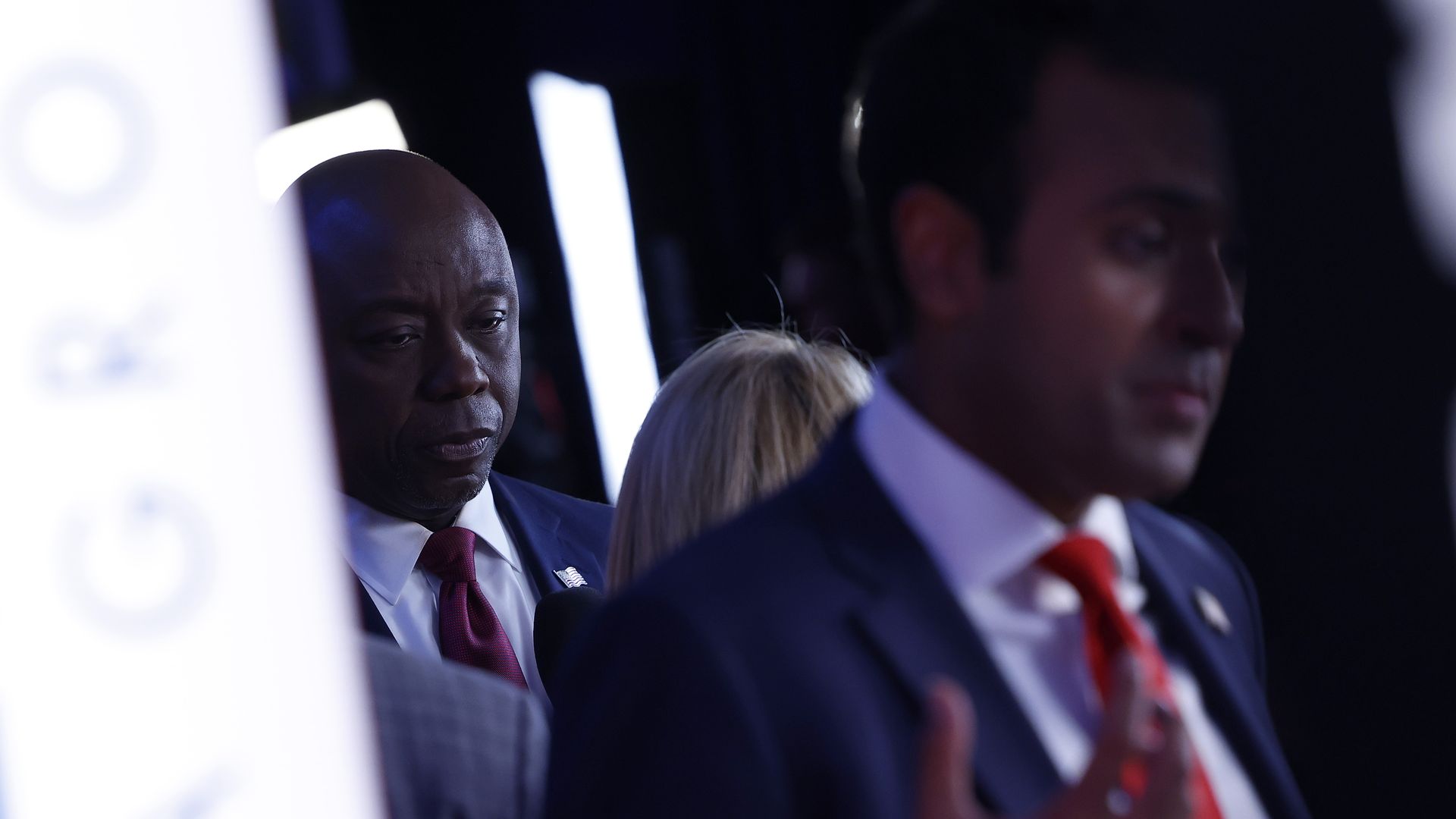 From a performing arts center in downtown Miami to a stadium in nearby Hialeah and elsewhere, Republicans vying for the GOP presidential nomination — and their Democratic critics — converged on South Florida for Wednesday's debate and related events.
Driving the news: Here are some of the most intriguing behind-the-scenes moments that TV viewers probably missed.
Tim Scott's girlfriend, revealed
After months of speculation about his relationship status, Sen. Tim Scott (R-S.C.) told Axios it was indeed his girlfriend — Mindy Noce — who came to watch the debate at Miami's Adrienne Arsht Center and greeted him on stage afterward.
Scott says he has been dating Noce, a design and renovations manager in Charleston, S.C., for "about a year or so."
For months, top GOP donors and their allies privately had pushed Scott, 58, for more detail about his bachelor status.
Scott first mentioned he had a girlfriend at an Axios event in May, saying, "To suggest that somehow being married or not married is going to be the determining factor of whether you're a good president or not — it sounds like we're living in 1963 and not 2023."
Post-debate, Ramaswamy still "unhinged"...
Entrepreneur Vivek Ramaswamy delivered on his promise to be "unhinged" during the debate, and that commitment continued post-debate.
Ramaswamy doubled down on his attacks on the debate's moderators — NBC's Lester Holt and Kristen Welker, and conservative radio host Hugh Hewitt — as well as Republican National Committee chair Ronna McDaniel.
As he had during the debate, Ramaswamy blasted McDaniel for Republicans' election losses on Tuesday and repeated his call for different moderators: "I certainly meant what I said. If Tucker Carlson, Joe Rogan and Elon Musk (were the moderators) ... it will be a far greater service to the Republican base."
"It's not her stage!" he said repeatedly of McDaniel. "It belongs to our Republican voter base!"
... and gets a cold shoulder
After the debate, Ramaswamy got the cold shoulder from at least one candidate.
Scott and Ramaswamy bumped into each other in the "spin room" as the two gave back-to-back interviews to the same media outlet. Ramaswamy gave Scott a pat on the back. Scott didn't acknowledge him.
Former UN ambassador Nikki Haley, who sparred fiercely with Ramaswamy on stage, didn't run into him the rest of the night, a person familiar with the situation told Axios.
The dropouts weigh in
Former Rep. Will Hurd (R-Texas), who has dropped out of the race and endorsed Haley, told Axios that Ramaswamy's "understanding of (foreign policy) issues is juvenile. This is one of the reasons his momentum has stopped."
Miami Mayor Francis Suarez, who was briefly in the GOP race before dropping out, told Axios before the debate he was watching to see whether Haley could "break out" with another impressive performance, and said DeSantis is "hemorrhaging for real support, and trying to hold back the floodgates."
Trump counter-programs
Less than 10 miles from the GOP debate stage, former President Trump drew several thousand people to a rally in a stadium in Hialeah.
For Trump, who's increasingly tried to turn court appearances into campaign opportunities, the rally was more like one of his traditional campaign stops before adoring fans. He was endorsed by Arkansas Gov. Sarah Huckabee Sanders and Hialeah Mayor Esteban Bovo, got a street named after him and was backed by a Cuban American MMA fighter at the rally.
A nearby elementary school was closed Wednesday because of the Trump rally, Bovo told Axios.
Scattered near the stadium were a Hialeah City Council candidate's campaign signs that featured Trump's face the same size as her own photo. (That candidate, Angelica Pacheco, unseated an incumbent council member in Tuesday's election.).
Democrats' prebuttal
Illinois Gov. J.B. Pritzker (D) was in Miami on Tuesday with Biden campaign manager Julie Chavez Rodriguez, Florida Democratic Party chair Nikki Fried and other Florida Democrats to weigh in on the debate for the GOP candidates chasing Trump.
Pritzker went after DeSantis and Trump for "dressing up" their MAGA extremism "in boots or a red tie" and Chavez Rodriguez said MAGA Republicans' Florida blueprint "paved by the guy in Hialeah" is too extreme.
Asked by a reporter to repeat an answer in Spanish, Chavez Rodriguez deferred to former Rep. Debbie Mucarsel-Powell, saying that her Spanish isn't that strong.
Go deeper