Ramaswamy, Haley bring the fireworks in third GOP debate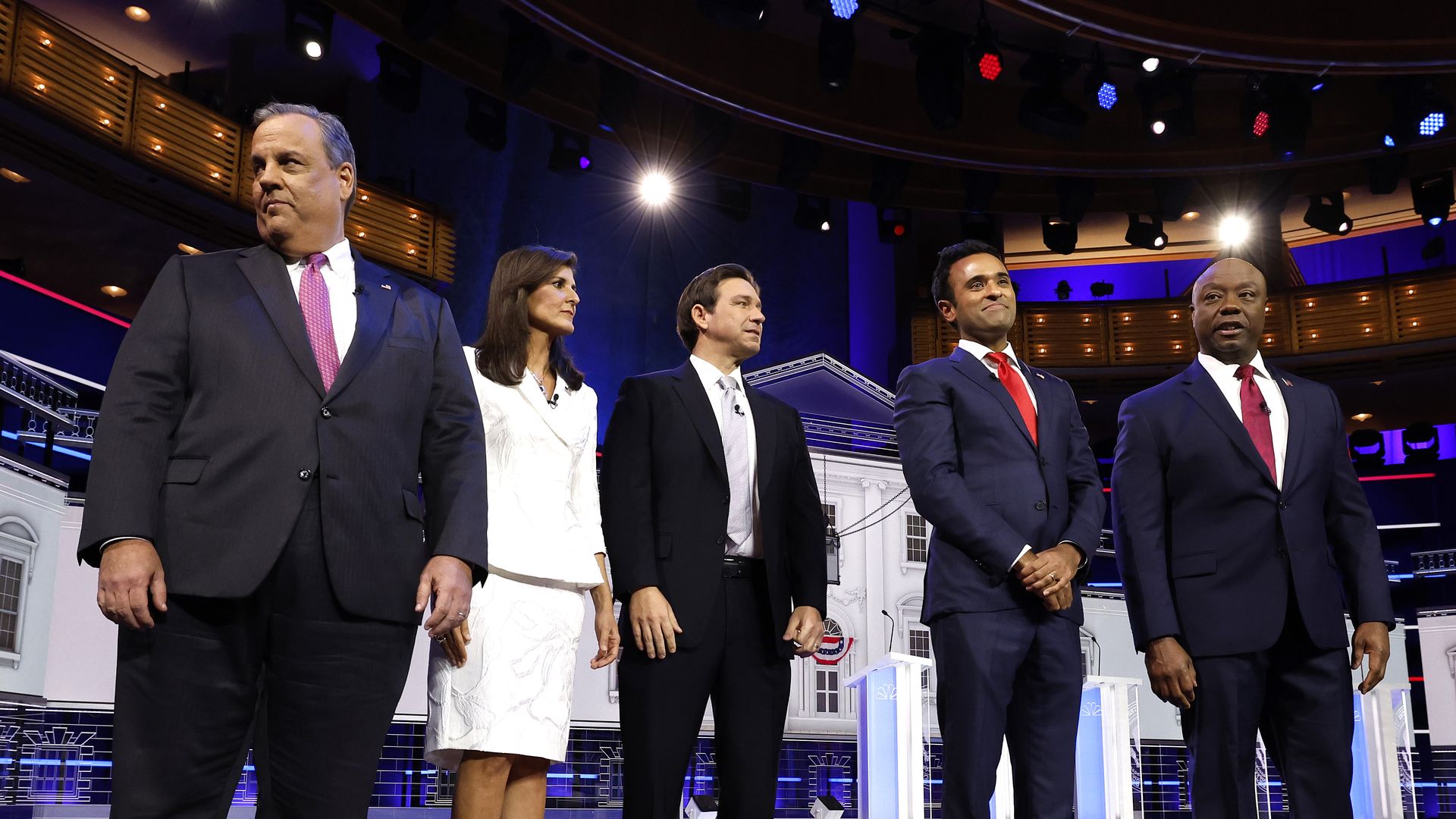 Five Republican presidential candidates took the stage on Wednesday in Miami for the third GOP primary debate.
Why it matters: Former UN ambassador Nikki Haley and businessman Vivek Ramaswamy had perhaps the biggest moment of the night as they sparred over the use of Tiktok, with Haley calling him "scum" after he brought up her daughter's purported use of the app.
Ramaswamy again spent most of the night attacking the other candidates — including former New Jersey Gov. Chris Christie and South Carolina Sen. Tim Scott — over a variety of topics.
At one point, he called Haley and Florida Governor Ron DeSantis "Dick Cheney in 3-inch heels," a jab in part meant for the governor whose boots have become the subject of intrigue.
Driving the news: The debate spent considerable time on foreign policy and what each candidate would do with regard to continuing to fund Ukraine and the threat posed by China.
Time was also devoted to responses about shoring up the U.S.-Mexico border, stopping the flow of fentanyl and how to improve the U.S. economy.
Between the lines: DeSantis and Haley are locked in a distant race for second place in the first-in-the-nation Iowa caucuses, according to an NBC News/Des Moines Register/Mediacom poll.
Former President Trump, who held a rally elsewhere in Miami on Tuesday night, leads the poll with 43%. Haley and DeSantis each netted 16%.
Ramaswamy calls on RNC chair to resign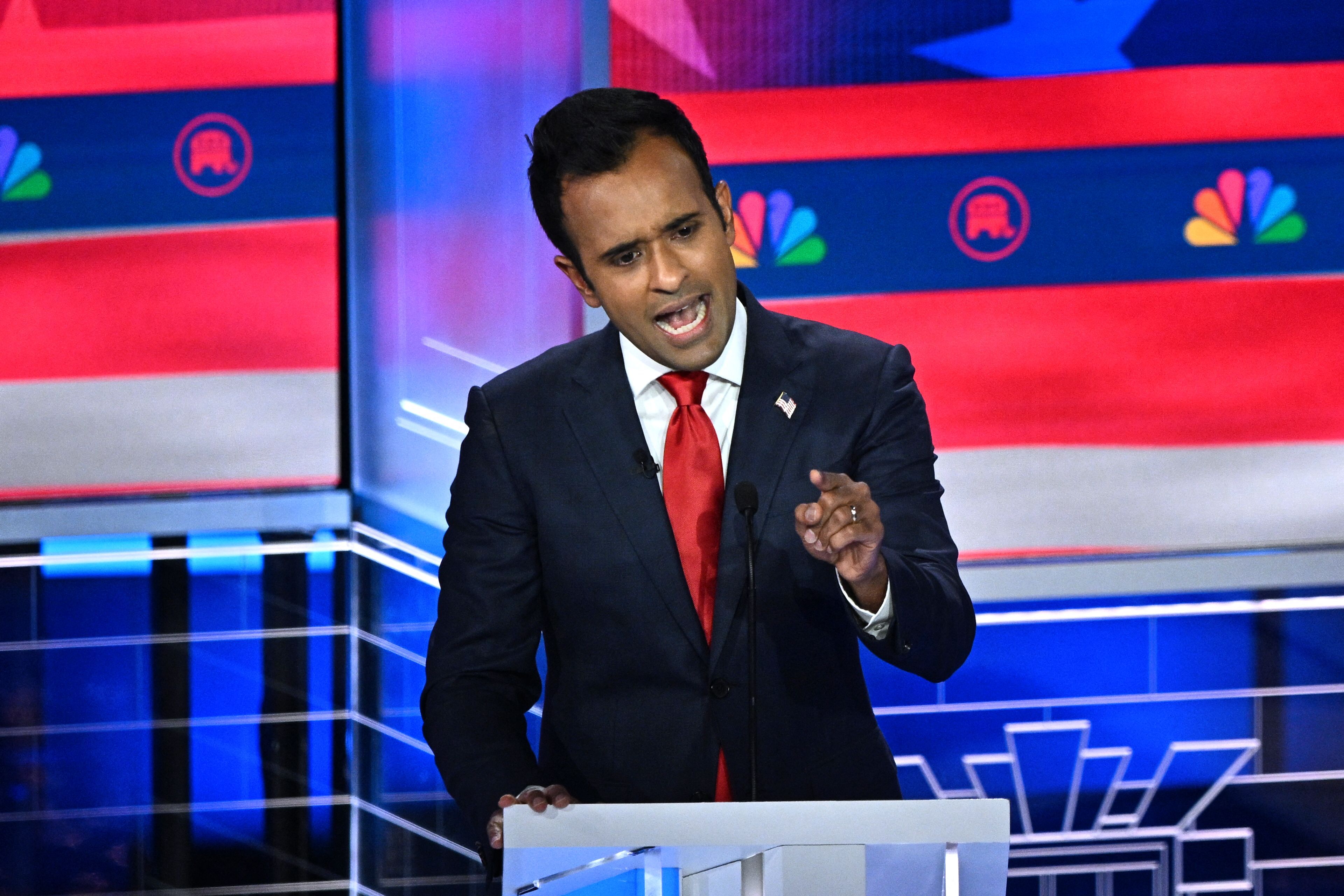 Vivek Ramaswamy called on RNC chairwoman Ronna McDaniel to resign, citing a need for "accountability" in the GOP after several election losses last night.
What he's saying: "We've become a party of losers at the end of the day, a cancer in the Republican establishment. Let's speak the truth," Ramaswamy said to the crowd after being asked why he should be the party's nominee rather than former President Trump.
"I mean, since Ronna McDaniel took over as chairwoman of the RNC in 2017, we have lost 2018, 2020, 2022, no red wave that never came. We got trounced last night," he said
"And I think that we have to have accountability in our party. For that matter, Ronna, if you want to come on stage tonight, you want to look the GOP voters in the eye and tell them you resign, I will turn over … yield my time to you."
Ahead of the debate, Ramaswamy had said he wanted to be "unhinged".
— Shauneen Miranda
DeSantis, Scott call for de-funding schools allowing antisemitic protests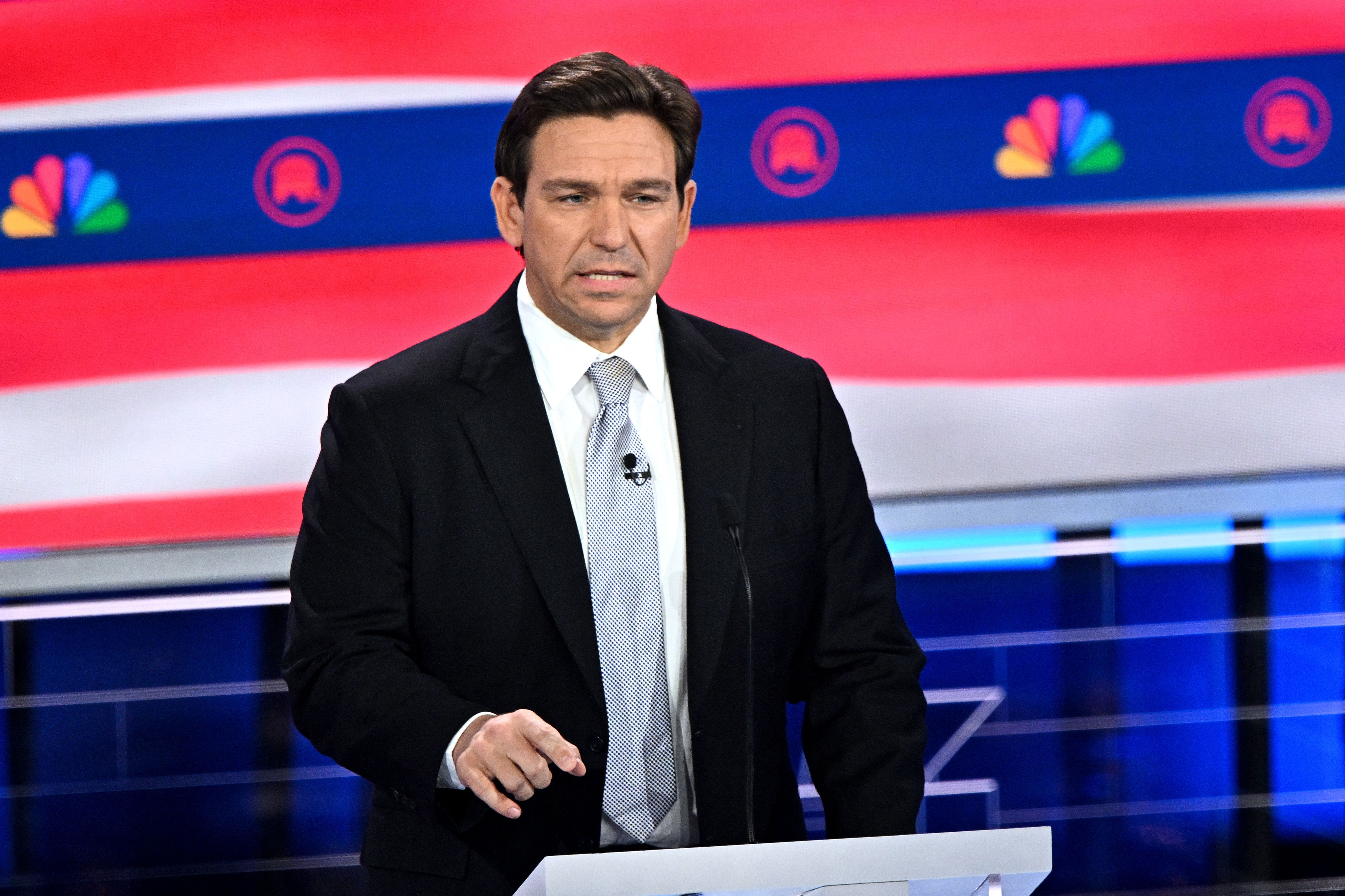 Sen. Tim Scott and Florida Gov. Ron DeSantis both said that funding for universities should be rescinded if antisemitic protests are allowed.
Why it matters: College campuses have become a flashpoint since Hamas' surprise attack on Israel, and many GOP presidential candidates have threatened action against students on visas who have expressed support for Palestinians and protested Israel.
What they're saying: "Federal funding is a privilege, not a right," Scott said.
Scott said Wednesday that students who are on visas who encourage "Jewish genocide" should be deported.
DeSantis also said that any student on a visa who is "making common cause with Hamas, I'm canceling your visa and sending you home."
"We're not going to use state tax dollars to fund jihad," he said.
— Erin Doherty
Haley says America can't turn its back on allies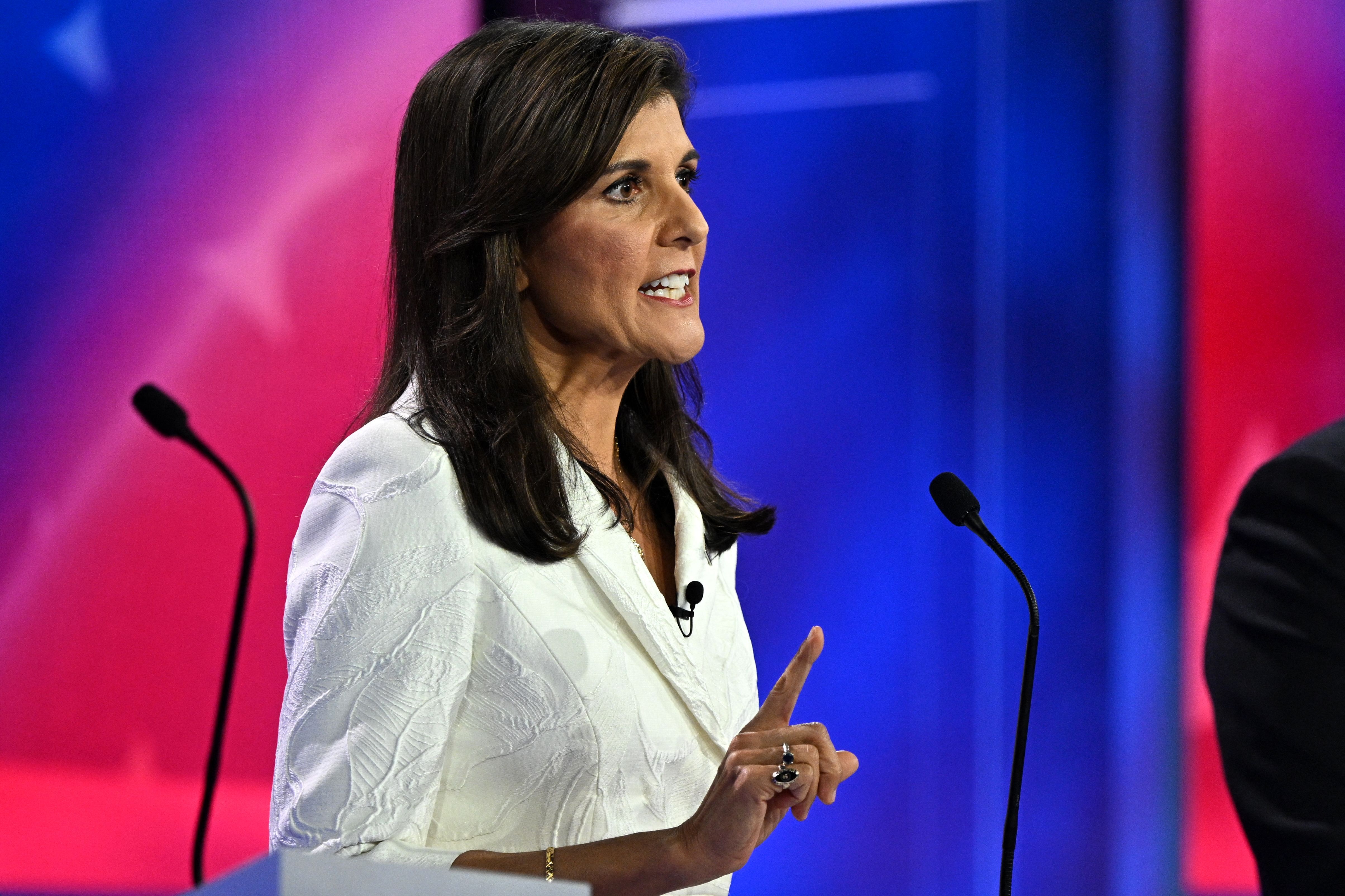 Nikki Haley, calling for equipment and ammunition instead of cash to aid Ukraine, pointed to the U.S.' own need for alliances and the risks of not keeping them.
What she's saying: "America can never be so arrogant to think we don't need friends. After 9/11, we needed a lot of friends," the former UN ambassador said when asked about her position on more Ukraine funding.
"Now is the time to get partnerships. This unholy alliance between Russia, Ukraine and China is real. There is a reason the Taiwanese want us to support the Ukrainians. It's because they know that China's coming after them next," she said.
"There is a reason Ukrainians want us to support Israelis, because they know that if Iran wins, Russia wins. We have to see the combination of the three," Haley added.
Key funding hangs in the balance for Ukraine as many GOP lawmakers are hesitant to keep providing more aid to the country.
— Shauneen Miranda
Haley calls Ramaswamy "scum" as they spar over TikTok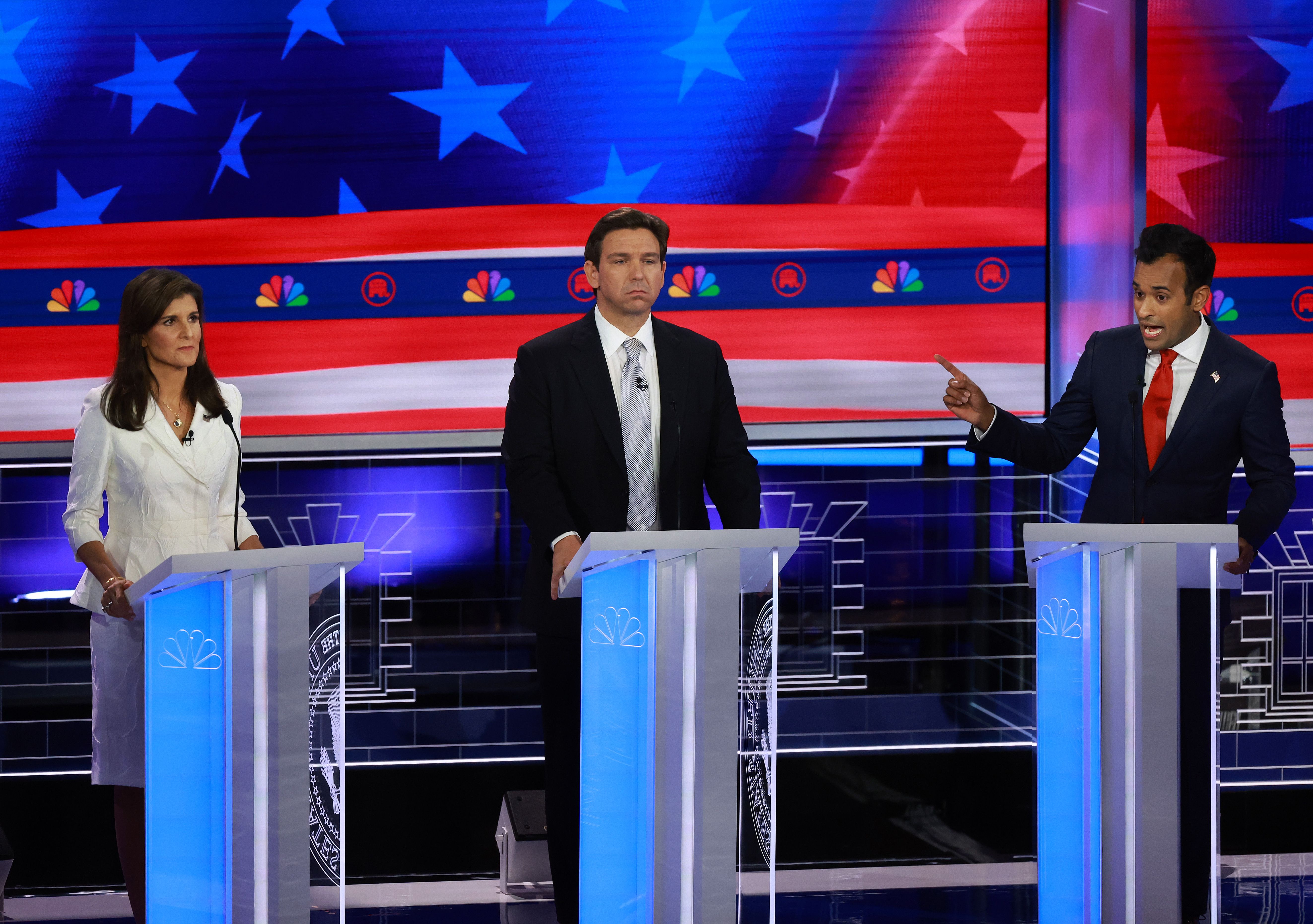 Former UN Ambassador Nikki Haley and businessman Vivek Ramaswamy feuded again Wednesday over TikTok, a topic that was also a point of contention for the two candidates during the second debate, but this time it got personal.
Driving the news: "You're just scum," Haley told Ramaswamy, who is the sole GOP presidential candidate on TikTok, after he claimed that Haley's daughter is on the app.
"Leave my daughter out of your voice," Haley said Wednesday.
Between the lines: Ramaswamy joined TikTok in September, citing the importance of reaching younger GOP voters who may be on the app, while all of Ramaswamy's GOP rivals have snubbed the Chinese-owned app.
Zoom out: Former New Jersey Gov. Chris Christie also called for a TikTok ban, saying he would implement one his first week as president, and he criticized former President Trump for not implementing one.
Sen. Tim Scott also said he supports a TikTok ban.
— Erin Doherty
Ramaswamy calls Biden a "puppet" president in closing remarks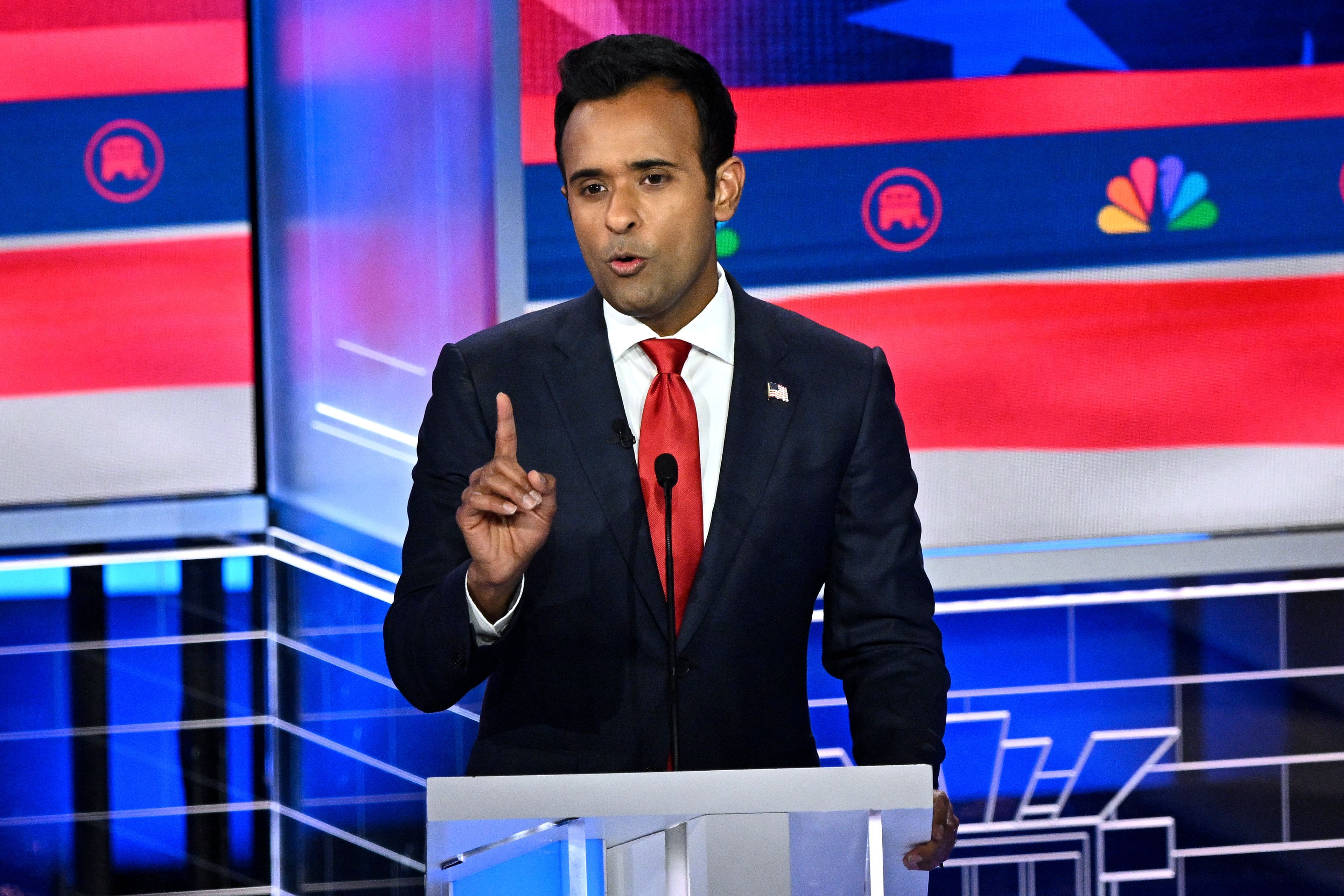 Vivek Ramaswamy capped off his "unhinged" debate strategy Wednesday night by calling President Biden a "puppet" and urging him to end his 2024 re-election campaign.
What he's saying: "I also want to close with one message to the Democratic Party. End this farce that Joe Biden is gonna be your nominee. We know he's not even the president of the United States. He's a puppet for the managerial class," Ramaswamy said.
"So have the guts to step up and be honest about who you're actually gonna put up so we can have an honest debate," he said.
"Biden should step aside, end his candidacy now so we can see whether it's [Gavin] Newsom or Michelle Obama or whoever else. Just tell us the truth so we can have an honest debate," Ramaswamy added.
The Ohio entrepreneur spent his closing remarks rebuking Biden as the 80-year-old faces dismal polling showing former President Trump beating him in five of the six swing states he had secured in 2020.
— Shauneen Miranda
Go deeper