Ramaswamy delivers on "unhinged" promise at 3rd GOP debate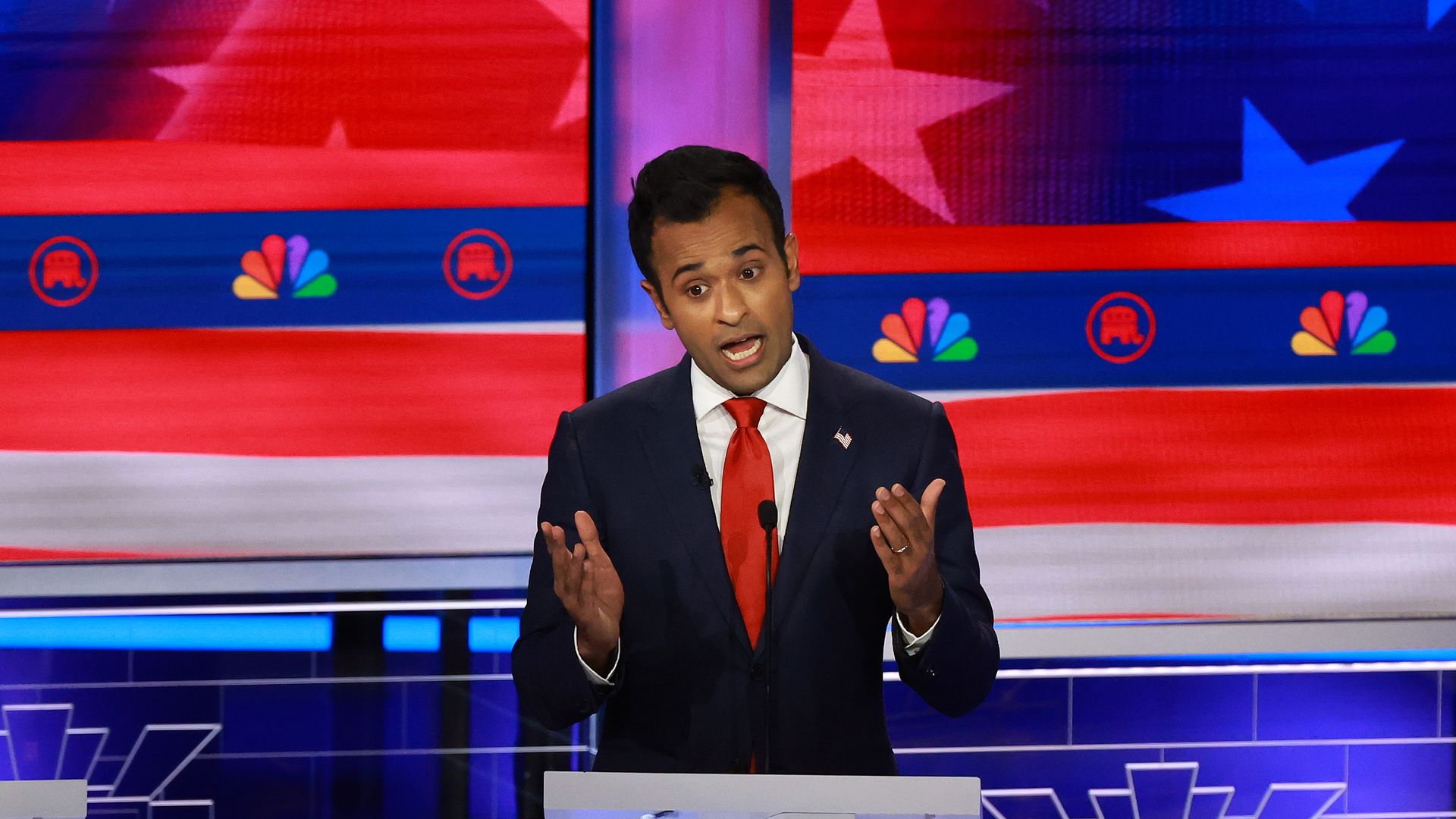 Businessman Vivek Ramaswamy unleashed direct and personal attacks on his fellow candidates, GOP party leaders and the debate moderators from the very beginning of the third GOP presidential primary debate.
Why it matters: Ramaswamy planned to be "unhinged" during the debate, he told ABC News prior to taking the stage.
Ramaswamy has watched in recent weeks as former UN Ambassador Nikki Haley has surged into a fight for second in the polls with Florida Gov. Ron DeSantis.
All candidates are badly behind former President Trump, who has skipped all three debates.
Driving the news: In the early minutes of the debate, Ramaswamy:
Attacked the debate moderators, saying they should be forced to answer for their coverage of the "Trump-Russia collusion hoax" and their handling of the Hunter Biden laptop story.
Said Republicans have become a "party of losers" since 2018 and offered to yield his podium and speaking time for RNC Chair Ronna McDaniel if she would resign from her post.
Promised as president to "be smoking the terrorists on our southern border."
Blasted Ukrainian President Volodymyr Zelensky as a "comedian in cargo pants."
Attacked Haley for joining the board of Boeing after leaving her post as UN ambassador, accusing both parties of profiting from the wars in Afghanistan and Iraq.
Accused President Biden of being an illegitimate president and said he should step aside so another Democrat could run.
Attacked Haley for her daughter being on TikTok. Haley called Ramaswamy "scum" and told him to "leave my daughter out of your voice."
Jabbed at two of his fellow GOP candidates on stage as "Dick Cheney in three-inch heels." The comment was presumably directed at DeSantis — whose boots were the subject of considerable intrigue in recent days — and Haley.
The other side: "[T]hey're 5-inch heels and I don't wear them unless you can run in them," Haley said in response to Ramaswamy. "I wear heels. They're not for a fashion statement, they're for ammunition."
Go deeper