Ramaswamy joins TikTok as other GOP candidates snub Chinese-owned app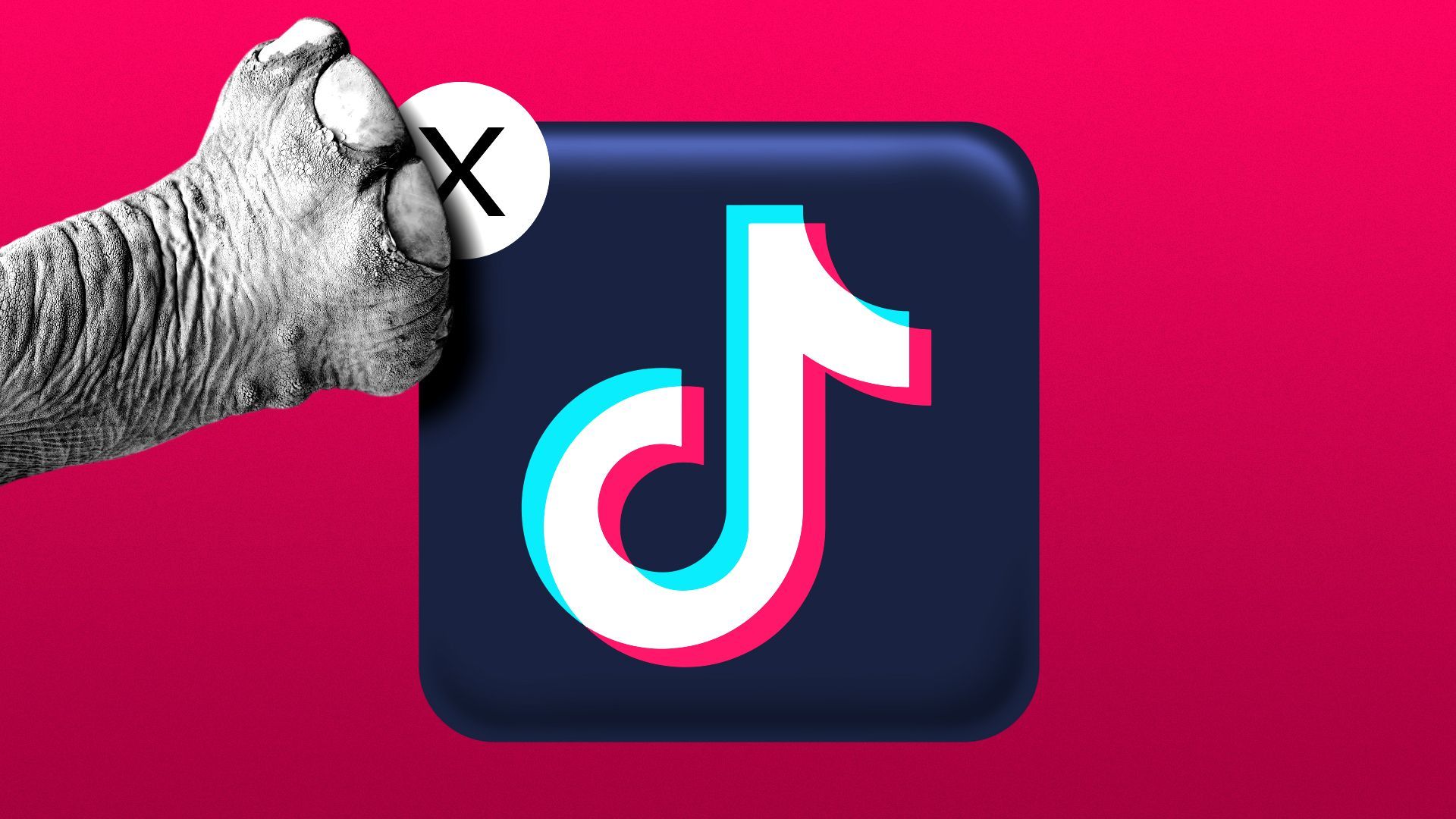 Businessman Vivek Ramaswamy on Wednesday became the first GOP presidential candidate to join TikTok, a Chinese-owned app he described as "digital fentanyl" as recently as last week.
Why it matters: Republicans largely view China's influence operations as a major national security threat, prompting GOP presidential candidates to voluntarily forfeit access to the 150 million Americans who use TikTok.
Driving the news: Ramaswamy, 38, who has otherwise promoted hawkish policies toward China, said Wednesday that he changed his stance on using TikTok after a conversation with social media star Jake Paul.
"We can't just talk about the importance of the GOP 'reaching young voters' while hiding in our own echo chambers," Ramaswamy wrote on the social media platform, X, formerly known as Twitter.
"Yes, kids under age 16 shouldn't be using it, but the fact is that many young voters are & we're not going to change this country without winning," he said.
Flashback: "This is Xi Jinping's bet — you're addicted to me," Ramaswamy argued during a town hall in Iowa earlier this month in reference to threats posed by China.
"You're addicted to the fentanyl that I'm pumping across their southern border. You're addicted to the digital fentanyl that I'm putting in your kids' hands," he said, per NBC News.
The intrigue: Ramaswamy in May proposed raising the voting age in the U.S. to 25 unless young adults serve in the military, work as first responders or pass a citizenship test.
The big picture: "It's undeniable that a significant proportion of the electorate is now on TikTok and now using [it] as a platform, not only for dance videos and lip-syncs, but for political content," Lindsey Gorman, a senior fellow for emerging technologies at the Alliance for Securing Democracy, told Axios.
By the numbers: More than 150 million people are on TikTok across the U.S. — and it has grown in regular usage among Americans, despite polling showing that most Americans are wary of its national security concerns.
"As campaigners, we have to go where the eyeballs are, and that's increasingly TikTok," GOP digital strategist Eric Wilson told Axios.
About 18% of Republicans between 18 and 49 use TikTok daily, according to a post-midterm election survey conducted by the Center for Campaign Innovation, which Wilson directs.
Zoom out: During the 2022 midterm elections, 34% of Democratic candidates in Senate, House, governor and secretary of state races had TikTok accounts, compared to 12% of Republicans, according to an analysis from Gorman's group.
What they're saying: GOP candidates say they're not worried about missing out on the platform.
Florida Gov. Ron DeSantis "has identified China as our number one national security threat and has proactively acted to guard against their espionage and influence," said a spokesperson for DeSantis' campaign.
"Sen. Scott is sharing his optimistic message to young voters across the country on the campaign trail rather than relying on Chinese spyware," said Nicole Morales, a spokesperson for the South Carolina senator's campaign.
The campaign for former UN ambassador Nikki Haley, who has called for a ban on TikTok, said they are "reaching thousands of young voters through our Young Americans for Nikki and Students for Haley coalitions," with chairs in 45 states, according to spokesperson Olivia Perez-Cubas.
A spokesperson for Trump's campaign did not respond to Axios' request for comment.
The other side: President Biden also does not have an account on the platform, but Axios previously reported that he has enlisted social media "influencers," including some on TikTok, to support his re-election campaign.
"The Democrats have a concerted effort to do outreach on TikTok, so it's a huge risk for Republicans to just cede the platform to Democrats," Wilson said.
What to watch: The Brookings Institution estimates that if Americans under 45 vote at the same rate they did in 2020, they could represent 37% of the 2024 electorate.
"Candidates have to react and have to decide, do they want to reach these slices of the electorate," Gordon said.
One GOP strategist said that Ramaswamy's decision to join the platform may force other Republican candidates to engage over whether they should join TikTok.
"If influential conservatives start coming out more forcefully against a ban and even start using the platform, the political will among Republicans to ban it will disappear," the GOP strategist said.
Go deeper: Biden campaign spends big to close digital deficit
Go deeper