George Santos finds unlikely protectors in House Democrats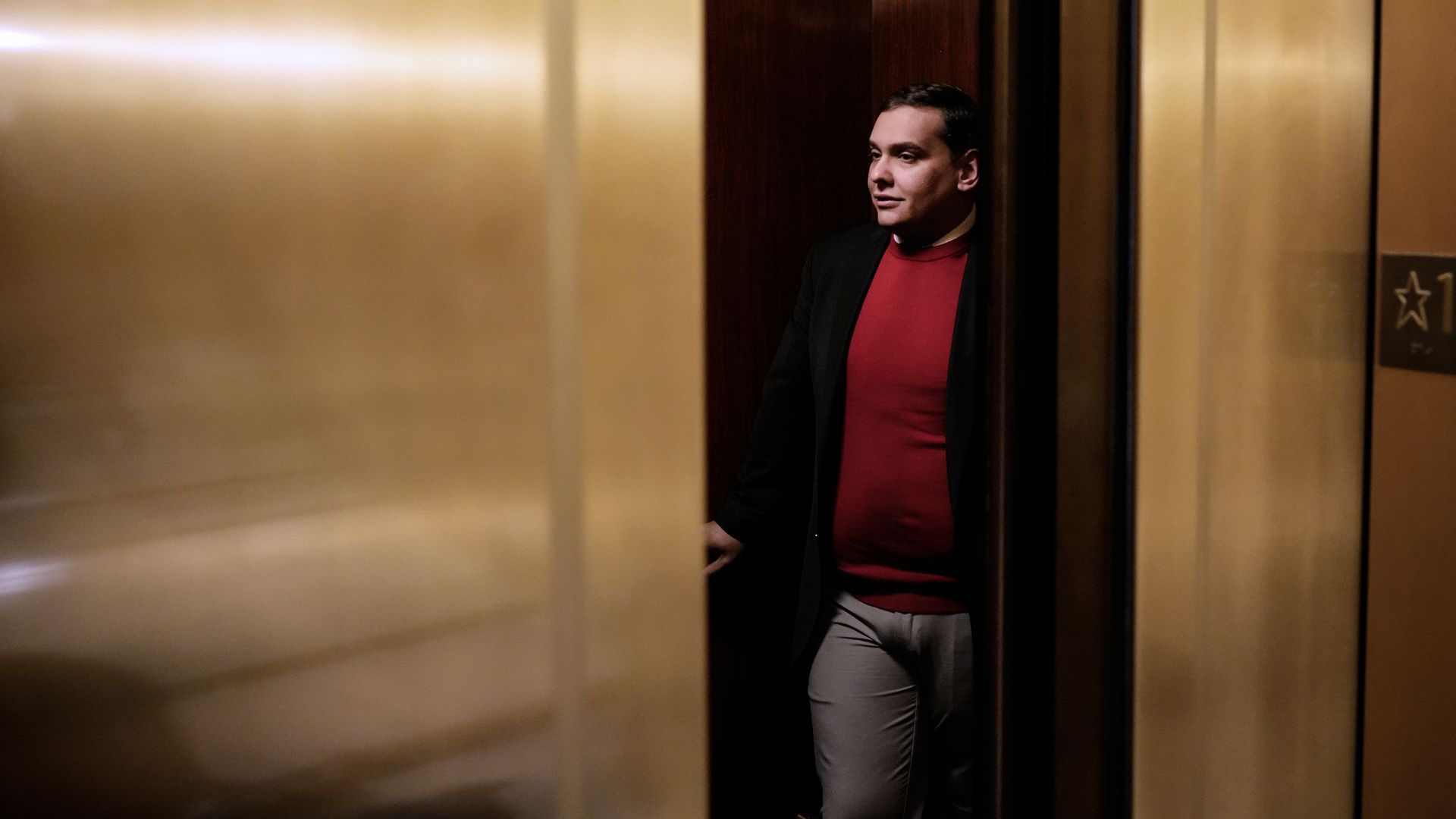 Dozens of House Democrats sent shockwaves through Congress on Wednesday night by voting against a measure to expel Rep. George Santos (R-N.Y.) from Congress.
Why it matters: The Democrats expressed concerns about the precedent of expelling a colleague who has not been criminally convicted or subject to a complete Ethics Committee process – even one as hated as Santos.
Driving the news: The resolution, forced to a vote by Santos' fellow New York Republican freshmen, failed 179-213, with 31 Democrats joining most Republicans in voting against it.
The resolution would have failed even if all Democrats had voted for it: Just 24 Republicans voted for it – far short of the roughly 75 GOP votes that would have been needed for the necessary two-thirds majority.
Most of the Democrats who voted against the measure were, like the Republicans who voted for it, moderates and swing district members.
The Democratic breakaways flummoxed lawmakers on both sides of the aisle – especially since most Democrats voted for their own party's resolution to expel Santos in May.
"What's gotten better since they made the motion to expel?" said Rep. Marc Molinaro (R-N.Y.). "What's innocence has he achieved since they chastised us for not acting months ago? What's changed?"
The mass defection "makes no sense at all," said a senior House Democrat. "I never would have [expected] that."
Another senior House Democrat had a single word to sum up the situation: "Amazing."
Zoom in: Several progressives voted against the resolution, including Reps. Morgan McGarvey (D-Ky.), Zoe Lofgren (D-Calif.), Jamie Raskin (D-Md.), Gwen Moore (D-Wisc.), Rashida Tlaib (D-Mich.) and Mark Takano (D-Calif.).
So did Rep. Rob Menendez Jr. (D-N.J.), whose father, Sen. Bob Menendez (D-N.J.) has resisted calls from his own party to step down over an explosive federal indictment.
Democratic leadership, which whipped against a resolution to censure Tlaib, did not recommend a vote in either direction on the Santos measure.
What they're saying: "I'm a Constitution guy," Raskin, a constitutional law professor who serves as ranking member of the House Oversight Committee, said of his vote in a statement to Axios.
"If and when Santos is convicted of these serious criminal offenses or ethics charges, I will certainly vote to expel," Raskin said. "Until then, it's a very risky road to go down and we have to stick by due process and the rule of law, as obvious as the eventual result seems."
Raskin's counterpart atop the Oversight Committee, Chairman James Comer (R-Ky.), voted to expel Santos.
Rep. Henry Cueller (D-Texas), one of the most moderate Democrats in the House, offered the same reasoning as Raskin and noted to Axios that the Ethics Committee "has indicated they will have something soon."
What's next: The Ethics Committee said Tuesday they will announce their "next course of action" on the panel's investigation into Santos by Nov. 17.
Rep. Anthony D'Esposito, who introduced the resolution to expel Santos, said in a statement he is "confident" the panel will "outline what New Yorkers already know – that George Santos is a fraud unworthy of serving in public office."
Go deeper