House votes down measure to expel George Santos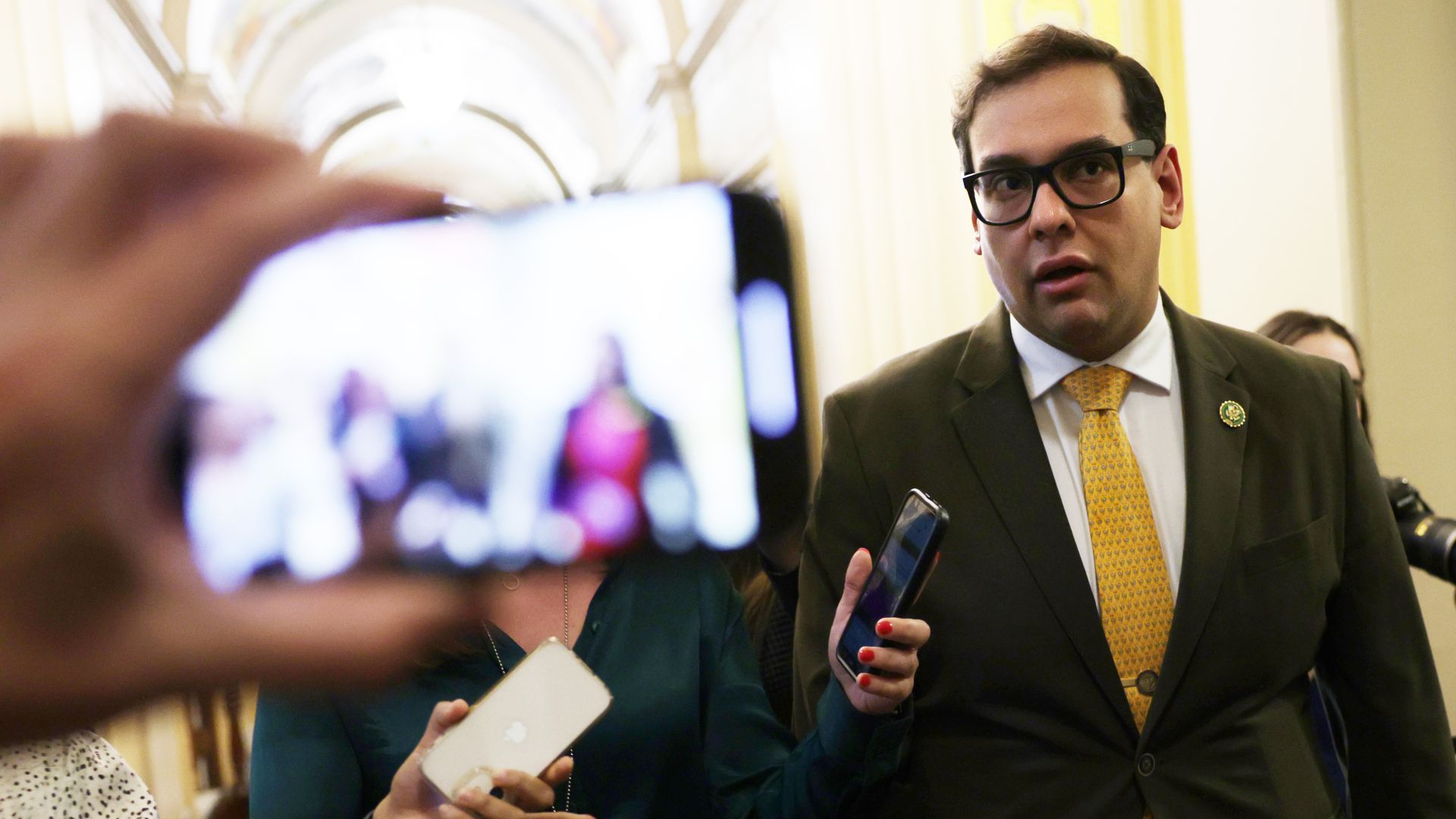 The House on Wednesday voted to refer a resolution to expel Rep. George Santos (R-N.Y.) from Congress to the Ethics Committee, effectively killing the measure.
Why it matters: It was a tough vote for vulnerable Republicans, many of whom have called for the politically toxic Long Islander to step down.
One Republican Santos critic said he expects the committee to act in the next two months.
The details: The bill passed 221-204 largely along party lines, with all Republicans voting for the GOP motion.
All five Democrats on the Ethics Committee, as well as Reps. Chrissy Houlahan (D-Pa.) and Marie Gluesenkamp Pérez (D-Wash.), voted "present," essentially abstaining on the vote.
Rep. Susan Wild (D-Pa.), the ranking member on the Ethics Committee, told Axios the Democrats on the panel made a "collective decision ... that, to avoid any appearance of impropriety, we should just vote present."
Rep. Tony Gonzales (R-Texas), the only Republican who has called for Santos to be expelled, voted for the referral, as did all the Republicans who have called for Santos to resign and all the Republicans on Ethics.
What they're saying: "Americans will remember that their representative voted the party line rather than for the people," Rep. Suzan DelBene (D-Wash.), chair of the Democratic Congressional Campaign Committee.
Democrats' issue advocacy non-profit ran robo-calls in districts of several vulnerable Republicans ahead of the vote, Axios reported.
The other side: Rep. Nick LaLota (R-N.Y.) said he "would have preferred there to be enough votes to expel the sociopath scam artist," but that he expects the Ethics Committee to have "a result within 60 days."
The "terrible liar," Santos' fellow Long Islander predicted, will "be gone, by resignation or expulsion, before August recess."
Rep. Andrew Garbarino (R-N.Y.), an Ethics Committee member, told Axios in a statement that "no previous vote for expulsion of a Member from the House has occurred without an accompanying report from the Ethics Committee" or another panel.
"The Ethics Committee is best positioned to investigate this matter," he said. "I'm reserving all other judgment until the investigation is complete."
Between the lines: Wild said the fact that all the Republicans on Ethics voted for the motion "concerns me," adding, "I still think [voting present] is the absolutely correct way for members of the Ethics Committee to vote on matters that are going to be referred to us."
"Some of us are actually going to be on the [investigative subcommittee] that is convened to investigate this matter," she said, "I just don't think we should show any bias one way or the other."
Rep. Anna Paulina Luna (R-Fla.), one of Santos' few friends in Congress, responded by introducing a resolution to expel Rep. Adam Schiff (D-Calif.).
What he's saying: "There's a process in this country: everybody is innocent until proven guilty," Santos, who voted for the motion, told reporters.
Asked if he would comply with a recommendation from the committee to step down, Santos said, "Well, of course, I'm not chaining myself here. If the Ethics Committee makes that recommendation, that's a different story."
What's next: Wild said the subcommittee investigating Santos has been formed and had a "procedural meeting," and that she is going to ask Rep. Michael Guest (R-Miss.), the Ethics Committee chair, to "move expeditiously."
She said 60 days is a realistic target, but added: "Timelines are always tough when there is evidence to put together, witnesses have to be interviewed ... I'd like to say that we can wrap it up in 60 days, but that may be overly optimistic."
"I think that 60 days was a reassurance by the speaker's office that this [motion] wasn't some sort of delay tactic and I don't think that holds much water," she said.
Editor's note: This article has been updated with new details throughout.
Go deeper